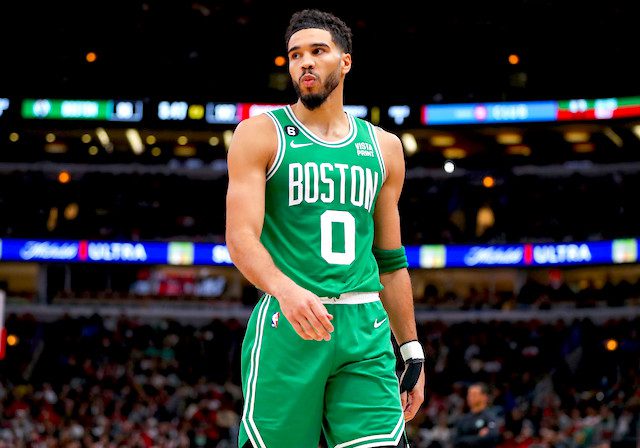 What Appears In This Article?
hide
Welcome to our Rival Fantasy NBA DFS prop picks for Monday, May 29, 2023.  The conclusion of the Celtics-Heat series has become arguably the most exciting aspect of this year's postseason. Tonight decides who gets to face the Nuggets.
Rival Fantasy is a new DFS prop site that allows you to multiply your wager by creating linked, parlay-style bets in their FantasyBook, pit players against each other in Challenges, or compete in a new style of gambling RIVAL called Fantasy Bingo.
RIVAL Fantasy offers some of the best and easiest-to-win NBA DFS games in the industry. There are no large-field tournaments filled with sharks where you have to get lucky just to place. At RIVAL Fantasy, you're not playing against other people, you're just playing against the projections.
Featured Promo: Our friends at RIVAL Fantasy are hooking you up. Get a risk-free deposit match up to $50 using promo code BALLER with your first deposit, and also a free year of RotoBaller Premium access ($199 value)!
RIVAL Over/Under Picks
There will be limited options because of a single-game slate, but that doesn't mean we can't find some offered props that will work for us.
Derrick White OVER 30.96 fantasy points
As one of the few teams to come back from down 3-0 in a series, the Celtics are riding all the momentum in the world currently. Derrick White did not have a well-rounded Game 6, but he redeemed himself by making the only shot that mattered.
There is absolutely no reason for him to fade away in the stat column after having an exemplary Game 5 and winning Game 6.
If he flounders, it won't be a surprise, but it would be uncharacteristic for him seeing how thrusting him back into the starting role has done nothing but benefit the Celtics and his projections.
Kyle Lowry OVER 19.15 fantasy points
Putting all the Heat's woes on Jimmy Butler ignores the team aspect of the game. Butler has helped push Miami this far and in return, he has gotten zero consistent support.
Caleb Martin is the best Heat player currently and the only other player playing with the determination to win other than Butler and Martin is Kyle Lowry.
He's pushing the issue at the rim and doing what he can with his minutes to make his presence known, although it's not really working. The point is, with Miami's back against the wall, few players have stepped up. Lowry, believe it or not, is one of them. In a Game 7, that matters.
Kevin Love OVER 22.45 fantasy points
We can keep this simple because even on a good day, Kevin Love needs to go above and beyond expectations to hit this over.
He's barely playing and giving him minutes has not led to positive results. He can create an impact, but if he can't space the floor, the only thing he really offers is an occasional in-bound pass that leads to a fast break.
It should be expected that he might not play, but less playing time benefits the under bettor. 
Jayson Tatum OVER 49.65 fantasy points
Despite Jayson Tatum being the main attraction in the Celtics' offense, it seems Boston fans believe Jaylen Brown is more deserving of his flowers. Luckily, all that noise is chalked up to internet nonsense, and in no actual reality is Jaylen Brown a better player than Jayson Tatum.
Not that it matters and Game 7 is a deciding factor not just in the series, but the overall trajectory and perception of a player as a whole. Failing to produce in Game 7 is a tell-tale sign of a player who isn't clutch.
Tatum was creeping into that category before setting the record for most points scored in a Game 7 and we should expect massive production in this more pivotal game.
Play the NBA FantasyBook Over/Under Contest Now on RIVAL Fantasy
Download Our Free News & Alerts Mobile App
Like what you see? Download our updated fantasy basketball mobile app for
iPhone
and
Android
with 24x7 player news, injury alerts, lineup notifications & DFS articles. All free!
More Weekly DFS Analysis