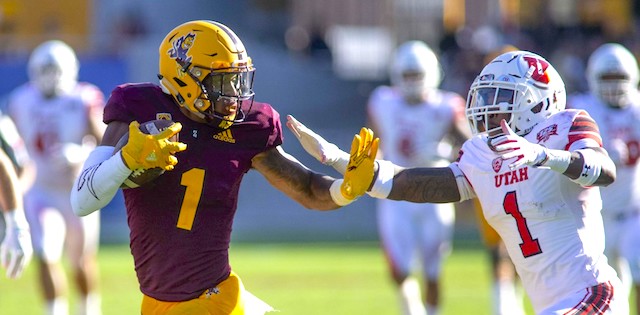 With rookie draft season in full swing, you've got some major questions to think about, especially if you're picking early in your league's draft and need to figure out which wide receiver to pick first.
The commonly accepted thought on this issue is to take N'Keal Harry first, but D.K. Metcalf s also a player who could be considered for the spot, and there are a few other players in good positions on teams that set them up well for the future.
So, should you go with Harry first? Or is there a different move you should make?
Editor's Note: Get any rest-of-season NFL Premium Pass for 50% off. Our exclusive DFS Tools, Lineup Optimizer and Premium DFS Research through the Super Bowl.
Sign Up Now!
The Case For N'Keal Harry
Let's start with Harry, since I'm pretty sure most people see him as the top rookie receiver off the board.
There's good reason for that, as Harry wound up on a receiver-needy Patriots team where he could pretty easily step in and be the team's best outside weapon from day one. Imagine not taking Tom Brady's potential top target as the first receiver in your rookie draft!
Harry's a big receiver who's able to make an impact with the legs, someone who can make strong cuts and create space after the catch. He's already a good route runner, so the Patriots can rely on that to get him the ball in good positions. He can give the team a great deep threat, someone who can get past the defense and get the open field he needs to make big plays.
But there's also a level of uncertainty in New England, as Tom Brady can't just keep playing forever, and if you're taking Harry in a dynasty draft, you have to deal with that uncertainty. Who's up next under center for the Pats? Will they be able to take advantage of Harry's skill set?
And also, what if Brady regresses? He's 42 years old. He was just 22nd in completion percentage on deep balls. But Brady was still eighth in air yards last year, and it's hard to bet against him still being an above-average NFL thrower.
The Case For D.K. Metcalf
Can I just embed the photo of Metcalf where his shirt is off and he has more abs than any human being in the world has ever had and say y'all really aren't doubting this guy, are you?
Metcalf hype was high after the Combine. Per MockDraftable, here are Metcalf's Combine numbers, with his percentile scores among wide receivers:
So, Metcalf can jump out of the building and combines that with elite size and a 4.33 40-yard dash? And sure, that's combined with some alarmingly low marks in the events that test lateral quickness, but his straight-line speed should make him a major receiving threat, right?
And yet, things concern me, especially in terms of his college production. His college dominator percentage was 32.1 percent, good for just the 57th percentile among wide receivers. Per PlayerProfiler, that number -- which represents the percentage of a team's receiving yards and touchdowns a player had -- is lower than you'd want to see. Harry, for instance, was at 43.9 percent.
In college, Metcalf had plays where you could really see his speed and size working together to produce outstanding things on the football field, but Ole Miss just didn't get him the ball enough. His tape shows a fairly limited route tree and a lack of involvement in the short passing game, things that worry me about him moving forward.
But, like with Harry, we have to take the quarterback into account here when it comes to his NFL outlook. Harry has Brady, but Metcalf has someone who's better for Metcalf in dynasty leagues -- the newly re-signed Russell Wilson. Wilson's probably better than Brady right now and he's definitely got more upside than Brady going forward. Last year, Wilson had the NFL's second-highest deep ball completion percentage, so it's not hard to envision that connection working down the field a lot.
But can Metcalf be more than a deep ball guy? Harry seems capable of working both near the line of scrimmage and down the field, but Metcalf's tape shows him as a big play guy who may struggle if asked to make small plays, and his measurables don't give me confidence in his ability to produce in short yardage, where he'll need to make cuts.
The Case For Everyone Else
Sure, let's talk about some other guys who you could think about this high.
Three guys who I've been seeing go Round 1 in rookie drafts, with some quick reasons for/against them:
A.J. Brown: Brown was more productive than Metcalf when they played for the same college, but he finds himself in Tennessee, where he'll be the number two receiver behind Corey Davis on a team that isn't known for their passing skills. Marcus Mariota has to take a big step forward for this team to support one strong fantasy receiver, much less two. Adam Humphries is also new in Tennessee and should see a lot of action from the slot.
Mecole Hardman: Fast, fast, fast, and on an offense that's going to throw more than anyone else with reigning MVP Patrick Mahomes at quarterback. But if Tyreek Hill is still on this team come the start of the season, he's the deep guy, and Travis Kelce is the league's top tight end, so Hardman sees his path to production blocked off. (Plus, Sammy Watkins is technically here too, and head coach Andy Reid is going to trust him before he trusts Hardman.)
Parris Campbell: T.Y. Hilton being on this Colts team limits what Campbell can eventually do, but he should have a great career as the second receiver on a team led by Andrew Luck. He just doesn't have the upside of being a number-one guy like Harry or Metcalf.
And The Winner Is...
After a lot of deliberation, I'm going with N'Keal Harry. I love Metcalf's upside, but Harry feels more certain of being a guy who delivers on his upside, and he's useful in more ways than Metcalf is right now.
This one might come down to your dynasty team build, though. If you're weak at receiver but strong everywhere else, Harry's someone who can be a reliable option for you. If you're strong everywhere and can take a risk on Metcalf with the understanding that you won't need to start him right away, or you're tearing it all down and want a guy with star potential, Metcalf makes sense.
More Dynasty League Strategy