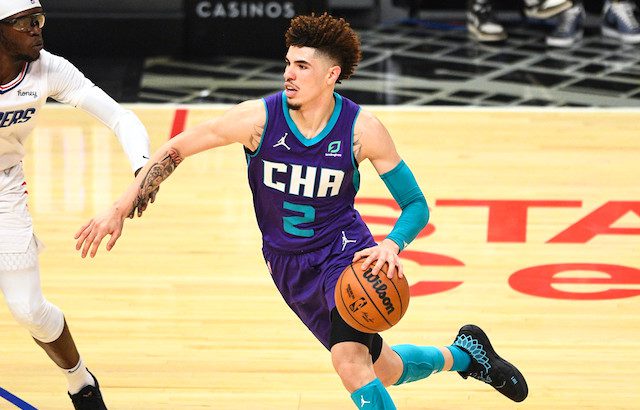 In today's list, I'll be ranking the starting point guards of each NBA team for the 2023-2024 season. This ranking is based on each player's individual talent as well as their fit on their respective teams. 
Keep in mind that some teams have multiple point guards on their roster. I will be using the official positions listed on ESPN's depth charts to determine which player will be labeled as a point guard.
With that being said, let's get straight into the list. There is a lot of talent that needs to be covered!
Upgrade To VIP: Win more with our NBA and DFS Premium Pass, get expert tools and advice from proven winners! Will Priester (@ChiefJustice06) from RotoGrinders joins the RotoBaller team in 2023-24 with his exclusive DFS picks, Prop picks and more. Gain VIP access to our Lineup Optimizer, Research Station, DFS Cheat Sheets and VIP Chat Rooms.
Go Premium, Win More!
The Bottom Third (21-30)
30. Tre Jones - San Antonio Spurs
Highlights: Tre Jones' Top Plays | 2022-23 San Antonio Spurs Season https://t.co/xM6TgyE7gO via @YouTube

— Starlin Medina (@StarlinMedina12) April 29, 2023
At the bottom of the list is the third-year point guard for the Spurs. However, don't expect him to stay here for long. He showed drastic improvement last year, especially in his passing. With the introduction of generational prospect Victor Wembanyama onto the team, Jones could be a part of an interesting duo for years to come.
29. Tyus Jones - Washington Wizards
Tyus Jones Highlights - Pelicans vs. Grizzlies - 5th Apr 2023https://t.co/ZQwFUlX7vl#nba #tyus #jones #nop #mem #cookiesandkareem #cookies #kareem #nbahighlights #neworleans #pelicans #memphis #grizzlies

— Cookies & Kareem (@cookies_kareem) April 6, 2023
Tyus Jones, despite his ranking, is among the most efficient passers on this list. Last year, he was second in the entire league in assist-to-turnover ratio with 5.4. Having spent his last four years in the shadow of Ja Morant, securing a starting spot as a Wizard could be the opportunity Jones needs to display his true value.
28. Dennis Schroder - Toronto Raptors
🎥 HIGHLIGHTS

Dennis Schroder

18 of his 21 points in the 2H and OT#Lakers #Timberwolves #NBAitalia
pic.twitter.com/9kM1Abyv4z

— NBA News 24 (@nbaitalianews24) April 12, 2023
Schroder was a crucial part of the Lakers' success this past season. His value doesn't come from the stats he puts up but from his hustle, clutch plays, and veteran experience. As the point guard for the Raptors, he can be a solid floor general for a team that has strong players at each position. 
27. Alex Caruso - Chicago Bulls
Alex Caruso should be a lock for All-Defensive First Team and on the short list for Defensive Player of the Year

🧵 A thread of stats in case the highlights didn't do it for you ⬇️ pic.twitter.com/wKG9hNNarS

— Will Gottlieb (@Will_Gottlieb) April 10, 2023
It feels wrong to have Alex Caruso this low on the list. He has a talent for forcing turnovers and loves hustling for the ball, which earned him an All-Defensive First Team spot this past year. However, while his impact on the defensive end alone makes him an essential piece of the Bulls team, his limited offensive contribution prevents him from moving any higher in this ranking, 
26. Markelle Fultz - Orlando Magic
Markelle Fultz CLUTCH Highlights vs. LA Clippers | 28 PTS, 6 REB, 4 AST! https://t.co/C4KIiKO838 @YouTubeより pic.twitter.com/a8EyXCoK34

— Orlando-dachs🍋 (@Orl_Dachsun) July 27, 2023
After a disappointing few years that had fans calling him a bust, Fultz revived his career last season, averaging over 14 PTS on 51 FG%. His 3-point shot still has some work to do, but his ability to get to the rim has made him a threat on offense. If he continues to build upon his progress, he can become a valuable asset for the Magic.
25. Mike Conley - Minnesota Timberwolves
Mike Conley Highlights - Timberwolves vs. Thunder - 14th Apr 2023https://t.co/kb9grzG1o5#nba #mike #conley #min #okc #cookiesandkareem #cookies #kareem #nbahighlights #minnesota #timberwolves #oklahomacity #thunder

— Cookies & Kareem (@cookies_kareem) April 15, 2023
Conley is a seasoned veteran who can do a little bit of everything. He is a decent scorer, can dish the ball, and defends well. If he can start building chemistry with the big-man duo in Rudy Gobert and Karl Anthony-Towns next season, he can be a great two-way player for the Timberwolves.
24. Collin Sexton - Utah Jazz
Collin Sexton Highlights - Raptors vs. Jazz - 10th Feb 2023https://t.co/4ywH83ABNH#nba #collin #sexton #tor #uta #cookiesandkareem #cookies #kareem #nbahighlights #toronto #raptors #utah #jazz

— Cookies & Kareem (@cookies_kareem) February 11, 2023
Sexton seemed like he was the next rising star after averaging 24.3 PTS in just his third year, but after a meniscus tear and a trade to the Utah Jazz, he has been struggling to regain his footing. However, with Mike Conley gone, Sexton has the opportunity to display the tenacity and scoring ability we saw before his injury.
23. Chris Paul- Golden State Warriors
10 Minutes of Chris Paul Highlights https://t.co/sDC75bB6wW via @YouTube #Cp3 #Warriors #NBA

— Raymundo Perez (@Rayperez88) July 14, 2023
There's no denying that Chris Paul is one of the all-time great point guards, which is why it hurts to put him so low on this list. However, because of his age and questionable fit with the Warriors, it's hard to imagine him having a successful 2023-2024 season. It'll certainly be interesting to see how the Warriors incorporate his stellar playmaking into their play. 
22. Derrick White - Boston Celtics
Derrick White Highlights vs Charlotte Hornets (33 pts, 10 ast, 3 blk) | ... https://t.co/1JHy5wFT2d via @YouTube!!!!!! My new starting point guard 🤩🤩🤩 I like em lol

— anchor (@blacq_ice) July 28, 2023
While his stats may not say much about him, White made some memorable and critical plays for the Celtics deep in their playoff run, including a last-second putback in Game 6 against the Miami Heat to keep their title hopes alive. It's expected that White will play a similar role as the Celtics hope to win it all this year.
21. Spencer Dinwiddie - Brooklyn Nets
Spencer Dinwiddie Highlights - Nets vs. 76ers - 22nd Apr 2023https://t.co/8rXTrCm7pg#nba #spencer #dinwiddie #bkn #phi #cookiesandkareem #cookies #kareem #nbahighlights #brooklyn #nets #philadelphia #76ers

— Cookies & Kareem (@cookies_kareem) April 22, 2023
After being traded to the Nets last season, Dinwiddie seemed to struggle with his shot, making only 28.9% of his threes. However, his passing numbers skyrocketed, as he averaged 9.1 AST with his new squad. Once he finds his shot and becomes the scorer he has already proven to be, he can make an even greater impact for the Nets.
The Middle of the Pack (11-20)
20. Russell Westbrook - Los Angeles Clippers
Full highlights of Russell Westbrook game 4 vs Phoenix Suns

37 Points (0 FTs, 3/6 3rs, 58% FG)
6 Rebounds
4 Assists
1 Steal
1 Block
64% True Shooting

You could see the way he moved to the rim was different, forced attack & very aggressive paint penetration. This was a taste of… pic.twitter.com/RqvcxOo0zv

— Russ' TD ⚡ (@RussFcb) August 20, 2023
Another all-time great that feels wrong to place this low. Although he had some incredible games during the offseason last year with Paul George and Kawhi Leonard sitting out, his regular season stats make it difficult to justify putting him any higher. Hopefully, he can build some chemistry with his co-stars this season and make a serious push in the playoffs.
19. D'Angelo Russell - Los Angeles Lakers
D'Angelo Russell Highlights - Lakers vs. Warriors - 6th May 2023https://t.co/Pp2iZZAQ06#nba #dangelo #russell #lal #gsw #cookiesandkareem #cookies #kareem #nbahighlights #losangeles #lakers #goldenstate #warriors

— Cookies & Kareem (@cookies_kareem) May 7, 2023
It's not an understatement to say that the Lakers' trade for D'Lo last year was a huge turning point for their season. The point guard is a perfect fit for their system; not only can he create buckets late in the game, but he can also run the pick-and-roll beautifully with Anthony Davis. He's looking to run it back this year and give the Lakers their next championship.
18. Fred VanVleet - Houston Rockets
Highlight de la saison 2022-23 ✨

Fred VanVleet inscrit un double-double-double :

20 PTS, 5 REB, 20 AST, 3 STL

Record d'assists en carrière, record d'assists all-time de la franchise 🔥
pic.twitter.com/kF8xp7dsiy

— Toronto Raptors France 🇫🇷 (@RaptorsFRA) August 10, 2023
VanVleet has put up some great scoring numbers in the past three years, although quite inefficiently. Now that he's left behind Pascal Siakam and the Raptors, he's the number one scoring option on the developing Rockets team, giving him full reign of their offense. Expect him to elevate his scoring to another level this year.
17. Cade Cunningham - Detroit Pistons
Cade Cunningham full highlights vs Team USA:

▫️ 11 PTS - 2 REB - 6 AST - 1 TO

▫️ 4/4 FG - 1/1 3P - 2/2 FT

The man didn't miss a single shot — DOMINANT.

🎥 via @HoopJab pic.twitter.com/9hrFHN4O5e

— Jack Kelly (@jack_kelly_313) August 5, 2023
After a great rookie season, Cunningham's hopes to build on his success were cut short last season with a left shin injury. However, he seems fully prepared to bounce back this season, especially after he led the USA Select Team to a victory against Team USA for the FIBA 2023 World Cup. It'll be exciting to see if the 2021 number 1 pick can make big strides in his development next year.
16. CJ McCollum - New Orleans Pelicans
CJ McCollum Highlights - Timberwolves vs. Pelicans - 9th Apr 2023https://t.co/anyGGna839#nba #cj #mccollum #min #nop #cookiesandkareem #cookies #kareem #nbahighlights #minnesota #timberwolves #neworleans #pelicans

— Cookies & Kareem (@cookies_kareem) April 10, 2023
Entering his 12th year, McCollum has proven to be a consistent and productive scorer, and that hasn't changed after being traded to the Pelicans in 2022. He was able to lead his team alongside Brandon Ingram to the play-ins last year, but without young star Zion Williamson, it'll be difficult for the Pelicans to pose a serious threat to championship contenders.
15. Tyler Herro - Miami Heat
MIAMI HEAT HIGHLIGHTS VS MILWAUKEE BUCKS: 2023 NBA PLAYOFFS FIRST ROUND GAME 1#miamiheat #nba #miami #basketball #lebronjames #miamibeach #heatnation #jimmybutler #heat #southbeach #nbaplayoffs #miamilife #tylerherro #nbafinals #k #florida #bamadebayo https://t.co/nwt06iAIid

— Darrel Nicklow Jr. (@LildarrelN) April 17, 2023
Herro has been living up to the potential that fans saw in him during the Heat's Final series against the Lakers in 2020. Over the last two seasons, he has averaged over 20 PTS, which makes it a shame that he missed most of the Heat's postseason last year due to injury. If he remains healthy, he can give his squad another great chance at the Finals next year.
14. Tyrese Haliburton - Indiana Pacers
10 Minutes Of Tyrese Haliburton RIDICULOUS Highlights 😱🔥 https://t.co/tue3QXmzwe @YouTube

— r.sαcΩ (@RyoRyo719) July 31, 2023
Averaging a 20/10 double-double in just his third season shows just how good Tyrese Haliburton already is. Although he's rough around the edges and can improve his defense, his potential is evident. Having signed a 5-year maximum contract last year with the Pacers, he will certainly be the team's focal point for the foreseeable future.
13. Jalen Brunson - New York Knicks
Being traded to the Knicks has allowed Brunson to blossom as a player. We already saw great moments from him when he was with Luka Doncic, but now that he's the primary point guard for his team, he can really let his old-school playstyle shine. Don't be surprised if he is in serious contention for his first All-Star selection this year.
12. Darius Garland - Cleveland Cavaliers
Darius Garland Highlights vs Knicks https://t.co/VFpPvEaLPt

— Jérôme Dohko (@predator64tina) April 19, 2023
Garland has proven to be arguably the most offensively skilled player in his entire draft class. With a combination of shiftiness, sharp dribbling, and stellar shooting, he is helping to lead his team to the top of the Eastern Conference. If the young Cavaliers squad can stay together, they can be a serious title contender in a couple of years.
11. LaMelo Ball - Charlotte Hornets
Sound 🔊 on!#ACTION! 🎥
LAMELO BALL 🏀 HIGHLIGHTS!
I always heard he plays like "Pistol Pete" Maravitch!
Get Popcorn! 🍿 🍿 🍿 🍿
Curtis pic.twitter.com/bhu5xxSqG2

— Curtis from moreno valley (@MudrickRay) July 3, 2023
In just his third season, Ball is already one of the best point guards in the league. His craftiness and playmaking ability allow him to control the pace of the game at such a high level. If he stays healthy and continues to develop, he can easily become a top 5 point guard in years to come.
The Cream of the Crop (1-10)
10. De'Aaron Fox - Sacramento Kings
De'Aaron Fox Highlights - Warriors vs. Kings - 28th Apr 2023https://t.co/d0s24PQm0d#nba #deaaron #fox #gsw #sac #cookiesandkareem #cookies #kareem #nbahighlights #goldenstate #warriors #sacramento #kings

— Cookies & Kareem (@cookies_kareem) April 29, 2023
When Kings fans doubted the organization's decision to let go of Haliburton, Fox had to let them know that he was the right guy for the team. With the help of Domantas Sabonis, Fox led the Kings to their first playoff spot in 16 years; not only that, but they ended the season as the third seed. Expectations are high for the lightning-quick point guard this year, but there's no doubt he can rise to the challenge. 
9. Jrue Holiday - Milwaukee Bucks
Jrue Holiday Highlights - Bucks vs. Heat - 26th Apr 2023https://t.co/0BeiShwbfN#nba #jrue #holiday #mil #mia #cookiesandkareem #cookies #kareem #nbahighlights #milwaukee #bucks #miami #heat

— Cookies & Kareem (@cookies_kareem) April 27, 2023
It seems like people just don't talk about Jrue Holiday enough. If averaging 19.3 PTS and 7.4 AST last year wasn't good enough, Holiday also made the All-Defensive First Team, making him the best two-way player on this list. He is expected to maintain his stellar production as the Bucks look to make their second NBA Finals appearance in the past 4 years.
8. Bradley Beal - Phoenix Suns
Bradley Beal ON BALL highlights.

10th in the NBA in drives per game last season with a number that would be the highest on the Suns since Eric Bledsoe. Great ball handling, shifty change of direction, can pull up basically anywhere, and shot 71% at the rim. pic.twitter.com/eznolURSG3

— Mike Vigil (@protectedpick) July 28, 2023
Another guard that's frequently slept on, but Beal can get buckets just as well as any other guard above him on this list. His ability to score at all levels means there's no weakness in his game. By pairing him with offensive powerhouses in Devin Booker and Kevin Durant, the Suns are going to be a scary matchup for other teams this season.
7. Jamal Murray - Denver Nuggets
Best of Jamal Murray | 25 Minutes of BLUE ARROW 2022-2023 Season Highlight https://t.co/TVuOxtWeUq ]

— Anthony Fiato (@LAmobslugger) August 10, 2023
After suffering a scary ACL tear that forced him to miss the entire 2021-2022 season, Murray somehow bounced back as if he had never left. He made his presence known throughout the postseason, as he made some clutch shots to help the Nuggets secure an NBA championship. With most of the core players returning to the lineup, Murray, alongside Nikola Jokic, hopes to lead the Nuggets to back-to-back titles.
6. Shai Gilgeous-Alexander - Oklahoma City Thunder
Blessing the tl with Shai Gilgeous-Alexander team Canada highlights

26 PTS - 6 STL - 9/12 FG - 19 mins pic.twitter.com/Pdv1CiWEUt

— Lucas Burns (@nba_indepth) August 12, 2023
SGA made an incredible leap last year. While he was already averaging 24.5 PTS in the 2021-2022 season, he was somehow able to increase his scoring average by almost 7 PTS and earn himself his first All-Star selection. He may need a couple more years to prove if he can maintain this level of play, but there is no doubt that he is OKC's key to success in upcoming years.
5. Trae Young - Atlanta Hawks
Trae Young Game 5 2023 Highlights https://t.co/jiAmbT4nbS pic.twitter.com/ztE6Pzc2uf

— ۟ (@TrolledByThomas) June 26, 2023
Despite averaging a 26/10 double-double last season, Young still isn't receiving the respect he deserves. Perhaps it's because of his inefficiency while shooting a high volume of threes, but that does not deny the fact that he is putting up insane numbers that only a handful of players can achieve. He will certainly be the centerpiece for the Hawks' success in the near future.
4. James Harden - Philadelphia 76ers
James Harden Highlights - 76ers vs. Celtics - 7th May 2023https://t.co/1iUUVTeKAN#nba #james #harden #phi #bos #cookiesandkareem #cookies #kareem #nbahighlights #philadelphia #76ers #boston #celtics

— Cookies & Kareem (@cookies_kareem) May 8, 2023
Given his recent disputes with the 76ers organization, his fit with the team this season is certainly questionable. However, his greatness cannot be denied. Despite taking on a more facilitative role in Philadelphia, he still has averaged a 20/10 double-double for the past 5 seasons, and that shouldn't change next year regardless of where he plays.
3. Ja Morant - Memphis Grizzlies
100 Absolutely INSANE Ja Morant Highlights & Moments 🤯🔥 https://t.co/XndIpJpsOL via @YouTube ⬇️

— David Hume (@DavidArthurHume) August 19, 2023
Although he will be missing a big portion of next season, Morant is still undeniably one of the top point guards in the league. He has already led the Grizzlies to the playoffs three years in a row with his explosive, and almost reckless, playstyle. If he continues to develop alongside the young core around him, the Grizzlies will certainly find playoff success soon.
2. Damian Lillard - Portland Trail Blazers
The World's GREATEST Damian Lillard Highlight Reel ⏱️ https://t.co/Jb9ehIRiGi @YouTube

— r.sαcΩ (@RyoRyo719) August 8, 2023
In terms of pure ability, Lillard deserves to be in the conversation as one of the best in the league. His combination of quickness, finesse, and three-point shooting make him almost unguardable. With a player of his caliber, we can only hope that he finds or builds a winning culture around him soon to earn him the ring he deserves. 
1. Luka Doncic - Dallas Mavericks
Here is a look at Luka Doncic's highlights against Japan, including the many open 3s he generated for teammates — make or miss. https://t.co/kouZQApUYq

— Grant Afseth (@GrantAfseth) August 20, 2023
Doncic, despite being just 24 years old, is putting historical numbers on the same level as LeBron James and Michael Jordan. He may not be as quick and athletic as his fellow guards, but his ability to control the game at his own pace has allowed him to already find so much success in the lead. If he can get the right pieces around him, there is no doubt Doncic can lead his team to a championship.
Download Our Free News & Alerts Mobile App
Like what you see? Download our updated fantasy basketball mobile app for
iPhone
and
Android
with 24x7 player news, injury alerts, lineup notifications & DFS articles. All free!
More Fantasy Basketball Analysis