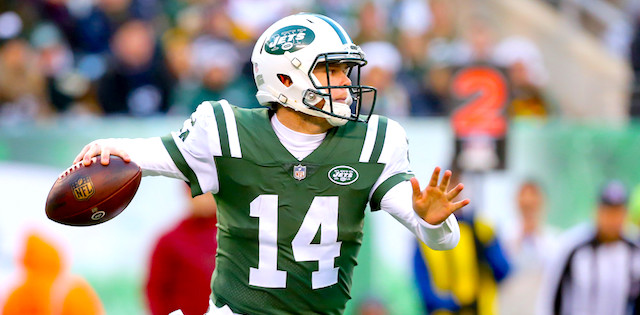 Week 13 is here, and some of you are already locked into a playoff spot. Congratulations to you! We have several great matchups coming up this week while others have matchups that make you want to look in the other direction. If you're in your final regular season week, let's make sure that you have the best quarterback in your lineup to push you into the playoffs.
The bye weeks are done, and we are finally able to roll out the best overall players without worrying about which teams are sitting at home. We no longer have to stream quarterbacks or wide receivers. So let's get the best of the best into your lineups.
Editor's Note: Get any rest-of-season NFL Premium Pass for 50% off. Our exclusive DFS Tools, Lineup Optimizer and Premium DFS Research through the Super Bowl.
Sign Up Now!
Look Away Before It Gets Ugly
Baker Mayfield @ Pittsburgh Steelers
The Cleveland Browns quarterback has played solid football over the last month, and one of those games came against the Steelers. Despite that, I'm out on Baker this week. The Steelers' defense has several playmakers on the back end, and they have a stout defensive line facing off against a Browns' line that has been inconsistent all season. Baker's been sacked 27 times this year. He doesn't offer you a ton in the run department with just eight scrambles on the year, and this is likely to be an ugly game.
As for Pittsburgh, they're fighting for a playoff spot and are currently in a four-way tie for the sixth seed. They need a win this week, and they'll be feeding off of their defense with the number of injuries they have on the offensive side of the ball. They'll be looking to make a splash play early by getting a turnover, and they have the pieces to do it. They have the third-most sacks in the NFL with 38, and their adjusted sack rate of 9.5 percent is second to only the San Francisco 49ers.
Dwayne Haskins @ Carolina Panthers
Carolina has slowed down after a hot start under quarterback Kyle Allen, but the Panthers Defense remains fierce. They're second in the NFL with 41 sacks, and they now get a home matchup against an inexperienced rookie quarterback. Also, Washington's offensive line has been the ninth-worst group in the NFL with 35 sacks allowed. With the Panthers hopes of a playoff run on the line, they'll be desperate for a win this week.
Haskins got his first career win last week, and he couldn't even be bothered to take the final kneel down at the end of the game. Washington remains a trainwreck on the offensive side of the ball, and if they're able to move the ball, it will be with Derrius Guice and Adrian Peterson on the ground against a soft Panthers run defense. Haskins was likely only considered in 2-QB formats anyhow, but you can avoid him in all formats this week.
Jameis Winston @ Jacksonville Jaguars
Winston has been up and down all season long. He'll throw for 300+ yards and three touchdowns, but he'll also add three interceptions to go along with it. In Week 13, he faces a team with a struggling passing and running defense, but they're still able to get after the quarterback with some regularity. They're tied for fifth in the NFL with 34 sacks, and Jameis is going to give them plenty of opportunities, as he's attempted at least 25 passes in every game this season.
Jameis' offensive line needs some assistance. He's been sacked at least twice in every game this season, outside of their Week 12 win over the Falcons. Starting tackle Demar Dotson should be in for this game, but the loaded group of pass rushers on the other side of the ball will still make things incredibly difficult. Unless head coach Bruce Arians dials up the run to slow them down, which he hasn't done much this season, Jameis is going to be taken down a couple of times and likely throw a pick or two.
That's More Like It
Carson Wentz @ Miami Dolphins
Wentz needed a get-right game, and it's coming at the perfect time. He's likely getting his top two receivers back from injury, and his newly extended All-Pro right tackle Lane Johnson will be back from a concussion this week. His offensive line has been around the middle of the pack in sacks allowed with 28, but they'll have an easier matchup this week in some nice South Beach weather.
Miami has shown some life with quarterback Ryan Fitzpatrick under center, but the defense remains a work in progress. They have just 14 sacks on the year through 11 games, and they don't have any emerging pass rushers stepping onto the field. Wentz is going to have all day to throw, and this secondary is going to get eaten alive.
Patrick Mahomes vs Oakland Raiders
Mahomes has been far from the dominant player that he was last season, but he's still pretty damn good. Wide receiver Tyreek Hill (hamstring) is questionable, but he's expected to play. The Chiefs offensive line has been steady all year, and they're tied for fifth in the NFL in sacks allowed with just 19. In the previous meeting between these two teams, Mahomes put up 28 points in one quarter, and I'd expect him to better that number this week.
The Raiders Defense has shown improvement in their pass rush as of late, but they're still far from an elite group. 14.5 of their 26 sacks have come from two players, and Maxx Crosby got four of his against a backup offensive tackle. Crosby's matchup won't be quite so easy this week, and Mahomes should have all day to throw in a home game as they push for the playoffs.
Sam Darnold @ Cincinnati Bengals
Since famously "seeing ghosts" against the New England Patriots in Week 7, Darnold has been on a roll. He's put up at least 21 fantasy points in each of his last three matchups, and the Jets have scored at least 34 points in each of their last three games against bad teams. His offensive line is still near the bottom of the NFL with 42 sacks allowed, but they've allowed two or less in each of the last three games. Darnold is in a good spot right now.
The Bengals will have quarterback Andy Dalton back under center this week which could cause them to punch above their weight class a bit, but their defense still can't get after the quarterback. The Bengals Defense ranks 31st in the NFL with 16 sacks on the year. This Jets team is hitting their stride at the right time, and the Bengals are still on their quest for the number one pick. If Cincinnati's offense shows more life with Dalton back this week, that could lead to more scoring opportunities for Darnold.
More Weekly Lineup Prep