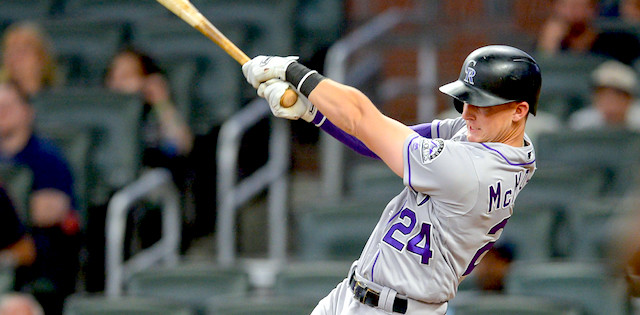 Today's magic numbers: 5/14. Each riser has exactly five home runs in the past two weeks (August 13-26). The names are a little more interesting on the whole than the ones with six or seven (and have been less explored around here). As for falling power outputs, four of today's five have been risers in just the last two or three weeks. Things can change a lot and quickly -- should your beliefs change as quickly, or are those hitters still reliable for power in the last month? Finally, playing time concerns are going to become a big deal in September, this being the final season anyone on the 40-man roster can be placed on the active roster. Next year, September roster expansion will mean going from 26 players to 28.
Weekly reminders: EVAB (pronounced ee-vab or ev-ab) is simply exit velocity on "air balls" - meaning fly balls and line drives, as shown on Statcast. Isolated power -- ISO -- is slugging percentage minus batting average, and so xISO is xSLG minus xBA. The Statcast Search feature is used to obtain partial season Statcast numbers. The league-wide ratio of barrels to home runs is historically around 67-70%.
Now, for this week's risers and fallers. Stats are through August 26 unless otherwise noted.
Editor's Note: Get any full-season MLB Premium Pass for 50% off. Exclusive access to our Draft Kit, premium rankings, projections, player outlooks, top sleepers, dynasty and prospect rankings, 15 in-season lineup tools, and over 200 days of expert DFS research.
Sign Up Now!
Power Risers
Last 14 days: 5 HR, .267/.365/.622, .584 xSLG, .285 xBA (.299 xISO), 95.6 mph at 9.4 degrees, 4 barrels, 52 PA.
Season Total: 18 HR, .264/.346/.461, .431 xSLG, .250 xBA (.181 xISO), 91.6 mph at 9.8 degrees (95.8 mph EVAB), 24 barrels, 431 PA.
McMahon hits the ball hard. Harder than any other of this week's risers. Why are his power numbers in 2019 so modest? He has hit 14 home runs at Coors compared to four on the road, but that's not unusual for a Rockies hitter. The launch angle isn't terrific, but it's almost in double figures. His ratio of home runs to barrels is within league norms, which is arguably a bit of bad luck when you play at in Colorado.
The answer for McMahon is probably more launch angle, even though his hot streak has been more reliant on a change in exit velocity. But the overall exit velocity is fine and larger gains over time should come hitting it higher. When you play at Coors Field, you probably want to be hitting the ball high and trying to get it out.
The Rockies are an interesting team when rosters expand. In a sense, they have churned the roster all year as if it's September, with players like McMahon, Brendan Rodgers, and Garrett Hampson bouncing in and out of the locker room and batting order. So expect McMahon to play as often as he has already.
Last 14 days: 5 HR, .372/.481/.860, .553 xSLG, .295 xBA (.258 xISO), 86.0 mph at 15.6 degrees, 4 barrels, 53 PA.
Season Total: 12 HR, .291/.377/.439, .404 xSLG, .276 xBA (.128 xISO), 86.4 mph at 13.3 degrees (90.9 mph EVAB), 15 barrels, 556 PA.
Based on how many home runs each had two weeks ago, Eaton's five-bomb outburst is the most surprising among this week's risers. He also has the highest two-week slugging percentage in the group--but not the highest xSLG.
As you can see, Statcast likes Eaton's last two weeks, but not nearly as much as the raw numbers would indicate. It's also less than impressed with Eaton's season as a whole. Eaton's contact by EV and LA during the streak is nearly indistinguishable from his EV/LA the whole season.
Eaton has never been a big power hitter, so these last couple weeks should be considered little more than a hot streak that will not sustain over time. Thirty is a bit late to reinvent one's baseball approach, and it's not as if the data show any significant improvement to believe Eaton is the exception. But at least the Nationals in the playoff race will mean continued AB's for Eaton.
Last 14 days: 5 HR, .356/.442/.733, .585 xSLG, .269 xBA (.316 xISO), 91.7 mph at 7.8 degrees, 6 barrels, 52 PA.
Season Total: 20 HR, .277/.347/.466, .393 xSLG, .248 xBA (.155 xISO), 87.8 mph at 6.4 degrees (92.7 mph EVAB), 25 barrels, 569 PA.
Wait, Jonathan Villar has hit 20 home runs this season, setting a career-high with a month to spare? Yes, it's true. By xISO, this run that has gotten him there is doubly more productive than his full season. He's hitting the ball harder than usual and at a moderately higher angle during the streak as well.
Of course, the season numbers tell a different story. Villar doesn't hit the ball hard or high, and he should be expected to have a sub-.400 slugging percentage at this point in the season. It's difficult to see a repeat next year, but in the very short term, the 14-day sample tells a decent narrative of a hot player. (Similar can be said of Eaton, but to a lesser extent, since his homers and barrels have been much rarer even before the past two weeks.)
Villar is the type of player somewhat at risk of losing AB's in September. The Orioles are terrible, but they know what Villar is. (Or they, being the Orioles, may look only at the home run bottom line instead of inspecting the underlying contact.) Don't anticipate too many more homers for Villar, both because of the mediocrity of his contact and, less so, because of the roster expansion.
Last 14 days: 5 HR, .321/.357/.604, .470 xSLG, .283 xBA (.187 xISO), 88.2 mph at 19.8 degrees, 4 barrels, 56 PA.
Season Total: 15 HR, .286/.327/.568, .436 xSLG, .267 xBA (.169 xISO), 89.6 mph at 17.9 degrees (92.6 mph EVAB), 11 barrels, 211 PA.
Statcast is more pessimistic about Calhoun, relative to the production he's given, than any other of this week's risers. In addition, the park effects at the new Rangers stadium next season can't yet be known. Calhoun's fortune this season can't entirely be attributed to the park, as he has hit nine of his 15 homers on the road, but the home park will still be an important concern in 2020.
As for the rest of 2019, Calhoun is clearly a disciple of the launch angle revolution, approaching 20 degrees on average. Little else in his profile is encouraging, however. Particularly alarming is the 11 barrels to support the 15 home runs, one of biggest disparities we've seen here this season.
Presumably, Texas will want to give Calhoun as full a look as possible even once rosters expand. That can't necessarily be said of any player with a mid-.400's xSLG, and it will help. But you want to see better contact from him going forward.
Last 14 days: 5 HR, .233/.364/.581, .538 xSLG, .233 xBA (.305 xISO), 87.4 mph at 12.4 degrees, 6 barrels, 55 PA.
Season Total: 24 HR, .248/.331/.462, .437 xSLG, .247 xBA (.190 xISO), 86.9 mph at 18.6 degrees (92.4 mph EVAB), 31 barrels, 538 PA.
DeJong has more 2019 homers than any of the other risers. And while a hot April accounts for most of DeJong's success this season, that's less true of raw home runs. He hit .342/.403/.607 with five home runs in March and April. He's kept up with three to six home runs every month since, even though he's hitting just .217/.308/.414 since May 1.
Like most of this week's risers, DeJong's five home runs have come with modest contact. In fact, his launch angle is, surprisingly, way down. Frankly, it is also a modest hot streak period, with a .233 average and .581 slugging. But hitting the ball closer to the ground is working out in this short period.
St. Louis, like Washington, is in a playoff battle, and DeJong's a player who'd go out there in September anyway. He's been a steady but modest source of power and that should continue, but April was a mirage.
Power Fallers
Last 14 Days: 0 HR, .118/.231/.176, .187 xSLG, .128 xBA (.049 xISO), 87.4 mph at 25.1 degrees, 1 barrel, 39 PA.
Season Total: HR, .230/.294/.520, .455 xSLG, .227 xBA (.228 xISO), 90.2 mph at 18.7 degrees (94.8 mph EVAB), 33 barrels, 435 PA.
48.7 is a number. It represents Renfroe's strikeout percentage in the past two weeks. Is that even possible? Apparently. It's 19 strikeouts in 39 PA, with five walks (at least he doesn't have Detroit's Brandon Dixon's 21-0 K-BB ratio). With only 15 points of contact, the lack of homers isn't a shock.
But will they come back? Renfroe's slump has had the effect of turning his 2019 season into a near-repeat of his 2018 season. He's lost a few hits in exchange for a couple of extra homers, but the overall result is nearly the same in xSLG (.464 last year and .455 this year) or OPS (from .805 to .815 this season). Since Renfroe is also 27, that would seem to suggest that the "real" version is the whole 2018-19 rather than the hot part of '19.
Which makes him a 35-ish HR type over 600 PA. Will he become a 600 PA player, a threshold he's never reached? This is the clearest that the combination of his value as a starter and lack of competition to be a starter has been in some time. But first, he needs to control those K's, which are worrisome as the season winds down. Still, he's a type whom the Padres should expose to MLB pitching often in September.
Last 14 Days: 0 HR, .327/.339/.382, .319 xSLG, .254 xBA (.065 xISO), 88.9 mph at 10.8 degrees, 1 barrel, 56 PA.
Season Total: HR, .332/.371/.557, .510 xSLG, .307 xBA (.203 xISO), 90.8 mph at 13.9 degrees (94.1 mph EVAB), 23 barrels, 407 PA.
Almost as soon as we buy into Urshela's power, he goes on a cold run like this. At least he's hitting .327. Unfortunately, his xBA the past two weeks is only .254, and with a .319 xSLG that makes for an xISO of .065 that is imperceptibly higher than his .055 during the rut.
Of course, taking the season view, two bad weeks is still not enough to derail Urshela's season, which still features a .510 xSLG. Nonetheless, it's very possible that pitchers have adjusted to Urshela recently. Statcast can't anticipate future developments in hitter vs. pitcher battles. Urshela has managed 88.9 mph at 12.4 degrees, slight ticks down from his season numbers in both, but the xSLG tells the clearer story.
As someone who doesn't walk very often, Urshela has to hit to get on base. He's still an everyday player for now and of course if he manages to readjust he should be able to put the ability for strong contact that he showed in the previous couple months. That's not a very decisive conclusion, so: for now, he's a hold but possible bench depending on the rest of your roster.
Last 14 Days: 0 HR, .270/.349/.324, .332 xSLG, .231 xBA (.101 xISO), 90.6 mph at 11.3 degrees, 0 barrels, 43 PA.
Season Total: 12 HR, .290/.370/.528, .403 xSLG, .241 xBA (.162 xISO), 89.0 mph at 12.0 degrees (92.4 mph EVAB), 12 barrels, 262 PA.
Tauchman was a different story than Urshela back then, with a contact profile that did not justify his success, including a .416 xSLG and as many barrels as home runs. His two-week split of a .560 xSLG then is a .332 the past two weeks. It's brought his season xSLG down to .403.
That's 125 points lower than his .528 slugging rate this season. The past production is in the bag, but the current slump is not unpredictable either. If forced to guess between a productive September or a bothersome one, the latter is the way to go.
If the Yankees ever return to full strength and get Giancarlo Stanton and Aaron Hicks back, that could spell trouble for Tauchman. Stanton and Hicks will need their September time to get ready for the playoffs and while Tauchman will likely remain on the roster, he is unlikely to get many PA once those two return.
Last 14 Days: 0 HR, .244/.300/.356, .329 xSLG, .203 xBA (.126 xISO), 89.1 mph at 14.7 degrees, 2 barrels, 50 PA.
Season Total: 22 HR, .280/.359/.538, .491 xSLG, .273 xBA (.218 xISO), 92.1 mph at 16.5 degrees (94.6 mph EVAB), 33 barrels, 463 PA.
And Dozier was the same story as Urshela earlier, someone whose power seemed pretty legit in mid-August. His xSLG, however, is now below .500 (at .491) for the season, a bit short still of his .538 SLG. Dozier is also like Urshela in that 2019 is the breakout campaign for both, which means the point about adjustments applies here as well.
There seems to have been more give-and-take between pitchers and Dozier than Urshela, however. Which means each ebb and flow is less concerning/rejuvenating than it would be for a more consistent player. That means Dozier seems like a better September bet. But is he?
At least in the fact that he has less playing time pressure in Kansas City than Urshela does in New York, yeah. Because Dozier is so new as a good hitter, the Royals ought to let him play despite September roster sizes. Also helping: Dozier's exit velocity remains in the 94th percentile this season, at 92.1 mph. In addition, through good and bad times, he has retained a 16.5-degree launch angle.
Last 14 Days: 0 HR, .205/.367/.282, .305 xSLG, .216 xBA (.089 xISO), 88.5 mph at 6.7 degrees, 1 barrel, 49 PA.
Season Total: 29 HR, .273/.345/.521, xSLG, xBA (xISO), 89.9 mph at 7.8 degrees (96.1 mph EVAB), 38 barrels, 542 PA.
Mancini isn't like Urshela, Tauchman, or Dozier -- he was a riser three weeks ago, instead of two. Not the difference you were hoping to hear?
Some good news for Mancini in the past two weeks is he continues to see the ball pretty well: in 49 PA, he has walked nine times while striking out just 10. Why is he hitting .205 and slugging .282? Well, we know by now he's not a launch angle guy, so the 6.7 degrees isn't a very big deal. Nor is the exit velocity concerning. It seems just like one of those bad runs, which Mancini has already had this season.
So, like Dozier, the lean should still be to trust the regular season. As with Villar, are the Orioles really going bench one of their few good players to look at one of their not-great prospects? Unlikely.
Last Week's Risers
| | |
| --- | --- |
| Player | Last Week Update (8/20-26) |
| Aristides Aquino | 22 PA, .350/.409/.600, 1 HR: The ride continues |
| Mike Yastrzemski | 19 PA, .176/.263/.412, 1 HR: Stays interesting but not great |
| Jorge Soler | 23 PA, .143/.217/.286, 0 HR: Not a concern for him |
| Kyle Seager | 21 PA, .313/.476/.563, 0 HR: Less BABIP driven (.333) than most such weeks |
| Juan Soto | 26 PA, .286/.423/.476, 1 HR: He's still Juan Soto |
Last Week's Fallers
| | |
| --- | --- |
| Player | Last Week Update (8/20-26) |
| Tim Anderson | 22 PA, .273/.273/.273, 0 HR: *still grimacing* |
| Manny Machado | 14 PA, .182/.357/.455, 1 HR: He's alive!(?) |
| Daniel Murphy | 18 PA, .250/.333/.375, 0 HR: Unfortunately not a surprise. And talk of someone who should lose PT in September |
| Travis D'Arnaud | 13 PA, .333/.308/.333, 0 HR: Still falling |
| Pedro Severino | 15 PA, .133/.133/.400, 1 HR: Not a big surprise and nothing to get excited over |
More 2019 Fantasy Baseball Advice