We'll be doing this roundup of points leagues every week here at RotoBaller, with waiver wire targets and streaming pitchers being evaluated in terms of the different scoring systems of ESPN, Yahoo!, CBS, and Fantrax.
Player values can vary wildly from platform to platform, so we'll make sure to highlight where players are the best and worst fits. We know points league players get neglected and we're here to help with all of the best streams for the week.
These fantasy baseball waiver wire pickups are for the week of June 6 - June 12, looking at players below ~50% rostered for ESPN, Yahoo!, or Fantrax. Rankings are calculated using games through Saturday, June 4.
Editor's Note: Our incredible team of writers received five total writing awards and 13 award nominations by the Fantasy Sports Writers Association, tops in the industry! Congrats to all the award winners and nominees including Best MLB Series, NFL Series, NBA Writer, PGA Writer and Player Notes writer of the year. Be sure to follow their analysis, rankings and advice all year long, and win big with RotoBaller!
Read More!
Know Your Scoring System
You know what I'm going to say, right?  You must account for, as precisely as possible, how a player performs under your particular scoring system. Don't be fooled into believing you can just make rough adjustments in your head, bumping up guys with high on-base percentages and low strikeout rates. Every point, in every category, counts.
For example, ESPN and Fantrax are virtually identical in their scoring for hitters and roster size. The only difference is that stolen bases are worth one more point on Fantrax and ESPN subtracts one point per strikeout. That's the difference between Trea Turner being a top-five hitter versus a top-25 hitter.
If your league uses standard settings, then great! Turn to page 94 and you can skip ahead to the leaderboards. If you play with custom settings, it'll still be fine. Go back to page 43 and look below at the scoring systems of the four major platforms. I bet there's a chance that you'll find that your league's scoring is very similar to one of the four (well, not Yahoo!'s), even if it's not the platform you actually play on.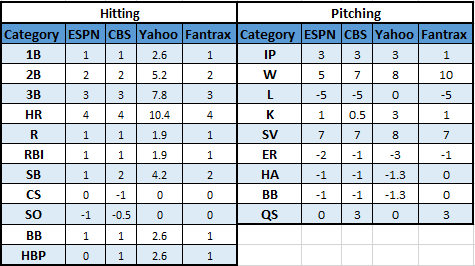 You'll likely find a suitable mirror to your own system if you look above. While every point counts, as long as they aren't seismic changes, you can get away with some "close enough" calls. IE. If everything is the same except for HBP (or something similar), you're probably fine.
Waiver Wire Leaderboards
In addition to our overall waiver wire leaderboards, once we're deep enough into the season, we'll also start doing a 21-day leaderboard as well, giving us a window into recent production. All charts are updated prior to Saturday's games, on stats and ownerships, and clicking on a chart will open a new page with a magnified version.
*APR = Average Platform Ranking - the average platform ranking between ESPN, CBS, Yahoo, and Fantrax (standard point settings)
Two-Start Pitcher Waiver Wire Options
Starting Pitcher Waiver Wire - Best Choices
Roansy Contreras, PIT (@ ATL) - Betting on Pirates pitchers is always tough because of the low chance of picking up a win bonus but filth like Contreras's stuff makes it a lot easier. Roansy has a 31.3% K% through his first 23 IP and faces an Atlanta team that has baseball's highest K% vs RHP. Sounds like a good match.
Spencer Strider, ATL (vs PIT) - Stop. Stache-time. After allowing 3 ER in 4.1 IP, with 8 K, in his debut as a starter against Arizona, Strider survived in Colorado, walking five batters but only allowing 1 ER in his 4 IP. But a matchup at home against Pittsburgh (25th in wOBA vs RHP, 26th in K%) is the one we stashers have been waiting for. Don't get your hopes up for a long outing but with Strider's strikeout potential, the innings don't have to be great for the result to be high.
JT Brubaker, PIT (vs DET, @ ATL)  - Like Jose Quintana later, Brubaker gets a soft matchup with a Detroit team that has posted the second-worst wOBA and third-worst xwOBA vs RHP. But unlike Quintana, he'll face an Atlanta offense that is much worst vs RHP (20th in wOBA, 30th in K%) than they are against LHP. Brubaker coughed up 5 ER (on 3 HR) in his last start but this double-tap is a great spot for him to get back on track.
Konnor Pilkington, CLE (vs TEX, vs OAK) - Pilkington SZN, anyone? The rookie has thrived on a four-seamer that may only be average in rise but has gotten some elite wiggle on the horizontal plane (10.1 inches of break, 52% more than average), dominating a Royals offense for five innings in his last outing, allowing zero earned runs while striking out eight batters. Granted, the Royals aren't very good but Pilkington's opponents in Week 9 aren't much better. The Rangers are the best of the pair, running the 13th-highest wOBA and 16th-highest xwOBA but Oakland remains one of baseball's worst offenses. The Athletics have the 8th-lowest wOBA, fifth-lowest xwOBA, and 8th-highest K% vs LHP.
Taijuan Walker, SD (@ SD) - Since allowing 6 ER in 4 IP to the Phillies on May 5, Walker has been excellent, posting a 2.12 ERA (3.11 FIP) over his last five starts. The strikeouts are way down, however, punching out just 14 batters in those 29.2 IP. The Padres offense remains thoroughly lackluster without Fernando Tatis Jr., posting a bottom-five wOBA and xwOBA vs RHP.
Merill Kelly, ARI (@ CIN) - Even coming to Cincinnati's crackerjack park, this feels like a very high floor, medium ceiling, type of game. The Reds offense has been slightly better but still only has the 27th wOBA vs RHP and Kelly has been quietly excellent, with an 8 ER/2 IP disaster against the Dodgers marring his 3.66 ERA.
Evan Lee, WSH (@ MIA, vs MIL) - He only went 3.2 IP in his MLB debut but the rookie left-hander will get a chance in Week 9 if he can make two starts total up to a single real one. He allowed 2 ER and struck out two in his short christening but had a 29.4% K% in 30 IP at Triple-A this season and a 31.4% K% over 77 IP in Double-A in 2021. Dude has whiffs. And he'll get two good opportunities to prove it against a Milwaukee offense that is bottom-five in K%( 24th in wOBA) vs LHP, and a Miami team that is patently awful vs lefties - the Marlins are 30th in K%, 30th in wOBA, and 29th in xwOBA.
Yusei Kikuchi, TOR (@ KC) - Kikuchi served up a trio of dongs in a tough matchup with the Twins but still struck out six batters in 4.2 IP and has a good chance to get back on track against a sub-par Royals offense that is 28th in wOBA vs LHP.
Ross Stripling, TOR (@ KC, @ DET) - It looks like Stripling will slide in to replace Hyun-Jin Ryu in Toronto's rotation and the righthander should be set up for success. The Royals are 23rd in wOBA vs RHP, while Detroit is a bottom-five offense in wOBA, xwOBA, K%, and BB%.
Josiah Gray, WSH (@ MIA) - Gray is coming off of back-to-back excellent starts against the Rockies (5 IP, 1 ER, 3 K) and Reds (6 IP, 1 ER, 9 K) but is taking on a Miami offense that is 3rd in wOBA vs RHP. However, Gray has faced the Marlins twice this season, allowing 7 ER over 11.2 IP but also striking out 17.
Edward Cabrera, MIA (vs WSH) - The Miami rookie blew onto the scene in a big way in his season debut, shutting out the Rockies for six innings in Colorado, walking four but striking out nine. The task should be easier this time out, as he'll be in Miami against a Nationals team that is bottom-10 in wOBA vs RHP.
Starting Pitcher Waiver Wire - Next Choices
Dane Dunning, TEX (@ CLE) - Dunning is getting to the point where he just shouldn't be a streamer anymore, even if his Roster% tells us he definitely still is. A 4.11 ERA (3.75 FIP) isn't awful but a lot of that is wrapped around two 5 ER outings he had against LAA and BOS. Throw out that ugliness and Dunning's 3.28 ERA is a lot shinier. But while he shouldn't be on the wire, he's also not matchup-proof and Cleveland has been stingy vs RHP - the Guardians have the 11th-highest wOBA and lowest K% in baseball.
Jose Quintana, PIT (vs DET, @ ATL) - Like with most reasonable options, I definitely want to take advantage of a Detroit offense that remains one of baseball's worst. But a matchup on the road against Atlanta (3rd in wOBA vs LHP, 6th in xwOBA) feels dicey.
Alex Cobb, SF (vs COL) - Surely Cobb's 5.73 ERA is going to start meeting his 2.64 FIP a little more in the middle, right? He got back on track in his last start against the Reds (6 IP, 2 ER, 8 K) after allowing a total of 13 ER in his previous two starts. To keep it going, he'll get a solid matchup at home against a Rockies offense that is 19th in wOBA and 24th in xwOBA vs RHP, though, with the 8th-lowest K%.
Glenn Otto, TEX (@ CHW) - Let's keep this Otto train rolling - take out the 8 ER blowup that he had against Boston on May 14, and my guy Glenn has a 2.72 ERA over seven starts. In Week 9, he'll face a White Sox team that doesn't strike out much vs RHP (3rd in K%) but doesn't do much of anything else either - Chicago is 28th in wOBA, 24th in xwOBA, and 30th in BB%.
Chad Kuhl, COL (@ SD) - Kuhl hand Chad kept up his recent success, shutting out the Braves in Colorado for six innings, striking out three. He should again be solid stream on the road against a San Diego offense that has been bottom-five in offense vs RHP.
Chris Flexen, SEA (@ HOU) - Houston has had a top-five offense against the rest of the league but Flexen has had no trouble with them in 2022. In two starts against the Astros, Flexen has allowed 4 ER over 13 IP, striking out nine and picking up one win.
Jon Gray, TEX (@ CLE, @ CHW) - He struck out 12 in his last outing against the Rays but Gray has been up and down in his six starts since returning from the IL (32 IP, 4.22 ERA) and will get the chance to keep the rollercoaster going with one soft start and one tougher one in Week 9. The White Sox have a bottom-three wOBA vs RHP (but the third-lowest K%), while Cleveland is 11th in wOBA, with the lowest K%.
Hunter Greene, CIN (vs ARI, @ STL) - The strikeouts (12.0 K/9) that come with triple-digit heat are for real but so is Greene's propensity to give up a pile of dongs (2.8 HR/9). But these are both solid matchups, as Arizona and St. Louis are mid-range offenses overall vs RHP but Arizona has a bottom-five K% against them.
Graham Ashcraft, CIN (vs ARI, @ STL) - Ashcraft has been brilliant since debuting, allowing just three earned runs in the 17.2 IP of his first three starts. The strikeouts have been light but the right-hander has limited big damage, allowing just one home run so far. Like his teammate above, Ashcraft has two solid matchups, though, strikeouts will likely continue to be light against a Cardinals team that has the 4th-lowest K% vs RHP.
Bailey Ober, MIN (vs NYY, vs TB) - I've been (and remain) a big fan of Ober but he hasn't been very good since returning from the IL and has allowed a total of 8 ER over 9 IP in his past two starts. His second matchup of the week against Tampa isn't very scary (TB is 24th in wOBA and 26th in K% vs RHP) but he's a big avoid against the Yankees in his first scheduled start - NYY is 3rd in wOBA, 1st in xwOBA, and 8th in K% vs RHP.
Michael Wacha, BOS (@ LAA, @ SEA) - The Angels (6th in wOBA, 13th in xwOBA) and Mariners (13th in wOBA, 7th in xwOBA) have both been average vs RHP but a matchup with Los Angeles will afford Wacha a chance to take advantage of their 2nd-worst K%.
Keegan Thompson, CHC (@ BAL) - His 1.99 ERA (3.52 FIP) has some corrections coming in its future but now that the Cubs are trusting him for five innings, Thompson has been pretty useful. He allowed 3 ER in his last start against the Cardinals, walking three but still picking up a win. The Orioles have some dangerous bats but have a bottom-10 wOBA and bottom-five BB% vs RHP.
Dakota Hudson, STL (@ TB, vs CIN) - Coming off of a dominant performance against the Padres (7 IP, 1 ER, 3 H, 3 K) that I'm totally taking credit for because we were there celebrating my son's fourth birthday, Hudson has fairly soft two-step on the horizon in Week 9. The Reds and Rays have both been bottom-10 offenses vs RHP, while the Rays are posting a bottom-five K%.
Starting Pitcher Waiver Wire - Desperate Choices
Steven Matz, STL (vs CIN) - the Reds are a bottom-10 team vs LHP but I'm not rushing to use Matz in his first start back from the IL.
Bruce Zimmerman, BAL (@ KC) - Zimmerman has been struggling but also against tough opponents, although allowing 5 ER to Cleveland probably needs to be avoided. If he can't get back on track against the Royals this week (28th in wOBA vs LHP, 25th in xwOBA), when can he?
Madison Bumgarner, ARI (@ CIN, @ PHI) - Feel free to ride the lightning of Bumgarner's 3.31 ERA/4.93 FIP against a Cincinnati offense that has been bottom-10 vs LHP but I'd think twice about chancing it in Philadelphia's home bandbox against an offense that that has been top-five vs LHP.
Tyler Gilbert, ARI (@ CIN, @ PHI) - see; Bumgarner, Madison.
Cole Irvin, OAK (@ ATL, @ CLE) - Irvin has been sneaky decent in 2022 but doesn't strike hardly anyone out (5.5 K/9) and plays on a team that is unlikely to help him towards many win bonuses. You absolutely should not start him against an Atlanta team that smashes LHP (3rd in wOBA, 6th in xwOBA) but the desperate among you could chance a start against a Cleveland team that has a bottom-five offense vs LHP, albeit with the 2nd-lowest K%.
Trevor Williams, NYM (@ LAA) - The lightly-rostered Williams is coming off of back-to-back scoreless outings, something he's now done in four of his past five starts. Plus, his last outing of five innings was his longest of the season. The Angels have been better than average vs RHP but have a 2nd-worst K% that could help buffer Williams's ultimate point total.
Michael Lorenzen, LAA (vs NYM) - Outside of a couple of stinkers, Lorenzen has been really solid this year but is taking on a Mets team that has been a buzzsaw vs RHP in 2022, currently running the 2nd-highest wOBA and 2nd-lowest K% against them.
Kyle Hendricks, CHC (@ BAL, @ NYY) - A start against Baltimore is playable but only a masochist would start him against a Yankees team that has been a top-three offense vs RHP.
German Marquez, COL (@ SF, @ SD) - For the desperate two-steppers, Marquez gets two games away from home, facing a San Diego offense that is bottom-five against RHP but also a Giants offense that is top-five.
Starting Pitcher Waiver Wire - McMahon Choices
No chance. No chance in hell I'm rolling out these starting pitchers who are at the higher end of the Roster% threshold or may be tempting because of a two-start week.
Jakob Junis, SF (vs LAD) - I might love streaming Junis but there's no chance I'm risking him against a Dodgers team that is 1st in wOBA, 2nd in xwOBA, and 1st in BB% vs RHP.
Johnny Cueto, CHW (vs LAD) - See; Junis, Jakob.
Patrick Corbin, WSH (vs MIL) - No-ooooooooo. Corbin has a 6.96 ERA and faces a Milwaukee offense that is top-five in both wOBA and K% vs LHP.
Chris Archer (vs NYY) - If you got away with a somewhat useful two-start in Week 8, don't get cocky trying to sneak one in this week against the Yankees. New York is 3rd in wOBA and 1st in xwOBA vs RHP.
Marco Gonzales, SEA (vs BOS) - His 3.59 ERA is backed by a 5.44 FIP and he'll take on a Boston team that crushes LHP (4th in wOBA, 8th in xwOBA).
Reid Detmers, LAA (vs BOS) - This is the Marco G remix...Detmers' 4.20 ERA is backed by a 4.86 FIP and he'll take on a Boston team that crushes LHP (4th in wOBA, 8th in xwOBA. Wicky-wicky.
Relief Pitchers Waiver Wire
Unless you're in a very deep league and/or have a lot of dedicated RP-only slots, most of the relievers you're going to want are the ones who are closers, have a chance to close, or elite setup guys. But I do mean elite because most scoring structures are weighted in a way that relievers almost necessarily have to get saves in order to be valuable. Although, long relievers whose usage you can reliably predict, can be useful in leagues with daily moves. But for a majority of leagues, sticking to closers is the way to go.
With that in mind, here are the best relievers on the wire for Week 8, ordered by Yahoo roster%:
Closers (and co-Closers) on the Wire
Tanner Rainey, WSH - Welcome to the party, pal! After going through a month-long save drought, Rainey is making up for lost time. Since (re)breaking that seal on May 25, Rainey has collected four Saves, bringing his season-long total to 7 SV. Given regular usage, there is no one else available who is even closer to his level of security/potential.
Committees on the Wire
Boston Red Sox - Boston is still an absolute cluster, with a committee currently led by the likes of John Schreiber and Jake Diekman. Zero Saves on zero opportunities.
Cincinnati Reds - Tony Santillan received both of Cincinnati's opportunities last week, converting one and blowing the other.
Kansas City Royals - The Royals will actually need to have Save opportunities if we want to confirm that Josh Staumont is still technically on a committee with Scott Barlow.
Miami Marlins - It's still a mess on South Beach, with Cole Sulser spectacularly blowing two Saves and Tanner Scott picking up a Save and a Win.
Seattle Mariners - It's still a committee, I guess, but Paul Sewald is getting the chance more and more often. He blew an opportunity on Thursday but the Mariners went right back to him on Friday, with Sewald converting it that time.
Tampa Bay Rays - Round and round the closer wheel goes, where it stops, only Kevin Cash knows. Colin Poche picked up a Save but picked up a win after blowing his other opportunity, Ryan Thompson and Matt Wisler each picked up a Save, and Jalen Beeks picked up a loss after blowing his lone opportunity.
More Fantasy Baseball Waiver Wire Advice