Welcome to Week 24 and our fantasy baseball waiver wire pitchers. We'll be doing this roundup of points leagues every week here at RotoBaller, with waiver wire targets and streaming pitchers being evaluated in terms of the different scoring systems of ESPN, Yahoo!, CBS, and Fantrax.
Player values can vary wildly from platform to platform, so we'll make sure to highlight where players are the best and worst fits. We know points league players get neglected and we're here to help with all of the best streams for the week.
These fantasy baseball waiver wire pickups are for the week of September 19 – September 25, looking at players below ~50% rostered for ESPN, Yahoo!, or Fantrax. Rankings are calculated using games through Saturday, September 17.
Editor's Note: Our incredible team of writers received 13 award nominations by the Fantasy Sports Writers Association including Baseball Writer of the Year, Football Writers of the Year, Golf Writer of the Year and many more! Be sure to follow their analysis, rankings and advice all year long, and win big with RotoBaller!
Read More!
Know Your Scoring System
You know what I'm going to say, right?  You must account for, as precisely as possible, how a player performs under your particular scoring system. Don't be fooled into believing you can just make rough adjustments in your head, bumping up guys with high on-base percentages and low strikeout rates. Every point, in every category, counts.
For example, ESPN and Fantrax are virtually identical in their scoring for hitters and roster size. The only difference is that stolen bases are worth one more point on Fantrax and ESPN subtracts one point per strikeout. That's the difference between Trea Turner being a top-five hitter versus a top-25 hitter.
If your league uses standard settings, then great! Turn to page 94 and you can skip ahead to the leaderboards. If you play with custom settings, it'll still be fine. Go back to page 43 and look below at the scoring systems of the four major platforms. I bet there's a chance that you'll find that your league's scoring is very similar to one of the four (well, not Yahoo!'s), even if it's not the platform you actually play on.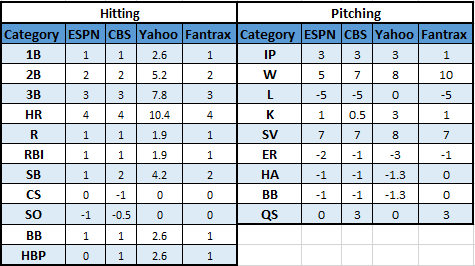 You'll likely find a suitable mirror to your own system if you look above. While every point counts, as long as they aren't seismic changes, you can get away with some "close enough" calls, i.e. If everything is the same except for HBP (or something similar), you're probably fine.
Week 24: Waiver Wire Leaderboards
All charts are updated before Sunday's games, on stats and ownerships, and clicking on a chart will open a new page with a magnified version. Players on overall leaderboards are ordered according to their current Roster% on Yahoo.
*APR = Average Platform Ranking - the average platform ranking between ESPN, CBS, Yahoo, and Fantrax (standard point settings)
The 21-Day Leaderboard, Presented by Hansel
Overall Leaderboards
Forgive me if I'm a little light on analysis today...It's my daughter's sixth birthday party and obviously, chaos is reigning.
Starting Pitcher Waiver Wire - Best Choices
Nick Lodolo, CIN (vs BOS, vs MIL) - Sure, Lodolo has 29 K in his past three starts and is coming off of back-to-back 11 K outings but facing two scary-looking offenses means we need to pump the brakes, right? Hell, no. For one, Milwaukee is a completely different team when facing left-handed pitching, ranking in the bottom-six for wOBA, 28th in K% for the season, and 30th since August 1. For two, the Brewers were one of Lodolo's 11-K victims, just two turns ago. And as I've detailed elsewhere, Boston has good overall numbers vs LHP but strikes out a lot, and on paper, matchups poorly with Lodolo's pitch mix. Wins are always dicey with Cincinnati but fortune favors the bold in September.
Drew Smyly, MIA (@ MIA) - Over eight starts since the start of August, Smyly has run an impressive 2.23, striking out 41 batters over 44.1 IP. Even more impressive, is that a lot of that ERA is wrapped up in a 7 ER/2.1 IP blowup against the Cardinals - over his other seven starts, Smyly has a 0.85 ERA. And Miami is certainly not St. Louis, ranking 30th in wOBA, 28th in xwOBA, and 30th in K% vs LHP. Smile for the camera, you smelly fish.
Wade Miley, CHC (@ MIA, @ PIT) - Oh, baby, it's the Sneaker Von Sneakerson stream of the week (a totally real designation), with Wade Miley (3 ER/9 IP in two starts since returning) taking on two of baseball's worst teams.
Ryne Nelson, ARI (vs SF) - Okay, okay, Ryne; I get it! After starting his career off with back-to-back scoreless outings over the Dodgers and Padres, we must pay attention. Nelson goes for the NL West hat trick this week, facing a Giants offense that has been bottom-10 vs RHP all season.
Marco Gonzales, SEA (@ KC) - Don't expect too many strikeouts and you won't be disappointed. Gonzales is a flyball pitcher pitching in a park that suppresses power like almost no other, and with one of baseball's hottest offenses behind him and an excellent bullpen, giving him a good chance to pick up the Win bonus.
Brayan Bello, BOS (@ CIN, @ NYY) - The return of Brayan Bello has been fairly stupendous, with the rookie running a 2.84 ERA (2.16 FIP) in five starts since returning to the Red Sox rotation. Cincinnati is a bottom-10 offense vs RHP and it'll also be a rematch with a Yankee team that in his last start he allowed three runs over 5 IP to, but with none of the runs being charged to him.
Alex Cobb, SF (@ ARI) - Coming off of another excellent start, shutting out Atlanta for seven innings and striking out seven, Cobb looks set up for another strong one in Arizona. But do be aware that Arizona is far better against right-handers, than left-handers, and has ranked fifth in wOBA and second in K% against them since the start of June.
Mitch Keller, PIT (vs CHC) - Keller has now reeled off four quality starts in a row, running a 1.80 ERA (3.55 FIP) over 25 IP, with 24 K but only picked up one Win bonus. He'll get a decent chance to keep it rolling facing a Cubs offense that is 25th in xwOBA and K% vs RHP since the start of August.
Hayden Wesneski, CHC (@ PIT) - Wesneski is coming off shutting out the Rockies for seven innings and now gets a Pirates offense that is one of the worst in baseball. And with 18 K in 15.2 IP against a Pittsburgh team that is 27th in K% vs RHP, Wesneski and his 2% Roster% might be one of the sneakiest streams on the board.
Davis Martin, CHW (vs DET) - Martin gets a rematch with a Detroit team that he just faced in his last outing, allowing 1 ER over 6 IP in a no-decision.
Starting Pitcher Waiver Wire - Next Choices
Roansy Contreras, PIT, (@ NYY, vs CHC) - Since a 4 ER outing in his return to the Pirates rotation on August 17, Contreras has rolled off five impressive, if not overly long, starts in a row, posting a 1.65 ERA (3.03 FIP) over 27.1 IP, striking out 21 and going 2-1. The New York judges are always scary but not as much as they were in the first half, and the Cubs are a bottom-five offense vs RHP. Don't assume Win bonuses but Contreras continues to prove his prospect pedigree and is starting to gain trust, even with the bad team behind him.
Jordan Lyles, BAL (vs DET) - Lyles has gotten blown up in his last two starts but that can happen against Boston and Toronto. Detroit, as previously noted, is a very different "offense".
Dylan Bundy, MIN (@ KC, vs LAA) - Care to dance with the devil? A two-stepper against bad offenses is usually gold during the Championship weeks of September but we're talking about my sweet Dylan, who, if you haven't heard, occasionally has the teeniest, weeniest blowups. Bundy has a 3.82 ERA over eight starts since August 1, allowing 2 ER or fewer in seven starts...and 7 ER in the other. Given his low K-rate and low propensity to get deeper than five innings (and qualify for the Win bonus), Bundy is riding a fine line and with a lot of a downside. I wish you well, brave warriors.
Jon Gray, TEX (vs CLE) -
Adrian Sampson, CHC (@ MIA) - In his last four starts (@ MIL, @ STL, vs CIN, @ NYM), Sampson has a 1.77 ERA over 20.1 IP. The 3.79 FIP and only 10 K are far less impressive but the Marlins are a far less opponent.
Jose Suarez, LAA (vs SEA, @ MIN) - Neither of these matchups is ideal, particularly for getting Win bonuses but Suarez has been excellent in the second half (2.14 ERA/2.85 FIP) and both the Mariners and Twins have been more mediocre vs LHP, than against righties.
Joey Wentz, DET (@ BAL, @ CHW) - In his two starts since returning to Detroit's rotation, Wentz has allowed just 2 ER over 10.2 IP, including a tough matchup with Houston in his last outing, allowing those two runs in 4 IP. But this is a tough two-step as Baltimore has been a lot better against lefties in the second half and Chicago has been a top-two offense vs LHP all season.
James Kaprielian, OAK (vs SEA) - Like a neo-Bundy, Kaprielian is more than capable of giving you 5 IP, 2 ER, and 3 K in a no-decision. Which was just my first instinct for picking a generic Bundy-espqe line. And then I saw the last time Kaprielian faced the Mariners: 5 IP - 2 ER - 3 K, ND. Bah, ha-ha.
Cody Morris, CLE (@ TEX) - Morris only allowed 1 ER over 3.2 IP to the Angels but five walks is not a recipe for success. The Rangers, however, are only 22nd in walks vs RHP, with a strikeout rate in the bottom five.
Glen Otto, TEX (vs CLE) - The ceiling is probably low against a Guardians offense that is first in K% vs RHP, particularly with Otto usually maxing out around 5 IP.
Javier Assad, CHC (@ PIT) - Assad has a 2.53 ERA over five appearances (four starts), which easily clears our bar for being viable against the Pirates.
Austin Voth, BAL (vs DET, vs HOU) - No way I'm trusting Voth against Houston but starts against Detroit are almost always streamable.
Tyler Wells, BAL (vs DET, vs HOU) - See Voth, Austin.
Starting Pitcher Waiver Wire - Desperate Choices
Nick Pivetta, BOS (@ NYY) - Pivetta has faced the Yankee four times this season and has allowed two home runs in each. I guess his ceiling is determined by how many men are on base when it inevitably happens again.
Cole Irvin, OAK (vs NYM) - The Mets are surprisingly mediocre vs LHP but Irvin has also allowed a total of 20 ER over his past four starts and 24 IP.
Matt Manning, DET (@ BAL) -
Reid Detmers, LAA (@ MIN) -
Dane Dunning, TEX (vs LAA) - The Angels are a bottom-three offense vs RHP but it's hard to trust Dunning, particularly coming off of a bad start against another bottom-tier offense, allowing 4 ER over 4.2 IP in a no-decision vs Oakland.
Anibal Sanchez, WSH (@ MIA) - I love this time of year because teams have been so bad that you can say things like "Sure, you can stream Anibal Sanchez" with a straight face.
Domingo German, NYY (vs BOS) - The last time he faced Boston on August 12, German only allowed 1 ER over 6 IP but has now only pitched 2.2 IP over his last two appearances (1 start, 1 relief).
Mike Minor, CIN (vs MIL) - For the truly desperate, the Brewers are a bottom-five offense vs LHP. Which, (the coward 😉 Mike Minor, technically, is.
Relief Pitchers Waiver Wire
Unless you're in a very deep league and/or have a lot of dedicated RP-only slots, most of the relievers you're going to want are the ones who are closers, have a chance to close, or are elite setup guys. I do mean elite because most scoring structures are weighted in a way that relievers almost necessarily have to get saves to be valuable. Although, long relievers whose usage you can reliably predict, can be useful in leagues with daily moves. But for a majority of leagues, sticking to closers is the way to go.
With that in mind, here are the best relievers on the wire for Week 24, ordered by Yahoo roster%:
Closers (and co-Closers) on the Wire
Cincinnati Reds - Alexis Diaz (3 appearances, 1 Save)/Hunter Strickland (3 appearances)
Miami Marlins - Dylan Floro (2 appearances, 1 Save)
Oakland Athletics - A.J. Puk (2 appearances, 1 Hold)/Domingo Acevedo (2 appearances, 2 Saves)
Tampa Bay Rays - Pete Fairbanks (1 appearance, 1 Save)/Jason Adam (3 appearances, 1 Hold, 1 Loss, 1 Blown Save)
Texas Rangers - Jose Leclerc (3 appearances, 2 Saves, 1 Loss, 1 Blown Save)
Washington Nationals - Kyle Finnegan (3 appearances, 2 Saves)
Committees on the Wire
Arizona Diamondbacks - Ian Kennedy (1 appearance)/Joe Mantiply (2 appearances, 1 Hold)
Boston Red Sox - Garrett Whitlock (2 appearances, 1 Win, 1 Blown Save)/John Schreiber (1 appearance, 1 Hold)/Matt Barnes (1 appearance)/Matt Strahm (1 appearance, 1 Save)
Los Angeles Angels - Jimmy Herget (2 appearances, 1 Blown Save, 1 Hold)/Ryan Tepera (3 appearances, 1 Save, 1 Loss)/Aaron Loup (3 Appearances, 1 Save, 1 Hold, 1 Loss)/Jose Quijada (2 appearances, 1 Hold)
Download Our Free News & Alerts Mobile App
Like what you see? Download our updated fantasy baseball app for iPhone and Android with 24x7 player news, injury alerts, sleepers, prospects & more. All free!


More Fantasy Baseball Waiver Wire Advice