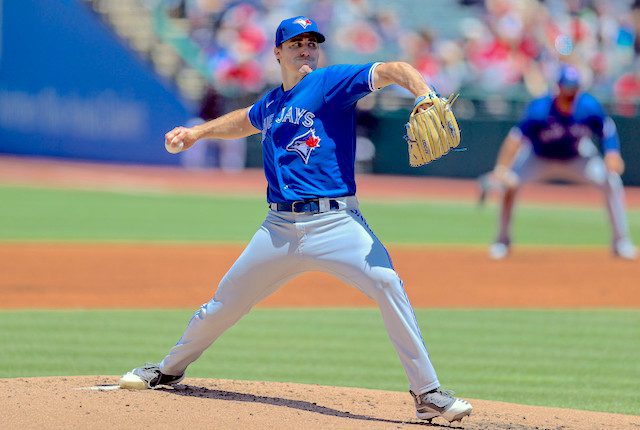 Welcome to Week 20 and our fantasy baseball waiver wire pitchers. We'll be doing this roundup of points leagues every week here at RotoBaller, with waiver wire targets and streaming pitchers being evaluated in terms of the different scoring systems of ESPN, Yahoo!, CBS, and Fantrax.
Player values can vary wildly from platform to platform, so we'll make sure to highlight where players are the best and worst fits. We know points league players get neglected and we're here to help with all of the best streams for the week.
These fantasy baseball waiver wire pickups are for the week of August 22 – August 28, looking at players below ~50% rostered for ESPN, Yahoo!, or Fantrax. Rankings are calculated using games through Saturday, August 20.
Featured Promo: Get any full-season MLB and DFS Premium Pass for 50% off. Exclusive access to our Team Sync platform, Premium articles, daily Matchup Rating projections, 15 lineup tools, DFS cheat sheets, Research Stations, Lineup Optimizers and much more!
Sign Up Now!
Know Your Scoring System
You know what I'm going to say, right?  You must account for, as precisely as possible, how a player performs under your particular scoring system. Don't be fooled into believing you can just make rough adjustments in your head, bumping up guys with high on-base percentages and low strikeout rates. Every point, in every category, counts.
For example, ESPN and Fantrax are virtually identical in their scoring for hitters and roster size. The only difference is that stolen bases are worth one more point on Fantrax and ESPN subtracts one point per strikeout. That's the difference between Trea Turner being a top-five hitter versus a top-25 hitter.
If your league uses standard settings, then great! Turn to page 94 and you can skip ahead to the leaderboards. If you play with custom settings, it'll still be fine. Go back to page 43 and look below at the scoring systems of the four major platforms. I bet there's a chance that you'll find that your league's scoring is very similar to one of the four (well, not Yahoo!'s), even if it's not the platform you actually play on.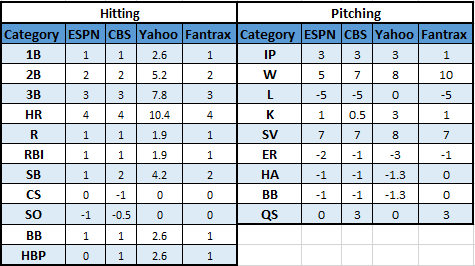 You'll likely find a suitable mirror to your own system if you look above. While every point counts, as long as they aren't seismic changes, you can get away with some "close enough" calls, i.e. If everything is the same except for HBP (or something similar), you're probably fine.
Week 20: Waiver Wire Leaderboards
All charts are updated before Sunday's games, on stats and ownerships, and clicking on a chart will open a new page with a magnified version. Players on overall leaderboards are ordered according to their current Roster% on Yahoo.
*APR = Average Platform Ranking - the average platform ranking between ESPN, CBS, Yahoo, and Fantrax (standard point settings)
The 21-Day Leaderboard, Presented by Hansel
Overall Leaderboards
Starting Pitcher Waiver Wire - Best Choices
Ross Stripling, TOR (@ BOS, vs LAA) - With a 2.93 ERA for the season and a 0.00 ERA over the past three weeks, you better believe I'm rolling with a two-starter that involves the Angels. But a start against Boston also isn't exactly scary, as the Red Sox are 23rd in wOBA/xwOBA and 25th in K% vs RHP since the start of July.
Edward Cabrera, MIA (@ OAK, vs LAD) - After another excellent performance in a bad matchup in Philadelphia (4 IP - 3 H - 0 ER - 7 K), Cabrera has officially moved into the rookie trust zone. But I also don't really trust anyone against the Dodgers offense and wouldn't advise anyone else to. But a start in Oakland (vs RHP: 29th in wOBA/xwOBA, 23rd in K%) is about as juicy as it gets.
Kyle Gibson, PHI (vs PIT) - Is Kyle Gibson actually on your waiver wire? If so, stop reading and go pick him up. Then, come back, please. Gibson has a 2.70 ERA over the past three weeks and faces a Pittsburgh offense that is nearly as inept as they come.
Cole Irvin, OAK (vs MIA) - The wheels have fallen off the past two starts, with Irvin allowing 10 ER over 12 IP in losses to Houston and Seattle. But a start against Miami (vs RHP: 30th in wOBA, 28th in xwOBA, 30th in K%) is just what the stream doctor ordered.
George Kirby, SEA (vs WSH) - The rookie hasn't crossed our eligibility threshold yet and thus gets another recommendation facing a Washington offense that is 25th in wOBA vs RHP since the start of July, though, only 4th in K%.
Justin Steele, CHC (@ MIL) - Steele just keeps on quietly trucking. As in, did you know he has a 1.07 ERA over five starts since the All-Star break and a 2.26 ERA over his 12 starts since the start of June? Besides Steele's recent excellence, this recommendation is brought to by the Brewers being bottom-five in wOBA/xwOBA vs LHP since the start of July and last in K%.
Glenn Otto, TEX (vs DET) - Let's get that Otto-train going again, as Glenn is in the middle of an excellent August, posting a 1.99 ERA over five starts and 22.2 IP, including matchups against the Twins and Astros. What about the 5.72 FIP and 5.50 xFIP?...Those little guys? Don't worry about those little guys. I mean, yes, normally you would worry about those but not in a Tigers week! Facing RHP this season, Detroit is 30th in wOBA, 30th in xwOBA, 28th in K%, and 29th in BB%.
Jose Suarez, LAA (@ TB) - After three straight scoreless outings, the bubble finally burst, with Suarez allowing 3 ER over 5.1 IP in a loss to the Mariners. But while he lost, Suarez still pitched well, utilizing two differently shaped changeups on his way to 5 K. The Rays have been middling vs LHP all season but even more so since the start of July, ranking 23rd in wOBA, 24th in xwOBA, and 24th in K%. Unfortunately, Suarez is backed by the Angels and therefore unlikely to pick up a Win bonus.
Starting Pitcher Waiver Wire - Next Choices
Nick Pivetta, BOS (vs TB) - Pivetta is still easy to trust when facing bad teams, like when he trucked Pittsburgh in his last start for seven shutout innings, allowing just one hit and striking out six. But his inner gas can is always lurking and we should still be careful. Tampa is 22nd in wOBA and 26th in xwOBA vs RHP for the season but has improved to 14th and 17th, respectively, since the start of July.
Matt Manning, DET (vs SF) - Manning picked up the hard-luck loss in his last time out, picking up the L after allowing just 1 ER over 7 IP and striking out eight. He'll face a Giants team that continues to fade vs RHP, posting a bottom-five wOBA and xwOBA since July 1.
Nick Lodolo, CIN (@ PHI, @ WSH) - Lodolo gets a rematch of a Phillies team that he just dominated for seven shutout innings, allowing five hits and striking out eight but be careful because Philadelphia is generally very good vs LHP, posting top-five ranks in wOBA and xwOBA against them. The Nationals, on paper, are a much easier test, with a wOBA vs LHP that is 23rd since July 1, and an xwOBA that is 25th.
Drew Smyly, CHC (vs STL, @ MIL) - Smyly has only allowed more than 2 ER in one of his past six starts (2.59 ERA) but one of these starts in Week 20 is not like the other, one of these starts does not belong. As in, the Cardinals absolutely smash left-handed pitching and should not be trifled with. But a start in Milwaukee is surprisingly playable, as the Brewers have been a bottom-five offense vs LHP, all season.
Josiah Gray, WSH (vs CIN) - Gray has bounced back in his three starts since getting lit up for 6 ER on 3 HR by the Phillies on August 5, posting a 3.12 ERA over his past three starts, striking out 18 batters over 17.1 IP. He faces a Reds team that has been bottom-three in xwOBA and K% vs RHP since the start of July.
Alex Cobb, SF (@ MIN) - Even if the results haven't always come in, Cobb has pitched excellently all season, posting a 3.00 FIP for the year and a 3.29 FIP over the past three weeks. But a matchup in Minnesota is really dicey, as the Twins are 6th in wOBA and 2nd in xwOBA when facing RHP in 2022.
Aaron Civale, CLE (@ SEA) - Civale has looked pretty good in his two starts since returning from the IL, allowing 3 ER over 10 IP, allowing just six hits, and striking out 14, including a whopping 10 K in his most recent outing. Counterpoint: both starts were against Detroit, who are, as previously mentioned, very bad at hitting baseballs. Seattle, while still fairly middling vs RHP, is much better.
Marco Gonzales, SEA (vs CLE) - Ol' slow hand can't much be trusted against good (or even decent) offenses but luckily, Cleveland is neither. At least vs LHP. The Guardians are 29th in wOBA and 28th in xwOBA vs LHP but just 9th in K%. So, if 5-6 IP and 1-2 K is what you're looking for, this could be the stream for you!
Starting Pitcher Waiver Wire - Desperate Choices
Jose Quintana, STL (vs ATL) - Normally, I'd say stay far away from a matchup with Atlanta, as they've been a top-five offense vs LHP all season. But what do I know because Quintana is clearly leveraging voodoo and has a 1.52 ERA over five starts since the All-Star break. Don't bet against voodoo.
Mitch White, TOR (vs LAA) - White rarely reaches enough innings to be eligible for a Win bonus but the Angels rarely do enough vs RHP to force the issue. Anaheim is 29th in wOBA, 30th in xwOBA, and 30th in K% vs RHP since the start of July.
Jake Odorizzi, ATL (@ PIT, @ STL) - Clearly, you probably not be starting Odorizzi vs STL but even more clearly, almost any start vs PIT is playable.
Kris Bubic, KC (vs SD) - Bubic only has a 4.71 ERA over the past three weeks but a 2.60 ERA speaks better to his efforts. And San Diego continues to struggle against LHP, with the 3rd-worst wOBA against them since the start of July.
Relief Pitchers Waiver Wire
Unless you're in a very deep league and/or have a lot of dedicated RP-only slots, most of the relievers you're going to want are the ones who are closers, have a chance to close, or are elite setup guys. I do mean elite because most scoring structures are weighted in a way that relievers almost necessarily have to get saves to be valuable. Although, long relievers whose usage you can reliably predict, can be useful in leagues with daily moves. But for a majority of leagues, sticking to closers is the way to go.
With that in mind, here are the best relievers on the wire for Week 20, ordered by Yahoo roster%:
Closers (and co-Closers) on the Wire
Tanner Scott, MIA
Kyle Finnegan, WSH
Wil Crowe, PIT
Jonathan Hernandez, TEX
Committees on the Wire
Ian Kennedy/Joe Mantiply, Arizona
Matt Strahm/John Schreiber/Matt Barnes, BOS
Rowan Wick/Brandon Hughes, CHC
Alexis Diaz/Hunter Strickland, CIN
Ryan Tepera/Jose Quijada/Jimmy Herget, LAA
Dany Jimenez/A.J. Puk/Zach Jackson, OAK
Jason Adam/Colin Poche/Brooks Raley/Pete Fairbanks, TB
Random Save Chances O' the Week
All of the players who got a Save opportunity in Week 19 but aren't regular closers.
Steven Brault, CHC - Blew a Save on Friday
Erich Uelmen, CHC - Blew a Save on Wednesday
Mark Leiter Jr., CHC - Save on Tuesday
Reynaldo Lopez, CHW - Blew a Save on Friday
Joel Kuhnel, CIN - Blew a Save on Friday
Dinelson Lamet, COL - Blew a Save on Saturday
Carlos Estevez, COL - Blew a Save on Tuesday
Alex Lange, DET - Blew a Save on Wednesday
Ryne Stanek, HOU - Blew a Save on Saturday
Evan Phillips, LAD - Save on Friday
Steven Okert, MIA - Blew a Save on Friday
Dylan Floro, MIA - Save on Tuesday
Hoby Milner, MIL -  Blew a Save on Friday
Matt Bush, MIL - Blew a Save on Tuesday
Dominic Leone, SF - Blew a Save on Wednesday
Packy Naughton, STL - Blew a Save on Tuesday
Jalen Beeks, TB - Blew a Save on Wednesday
Matt Moore, TEX - Blew a Save on Saturday
Yimi Garcia, TOR - Save on Saturday
Download Our Free News & Alerts Mobile App
Like what you see? Download our updated fantasy baseball app for iPhone and Android with 24x7 player news, injury alerts, sleepers, prospects & more. All free!


More Fantasy Baseball Waiver Wire Advice