We'll be doing this roundup of points leagues every week here at RotoBaller, with waiver wire targets and streaming pitchers being evaluated in terms of the different scoring systems of ESPN, Yahoo!, CBS, and Fantrax.
Player values can vary wildly from platform to platform, so we'll make sure to highlight where players are the best and worst fits. We know points league players get neglected and we're here to help.
These fantasy baseball waiver wire pickups are for the week of July 4 - July 10, looking at players below ~50% rostered for ESPN, Yahoo!, or Fantrax. Position eligibility is taken from Fantrax and players are grouped by their most valuable fantasy position, using a hierarchy of: C > 2B > OF > 3B > 1B > SS. Stats and rankings for charts are calculated using games through Friday, July 1.
Featured Promo: Get any full-season MLB and DFS Premium Pass for 50% off. Exclusive access to our Team Sync platform, Premium articles, daily Matchup Rating projections, 15 lineup tools, DFS cheat sheets, Research Stations, Lineup Optimizers and much more!
Sign Up Now!
Know Your Scoring System
You know what I'm going to say, right?  You must account for, as precisely as possible, how a player performs under your particular scoring system. Don't be fooled into believing you can just make rough adjustments in your head, bumping up guys with high on-base percentages and low strikeout rates. Every point, in every category, counts.
For example, ESPN and Fantrax are virtually identical in their scoring for hitters and roster size. The only difference is that stolen bases are worth one more point on Fantrax and ESPN subtracts one point per strikeout. That's the difference between Trea Turner being a top-five hitter versus a top-25 hitter.
If your league uses standard settings, then great! Turn to page 94 and you can skip ahead to the leaderboards. If you play with custom settings, it'll still be fine. Go back to page 43 and look below at the scoring systems of the four major platforms. I bet there's a chance that you'll find that your league's scoring is very similar to one of the four (well, not Yahoo!'s), even if it's not the platform you actually play on.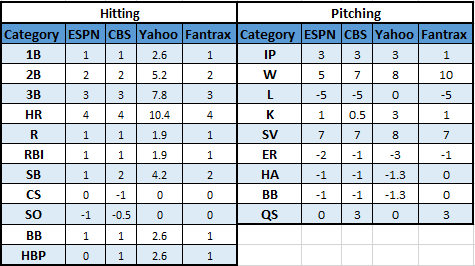 You'll likely find a suitable mirror to your own system if you look above. While every point counts, as long as they aren't seismic changes you can get away with some "close enough" calls. IE. You're probably fine if everything is the same except for HBP (or something similar).
Week 13: Waiver Wire Leaderboards
All charts are updated prior to Thursday's games, on stats and ownerships, and clicking on a chart will open a new page with a magnified version. Players on overall leaderboards are ordered according to their current Roster% on Yahoo.
*APR = Average Platform Ranking - the average platform ranking between ESPN, CBS, Yahoo, and Fantrax (standard point settings)
The 14-Day Leaderboard, Presented by Hansel
These players are so hot right now. Here are the players on the wire who are running inside the top-100 of APR over the past two weeks:
Overall Leaderboards
First Base Waiver Wire Pickups
Best Choices
Christian Walker, ARI - At 49% on Yahoo and ESPN, we're tantalizingly close to a consensus top-50 hitter finally losing eligibility for this space. Huzzah. Walker keeps doing what he's done all year, posting a 56 APR over the past two weeks, hitting three home runs, while posting double-digit walk and strikeout rates.
Vinnie Pasquantino, KC - After destroying Triple-A (296 PA: 18 HR - 51 R - 67 RBI - 3 SB - .280 AVG) prior to his callup this week, Pasquantinio needs to be added where available, if only as a bet on the upside. The bugaboo, though, is that we're dealing with the Royals, who aren't exactly known for automatically playing their top prospects. Pasquantino has started the past three games but we'll have to see what happens when Kansas City faces some left-handers. But that won't happen this week, as they're scheduled to face RHP in all seven of their games.
Next Choices
Nathaniel Lowe, TEX - You know what you're getting with Lowe; a low-budget compiler profile that eventually accumulates startable points by chipping away while playing every day.
Carlos Santana, KC - Prior to getting traded to Seattle, Santana was hitting like it was 2019, posting a .400 wOBA over the past two weeks. The trade put him in a much better situation and Santana has started every game since joining the Mariners but going 1-for-15 hasn't inspired confidence.
Daniel Vogelbach, PIT - Who doesn't love a little Vogelbach hot streak? The beefy first baseman has posted a 31 APR over the past two weeks, posting a .460 wOBA and .453 xwOBA.
Desperate Choices
Jesus Aguilar, MIA - Aguilar isn't hitting for power and hasn't taken a walk since June 1. This does not a good points asset make.
Luke Voit, SD - Voit is only playable in leagues without a strikeout penalty (33.6% K% for the season) but when the power isn't popping, the stretches are ice cold. Voit has only hit one home run over the past two weeks and has now been sat twice in San Diego's past five games.
On the IL
Second Base Waiver Wire Pickups
Best Choices
Nico Hoerner, CHC (2B/SS) - Hoerner continues to be an excellent points asset by playing every day, contributing a little bit everywhere, and running a strikeout rate that's nearly in the single digits.
Issac Paredes, TB (2B/3B) - When someone hits 11 HR* in his first 123 PA, we should probably hop on the hot streak until it ends, even if the playing time seems suspect.
* When someone hits two more home runs in a double-header on Saturday, we should definitely hop on the hot streak. 
Next Choices
Santiago Espinal, TOR (2B/3B/SS) - Espinal makes for a fine compiler, playing every day at the back of a good lineup. But the ceiling is very limited and the skills don't portend it raising any time soon.
Cesar Hernandez, WSH - With as dire as things have gotten at middle infield, you might be resigned to patching in Hernandez, who won't hurt you under most scoring formats but also won't give you much help when he's not on one of his occasional 10-day hot streaks.
Jose Miranda, MIN (1B/2B/3B) - Miranda has now started five games in a row, including one vs an LHP, and is on a modest six-game hit streak, over which he has slashed .368/.368/.632, with a .428 wOBA.
Desperate Choices
Jace Peterson, MIL (1B/2B/3B/OF) - A platoon-streaming specialist, Peterson should start five of Milwaukee's six games in Week 13, with the Brewers set to face a litany of suspect pitchers from the Cubs and Pirates.
Brad Miller, TEX (1B/2B/3B/OF) - Streaming Miller is always a desperate gambit that will only occasionally result in a home run binge. But if you're feeling lucky, the Rangers only face one LHP in Week 13, so you know you'll at least get five cracks at it.
Cavan Biggio, TOR (1B/2B/3B/OF) - Good god, is that a Cavan Biggio sighting? Biggio is still mired in a part-time role but has really got the stick moving lately, posting a 65 APR and .478 wOBA over the past two weeks.
Nick Senzel, CIN (2B/OF) - From the people who brought you "Good god, is that a Cavan Biggio sighting", comes, good god, is that a Nick Senzel sighting? Senzel has run a 113 APR over the past two weeks but unlike the corpse of Biggio, he's at least playing every day. So, there is that.
On the IL
Third Base Waiver Wire Pickups
Best Choices
Evan Longoria, SF - Longoria is heating up, running a 35 APR over the past two weeks, posting a .483 wOBA and .420 xwOBA. More importantly, he's back to playing every day, starting nine games in a row before getting Friday night off. Over those nine games, he slashed .400/.486/.733 over 37 PA, with a .505 wOBA and 231 wRC+, so don't expect him to suddenly start grabbing regular pine. Longoria was a points star last year when healthy and I'm betting on him continuing to be one this year.
Next Choices
Yandy Diaz, TB (1B/3B)- Diaz has a .416 xwOBA over the past two weeks that makes a .342 wOBA seem a bit spicier but Diaz's ultimate production will stay low as long as his launch angle does. But on that front, things are at least looking up:
Gio Urshela, MIN (3B/SS) - Urshela is the third base version of Nate Lowe, the only difference is the depth of the position.
Desperate Choices
Yoan Moncada, CHW - He might be a big name on the wire but I haven't been a believer in Moncada in a long time and he just isn't showing the skills to change my mind.
Spencer Torkelson, DET - A .265 wOBA for the season just ain't going to cut it, especially on an offense as bad as the Tigers.
On the IL
Shortstop Waiver Wire Pickups
Best Choices
No.
Next Choices
I said, No!
Desperate Choices
Miguel Rojas, MIA (1B/SS) - Rojas doesn't strike out (11.5% K%) but also rarely takes a walk (5.3% BB%), though a 113 APR over the past two weeks puts him lightyears ahead of any other player with a SS MVP. And he technically shouldn't even have that, considering that he's picked up 1B eligibility.
Elvis Andrus, OAK - You know things are bad when Elvis freaking Andrus has the second-highest APR for the season (and over the last two weeks) among players with a SS MVP.
On the IL
Catcher Waiver Wire Pickups
Best Choices
MJ Melendez, KC (C/OF)- Melendez has more upside than any catcher you'll find on the wire and is locked into a full-time role with Salvador Perez on the shelf for an extended period. But the rookie is also locked into a cold spell (as rookies are want to do), going 4-for-41 over his past 10 games, with o HR, 2 R, and 1 RBI. Not great but I'd still rather bet on his talent than roll with any of the low-ceiling choices that follow.
Jonah Heim, TEX - Heim only has a 168 APR for the season but has above-average per-PA scoring rates and still getting a majority of the playing time behind the plate. The Rangers offense is heating up and Heim's .405 wOBA over the past two weeks might start making him a useful bandaid for those still waiting out the recent litany of catcher injuries.
Cal Raleigh, SEA - Raleigh has a 96 APR over the past two weeks but his most interesting development is that his playing time might be on the upswing following Luis Torrens hitting the IL. he has a .348 xwOBA for the season and is now only being backed up by Andrew Knapp - sometimes that might be enough at catcher.
Next Choices
William Contreras, ATL - Contreras is currently mired in a slump that makes him mostly fantasy irrelevant given that his backup status limits him to 2-3 starts per week.
Mitch Garver, TEX - Garver has a shiny .467 wOBA over the past two weeks but is too hurt to catch and is only getting 3-4 starts a week at DH. You have to do a lot of damage in ~25 PA to be worth rostering and Garver just isn't.
Austin Nola, SD/Jorge Alfaro, SD (C/OF) - These two things are the same.
Desperate Choices
All catcher adds are desperate adds. Now and forever.
On the IL
Outfielder Waiver Wire Pickups
Best Choices
Jarren Duran, BOS - Duran has run elite per-PA scoring rates since getting called back up on June 15. Over those 11 games, Duran has slashed .341/.396/.568 over 48 PA at leadoff, with a .413 wOBA and 171 wRC+. If available, he won't be for long.
Andrew McCutchen, MIL - What is dead may never die. And Cutch ain't done yet, posting a top-10 APR over the past two weeks that has vaulted him to a 61 APR for the year. When healthy and playing every day, McCutchen has a very points-friendly scoring profile and has run just a 3.7% K% over the past two weeks, with an 11.1% BB%
Juan Yepez, STL (1B/OF) - After spending some time in platoon-land, Yepez is back to a full-time role, starting the Cardinals' last 11 games. Over those 40 PAs, he slashed .308/.300/.641, with three home runs and a .392 wOBA.
Steven Kwan, CLE - We lost Kwan for a while to the swirling sea of rookie flameouts but his points value has been back for a hot minute and he should absolutely not be so available under most scoring formats. For one, he compiles tons of PAs and has been back to batting at the top of Cleveland's lineup, leading off in his past 10 starts. Kwan has rewarded the move back up, slashing .361/.465/.444 over 43 PA, with a .405 wOBA and 170 wRC+. You're not getting any power but he doesn't need it to be a points star, given his current spot in the Guardians pecking order and his propensity to take plenty of walks (11.9% BB%) while rarely striking out (7.8% K%). This is a killer scoring profile for a leadoff hitter in points.
Garrett Cooper, MIA (1B/OF) - Coop. Coop dey oop. Coop dey oop, dey oop, dey oop. Garret continues to be quietly excellent, starting every near the middle of the Marlins order. Just that would give him a great compiler base but Cooper can also crush lasers, running a .420 xwOBA over the past two weeks, with a .380 xwOBA and .372 wOBA for the entire year. I'm telling you, he's good.
Alek Thomas, ARI - The rookie has hit a lull but even his substandard 136 APR over the past two weeks is still being backed by per-PA scoring rates that are well above average. For added context, Thomas's 0.56 pt/PA on ESPN and 0.69 pt/PA on CBS are virtually identical to those of J.D. Martinez.
Next Choices
Alex Kirilloff, MIN (1B/OF) - Kirilloff has come back to the big leagues hitting like he wants to stay - and like his wrist finally feels better. Slashing .277/.294/.447 over 51 PA still isn't spectacular but is a far cry from how he started the season.
Randal Grichuk, COL - Grichuk was one of our top choices last and he hasn't disappointed on Colorado's home stand, going 5-for-14 over the Rockies' first four games this week, with one home run and two doubles. And he still has a matchup with Dallas Keuchel, so don't assume things are over. He'll leave the comfy confines of Coors next week but the matchups still aren't too shabby, scheduled to two lefties in a series against the Dodgers and Diamondbacks, including a rematch with the aforementioned gas can that's going by the name of Dallas.
Hunter Dozier, KC (1B/3B/OF) - No sizzle here but like Nathaniel Lowe or Gio Urshela, at least Dozier won't hurt you.
Adam Duvall, ATL - The power is slowly coming back around but like a Luke Voit in the outfield, his atrocious plate discipline keeps his value very platform specific.
David Peralta, ARI - Peralta sits vs LHP but is an excellent streaming option when in the lineup. His 124 APR for the season and 125 APR over the past two weeks is mundane but remember that he's taking a playing-time penalty. His per-PA scoring rates are far from mundane and Peralta is hot right now, posting a .408 wOBA and .593 xwOBA over the past two weeks. Unfortunately, the Diamondbacks are set to face off against four left-handers in this week's seven-game homestand against the Giants and Rockies.
Robbie Grossman, DET - From the entertainment powerhouse that brought you "Good god, is that a Cavan Biggio sighting?" and the creative forces behind "Good god, is that a Nick Senzel sighting?", comes the latest tour de force in hackneyed player intros: Good god, is that a Robbie Grossman sighting? Grossman has a 68 APR over the past two weeks but do be aware that a .422 wOBA is backed by just a .352 xwOBA and that his ~30% K% cancels out most of the value gained from a double-digit walk rate.
Jack Suwinski, PIT - Suwinski just keeps hitting bombski's, hitting two more since his epic 3-HR game on June 19. You might as well try and ride the hot hand but be aware that his .413 wOBA over the past two weeks is backed by just a .304 xwOBA. Add in a 31.4% K% and it seems like a recipe for pain will be on the upcoming menu.
Desperate Choices
Seth Brown, OAK (1B/OF) - It's good news that the A's are only scheduled to face two LHP in Week 13. But of the four righties that Brown will likely start against, the bad news is that three are named Justin Verlander, Alek Manoah, and Luis Garcia.
Rafael Ortega, CHC - He's still not starting vs LHP but Ortega has hit his way back up near the top of the Cubs lineup, batting 1st/2nd in each of his past six starts. Over that stretch, he's collected 10 RBI, with 4 R, and 1 HR.
Harold Ramirez, TB (1B/OF) - Harold Ramirez has a 94 APR and .451 wOBA over the past two weeks. But he also only ran a .294 xwOBA over that period and is only playing more because Kevin Kiermaier hit the IL.
Lane Thomas, WSH - I absolutely don't think Thomas is worth a pickup but just wanted to make one final joke about people again being tricked into thinking that he is anything other than Lane Thomas. See? Now I'm done. I plomise.
On the IL
Download Our Free News & Alerts Mobile App
Like what you see? Download our updated fantasy baseball app for iPhone and Android with 24x7 player news, injury alerts, sleepers, prospects & more. All free!


More Fantasy Baseball Waiver Wire Advice