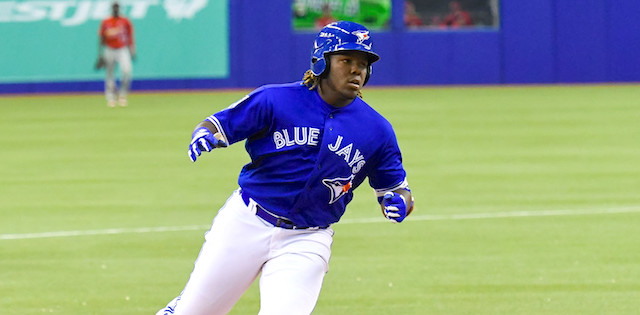 Prospecting can be an excellent way to find value on draft day and beyond, but every year a couple are hyped to the point that you need them to reach their full upside just to break even on your investment. Vladimir Guerrero Jr. seems to be that guy in 2019, as he is currently being taken in the top 40 of NFBC drafts despite never logging a single big league PA. The soon to be 20-year-old has undeniable talent, but 2019 might prove too soon for redraft leagues.
Peter Alonso may put up a similar fantasy season for a fraction of Vladito's cost. He's older (24) and blocked by the Mets' efforts to collect every second baseman over 30 years of age, but his minor league resume suggests that he will hit the ground running as soon as the opportunity presents itself.
Let's take a closer look at these young studs.
Editor's Note: Get any full-season MLB Premium Pass for 50% off, with exclusive access to our season-long articles, 15 in-season lineup tools and over 200 days of expert DFS research/tools.
Sign Up Now!
The Fantasy Jury is Out
Peter Alonso (1B, NYM) ADP: 248.51
Alonso got a brief taste of Double-A ball in 2017, slashing .311/.340/.578 with two homers in 47 PAs for the Binghamton Rumble Ponies. The sample is too small to draw many conclusions from, but his plate discipline metrics (4.3% BB%, 14.9% K%) were encouraging in his first look at advanced pitching.
Alonso returned to Binghamton in 2018 and performed well, putting up a .314/.440/.573 triple slash line with 15 HR in just 273 PAs. His BABIP (.344) was on the high side considering his low LD% (18.8% LD%) and complete lack of foot speed (a 30 on the 20-80 scouting scale), but his average was at least partially supported by excellent plate discipline (15.8% BB%, 18.3% K%). He also did a good job of elevating the baseball (44.2% FB%) and doing something with all of his fly balls (20.5% HR/FB).
The performance earned Alonso a shot at Triple-A Las Vegas, where he regressed to a .260/.355/.585 line with 21 big flies in 301 PAs. A K% spike to 25.9% was the primary downward force on his average, though his 11% walk rate suggests that he wasn't overwhelmed. His BABIP also declined to .284, for which his 17.5% LD% is at least partially to blame.
Most importantly for fantasy owners, Alonso continued to flash excellent power in Las Vegas: His 40.4% FB% did a lot of damage with an HR/FB of 25.4%. That HR/FB might seem unsustainable, but Vegas inflates power (1.048 HR factor from 2014-2016) and scouts give Alonso's raw power an 80 grade. That's the highest the scouting scale goes! Binghamton suppresses power (0.939 HR factor), and Alonso still posted a 20% HR/FB there. An HR/FB of around 20 percent is a reasonable projection for Alonso's first MLB action.
Alonso is probably destined to return to Vegas at the start of the season, but none of the veteran Mets infielders have extensive experience at first base. Dominic Smith is still around, but he's also proven to be pretty bad. Alonso looks like the first guy the Mets call up when somebody else gets injured, something that shouldn't take too long considering we're talking about the Mets. A late-round draft pick has the potential to turn into 30 HR with reasonable batting average and (especially) OBP figures.
Verdict: Champ
Vladimir Guerrero Jr. (3B, TOR) ADP: 38.59
Vladito was literally a teenager for the entire 2018 season, so the fact that his big-league debut seems imminent is already an accomplishment. He logged significant time with both Double-A New Hampshire and Triple-A Buffalo last year, so let's break down both performances.
Guerrero received 266 PAs for New Hampshire last year, slashing a ridiculous .402/.449/.671 with 14 HR and three steals. Before you get too excited about the running game, note that Vladito is not fast (40 on the 20-80 scale) and he was caught just as often as he was successful. Likewise, it's probably safe to take the under on his .402 BABIP when translating his numbers to the major leagues. Even considering these caveats, it was an amazing season.
His plate discipline metrics were off the charts (7.9% BB%, 10.2% K%), suggesting that he will not be overwhelmed by big league pitching. He also did a nice job of elevating the baseball (38% FB%) and making his fly balls count (17.7% HR/FB), though his home park may have helped in the latter regard (1.185 HR factor). The Blue Jays probably didn't want to promote their wunderkind to Triple-A, but Vladito left them with no choice.
He ended up recording 128 PAs for Buffalo, slashing .336/.414/.564 with six homers and zero steals. Predictably, his BABIP regressed to a more sustainable .323, explaining most of the batting average difference. His plate discipline remained outstanding (11.7% BB%, 7.8% K%), but his FB% fell considerably (24%). Some of the lost flies turned into line drives (29% LD% vs. 22.6% at Double-A), but he still lost a significant number of airborne batted balls (39.4% GB% at Double-A, 47% at Triple-A).
That is not a good trend when scouts give you an 80 raw power grade and your HR/FB is sitting at 25% at Triple-A. Worse, Vladito had the same problem at both A ball (29.2% FB% in 318 PAs) and High-A (30.3% FB% in 209 PAs) in 2017. He has all of the potential in the world, but he seems to still be a significant adjustment away from big league stardom.
There is every chance Vladito will work on his launch angle at Triple-A, as the Blue Jays are not close enough to the Yankees, Rays, or Red Sox to care about a few extra wins in 2019. Instead, they'll keep him in the minors as long as necessary to maintain his rights for an extra year. The Hall-of-Famer's son might be an intriguing late-round flier in fantasy, but taking him in the top 40 is absurd in redraft leagues.
Verdict: Chump
More 2019 Fantasy Baseball Advice