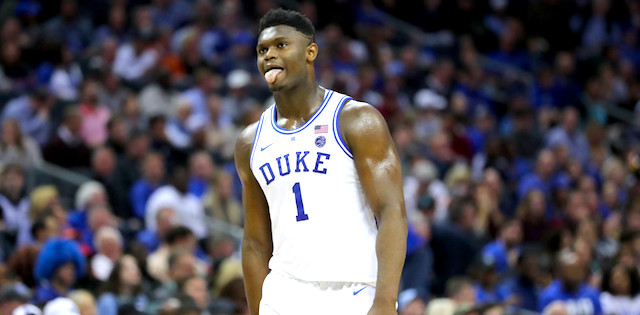 Are you in a league where some of your rivals use the Yahoo default rankings to help them out while they draft? If so, here's how you can use that against them to gain advantage and dodge some bullets with players who are overvalued on Yahoo. Creating quality rankings ahead of each NBA season is quite challenging. It's one thing when you want to compare two or three players and you already have a team build in mind. But when you have over 200 players on the table and you need to theorize which of them will prove more valuable to fantasy owners in general, that's when the trouble starts. Yahoo faces this conundrum each year and it's no surprise that they get some of the values wrong - especially when we factor in the subjective values each fantasy owner has for certain players.
Now even though most of us fantasy nuts go ahead and create our own rankings in the Yahoo website to use while we draft (and I strongly advise you do the same), there still is a vast majority of fantasy owners that use the default rankings. And even us that create our own rankings, we still base it roughly on the default rankings, so when Yahoo "prices" a player 30 spots above his realistic value (let's say at #90 instead of #120), it will most probably impact our rankings at least by 10 spots as well (and land that player at around #110 just because Yahoo has him THAT high). So, when Yahoo has ranked a player poorly, for example, way higher than their actual value, this is a red flag you should watch out for. Don't fall for it and pick a guy you don't really like just because he is ranked higher than your current pick. Let others fall for this trick and by doing so allow you to pick guys that fit your team the best.
Here are some guys I find to be overvalued by Yahoo at the moment.
Editor's Note: Our friends at Monkey Knife Fight have the best, most fun, fastest growing DFS props game! It's super simple to play and to win real money. Just choose your NBA, NHL or PGA game, and make your picks! Get a 100% instant deposit bonus up to $50 using promo code: BALLER. That's $50 for free - don't miss out!
Play Now!
Overvalued Players in the Top 50
Trae Young, PG, Atlanta Hawks - Ranked at #19, ADP #20
Young's stats from last season: 19.1 PTS on 41.8 FG% and 82.9 FT%, 1.9 3PM, 3.7 REB, 8.1 AST, 0.9 STL, 0.2 BLK and 3.8 TO in 31 minutes a game.
Elite in assists. What else?
Young had a really good first season in the NBA, coming in second behind wunderkind Luka Doncic in the voting for the Rookie of the Year and easily beating out the first pick Deandre Ayton for the silver. But is that enough for him to be a top-20 pick in fantasy? I don't think so.
Yes, he was #7 in assist per game. Yes, he did play in 81 games. And yes, his two 3PM per game, with 19 points and good FT% in 5.1 attempts per game will all come in handy to your team.
But with such a low FG%, almost 4 TO per game (which is tied for 4th worst in the NBA last year) and with almost an irrelevant contribution in stocks you're almost obligated to either punt several categories, or do a hell of an adjustment in later rounds to compensate for Trae's shortcomings.
In my book, a top 20 pick shouldn't leave you in such a situation unless he is giving you a HUGE advantage in at least three other counting categories.
But what if he takes another step forward?
Being such a young player, and with what he has proved last year, it would be difficult to imagine Trae not making an even bigger impact this year. And realistically, those expectations have already been counted on when ranking him in the top 20. But even with the increased workload, more responsibility, and even more experience, it will not be easy for him to justify that high a draft pick.
Conclusion
If you're a gambling man and believe in Trae becoming a stud in only his second NBA season, by all means, roll the dice. For me, I prefer a more proven, safer pick in the top 20.
I have Young ranked at #28 in my own rankings.
Zion Williamson, PF, New Orleans Pelicans - Ranked at #36, ADP #30
Zion's projected stats for this season: 19.1 PTS on 57.0 FG% and 66.8 FT%, 0.7 3PM, 8.4 REB, 2.5 AST, 1.2 STL, 1.3 BLK and 2.7 TO across 74 games played.
How real is the hype?
I'm not sure if there have been higher expectations from a rookie since LeBron James back in 2003. And I'm no NBA scout or coach to try and judge whether or not that is a realistic goal for Zion to reach. I'm here to share my opinion of where I believe Zion should be picked in fantasy.
Zion's projected stats do look tasty. I'll give him that. And he did pretty well in preseason too, so if you're looking to pick him up early I won't stand in your way. It's a gamble, but the reward could be pretty high.
But at #30 you should still have a few proven, consistent fantasy assets available like Khris Middleton or LaMarcus Aldridge whose ceiling isn't as high as Zion's, but whose floor is A LOT safer as well.
Gamble on talent or play it safe with your 2nd or 3rd rounder
I usually prefer to pick safer, more consistent and reliable players in the first few rounds since it will hurt too much if one of them gets hurt or doesn't live up to the potential. Taking chances for me is reserved for the later rounds where hidden gems can be found as well, and if you miss it's not as costly. It's ultimately up to you, and if you pick Zion up with a top 30 pick and he ends up with a double-double average and three combined stocks you will be proven wise.
But on the other hand, if he pulls a Markelle Fultz on you and you wasted such a high pick on him, it's not easy to recover from.
Conclusion
Zion has a lot of potential, but until he has proven it in regular NBA games I am reluctant to pick him up this high.
I am perhaps overly cautious with Williamson at #54.
Mitchell Robinson, C, New York Knicks - Ranked at #26, ADP #29
Robinson's stats from last season: 7.3 PTS on 69.4 FG% and 60.0 FT%, 0.0 3PM, 6.4 REB, 0.6 AST, 0.8 STL, 2.4 BLK and 0.5 TO in 20 minutes a game.
BlockBuster! But is it enough?
Robinson seems to check every big guy category. Almost 70% from the field, 6.4 boards, and an insane 2.4 blocks in just 20 minutes a game? Surreal!
But look at the sample size. He played just 66 games in his rookie season, on a Knicks roster which is a conundrum in itself and changed a lot during the summer. I'm sure he learned a lot from DeAndre Jordan last year, and I do think he will have the starting gig locked up with 25-30 minutes per night, but a top 30 pick? It's just too high for me
Boom or Bust
Similarly to Zion, Mitchell's potential is very high, and if he can keep his percentage from the field that high in more attempts per game and keep the blocks per minute in a larger role, it could mean we have a double-double machine with Hassan Whiteside from four seasons ago-like block numbers on our hands and a top-30 pick is valid for such a player. But there's just too many IFs for me to take him with a top-30 pick.
Conclusion
Similarly like with the two guys I talked about before Robinson, if you have faith that he will have a breakout year you might get a top-20 player in him. But it is more realistic that he will be decent but not extraordinary. Decent is not worth a top-30 pick.
I have Mitch ranked at #53 in my own rankings.
Overvalued Player in the 50 - 100 range
Derrick Favors, PF/C, New Orleans Pelicans - Ranked at #57, ADP #58
Favors' stats from last season: 11.8 PTS on 58.6 FG% and 67.5 FT%, 0.2 3PM, 7.4 REB, 1.2 AST, 0.7 STL, 1.4 BLK and 1.1 TO in 23 minutes a game.
Always the bridesmaid, never the bride
Favors was a decent player on a Utah team for years but never hit that stardom level. First, he was in the shadow of Gordon Haward, and later Rudy Gobert and Donovan Mitchell. He has finally left Utah, but it doesn't seem too bright for Derrick with the Pelicans either.
The youth movement in New Orleans opens the question about how many minutes can we expect for Favors next season.
How will he fit with Zion?
It's not looking too good after the four preseason games. He scored two, nine, two and zero points in those games. That's 13 points in a total of just under 60 minutes. 6.5 buckets in an hour...
Furthermore, the experts are saying that Zion is playing better at the Center spot with other guys spreading the floor, and it's still not certain how well Favors can fit in that scenario.
Now a few preseason games don't mean too much, but if you're preparing a pick at around top-50, top-60 for him this is not what you hoped to see. Favors was a very good per-minute producer, but it's quite difficult to predict how that will translate with his new team and new role.
Conclusion
I just don't see Favors in a large enough role this season to be worth a top-60 pick, not when it's possible that you'll have someone like Steven Adams available. He could provide decent value, around top-100, but not as high as he is being picked at the moment.
I have Favors way down at #102 in my book.
Avoid even late in drafts
Willie Cauley-Stein, PF/C, Golden State Warriors - Ranked at #140, ADP #142
Cauley-Stein's stats from last season: 11.9 PTS on 55.6 FG% and 55.1 FT%, 0.0 3PM, 8.4 REB, 2.4 AST, 1.2 STL, 0.6 BLK and 1.0 TO in 27 minutes a game.
Bench role for the fallen Champions
Willie had two full seasons to prove he is a quality center in Sacramento. And while his stats are okay he just never broke out of his shell. It could be a different story with the Warriors this season. But with Kevon Looney proving a very valuable piece of the Warriors' puzzle in last years playoffs, Marquese Chriss playing very well in the preseason, and WCS being out for the first few weeks of the season, it's not out of the question that he will be just a rotation piece playing around 10 minutes per game.
If that were to happen, Willie will not be rosterable in most fantasy formats since he needs minutes to provide production.
Conclusion
If you believe in WCS go for it, but I am not convinced, and in a slightly crowded frontcourt on a team that likes going small, I don't see him having a large enough role to justify a top-150 pick.
That being said, Cauley-Stein is not in my top-150.
More Fantasy Basketball Analysis