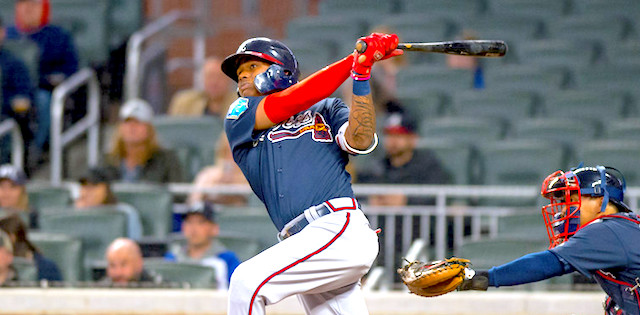 As we continue through this window of uncertainty, the chances of having a "normal" season are getting far less likely. While we still don't have any concrete solutions for having a 2020 season, some ideas seem to be more likely than others. One such idea of implementing regular double-headers into an already-truncated season, with three divisions each located individually is looking more and more feasible and is something which will have greater roster implications than other ideas. Teams will need larger rosters and the introduction of the designated hitter in the National League is also probable in such a scenario.
There are also question marks over what type of minor league season there will be with a real possibility of limited games available to minor leagues if any at all. Are teams going to want their prospects to sit at home for 12 months or get at least some sort of game time under their belts, even if that means only playing sparingly?
All of this means that teams are more likely to start the season rostering their fringe prospects who were likely to get the call to the Majors at some point. Here, we will take a look at a few prospects who should make an impact in 2020 but won't necessarily be on your radar right now. To be a part of this list, we're only going to look at players who currently have an ADP over 400 in NFBC drafts and have rookie eligibility. This series will be split into three parts; infielders, outfielders and pitchers. Here we'll take a look at the outfielders.
Featured Promo: Get any full-season MLB and DFS Premium Pass for 50% off. Exclusive access to our Team Sync platform, Premium articles, daily Matchup Rating projections, 15 lineup tools, DFS cheat sheets, Research Stations, Lineup Optimizers and much more!
Sign Up Now!
Kyle Lewis, Seattle Mariners: ADP ~506
The first of two Seattle Mariners making this list, both of whom would likely have made the opening day starting line-up with Mitch Haniger's injury leaving a spot open. Lewis was a first-round pick by the Mariners in the 2016 draft but his progress has been hampered by injuries. That all changed in 2019 when he played a combined 140 games in Double-A and the Major Leagues.
Lewis' minor-league numbers may not seem particularly impressive, with a .263/.342/.398 slash line in his 122 Double-A games last year. Lewis only tallied 11 home runs and struck out 152 times too. But his home ballpark in Arkansas is pretty brutal for hitters which goes some ways to explaining his .555 OPS at home compared to .896 on the road.
That would also help explain how he managed to club 6 homers in 18 games for the Mariners after he joined them, although the strikeouts continue to plague him with a total of 29 Ks in those 18 games (71 at-bats).
Lewis projects to be a corner outfielder with ok range but a plus arm so with the Mariners unlikely to keep Mallex Smith's noodle bat in the lineup ahead of Lewis when (if) Haniger returns in 2020 and Haniger being the Mariner's biggest trade chip, Lewis will likely emerge as the Mariners' number one outfielder. Originally projected for 16 homers in 419 plate appearances, he should eclipse that easily with the equivalent of 162 games and is a nice cheap source of power late in your drafts.
Jake Fraley – Seattle Mariners (ADP: 565)
As mentioned, there is another Seattle Mariner in this list with Fraley actually ranked higher than Lewis in the MLB Pipeline prospect rankings for Seattle, albeit only 9th which is one spot above Lewis. Fraley has a different skillset to Lewis however with a higher grade for his fielding and speed.
That was on display last year with Fraley stealing 22 bases in 99 Minor League games across Double-A and Triple-A levels. His current ADP is most likely depressed by the lack of impact he made in his 12 games for the Mariners after his call-up. In those games, Fraley failed to hit a homer or steal a base and had a paltry .150/.171/.200 slash line.
But that's the benefit of people putting stock in small sample sizes. If we look at his Minor League career as a whole, we paint a more accurate picture of what Fraley could offer;
| | | | | | | |
| --- | --- | --- | --- | --- | --- | --- |
| | Games | AB | HR | SB | K | BB |
| Career | 250 | 922 | 26 | 70 | 194 | 95 |
| 162-game equivalent | 162 | 597 | 17 | 45 | 125 | 62 |
I'm not suggesting Fraley plays 162 games a season nor steal 45 bases, but if we had a normal full season, 30 steals is well in play and given his above-average speed and fielding, Fraley can be an everyday player for the Mariners now. As we've already said, Mallex Smith is the only real outfield option the Mariners have until Haniger returns so Lewis and Fraley can both see regular playing time in 2020.
Fraley carries enough upside alone to be rostered in fantasy and with the potential steals he carries and he can also be a league winner for you with nothing more than a last round pick as his price tag.
Pache currently ranks as the Braves' number one prospect according to MLB Pipeline and thirteenth in all of baseball. With his current scouting grade, it's not difficult to see why;
Pache is still just 21 years old and continued his development last year with a season-high 12 home runs in his 130 games across Double-A and Triple-A. His .277/.340/.462 slash line demonstrated he could handle more advanced competition too. And as you can see from his scouting grade, his speed is where his biggest fantasy asset lies.
Speed doesn't always equate to a load of stolen bases, as Pache's modest 58 total steals in 428 career Minor League games attest to. For real-life baseball, Pache will likely be a Gold-Glove caliber outfielder and has been chosen as the best defensive prospect in baseball by executives for the past two years.
The Braves were unlikely willing to start Pache in the Majors on opening day but they did add him to the 40-man roster this past offseason. He's the best defensive outfielder on the team already, which is saying something given the competition. His low ADP for 2020 is purely down to a likely lack of playing time but as we get closer to a modified season, Pache could see more playing time than originally projected and can contribute in all categories with the potential upside for stolen bases greater than anyone else taken this late in drafts.
Back in 2017, Monte Harrison ranked as the Marlins' second-best prospect, behind only Lewis Brinson. Harrison is only one year younger than Brinson and similarly has had his lit diminish somewhat. Brinson has struggled massively in the Majors with a career slash line of .183/.238/.293 in 205 games so perhaps the Marlins are treading a little more carefully this time around.
Now 24 years old, Harrison should be more Major League ready than Brinson was when he made his debut as a 22-year-old. Harrison's slide down the Marlins' rankings is mostly due to their improved farm system as you can see below, his scouting grades haven't changed much.
| | | | | | | | |
| --- | --- | --- | --- | --- | --- | --- | --- |
| | Org. rank | Hit | Power | Run | Arm | Field | Overall |
| Brinson – 2017 | 1st | 50 | 60 | 60 | 55 | 60 | 60 |
| Harrison – 2017 | 2nd | 45 | 50 | 60 | 70 | 55 | 50 |
| Harrison – 2020 | 9th | 40 | 55 | 60 | 70 | 55 | 50 |
The reason I include him here and why I bring up Brinson is at some point, the Marlins might just give up on Brinson and turn to Harrison this year. And sooner rather than later. The reason the pair seems so intrinsically linked is due to them both being a part of the Christian Yelich trade and both being power/speed combo guys that are great for fantasy.
Harrison spent the whole of 2018 in Double-A where he hit 19 homers and stole 28 bases. But in the 138 games he played, Harrison struck out an alarming 215 times. Last year saw Harrison improve in that regard, striking out 73 times in 56 Triple-A games. He also saw his OBP go up from .316 in Double-A to .357 in Triple-A.
Unlike Pache, Harrison's speed has translated into stolen bases as a Minor League player, with a total of 78 steals across his last three seasons (316 games). He's also hit 49 homers in that span so is a dual-threat and one that will hopefully have more success than Brinson has had in the Major League.
Harrison will play for the Marlins in 2020 and if they haven't already given up on Brinson, they could switch to Harrison sooner rather than later. Having reduced his strikeout rate from 37% to 29% last year, if he can continue on that trend then Harrison should be what we hoped Brinson would be and he'll be a contributor of steals and homers for your fantasy teams in 2020.
Jared Oliva, Pittsburgh Pirates (ADP: 702)
Continuing our trend of speedy outfielders, Oliva is another one who has converted his speed into stolen bases throughout his Minor League career amassing 84 steals in 287 games. Oliva is someone who wouldn't come into consideration for Major League playing time this year if it was a normal season but as we know, 2020 will be anything but a normal season.
Oliva impressed further in the Arizona Fall League stealing another 11 bases in 26 games and despite not hitting a home run, still put up a .321/.413/.473 slash line. He's the prototypical lead-off hitter and is probably already a better option for the Pirates than Jarrod Dyson.
The issue is Oliva isn't on the 40-man roster and hasn't played a Triple-A game, but without a proper Minor League season, it could make sense for the Pirates to get Oliva in their lineup as often as possible this year as they won't be playing for a postseason berth anyway.
Oliva will get on base thru walks and hits and if he's green-lighted like he has been throughout his career, he should be a good source of steals too. If he does find himself as a leadoff hitter, Oliva would also be a good source of runs and all for a last round pick.
Khalil Lee, Kansas City Royals (ADP: 743)
Plays for a team without playoff chances? Yes. Is a stolen base threat? Yes. That seems to be the MO for making this list and in Khalil Lee, we have possibly the biggest ticker of those boxes.
The Royals won 68 games last season and would do well to win more in a 162-game season this year. And although they have a couple of nice pitching prospects I'm looking forward to hopefully seeing in the next few months (namely Brady Singer and Daniel Lynch), in Lee they have a truly impactful player.
In 2019, Lee played the whole year in Double-A and stole a staggering 53 bases in 129 games. He's currently only projected as a fourth outfielder type of player but he gets on base too so fits in the Royals' team perfectly. Lee has tallied 222 walks in 399 career Minor League games and although he's only hit 37 home runs in that time, he's only 21 years old so he will still be developing that power.
Mike Matheny certainly had high praise for him.
Lee also has the benefit of being a left-handed hitter so even if he finishes as a platoon option in the Majors, he'll be on the stronger side of one. Lee wouldn't be considered as a 2020 fantasy option ordinarily but as we've repeatedly said, he could find himself with playing time given the circumstances.
More 2020 Fantasy Baseball Advice