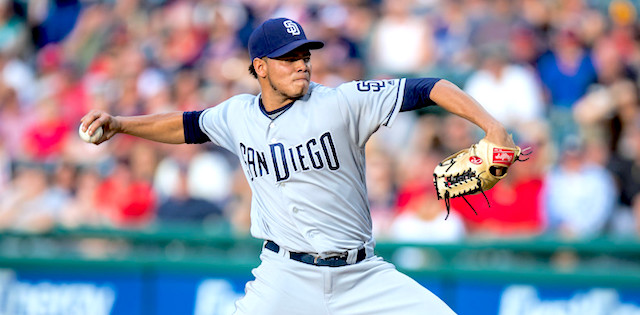 Fantasy baseball players spent much of this unique offseason speculating about the game they love. When is baseball coming back? What rule changes will be implemented and how will they affect the fantasy production of players selected in preseason drafts?
Some of you may have drafted a bunch of teams this past winter and might be having a hard time remembering what your rosters look like. Once you get into full fantasy baseball mode again, you're going to want to reevaluate your initial draft strategy and begin tweaking your teams' rosters.
Once we definitively know when the baseball season will resume some of you may draft a bunch of new teams. Others will focus on refining their existing teams through the trade route or by actively working the waiver wire. It doesn't matter what category you fall in to. We've got a few NL pitchers that are on the verge of breaking out this season who deserve your attention.
Editor's Note: Our incredible team of writers received 13 award nominations by the Fantasy Sports Writers Association including Baseball Writer of the Year, Football Writers of the Year, Golf Writer of the Year and many more! Be sure to follow their analysis, rankings and advice all year long, and win big with RotoBaller!
Read More!
Zac Gallen, Arizona Diamondbacks
Zac Gallen is a control pitcher whose four primary pitches produced whiff rates of at least 15 percent last season. His changeup was particularly devastating.
Opposing hitters batted just .157 against it and it produced a whiff rate of 21.62. Gallen's 93 MPH fastball seems tame by today's standards, but his ability to crank it up when needed and its above-average spin rate makes it very effective. He's also able to induce soft contact, as batters are kept off balance by the movement on his above-average changeup and breaking balls.
Gallen was a highly regarded prospect who lived up to expectations by posting a 2.81 ERA and a 10.8 K/9 in 15 combined starts for the Marlins and Diamondbacks in his rookie season. His top-notch strikeout rate is sustained by his ability to get ahead in the count (67.2 2019 first strike percentage vs. a 60.8 league average).
Gallen pitched to a 2.20 ERA in his five starts at Arizona's Chase Field and finds himself in a good spot this season. He's supported by a Diamondbacks team that scored the sixth-most runs in the NL (813) last season, and also was the third-best fielding team in the NL, committing just 85 errors.
In his first season back from 2018 Tommy John surgery Dinelson Lamet made 14 starts for the Padres. Pitchers never know how their arms will respond to TJ surgery, but Lamet was lucky. Compared to his 2017 season he saw improvements in several statistical categories.
The average velocity on his fastball increased to 96.1 mph from 95.1 mph, but velocity isn't Lamet's only weapon. He's got serious movement on his breaking stuff. He throws a nasty slider that limited batters to a .131 BAA, and produced a 20.98 whiff rate last season. The movement on those pitches helped raise his chase rate from 27.8 in 2017 to 31.5 in 2019.
Lamet also demonstrated better control, posting a 3.70 BB/9, down from 4.25 in 2017. His first strike rate jumped to 60.1, up from 56.1 in 2017. He also saw a significant increase in his swinging strike rate. It jumped from 11.8 in 2017 to 14% last season.
Lamet pitched to a 4.07 ERA last season, but all three ERA estimators suggest he pitched better than that. If he stays healthy and limits the number of HRs he yields (1.48 HR/9 last season), Lamet could have a dominant 2020 season.
Brandon Woodruff was on his way to compiling a full-blown breakout 2019 season until an oblique injury caused him to miss almost two months of action. His overall stats were still impressive. He made 22 starts, won 11 games and posted a 10.6 K/9. He compiled a 3.62 ERA, but all three ERA estimators (3.01 FIP, 3.36 xFIP, and 3.60 SIERA) indicate he actually pitched better than that mark.
Woodruff doesn't walk many batters (2.5 career BB/9) and also owns a below-average career hard-hit rate (36.5%). The latter has helped him avoid being victimized during baseball's current live-ball era. His 2019 4.1 Barrel % was well below the 6.3 league average and Woodruff has posted a career HR/9 rate of just 0.91 (the league average was 1.40 last season).
Woodruff possesses an impressive arsenal of pitches anchored by a blazing upper 90 MPH fastball. The BAA vs. his fastball, sinker, and slider is a combined .228. Woodruff's changeup is his weakest offering, but it still commands a whiff rate approaching 15 percent. He was being selected in the middle rounds of typical preseason drafts, however, he's likely to outproduce his modest ADP.
Julio Urias was slated to open the season in the Dodgers' starting rotation. That should still be the case and Urias should actually benefit from the delay to the start of the season. While still recovering from 2017 left shoulder surgery, Urias pitched just 79 2/3 innings for the Dodgers last season. He was expected to be on a strict pitch and innings limit this season, and while he might not pitch deep into games, the shortened season should allow him to avoid surpassing his innings cap.
Urias started eight games and made 29 relief appearances last season. He was effective in both roles, posting a 3.26 ERA as a starter and a 2.01 ERA as a reliever. Ironically his 11 K/9 as a starter was substantially better than the 8.8 K/9 he posted as a reliever.
He saw an uptick in velocity last season. The average velocity on his fastball was 95.2 mph, up from 93.1 in 2018. Opposing batters hit just .201 against him, and even his curveball which was his least effective pitch (.396 BAA), generated a 25.81 whiff rate.
Urias came into camp 25 pounds lighter and used the past offseason to get himself fully healthy and mentally prepared for the 2020 season. If the delay to the start of the season hasn't changed his focus, he could have a big 2020 season.
More 2020 Fantasy Baseball Advice