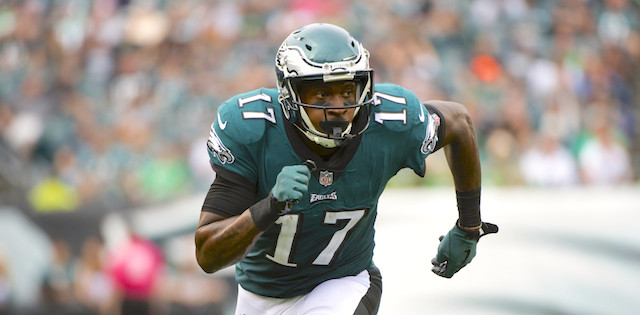 The final week of the regular season is here. Fantasy is now over, but survivor pools are still going on. This is the final week of them and if you are still alive, are surely trying to find a winning team for this one last week.
Week 17 is usually a week where many teams bench their starters because they are locked into their playoff seed, but 10 out of 16 games this week have playoff implications.
Also, included in this column; good tidbits to help you with your daily fantasy and my best bets against the spread.
Editor's Note: All you early birds can get a full-season NFL Premium Pass for 50% off. Our Draft Kit, In-Season tools and over 150 days of Premium DFS.
Sign Up Now!
Nuggets from Week 16
The Ravens have run for 100+ rushing yards in every game since Lamar Jackson took over as the starter (six games)
Philly has scored 30 points in back-to-back games under Nick Foles; they only did that once this season with Carson Wentz
The Dolphins opened Sunday with a 78-yard touchdown drive. The rest of the game, they gained a total of 105 yards
Sam Darnold and Aaron Rodgers combined for 783 passing yards, five touchdowns, and no picks
Survivor League Strategy
For those of you unfamiliar with survivor pools it's very simple; pick a team to win each week. If they win you move on to the next week. But you cannot use that team ever again. There is no point spread involved. Teams italicized are my best bets.
Before making any picks, look at the point spreads. Vegas has the best minds, smarter than any of us. Use them to get a glimpse at how each team is projected to fare that week.
Teams favored by more than seven in Week 17 per The Action Network app (home team in caps):
STEELERS -14.5 vs. Bengals
CHIEFS -13.5 vs. Raiders
PATRIOTS -13.5 vs. Jets
RAMS -10 vs. 49ers
PACKERS -7.5 vs. Lions
TEXANS -7 vs. Jaguars
If you're reading this article on Thursday or later, these lines are from Tuesday. Check the current spreads and see how the line moved.
Top Survivor Picks for Week 17
In order of my favorite selections:
STEELERS -14.5 vs. Bengals
Not sure I need to really delve into the stats for this one. Pittsburgh needs to win and Baltimore to lose to make the playoffs. Pittsburgh is going to come out and smoke one of the worst defenses in football.
Steelers 38 - Bengals 19
CHIEFS -13.5 vs. Raiders
If Kansas City wins, they lock up home field throughout the playoffs. If they lose, and Chargers win, KC then falls to the five seed and must play on the road to open up the playoffs.
Since 2014, the Raiders are 1-7 in games played in 45 degrees or less. That's bad news for Oakland because it's supposed to be a high of 42 Sunday. They also just played in their Superbowl crushing the Broncos in what may have been their last game in Oakland.
Chiefs 42 - Raiders 10
Jets +13.5 @ PATRIOTS
I like the Jets this week. They are playing with nothing to lose. Sam Darnold has the highest QBR over the past three weeks. Their defense may stink, but they can move the ball. New England needs to win to get a bye, and they will win in this spot, just not cover. I expect a heavy dose of the run like last week when they ran for 273 yards.
Patriots 27 - Jets 17
BILLS -3 vs. Dolphins
I love Buffalo this week. Miami needed to beat the lowly Jaguars last week to keep their slim playoff hopes alive. It all looked good after they scored a touchdown on their first drive, but were then outscored 17-0 from then on out. Now they travel to frigid Buffalo where they've mostly struggled. In Miami's last six, they are 1-5. In December games, they are 1-2, but in those losses have been outscored 43-16. Buffalo will want this more, while Miami will want to get back to the warmth for the off-season.
Bills 24 - Dolphins 10
Eagles -6.5 @ REDSKINS
Philadelphia is a different team with Nick Foles under center. They've had back-to-back 30 point games with Foles, that's one more than all season with Carson Wentz as the quarterback. Josh Johnson has been serviceable, but they've scored 16 points in each of their last two games. Philly needs to win coupled with a Vikings loss to make the playoffs. They'll take care of business in this spot.
Eagles 31 - Redskins 13
Top Survivor Picks to Avoid
Jaguars +7 @ TEXANS
Houston must win to clinch the division, yet this line opened at nine and is now down to seven. That seems strange considering how bad the Jaguars are. The Texans are vastly overrated but should win this one because they need to. However, something weird is going to happen with this game.
Texans 21 - Jaguars 20
49ers +9.5 @ RAMS
If the Rams win, they clinch the two seed. This is a game they will win, but their defense stinks. They give up the fourth-most points at home and 24th most yards allowed. Kyle Shanahan will call some plays that'll produce big gains. The Niners are sixth-most in passing plays that go for 40+ yards, while The Rams allow the most 40+ yards plays through the air.
Rams 31 - 49ers 23
Bears +5.5 @ VIKINGS
The Bears need to win and the Rams to lose to get the two seed. Otherwise, they'll get the three seed. If Mitchell Trubisky does sit, Chase Daniel isn't that big of a difference. He was fine when he played this year. Even though the Bears really don't have much to play for, do you really trust Kirk Cousins? I can't forget when Cousins was attempting to lead the Redskins to a playoff berth two years ago against a Giants team that was already locked into their playoff spot. Cousins proceeded to throw two picks in a 19-10 losing effort. Until Cousins proves himself in a game like this, I can't pick the Vikes.
Vikings 21 - Bears 19
Browns +5.5 @ RAVENS
If the Ravens win, they are in. If not, a Steelers win knocks them out. Cleveland has won five of their last six and now having nothing to lose in this game. This will be a real test for the Browns offense against one of the best defenses in football. Baltimore has a tremendous rushing attack, but the Browns have only given up 76 yards on the ground their last three.
Ravens 20 - Browns 17
Cowboys +6.5 @ GIANTS 
Dallas is locked into the four seed, but as of this writing on Tuesday, say they are playing their starters. If that's the case, Dallas should definitely stay within the number, and perhaps win outright.
Cowboys 21 - Giants 20
The Rest 
Lions +7.5 @ PACKERS - This game is meaningless. Green Bay has no defense and won't be able to cover a touchdown spread. That's why I like the Lions.
BUCS -1.5 vs. Falcons - Another meaningless game. I'll take the home team laying less than the normal three.
SAINTS vs. Panthers - No line listed.
Chargers -6.5 @ BRONCOS - San Diego has an outside shot at the one seed, needing to win and a Chiefs loss. The Broncos can only score 14-17 points in a given game, and the Chargers will be able to hit 30 against them.
SEAHAWKS vs. Cardinals - No line listed.
TITANS vs. Colts (Sunday night) - There is no line listed on this game because of Marcus Mariota's injury. With or without Mariota, I like the Titans. Their defense will win them this game. They allow 17 points per game at home, second-best in the league, and third least opponent yards. Indy is a totally different team on the road than at home. They are fifth in total yardage at home, but 13th on the road. In points, they are sixth at home, but 17th on the road.
My Running Season Total
This week: Bills -3, Chiefs -13.5, 49ers+9.5
Last week: 1-2
Best bet ATS record: 23-25-1

Good luck RotoBallers, and I'll be back next week previewing the Wild Card Round.
More Weekly Lineup Prep