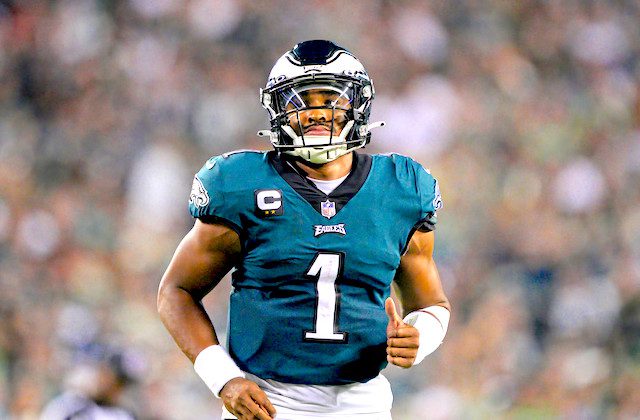 As we head into NFL preseason, excitement is building for the 2023 NFL season. Training camps are open, pads are popping, and teams will begin the evaluation process for their Week 1 rosters. Our evaluation process is starting too...here are our 2023 NFL Power Rankings and where every team stands ahead of training camp.
The best teams of 2022 remain some of the best in our Power Rankings. The Chiefs, Eagles, 49ers, and Bengals all kept together the core of their rosters and are in good positions to contend again. Some of the fringe playoff contenders, like the Lions and Jets, are on the rise due to good roster moves and maturing young stars. A couple of teams that overperformed in 2022, like the Giants and Vikings, might be in line for a fall.
So what do the NFL power rankings look like now? Here are all 32 NFL teams ahead of training camp.
Featured Promo: Battle it out on Bettle with your season-long lineups! Join the free RotoBaller weekly contests on Bettle -- just important your season-long lineups and enter! Winners get a free year of RotoBaller Premium access for all sports ($450 value) plus another free $50 in Bettle credits!
Join Now!
Super Bowl or Bust
1. Kansas City Chiefs
The Chiefs reloaded at a couple of positions where they lost talent to free agency, drafting edge rusher Felix Anudike-Uzomah in round one and receiver Rashee Rice in round two. I don't know if Rice will hit big, but he doesn't have to. The Chiefs' passing game works with Patrick Mahomes behind center, Travis Kelce at tight end, and anyone lined up wide. Their biggest problem is they don't have a ready replacement for Orlando Brown Jr.
The best of the best.

For the second time, @PatrickMahomes is voted no. 1 on the #NFLTop100 list. Congrats, QB1 🚀 pic.twitter.com/L68rgiUI84

— Kansas City Chiefs (@Chiefs) August 8, 2023
2. Cincinnati Bengals
The Bengals are thinking two years ahead. They knew that Jesse Bates was going to leave following the 2022 season, so they prepared in advance by drafting Dax Hill last season. The other safety, Vonn Bell, also departed. That wasn't in the cards, but they got a value pick in Alabama's safety Jordan Battle in the third round. WR Charlie Jones and RB Chase Brown may or may not be the answers for when Tee Higgins and Joe Mixon eventually leave, but that question will wait for later. With Higgins still in orange and black and Mixon still serviceable, the Bengals are still juggernauts.
3. Philadelphia Eagles
Like the Bengals, the Eagles also lost some pieces on defense, but they already had replacements sitting in wait. Nakobe Dean will step up at middle linebacker, and it could be fellow Bulldogs Jordan Davis and this year's No. 9 pick Jalen Carter at defensive tackle. While Miles Sanders left after his healthiest and best season at running back, the Eagles' running game was always more premised on a strong offensive line and the threat of a running quarterback. D'Andre Swift and Rashaad Penny will be able to do a great job in that system, too.
4. San Francisco 49ers
If they can get Brock Purdy back soon or get good play from Trey Lance or Sam Darnold, they will continue to be one of the most dynamic offenses with all their weapons returning. Their offensive line did deteriorate some with the departure of Mike McGlinchey, one of the best tackles on the market, and they had no first-round pick with which to select a replacement. They also lost some depth at edge, with two 500-snap and 4.5-5.0 sack guys leaving in Charles Omenihu and Samson Ebukam, but they improved their interior with Javon Hargrave, one of the best free agency additions of the offseason.
5. Miami Dolphins
The splashy trade for Jalen Ramsey makes their top-end talent that much more elite. Third-round draft pick Devon Achane adds blazing speed at running back to an already fast team. Tua Tagovailoa's health and consistency is the biggest issue. Maybe Mike White will lead the Fins to the Super Bowl victory I was hoping to see from him last season.
6. Buffalo Bills
The Bills are always disappointed with their playoff finishes, but they shouldn't be considering who they went up against. In the stacked AFC, someone has to lose--and the Bills just aren't as good as the Chiefs or Bengals. They will continue to be this good as long as they have Josh Allen, Stefon Diggs, and a meh WR2, and they should be proud of achieving a wild card berth and a loss in either the Divisional or Conference Championship round this season.
7. New York Jets
With two potential rookies of the year on offense (before Breece Hall's injury) and the Defensive Rookie of the Year at cornerback and Quinnen Williams on the line, the Jets have one of the best rosters, and they just added Aaron Rodgers. The Jets were a playoff contender with Zach Wilson at quarterback. They will be in the mix with a better quarterback, but how much better? I don't think they are a Super Bowl favorite. Rodgers is getting old. He wasn't a Super Bowl QB with the Packers, and offensive coordinator Nathaniel Hackett was pathetic last season.
The New York Jets QB for the next 2+ season will be Aaron Rodgers. 🤯 pic.twitter.com/BNh5uuRpMq

— 𝙅𝙀𝙏𝙎 𝙈𝙀𝘿𝙄𝘼🛫 (@NYJets_Media) August 1, 2023
No. 8-14: Playoff Contenders
8. Dallas Cowboys
Brandin Cooks gives Dak Prescott the WR1-quality WR2 he apparently needs.
9. Baltimore Ravens
Lamar Jackson is resigned and finally looks like he has weapons at wide receiver. We'll see if they still look like weapons by Week 8.
10. Jacksonville Jaguars
Trevor Lawrence has high expectations, with some even considering him an MVP candidate. Let's roll the dice with Calvin Ridley.
The New York Jets QB for the next 2+ season will be Aaron Rodgers. 🤯 pic.twitter.com/BNh5uuRpMq

— 𝙅𝙀𝙏𝙎 𝙈𝙀𝘿𝙄𝘼🛫 (@NYJets_Media) August 1, 2023
11. Atlanta Falcons
Adding Bijan Robinson to the No. 2 rushing offense is going to make the Falcons one of the best offenses in the league. Their additions to the defensive line and backfield move their defense closer to average.
12. Detroit Lions
Already one of the top offenses, the Lions made incremental improvements to their defense.
13. Los Angeles Chargers
The Chargers didn't have much off-season movement, so they will remain an above-average team. Their biggest change could be offensive coordinator Kellen Moore, who orchestrated the high-powered Cowboys offenses of years past.
14. Seattle Seahawks
The unnecessary choice of Zach Charbonnet (can you tell I'm a Kenneth Walker guy?) gives the Seahawks a deep backfield, and additions of Bobby Wagner, Devin Bush, Dre'Mont Jones, and Julian Love add to their defense.
No. 15-23: Middle Tier
15. New Orleans Saints
The Saints were quietly one of the better defenses of last season. They did lose Marcus Davenport, Kaden Elliss, and David Onyemata. I don't think they will win a division with Bijan Robinson in it, but they are the second-most likely to win it.
16. Cleveland Browns
The Browns improved their defensive line, which was a problem area, with the additions of Dalvin Tomlinson and Ogbonnia Okoronkwo, and they added a lot to their wide receiver room, including Elijah Moore by trade and Cedric Tillman in the draft.
17. Denver Broncos
Like with the Saints and Browns, the success of the Broncos hinges largely on the quarterback. Can Sean Payton engineer a Russell Wilson resurgence?
The New York Jets QB for the next 2+ season will be Aaron Rodgers. 🤯 pic.twitter.com/BNh5uuRpMq

— 𝙅𝙀𝙏𝙎 𝙈𝙀𝘿𝙄𝘼🛫 (@NYJets_Media) August 1, 2023
18. Minnesota Vikings
The Vikings could regress to the mean after getting lucky last season.
19. Las Vegas Raiders
Jimmy G is a winner on a team with a good offense. Let's just hope Josh McDaniels doesn't make him a loser.
20. Chicago Bears
One of the most improved teams--on both sides of the ball.
21. Green Bay Packers
Jordan Love isn't it.
22. Pittsburgh Steelers
Neither is Kenny Pickett.
23. Washington Commanders
Is Sam Howell?
No. 24-28: Not Quite the Worst
24. New England Patriots
One of the most meh teams in football.
25. New York Giants
Return to Giants football.
26. Carolina Panthers
Bryce Young develops well in his rookie season, but it doesn't show up in the W-L record.
27. Houston Texans
The Texans improved a lot in the draft and got a good new coach. Now they are only the third-worst team in the AFC South.
28. Tennessee Titans
The rebuild plays out.
No. 29-32: The Quest for Caleb
29. Los Angeles Rams
Their only major move this offseason was trading Jalen Ramney for a backup tight end. The optimists are saying Matthew Stafford won't be injured by Week 1. But he wasn't injured for Weeks 1-8 last season, either. And he won't suddenly have a young and pain-free back, neck, and wrist.
30. Indianapolis Colts
No Matt Ryan is an improvement. Anthony Richardson isn't much of an improvement in terms of passing.
31. Tampa Bay Buccaneers
Even if they miss on Caleb Williams, there are a lot of high-end quarterbacks in the 2024 NFL Draft.
32. Arizona Cardinals
Should they turn the lights off on the failed Kyler experiment and go with Caleb, or should they trade the pick?
Download Our Free News & Alerts Mobile App
Like what you see? Download our updated fantasy football app for iPhone and Android with 24x7 player news, injury alerts, rankings, starts/sits & more. All free!


Win Big With RotoBaller
Be sure to also check out all of our other daily fantasy football articles and analysis to help you set those winning lineups, including this new RotoBaller YouTube video:


More Fantasy Football Analysis