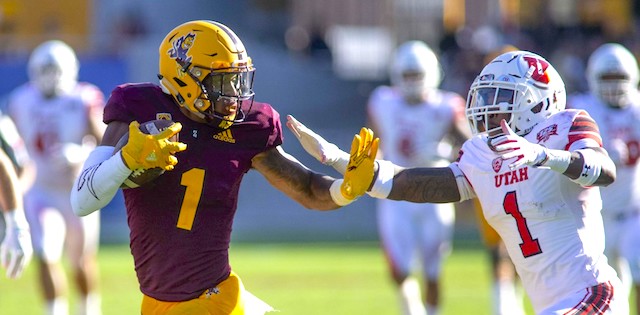 On Thursday night, the NFL Draft kicked off with the Arizona Cardinals taking Oklahoma quarterback Kyler Murray, just as everyone was expecting. From there, though, things started to go awry, with the Raiders and Giants in particular making questionable early picks.
Here at RotoBaller, we want to help you make sense of things from a fantasy football perspective, so let's ignore all the defensive picks and focus on how Thursday's moves on the offensive end of the ball will have ramifications in the upcoming NFL season.
Below are our NFL Draft winners and losers for Round 1.
Editor's Note: Get any rest-of-season NFL Premium Pass for 50% off. Our exclusive DFS Tools, Lineup Optimizer and Premium DFS Research through the Super Bowl.
Sign Up Now!
NFL Draft Round 1: Winners
Kyler Murray - QB, Arizona Cardinals
Yeah, we all expected this, and it happened, and it's unprecedented for a team to pick a quarterback in consecutive years, but now it's time to turn to the on-field ramifications. Murray is an undersized quarterback with a ton of speed who'll be playing in a Kliff Kingsbury offense that should be perfect for Murray's skill set. There will be growing pains. The Cardinals have to figure out some things with their offensive line and skill players and all of that, but Murray's a special player. We'll see if he starts from the beginning or not, but by the end of the year, he should be a solid QB2 option.
T.J. Hockenson - TE, Detroit Lions
Rookie tight ends aren't a great fantasy investment, but rookie tight ends also don't get drafted in the top 10 often. (Let's ignore the fact that the Lions took Eric Ebron early a few years ago and saw it not work out so well.) The Lions have undergone a lot of changes to their skill position players lately, which has left them in need of receiving help for quarterback Matthew Stafford. Hockenson will compete with Jesse James early for snaps, but he's such a well-rounded prospect that I wouldn't be surprised to see him earn the job right from the start. Good blocker. Good hands. Can be a threat in the red zone for Stafford. You obviously can't rank him highly to start out, but he's got a chance to be a productive rookie tight end, a thing that we don't see much of.
Noah Fant - TE, Denver Broncos
Jake Butt didn't work out, so the Broncos went into this year's Draft still needing a tight end. They come away with a good one, Iowa tight end Noah Fant. Again, rookie tight ends are hard to trust, but he's got Joe Flacco at quarterback, who likes to target his tight ends. Fant's not going to be someone you draft in most re-draft leagues, but he should be on your watch list.
Bengals' Skill Position Players
The Bengals picked Jonah Williams, the best offensive lineman in this year's Draft. Not too much to say here except he'll help their offensive line issues and this whole offense gets a slight bump up after this pick. Andy Dalton will have some protection!
Josh Jacobs - RB, Oakland Raiders
The Raiders made an extremely unexpected pick early in the first round, going with defensive end Clelin Ferrell at a spot that everyone thought was a reach, so they followed that up by doing exactly what everyone expected, taking running back Josh Jacobs at 24. With Marshawn Lynch retiring just a day before the draft, Jacobs comes in with full control of this backfield. Jalen Richard will siphon off some pass-catching work, but Jacobs is a smart back with good vision and should be a solid fantasy option next season, as well as the top pick in dynasty rookie drafts.
N'Keal Harry - WR, New England Patriots
Harry is a great pick for the Patriots, who have a big hole at receiver with Josh Gordon's NFL future once again in doubt and the team's best downfield threat, tight end Rob Gronkowski, retired. They've always got a seemingly endless supply of slot guys, but Harry gives them a big, outside receiver who has the speed to make things happen after the catch. Strong receiver. Good jumper. Used to play basketball. He's not Gronk, but he's a strong guy who can be used down the field in ways that are similar to some of the ways the Patriots used Gronkowski. Harry's got the potential to be a strong flex play this season.
NFL Draft Round 1: Losers
Josh Rosen - QB, Arizona Cardinals
Well, Rosen's time in Arizona is definitely done. After a very disappointing rookie campaign playing behind a bad offensive line, the Cardinals earned the top overall pick and made the decision to take the ultra-talented Kyler Murray. So, what happens to Rosen? A trade didn't materialize on Thursday, so he'll either A) get dealt later in the offseason or in the preseason if a team has an injury or B) compete with Murray for the starting job and probably end up as Arizona's backup. The first scenario could be good for Rosen, but we have no way to know yet where he could end up, so for now his value is taking a sizable hit until this situation is cleared up.
Eli Manning - QB, New York Giants
I'm not ready to call Daniel Jones a winner, because I'm just not a huge fan of Jones and don't expect to see him on the field enough for him to make a fantasy impact, but the pick signals the end is finally arriving for Eli. He should start the season, but will he finish it? There's already a lot of issues with this team and their offensive depth after the Odell Beckham Jr. trade, so no one was drafting Eli as anything more than a low-end QB2, but now his stock's going to fall even more. Is he rosterable in anything but a 2QB league? How long can he hold off Jones?
Jesse James - TE, Detroit Lions
If you thought James was going to be in line for a big uptick in usage after joining the Lions, it might be time to think again after the T.J. Hockenson pick. James had 423 yards and two touchdowns last season for the Steelers and that was without having to fight for touches with a player as good as Hockenson. Yes, he's likely going to be the starter when the season starts, but James just isn't as talented as Hockenson and it'll be hard for him to keep that job for the duration of the season.
Dwayne Haskins - QB, Washington Redskins
Maybe the best way to talk about the Haskins pick is to use this word: uncertainty. Haskins didn't wind up in a place where we know going into fantasy draft season what his rookie year will look like, which leaves us unsure of what value -- if any -- to assign him in re-draft. After falling to the 15th pick, Haskins ends up in a good place long term, but we'll have to see if he's asked to sit a year behind Case Keenum, who Washington just brought in to presumably be the starter before they got the good fortune of having a quarterback of Haskins' level drop to their pick.
By the way, I asked Twitter the following question about Haskins, and at the time of publishing this, the results suggest people think Haskins is going to end up starting this season:
Starting QB for Washington for the majorty of 2019 will be... #NFLDraft

— Justin Carter (@juscarts) April 26, 2019
The Houston Texans
The Texans looked poised to fix some of their offensive line issues by drafting Washington State offensive tackle Andre Dillard, but then the Eagles jumped right in front of them and sniped him. Houston still got an offensive lineman in Round 1 in Tytus Howard, but Dillard was such a good prospect whose presence would have boosted this entire team's outlook. We'll have to see if Howard can have that kind of impact on this team. He's a small-school offensive lineman, something that isn't always easily translatable to the NFL.
Marquise Brown - WR, Baltimore Ravens
Ehh. Just not sure how I feel about wide receivers in this Ravens scheme. He's fast and small and could be used on sweeps and screens and all of that, but I think there were places Brown could have landed where I'd be more excited about his potential for putting up strong numbers right out of the gate. As I saw someone say on Twitter, a good pick for the Ravens, but a bad pick for people interested in Brown from a fantasy standpoint.
More NFL Draft Coverage