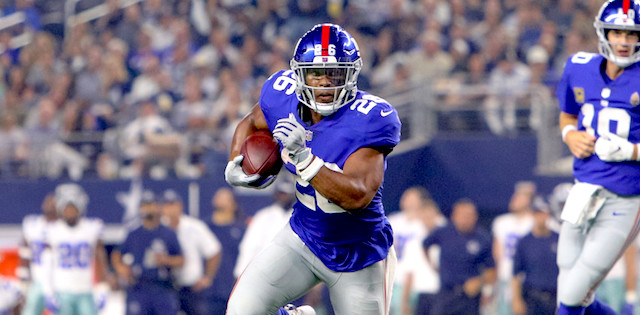 A classic NFC East matchup goes on Monday Night Football when the Dallas Cowboys visit the New York Giants. The Cowboys (4-3) are in the playoff hunt, leading the division over the second-place Philadelphia Eagles (4-4).
The Giants are 2-6 but they have potential as rookie quarterback Daniel Jones has shown some flashes of talent since taking over the starting job from Eli Manning. Can he be a Cowboys killer like Eli?
Perhaps the most compelling part of the game is that it includes a matchup of two of the premier running backs in the game. Dallas' Ezekiel Elliott is averaging 86.0 rushing yards per game and that is despite a bit of a slow start after signing late. Barkley is averaging 74.6 rushing yards per game though that average includes a game in which he was knocked out with an ankle injury.
Since the start of last season, Elliott leads all runners with 2,036 rushing yards, while Barkley ranks sixth with 1,680 yards.
Can the Giants keep the ball away from Dallas' offense and let Saquon make the difference?
Consider some of these angles before making your prop picks on Monkey Knife Fight.
Editor's Note: Here's a great special offer for all RotoBaller readers from our Monkey Knife Fight friends: New AND Existing Player Bonus. All players receive a 100% matched signup or reload bonus up to $50 with code 'RBNFL19'. Sign up and deposit, and use our prop picks to get off on a winning foot! 
DALLAS-N.Y. GIANTS
OVER/UNDERS
Dak Prescott UNDER 281.5 PASSING YARDS – In seven games this season, Prescott has thrown for more than 281 yards twice, but those two games were over 400 yards which elevates his season average to 303.3 passing yards per game. The Giants have a porous pass defense. While they have allowed 264.4 passing yards per game, which isn't great, it's better than allowing 9.1 yards per pass attempt, which is the worst mark in the league.  If the Cowboys need to throw that could open the door to a big passing game for Prescott but there is also the reasonable likelihood that the favored Cowboys won't need to pass that much.
Daniel Jones UNDER 241.5 PASSING YARDS – Similarly, Danny Dimes has passed for more than 241 yards twice in six starts since taking over for the Giants. Dallas' pass defense has been effective, limiting opponents to 228 passing yards per game and 7.0 passing yards per attempt.
Ezekiel Elliott OVER 90.5 RUSHING YARDS – Dallas' workhorse back had an uneven start to the season after no training camp but he is coming off back-to-back 100-yard rushing games and while the Giants run defense is respectable, allowing 4.0 yards per carry, they are also surrendering 122.4 rushing yards per game which leaves enough room for Zeke to hit the over.
Amari Cooper OVER 5.5 RECEPTIONS – This is an entirely reasonable number, considering that Cooper has averaged 5.4 receptions per game this season but that also includes an 11-catch performance against Green Bay in Week Five (though, as outliers go, that tends to get offset by a one-catch effort against the Jets in Week Six) . Given the Giants' shaky pass defense, we'll tilt this one towards the over.
Saquon Barkley UNDER 21.5 FANTASY POINTS – As great as Barkley is, this is a big number to cover. Through five games this season, he's averaging 106.8 yards from scrimmage, 4.4 receptions and 0.6 touchdowns per game. This includes Week Three when his week was shortened by an ankle injury against Tampa Bay but those numbers are not enough to get to 22 fantasy points and the Dallas defense is better than average opposition.
RAPID FIRE
Amari Cooper -25.5 receiving yards vs. Michael Gallup – Although Gallup is breaking through as a receiving threat this season, he has seven catches for 82 yards on 11 targets over the past two weeks. That leaves enough of an opening for Cooper to create a big enough margin when it comes to receiving yards.
Ezekiel Elliott -10.5 rushing yards vs. Saquon Barkley – Two of the game's premier runners are in action here and as Elliott is starting to round into form, Barkley has not been quite as dominant since returning from his sprained ankle, rushing for 136 yards on 37 carries in the past two games. Those games were against Arizona and Detroit and Dallas' defense is at least as good.
Golden Tate -0.5 receptions vs. Saquon Barkley – In the past three games, Tate is averaging 6.7 receptions on 10 targets per game. He's a reliable volume receiver and while Barkley is a multi-purpose threat out of the backfield, there's quite a bit of variance in his use as a receiver.
Evan Engram -22.5 receiving yards vs. Randall Cobb – Going with Engram in this matchup requires a bit of projection because his past couple of games haven't been very impressive. Nevertheless, Cobb is settled into a third receiver role for the Cowboys, averaging 3.2 receptions for 39.8 yards on 5.0 targets per game. Engram has 5.4 receptions for 59.9 yards on 8.6 targets per game but the reason to like Engram this week, in particular, is that wide receiver Sterling Shepard has been ruled out again due to a concussion, making Engram and Tate the prime threats in the Giants passing attack.

More Weekly DFS Analysis