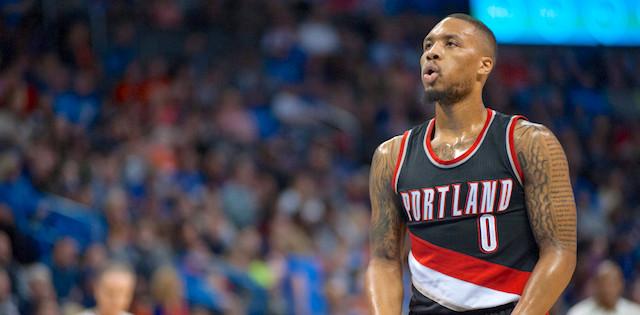 The sporting calendar has hit a light spot in late January. There is still more than a week before the NFL crowns a champion and the NHL is entering its All-Star break, which leaves the sporting calendar open for the NBA.
There are three games on the schedule tonight, and that means chances to play props and win with Monkey Knife Fight.
The Washington Wizards and Cleveland Cavaliers offer one of the worst possible matchups in the sport, though that could make it a competitive game.
A somewhat better matchup takes place in Brooklyn, with the Los Angeles Lakers facing the Nets, but the Nets are still a long way from an even matchup with the team that has the best record in the Western Conference.
Finally, the Dallas Mavericks are in Portland, where the Trail Blazers will try to keep up with the team that sits atop the Southwest Division.
Here are some options to consider for Thursday's NBA schedule on Monkey Knife Fight.
Editor's Note: Here's a great special offer for all RotoBaller readers from our Monkey Knife Fight friends: New AND Existing Player Bonus. All players receive a 100% matched signup or reload bonus up to $50 with code 'RBNFL19'. Sign up and deposit, and use our prop picks to get off on a winning foot! 
WASHINGTON-CLEVELAND
MORE OR LESS
Bradley Beal MORE THAN 25.5 POINTS – Now back to his full and regular workload, the Wizards' top scorer is putting up 27.2 points per game on the road and goes against a Cavaliers team that has a below average defensive record, allowing 113.9 points per game.
Collin Sexton LESS THAN 22.5 POINTS – Averaging 18.8 points per game at home this season, Sexton does get the benefit of playing against a Wizards team that has surrendered 120.1 points per game, the highest average in the league. In his past 15 home contests, Sexton has scored 23 or more points just three times so there is a test between the Wizards' defensive ineptness and the rarity of Sexton putting up this many points.
RAPID FIRE
Darius Garland +0.5 assists vs. Ish Smith – This is a close matchup, as both guards are averaging 5.6 assists per game in the past dozen contests. That's a decided improvement for Garland, the Cavaliers rookie who has added a more significant playmaking element to his game in January.
L.A. LAKERS-BROOKLYN
MORE OR LESS
LeBron James LESS THAN 26.5 POINTS – Not only is LeBron averaging 25.8 points per game on the road and facing a Nets team with a little below-average defensive performance, allowing 111.6 points per game, but Anthony Davis' return to the lineup appears to mean fewer shots and in his past 15 games overall, James has scored 27 or more points just five times.
Kyrie Irving LESS THAN 23.5 POINTS – He has missed a bunch of time but Irving has scored 29.4 points per game at home this season. However, he goes against a strong Lakers team with an above-average defensive record and has put up 21.0 points per game in four games since returning from injury. He's also nursing a hamstring injury so the under appears to be the more logical play.
RAPID FIRE
Jarrett Allen +1.5 rebounds vs. Anthony Davis – While AD is the more complete player, he's averaging 9.0 rebounds per game on the road, which already pales in comparison to Allen who has 9.6 rebounds per game at home. Davis has also struggled in two games since coming back from injury, grabbing nine rebounds in two games, so Allen is a lively underdog in this matchup.
DALLAS-PORTLAND
MORE OR LESS
Luka Doncic LESS THAN 31.5 POINTS – Doncic has been even more productive on the road, averaging 29.4 points per game, and matches up against a Portland team that is allowing 114.1 points per game, the eighth-highest average in the league.  Can that get him to at least 32 points tonight? He's done it five times in the past 14 games so the odds are against it.
Damian Lillard MORE THAN 30.5 POINTS – At home, Lillard is putting up 31.2 points per game and has scored at least 31 points in eight of his past 14 games. Facing a Mavericks team that sits near league average, allowing 109.4 points per game, should allow him to stay productive, even if he's not going to duplicate the 61 points that he put up the last time out.

More Weekly DFS Analysis