The Toronto Raptors have taken advantage of a depleted Golden State Warriors team to grab a 2-1 series lead in the NBA Finals, setting up a huge Game Four with the Warriors needing a win at home to even the series before heading back to Toronto.
While the Warriors were obviously shorthanded in Game Three, missing Kevin Durant, Klay Thompson and Kevon Looney from their playoff rotation, Thompson is set to return in Game Four, which should ease some of the scoring burden on Warriors point guard Steph Curry, who went off for 47 points in the Game Three loss.
What we have seen through three games does indicate that the Raptors can play with the Warriors, at least as they are currently constituted and that makes the props interesting. It's not just Kawhi Leonard going big in all categories but it's Kyle Lowry, Fred Vanvleet, Danny Green and more contributing and those depth contributions have served the Raptors well. Can it help them get to two more wins?
Here are some angles to consider before making picks for Game Four of the NBA Finals.
Editor's Note: Our friends at Monkey Knife Fight have released the best, most fun, fastest growing DFS props game! It's super simple to play and win real money. Just choose your NBA, NHL, MLB or PGA game, and make your picks! Get a 100% instant deposit bonus up to $50 using promo code: BALLER. That's $50 for free - don't miss out!
TORONTO-GOLDEN STATE
OVER/UNDERS
Steph Curry OVER 33.5 POINTS – That number is inching higher but it's deserved. Steph has scored at least 34 points in six of the past seven games and even with Klay Thompson back in the lineup, Curry is still the number one scoring option for the Warriors in a critical Game Four. In the past seven games, without Kevin Durant, he has averaged 35.7 points on 23.1 field goal attempts per game.
Kawhi Leonard OVER 30.5 POINTS – The Klaw finished with 30 points in Game Three, though the game being out of reach late probably contributed to his falling barely under the number. He shot 52.9% from the field, his second-best rate in the past dozen games, and doesn't appear to be suffering any ill-effects as he did at times against Milwaukee. So, it's possible that Kawhi finishes in the high-20s but if the Raptors need someone to take over the offense, Kawhi is the one.
Draymond Green OVER 9.5 REBOUNDS – That's a big hurdle to clear, but Draymond has been very consistent on the boards in the postseason and had a streak of 11 straight games with 10-plus rebounds snapped last game.
Fred VanVleet UNDER 4.5 ASSISTS – The Raptors guard has emerged as a clutch performer, basically since becoming a father during the Eastern Conference Final against Milwaukee, but he's earned that rep by knocking down shots, not for his ball distribution. He's been held to four or fewer assists in five straight and 18 of 21 overall in the playoffs.
Kyle Lowry OVER 6.5 ASSISTS – While Lowry the playmaker tends to come and go, he seems to be feeling it against the Warriors and has recorded at least eight assists in three of the past four games, with at least seven assists in 10 of 21 playoff games.
Danny Green OVER 2.5 THREE-POINTERS – The veteran guard lost his shot at one point in the playoffs – shooting 17.4% on three-pointers against Miwaukee, but he has rediscovered his range in the Finals, making 11 of 22 threes in the first three games of the series. Now that he's not a disaster waiting to happen when he gets the ball beyond the arc, Green can go for at least three threes in Game Four.
Draymond Green OVER 7.5 ASSISTS – This is a pretty big number for a forward to cover, especially after managing just four assists in Game Three, but Draymond had recorded at least nine assists in each of the previous four games.
Pascal Siakam OVER 7.5 REBOUNDS – In three games this series, Siakam has grabbed 25 rebounds, which is 8.3 per game. That's better than his standard in the postseason and he's been surprisingly consistent against the Warriors but that may speak to the matchup as Siakam has the size and athleticism to cause problems for the Warriors on the boards.
Andre Iguodala OVER 1.5 STEALS + BLOCKS – It's not a huge number but also no lock that Iggy can grab multiple steals plus blocks. In 18 playoff games, he has done that 10 times. He's battling injury, too, but the Warriors have had to lean on him to play significant minutes, at least 28 minutes in 10 of his last 11 games, the only exception was Game Three against Portland when he got hurt.
RAPID FIRE
Steph Curry -3.5 points vs. Kawhi Leonard – After Steph outscored Kawhi by 17 in Game Three the number nudged from 2.5 to 3.5 in this matchup. It's understandable, particularly when it comes to scoring, because that is Steph's calling card. Kawhi can obviously fill it up but he's also the board man who gets paid and a shutdown defender so he has more ways of contributing to a victory.
Draymond Green –1.5 rebounds vs. Pascal Siakam – The Raptors hitting a lot of their shots played a part, to be sure, but when Draymond grabbed just seven rebounds in Game Three that ended a streak of 11 straight games in which he hauled in double-digit rebounds. While Siakam has not been very consistent throughout the playoffs, he has eight, eight, and nine rebounds in the first three games of the Finals. That makes the matchup closer, but the likelihood of Draymond grabbing 10-plus rebounds makes him the play here.
Kyle Lowry -1.5 assists vs. Fred VanVleet – As well as the Raptors guards have been playing, it is clear that Lowry is more of a ball distributor than VanVleet so don't expect a sudden departure now. Lowry is averaging 6.5 assists per game in the playoffs, compared to 2.6 for VanVleet.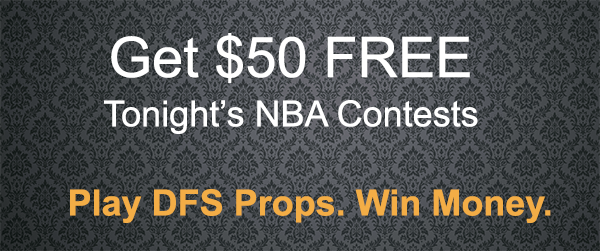 More Fantasy Basketball Analysis