The Golden State Warriors rallied in the second half of Game Two to even up the NBA Finals series with the Toronto Raptors, stealing homecourt advantage, the Warriors are battered and bruised heading home.
The Warriors have been without superstar forward Kevin Durant since Game Five against Houston and their health took a hit in Game Two against Toronto. Center Kevon Looney suffered a fractured collarbone, which will clearly keep him out of the lineup, and shooting guard Klay Thompson was forced out of the game with a hamstring injury. Thompson is hoping to be ready for Game Three but his status is uncertain.
If Durant and Thompson are both out of the lineup that would place a lof of pressure on Steph Curry to carry the Golden State offense. That sounds preposterous, given the Warriors' scoring record, but Curry is far and away the best remaining Warrior when it comes to creating his own shot.
Now, Klay could play and the Warriors would still having the Splash Brothers raining down threes, but the questionable status of the Warriors lineup does offer some potential for the Raptors to take advantage in Game Three. Sure, Golden State is favored, but Toronto has been able to have success on the road in the playoffs and they may be able to take advantage against a depleted Golden State rotation.
Here are some possibilities to consider before making picks for Game Three of the NBA Finals.
Editor's Note: Our friends at Monkey Knife Fight have released the best, most fun, fastest growing DFS props game! It's super simple to play and win real money. Just choose your NBA, NHL, MLB or PGA game, and make your picks! Get a 100% instant deposit bonus up to $50 using promo code: BALLER. That's $50 for free - don't miss out!
GOLDEN STATE-TORONTO
OVER/UNDERS
Steph Curry OVER 32.5 POINTS – The Warriors' superstar guard scored 23 points on 6-of-17 shooting in Game Two, ending a six-game streak of scoring at least 33 points. With the Warriors heading home with a lineup already missing Kevin Durant, and possibly Klay Thompson – and even if Klay plays, he's obviously going to be dealing with a hamstring injury – Golden State will need Curry in vintage form. It won't be easy for him, because the Raptors are throwing double teams at Curry constantly, but if the Warriors are going to score more than 100 points, they probably need at least 33 from Steph.
Kawhi Leonard OVER 30.5 POINTS – Even if Kawhi is not shooting as efficiently from the field, making 42.0% from the field in the past six games, he also got to the line 16 times in Game Two. He's also been a beast on the road in the postseason, scoring at least 31 points in six of his past seven road games and finishing with 29 points in the seventh of those games. He's banged up but he has been rising to the occasion when the Raptors need him and, in Game Three of the Finals, they probably need him.
Pascal Siakam OVER 7.5 REBOUNDS – This isn't a number with a big margin, because Siakam has grabbed eight rebounds in each of the first two games of the series but has been up and down in this category for much of the postseason. With the Warriors missing Kevon Looney, maybe there will be a few more opportunities for an athletic big like Siakam to crash the boards successfully.
Kyle Lowry OVER 2.5 THREE-POINTERS – In the playoffs, Lowry is averaging 2.1 three-pointers, while shooting 35.3% from beyond the arc, decent numbers, but that would tilt towards the under in this case. However, in the past 10 games, he's averaging 2.8 three-pointers per game while shooting 40.6%. He is a threat from long range and the Raptors will need his contributions.
DeMarcus Cousins UNDER 2.5 SHOTS + BLOCKS – When Cousins is healthy, he can be a force as a rim protector, but he's just coming back from injury and has combined for two or fewer shots plus blocks in the last five games in which he has played at least 20 minutes.
Andre Iguodala OVER 3.5 ASSISTS – The veteran swingman hit the dagger shot at the end of Game Two but, even before that, he was a factor. He has contributed at least four assists in four of his past five games and with injuries to key players in the Golden State lineup that should mean more touches for Iguodala, who is also battling injury but has also missed just one game in the postseason.
RAPID FIRE
Kawhi Leonard +2.5 points vs. Steph Curry – It's true that Steph has been scoring more lately, averaging 33.7 points per game in the past seven, he's putting up 25.0 points per game in the playoffs. Kawhi is averaging 30.8 points per game in the postseason and, given his road warrior status in the playoffs, getting Kawhi plus-2.5 is a favorable situation.
Draymond Green – 1.5 rebounds vs. DeMarcus Cousins – As well as Cousins played in Game Two, grabbing 10 rebounds, and as much potential as he has to be a force on the glass, he's not a consistent rebounding force like Draymond, who has had double-digit rebounds in 11 straight games. That consistency makes Draymond the choice.
Kyle Lowry -1.5 assists vs. Andre Iguodala – As much as Iguodala should play a more significant role for the Warriors, and Lowry had just two assists in Game Two, Lowry is typically more involved in distributing the ball, averaging 6.4 assists per game in the playoffs.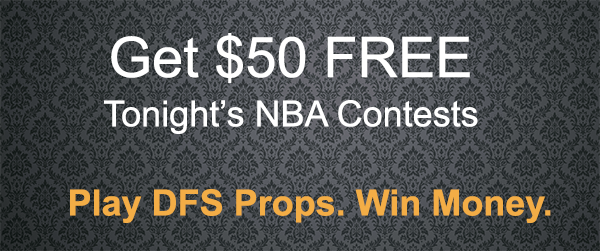 More Fantasy Basketball Analysis