The Toronto Raptors announced to the world that they weren't simply in the NBA Finals to have front-row seats for another Golden State Warriors coronation, winning Game One of the series, 118-109. What can the Raptors do for an encore?
While the Warriors seemed to be surprised by Pascal Siakam in Game One, it's fair to say that the Raptors can't count on the element of surprise in Game Two. They have the talent to play with the Warriors, especially a Warriors team that continues to play without star forward Kevin Durant, but Golden State hasn't won three of the past four titles because they roll over after losing a game.
Even though it's fair to expect a better performance out of the Warriors, the Raptors may have some value, too. Don't assume that everything that happened in Game One will be reversed.
The one constant for the Raptors should be their defensive play and that will determine whether they can hang with the Warriors in Game Two. It has generally been a strength for Toronto in the playoffs, and they jumped out to a lead in Game One when they held Golden State to 49 points in the first half.
Here are some angles to consider before making your prop picks for Game One of the NBA Finals.
Editor's Note: Our friends at Monkey Knife Fight have released the best, most fun, fastest growing DFS props game! It's super simple to play and win real money. Just choose your NBA, NHL, MLB or PGA game, and make your picks! Get a 100% instant deposit bonus up to $50 using promo code: BALLER. That's $50 for free - don't miss out!
GOLDEN STATE-TORONTO
OVER/UNDERS
Steph Curry OVER 32.5 POINTS – It's been six straight games that Steph has scored at least 33 points, and that's even with the Raptors getting up on him defensively in Game One. Without KD, let's just assume that Steph is going to go bombs away from beyond the arc and can find his way to the mid-thirties.
Kawhi Leonard UNDER 29.5 POINTS – There's always the possibility that the Raptors will have to lean on Kawhi to carry the offense but, if they can avoid it like they did in Game One, that works too. Leonard has been held to 29 points or fewer in three of the past four games, with fewer than 15 field goal attempts in two of the past four.
Klay Thompson OVER 21.5 POINTS – The Warriors have needed more from the Splash Brothers and while Klay is getting more touches with Kevin Durant out of the lineup, he's struggling a bit, shooting 39.8% from the field over the past five games, averaging 21.4 points per game in the process. With the Warriors really needing a win in Game Two, Thompson should get his looks, and even with the Raptors playing strong defense, he may start hitting more than 40% of his shots.
Klay Thompson UNDER 3.5 THREE-POINTERS – Even with an expectation that Thompson could go for 22 or more points in Game Two, that doesn't mean it makes sense to count on him hitting four triples, a threshold he's crossed once in the past five games and five times in 17 playoff games.
Kyle Lowry UNDER 6.5 ASSISTS – Maybe Lowry is going full playmaker and will start picking up double-digit assists now, but he had gone eight straight games with six assists or fewer before putting up eight and nine assists, respectively, in the past two games.
Draymond Green OVER 8.5 ASSISTS – The Warriors' recent run without Durant has brought out vintage Draymond, and he has averaged 9.0 assists per game in the past seven and he has double-digit assists in three straight contests.
Jordan Bell UNDER 1.5 STEALS + BLOCKS – An energy player who can get those hustle stats, Bell doesn't play enough to bank on multiple combined steals plus blocks in a game and he's done it just twice in the past six games, when he's finally found a spot in the forward rotation, averaging nearly 13 minutes per game.
RAPID FIRE
Steph Curry -3.5 points vs. Kawhi Leonard – As noted in the over/unders, there is always the chance that the Raptors will turn to Kawhi and ask him to drive the offense like he did against Philadelphia and early against Milwaukee, but that hasn't been the ask in recent games and it's going in the exact opposite direction for Curry and the Warriors. With Kevin Durant hurt, Curry is getting more looks and is averaging 35.5 points per game in the past six.
Draymond Green – 3.5 rebounds vs. Pascal Siakam – Consider this a case for expected regression from Siakam, coming off a monster performance in Game One (when I picked him plus-3.5 boards against Draymond), but Siakam has had an up-and-down playoff run so it would be somewhat surprising if he turned in a second big game in a row, and he would need to in the rebounding department to keep pace with Draymond, who has been good for double digit rebounds in 10 straight games.
Kyle Lowry +1.5 three-pointers vs. Klay Thompson – Thompson is averaging 2.9 three-pointers per game in the playoffs, while Lowry sits at 2.1. With the Raptors at home and Lowry getting an extra 1.5, take the underdog all day long.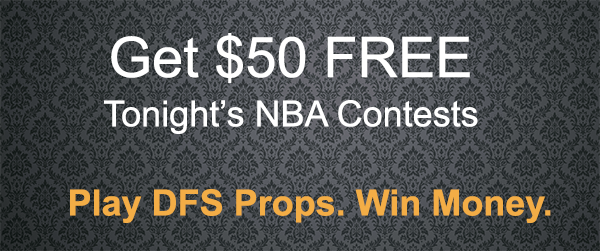 More Fantasy Basketball Analysis