The Toronto Raptors were oh-so-close to winning the NBA Championship at home in Game Five but they coughed up a six-point lead and ended up losing by one. Now, they have to try to win the title in Game Six at Oakland.
The Warriors are battered and bruised. They lost star forward Kevin Durant to a torn Achilles in Game Five and Kevon Looney is questionable as he deals with a fracture near his collarbone. That forces the Warriors to turn to the Splash Brothers, Steph Curry and Klay Thompson. It is the luxury of the Warriors that when injuries thin out the rotation, they can still count on the best backcourt in the game.
The Raptors are more comfortable right now, with a set rotation and relatively good health, but they have to pick themselves up off the mat and win at Oracle Arena for the third time in the series.
Here are some angles to keep in mind before making picks for Game Six of the NBA Finals.
Editor's Note: Our friends at Monkey Knife Fight have released the best, most fun, fastest growing DFS props game! It's super simple to play and win real money. Just choose your NBA, NHL, MLB or PGA game, and make your picks! Get a 100% instant deposit bonus up to $50 using promo code: BALLER. That's $50 for free - don't miss out!
TORONTO-GOLDEN STATE
OVER/UNDERS
Steph Curry OVER 33.5 POINTS – Steph's ceiling is so high and, given how many shots are available to him, his floor is so low which makes it entirely reasonable to expect him to score more than 30 points. He's averaged 32.4 points per game in the Finals but with injuries thinning out Golden State's lineup, it's fair to think that Steph could find his way to 34 or more points.
Kawhi Leonard OVER 30.5 POINTS – Kawhi Leonard allowed other Raptors to have bigger roles offensively early in Game Five before taking over late and finishing with 26 points. In Game Six, it's not unreasonable to think that Kawhi may take on a greater sense of urgency and take more shots. It doesn't take a lot more to lift Leonard from his series average of 29.8 points per game.
Draymond Green OVER 8.5 REBOUNDS – Averaging 10.5 rebounds per game in the past 15 games, Draymond is consistently reliable on the boards, accumulating at least nine rebounds in 14 of those 15 games.
Kawhi Leonard OVER 9.5 REBOUNDS – The Board Man Gets Paid and Kawhi has used his size to his advantage against the Warriors, averaging 10.6 rebounds per game, including 12 back-to-back in the past two games.
Kyle Lowry OVER 6.5 ASSISTS – In the Final, Lowry has averaged 6.5 assists per game and the Raptors need his playmaking skills. While Fred Vanvleet adds a lot off the bench, he doesn't distribute the way that Lowry does and when the Raptors are playing well, they are sharing the ball a lot.
RAPID FIRE
Kawhi Leonard +3.5 points vs. Steph Curry – With Kevin Durant back on the sidelines, the Warriors are leaning heavily on Curry and Klay Thompson to carry the offense but the Raptors have to lean on Kawhi virtually every game. He does let the rest of the Raptors get more involved early, but then Kawhi takes over and he has averaged 29.8 points per game in the Final. Curry has 32.4 points per game in the Final, so getting 3.5 points makes Leonard the play.
Draymond Green – 2.5 rebounds vs. Pascal Siakam – This matchup had been hovering around Green by 1.5 rebounds earlier in the series but his consistency has pushed the number up. In the series, Draymond is averaging 9.2 rebounds per game, compared to 6.8 per game for Siakam, so the 2.5-rebound gap is in the right ballpark, but Green is still more consistently reliable.
Andre Iguodala +1.5 steals + blocks vs. Draymond Green – In this series, Iguodala is averaging 2.8 steals plus blocks per game, while Green is putting up 2.2 per game. Take the extra 1.5 and ride with the underdog.
Klay Thompson -2.5 three-pointers vs. Kyle Lowry – In the four games that he has played in the series, Thompson has averaged making five threes per game, and the Warriors will need him to be great if they are going to stay alive. Lowry is averaging two threes per game in the series and has made one, total, in the past two games.
Pascal Siakam -0.5 rebounds vs. DeMarcus Cousins – The Warriors may be forced to play Cousins more, but he's clearly been unable to handle big minutes, so ride with Siakam who is good for 32-plus minutes in seven straight games, helping him to average 7.3 rebounds per game in those seven contests.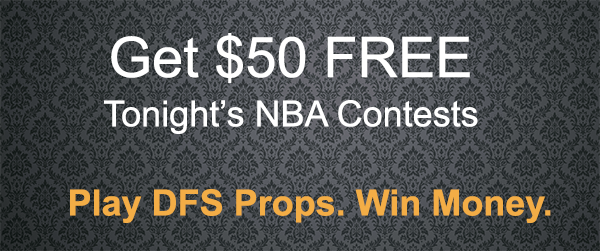 More Fantasy Basketball Analysis