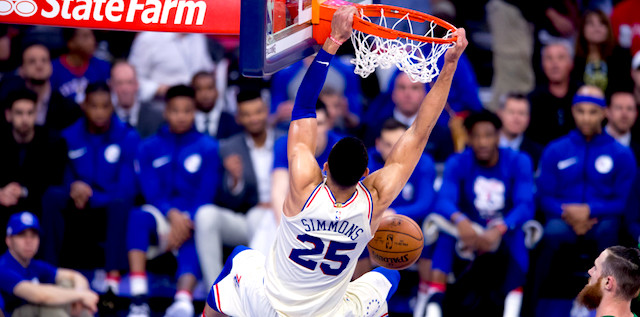 Steph Curry and the Golden State Warriors head to Philadelphia for a star-studded match-up with the 76ers.
The Warriors were seemingly invincible, winning 16 of 18 going into the All-Star break, but they've lost three of five since, including back-to-back losses in Miami and Orlando. Philadelphia is a tougher test than both.
The Sixers have won four of their past five games and won at Golden State on January 31. With stars like Steph Curry, Kevin Durant, Joel Embiid and Ben Simmons involved, someone is bound to rise to the occasion.
Here are some angles to consider before tip-off on a busy night in the NBA.
Editor's Note: Our friends at Monkey Knife Fight have released the best, most fun, fastest growing DFS props game! It's super simple to play and win real money. Just choose your NBA, NHL or PGA game, and make your picks! Get a 100% instant deposit bonus up to $50 using promo code: BALLER. That's $50 for free - don't miss out!
GOLDEN STATE-PHILADELPHIA
OVER/UNDERS
Stephen Curry OVER 26.5 POINTS – Steph is always an interesting case because he has the talent to go off and destroy the number, but there are nights that the Warriors don't need him to do that. Nevertheless, he's scored 27 or more in 17 of 26 road games this year and the Sixers ought to present a challenge so the Warriors might need him.
Ben Simmons OVER 9.5 REBOUNDS – This goes a little against trend because Simmons does not grab as many rebounds at home (8.3 per game) as he does on the road (9.9 per game), but rebounding is not the Warriors' strength and that could be a factor, especially when it comes to a 6-foot-10 point guard.
Jimmy Butler UNDER 20.5 POINTS – It's been a disappointing season for Butler, at least in terms of individual production, and he's been held to 20 points or fewer 10 times in the past 13 games.
DETROIT-CLEVELAND
OVER/UNDERS
Blake Griffin OVER 24.5 POINTS – Even though he's in a recent shooting slump, Griffin is averaging 26.2 points per game on the road this season, and the Cavs aren't near being an average opponent.
RAPID FIRE
Andre Drummond -6.5 rebounds vs. Larry Nance Jr. – There was a stretch, not so long ago that Nance was throwing up double-digit rebound games, but he's slipped back and had just two boards in 17 minutes in the Cavs last game. Drummond grabs those boards night in and night out, to the tune of 14 or more in eight straight games.
ORLANDO-INDIANA
RAPID FIRE
Nikola Vucevic -4.5 rebounds vs. Thaddeus Young – Vucevic is a double-double machine, and grabs more boards on the road, 12.5 per game which compares nicely with Young's 6.9 rebounds per game at home.
D.J. Augustin +1.5 assists vs. Darren Collison – Collison in on a bit of an uptick recently, but is averaging 6.0 assists per game at home, while Augustin averages 5.5 per game on the road. Getting 1.5 on the underdog Augustin makes the most sense here.
BROOKLYN-MIAMI
OVER/UNDERS
Dion Waiters UNDER 13.5 POINTS – Waiters has only played 10 home games this season but has scored 14 or more points in just two of them. His biggest offensive bursts since returning to the lineup have been on the road.
Spencer Dinwiddie UNDER 4.5 ASSISTS – Dinwiddie made a solid return to the Nets lineup Friday night, playing 23 minutes and contributing four assists but he may get eased back into the rotation, so it's reasonable to think he finishes under five assists.
MEMPHIS-DALLAS
OVER/UNDER
Luca Doncic OVER 23.5 POINTS – In 29 home games this year, Doncic has scored 24 or more points 13 times, so that looks like an under, until one considers that his scoring average has climbed throughout the season, averaging 18.5 points per game through the end of November, and now he just put up 24.4 points per game in February. He says it's easier to score in the NBA. Maybe we should believe him.
RAPID FIRE
Luca Doncic +3.5 rebounds vs. Jonas Valanciunas – As much as Valanciunas has a bigger role in Memphis than he did in Toronto, and is averaging 9.6 rebounds per game with the Grizz, Doncic has been putting up 7.4 rebounds per game at home all season and, just like his scoring, the rebounding numbers have gone up, to 9.4 per game in February.
OKLAHOMA CITY-SAN ANTONIO
OVER/UNDERS
LaMarcus Aldridge OVER 20.5 POINTS – In his past eight home games, Aldridge has scored 21 or more points seven times, and the only time he fell under this number, he scored 20.
Steven Adams UNDER 9.5 REBOUNDS – Adams has gone nine straight road games without hitting double digits on the boards. Is a trip to San Antonio going to change that?
MILWAUKEE-UTAH
OVER/UNDERS
Donovan Mitchell OVER 23.5 POINTS – Yes, the Bucks are a formidable opponent, if you like the team with the best record in the league, but Mitchell has scored 24 or more in 11 of his past 15 home games and the Bucks are on the second night of a back-to-back.
Joe Ingles UNDER 2.5 THREES – Though Ingles shoots better at home, making 2.7 threes per game, he's made three or more in 10 of his past 20 home contests. That's not enough to like the over.
LAKERS-PHOENIX
OVER/UNDERS
LeBron James UNDER 29.5 POINTS – He's frustrated with playing on a losing team and has been held under 30 points in eight straight road games. The Suns are the type of team that could end that streak, but on the second night of a back-to-back, it's asking a lot of LeBron to go for a third straight 30-point game.
Kyle Kuzma OVER 19.5 POINTS – If LeBron isn't scoring, someone should get loose against the Suns and it might as well be Kuzma, who had just 12 points against Milwaukee Friday night, but is averaging nearly 19 per game on the road. The Suns can give up that extra point for the over.
NEW ORLEANS-DENVER
OVER/UNDERS
Anthony Davis UNDER 7.5 REBOUNDS – This seems an absurdly low number, and Davis has eight rebounds in his past couple of road games, but he's playing between 15 and 21 minutes per game over the past couple of weeks. Who can trust that he gets enough minutes to grab those boards?
RAPID FIRE
Jamal Murray +0.5 three-pointers vs. Malik Beasley – This is a relatively even match-up, on players that are both good for a couple of threes per game. Getting the half point makes Murray the choice.
More Fantasy Basketball Analysis