With the NBA season winding down there are compelling match-ups no matter how different in quality the teams might be.
What this means, for the prop player, is that even on an underdog, there very well could be value to be found.
Consider Kemba Walker bombing against the 76ers, Trae Young going off against the Rockets or even LeBron James putting up numbers against the Bucks. These are all possible.
Here are some other angles to examine before six NBA games tip off tonight.
Editor's Note: Our friends at Monkey Knife Fight have released the best, most fun, fastest growing DFS props game! It's super simple to play and win real money. Just choose your NBA, NHL or PGA game, and make your picks! Get a 100% instant deposit bonus up to $50 using promo code: BALLER. That's $50 for free - don't miss out!
PHILADELPHIA-CHARLOTTE
OVER/UNDERS
Tobias Harris UNDER 20.5 POINTS – Early in his days with the Sixers, Harris was scoring a bunch, but he's slowed down recently, held under 20 points in six of the past eight games overall, and the overs were 21 and 22 points.
RAPID FIRE
Kemba Walker +0.5 three-pointers vs. J.J. Redick – As great as Redick is as a three-point threat, averaging 3.3 per game over the past 20 games, Walker is such a big part of the Hornets offense and is averaging 3.5 per game over the past 20. Getting that extra half in his favor makes Walker worthwhile.
HOUSTON-ATLANTA
OVER/UNDERS
Trae Young OVER 20.5 POINTS – The Hawks rookie guard has scored at least 21 points in seven of the past eight home games and Atlanta is going to need as much scoring as they can get to keep up with the Rockets.
RAPID FIRE
John Collins -1.5 points vs. Eric Gordon – Collins is a consistent scoring threat, averaging 19.6 points per game at home. Gordon is a little more boom or bust, based on how the threes are falling, and he is averaging 17.2 per game on the road. That's enough reason to like the edge with Collins.
LAKERS-MILWAUKEE
OVER/UNDERS
Kyle Kuzma UNDER 18.5 POINTS – The second-year forward is slumping a bit, scoring 18 points or fewer in five of the past seven road games, six of the past seven overall.
Nikola Mirotic UNDER 7.5 REBOUNDS – In 13 games with the Bucks, Mirotic has grabbed eight or more rebounds just once.
RAPID FIRE
LeBron James +3.5 points vs. Giannis Antetokounmpo – As good as Giannis is, averaging 29.0 points per game at home, LeBron is averaging 26.7 per game on the road, but LeBron is putting up 29.6 points per game in the past 13.
GOLDEN STATE-MINNESOTA
OVER/UNDERS
Karl-Anthony Towns OVER 11.5 REBOUNDS – More dominant at home, KAT is grabbing 13.4 boards per game in Minnesota, and he will have a size advantage against the Warriors.
Steph Curry OVER 26.5 POINTS – There is a slight advantage to take Steph to score at least 27 points, based on overall numbers, but the Timberwolves are subpar defensively, allowing a league-worst .377 on three-pointers.
BROOKLYN-SACRAMENTO
OVER/UNDERS
D'Angelo Russell OVER 23.5 POINTS – The Kings' suspect defensive is ripe for the picking and Russell has picked up his game in the second half of the season.
De'Aaron Fox UNDER 7.5 ASSISTS – In the past 14 games, Fox has improved his ball distribution, but he's still sitting at 7.6 assists per game over that stretch. It's easier to believe, given the season on the whole, he doesn't get there.
Buddy Hield OVER 19.5 POINTS – Sacramento's sharpshooter has scored at least 20 points in four of the past five home games.
BOSTON-CLIPPERS
OVER/UNDERS
Danilo Gallinari OVER 18.5 POINTS – Gallinari is heating up, going for 19 or more points in seven straight home games.
RAPID FIRE
Montrezl Harrell +0.5 rebounds vs. Thaddeus Young – Harrell is playing a bigger role for the Clips and has averaged 6.9 per game over the past 15 games. Young is averaging 6.1 per game on the road this season, so ride Harrell's recent run.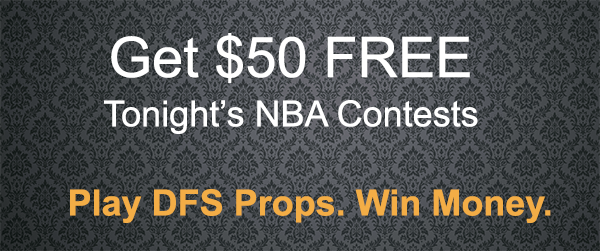 More Fantasy Basketball Analysis