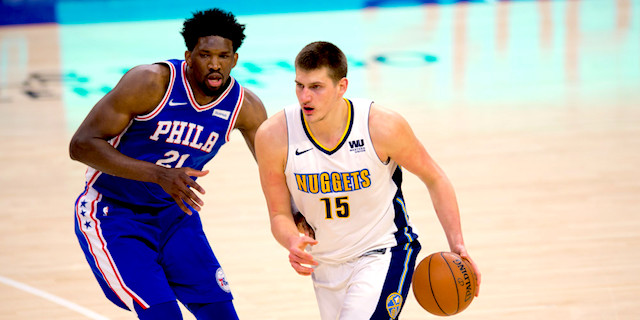 One rule for tonight, have fun. With so many games, there is no shortage of options and there are winners out there. We are going to get into some of the better picks for tonight, but unless you want 6,000 words on a 10-game slate, I am going to have to pick just five out of the seemingly endless prop options.
If you have more questions about these prop bets or other NBA DFS situations, find me in the NBA Chat Room or @HalfCourtJester on Twitter. There are quite a few lingering injury tags out there so make sure you stay updated. 
Editor's Note: Here's a really nice special offer for all RotoBaller readers from our Monkey Knife Fight friends: New AND Existing Player Bonus - All players receive a 100% matched signup or reload bonus up to $50 with code 'RBNBA19'  Once you sign up and deposit, use our NBA prop picks below to get off on a winning foot! 
Riding the Kemba Walker wave this season has been unfortunately underwhelming. He has had some great games and proved how important he is to the team, but in terms of raw production, this is nothing like the Hornets Walker that we have become accustomed to seeing. Since he is absolutely still capable of having those big moments and big games out of anywhere, opposing defenses won't matter nearly as much. Andre Drummong roaming the paint shouldn't affect Walker in the slightest, and the biggest problem of concern is whether or not Jaylen Brown or Jayson Tatum will go off tonight. Drummond in the paint should have more of an impact over Tatum and Brown's production, allowing Walker to see a few more outside shots.
Play the Contest Now on Monkey Knife Fight
The greatest thing about prop bets is how you can totally fade an entire team in hopes that one players steals all the production. Since the Timberwolves have struggled mightily with longevity and consistency, not only this season, but previous seasons as well, having a player like Andrew Wiggins who welcomes high-usage games is still a new thing for them. Yes, he has done this type of thing in previous season, but he wasn't producing anywhere close to that level. He might appreciate a little more help from the rest of the roster, but until that becomes more of a gaurantee, I'll gladly invest some prop bet money in him tonight versus the Pacers despite their defense ranking second against opposing hybrid forwards.
Play the Contest Now on Monkey Knife Fight
Aaron Gordon (POR) Over 28.5 Fantasy Points
It's unfortunate that Monkey Knife Fight doesn't do their fantasy scoring like DraftKings because this pick would almost be a given if it was the case. It really doesn't hurt that steals and blocks are +3, especially if we play someone like Aaron Gordon versus the Lakers. His athleticism is going to be something the Lakers will be forced to stop and Gordon isn't having a good shooting night, he should be able to fly around the court with minimal competition. He will have to fight for boards against quality bigs, but his raw ability to out-jump a majority of other forwards gives him upside in this matchup specifically. Even with the Lakers ranking fairly well against opposing forwards, that doesn't really consider the type of player Gordon is. Evan Fournier is another solid option if you are looking to pair another option with this pick.
Play the Contest Now on Monkey Knife Fight
Pascal Siakam recovered beautifully and came back to the starting lineup in spectacular fashion. Since the thunder generate most of their defense from the center position and Siakam has pretty much established himself as one of the harder power forwards to guard, defense doesn't really matter in this case. If Siakam is hitting, 20 points is a cake walk. If he is struggling with his shot, 20 points still seems like his floor for tonight. Either way, this Thunder defense is going to be seeing a ton of Siakam usage tonight whether he is scoring or not.
Play the Contest Now on Monkey Knife Fight
Nikola Jokic (DEN) Over 47.5 Fantasy Points
Consider this two picks. You have to roll with Nikola Jokic tonight in some way. My initial idea was to target whatever the over/under for assists was, but Monkey Knife Fight flexed their foresight by only rolling out Fantasy Point and Rebound options for Jokic. He should demolish them, but 10 rebounds always scares me when it comes to Jokic. He does a little bit of everything, which means he focuses on rebounds, but he is going up against Cody Zeller and Willy Hernangomez, two players who have really nothing else to do than rebound. Either way, take every over you can with Jokic, and if you are feeling risky, go with the over for Cody Zeller too. He just needs seven rebounds tonight and he has posted eight rebounds games twice over the past four outings.
Play the Contest Now on Monkey Knife Fight
More Fantasy Basketball Analysis