Are baseball players human? Based on the astonishing athletic achievements we see on a daily basis, this is a fair question to ask. I mean, Bryce Harper just hit multiple home runs with a torn UCL, while Charlie Morton threw 95 MPH in the World Series with a broken leg. These are not normal accomplishments!
As a result, the expectations of the very best MLB players are remarkably high. Once a baseline of excellence is established, they are expected to continue to play to the top of their abilities. That being said, baseball is a very hard game, and it can often get the best of even the most talented athletes. As we have seen with the likes of Miguel Cabrera, Albert Pujols, and even Cody Bellinger and Christian Yelich, it's hard to sustain elite production for a long period of time. Mike Trout has universally been seen as the best player in baseball for the better half of this decade. That being said, if there is one player that has consistently been able to give him a run for his money, it has been Mookie Betts.
As an AL MVP award winner, five-time All-Star, and arguably the best all-around player in the league for several years, Betts' prime years certainly are Hall of Fame-caliber. For him to guarantee his spot in Cooperstown, though, he'll need to stave off the decline phase of his career as long as possible. 2021, a worse season for Betts than expected, raised concerns about if he was still at his peak form and those concerns have persisted through the beginning of this season. So, is Betts still a superstar? It is time for the jury to commence deliberations. You can also read about other in-depth player breakdowns in this "Still A Stud?" series.
Featured Promo: Get any full-season MLB and DFS Premium Pass for 50% off. Exclusive access to our Team Sync platform, Premium articles, daily Matchup Rating projections, 15 lineup tools, DFS cheat sheets, Research Stations, Lineup Optimizers and much more!
Sign Up Now!
Mookie Betts' Rise To The Top
One of the beauties of baseball is that superstars can come from where you least expect them to. As a fifth-round pick in the 2011 MLB Draft, Betts certainly was not a coveted prospect coming out of high school. At a time when physical tools were a major part of amateur scouting, a lightweight, 5'9" position player wasn't exactly the prototype of someone who was going to garner a lot of attention.
Quickly, though, it became quite clear that Betts had a chance to be special. As a 20-year-old in Single-A and High-A, he absolutely shredded minor-league pitching, posting a 162 weighted-runs-created-plus, demonstrated burgeoning power (.193 isolated power/ISO) and walked (14.7%) more than he struck out (10.3%). You simply don't post those types of numbers unless you're immensely skilled at the game of baseball.
Despite this, Betts still was only ranked as the 62nd-best prospect by MLB Pipeline and the 75th-best prospect by Baseball America. Well, after what he did during the 2014 season, it was much harder to overlook. As a 21-year-old, between Double-A and Triple-A after posting a 168 wRC+, he was continuing to walk (13.1%) more than he struck out (10.8%) while also making his MLB debut. Of course, with a 129 wRC+ in 213 MLB plate appearances, he didn't struggle at all with that transition. Remember, he was just 21-years-old and came into the season with no experience at the upper levels of the minors!
From there, it was smooth sailing for Betts, who ascended into one of the few superstars in the sport:
2015 (22-years-old): .291/.341/.479, 120 wRC+, 4.8 Fangraphs Wins Above Replacement (fWAR)
2016: (23-years-old): .318/.363/.464, 136 wRC+, 8.2 fWAR
2017: (24-years-old): .264/.344/.459, 107 wRC+, 5.5 fWAR
2018: (25-years-old): .346/.438/.640, 185 wRC+, 10.6 fWAR
2019: (26-years-old): .295/.391/.524, 135 wRC+, 6.4 fWAR
In total, that's a .302/.374/.524 slash line with a 135 wRC+ and an average of 7.1 fWAR per season. Simply put, those are ridiculously elite numbers. Outside of 2017, where his batted-ball luck (.268 batting average on balls in play/BABIP) was poor, he was as reliable as a player it could get. For real-life purposes, that offense being completed by the superb defense and base-running was hard to match. Meanwhile, for fantasy, the combination of an elite batting average, strong power, tremendous durability, and an extensive amount of stolen bases made him a consistent top-five player.
When the Dodgers acquired him from the Red Sox following the 2019 season and then proceeded to sign him to a 12-year-extension, he looked to be one of the very rare players to not have a single flaw. At this point, it was fair to wonder if he was a real person or just a figment of our imagination- he had been that special.
Mookie Betts' First Two Years in L.A.
With Betts joining an already potent team, the Dodgers appeared to put the finishing touch to a historically talented roster, and it translated immediately. In the 60-game 2020 season, they led all of baseball with a 43-17 record and ultimately conquered the World Series title. For a team that has dealt with so much heartbreak, finally getting over the top was a monumental accomplishment for them, and there certainly wasn't a better way for Betts to start off his Dodger tenure.
After all, with a .292/.366/.562 slash line, amounting to a 147 wRC+, Betts earned consideration for the NL MVP award, while for fantasy, he was the second most valuable outfielder in 5x5 leagues, per Fangraphs dollar values. It wasn't the perfect season - he chased slightly more and barreled up the ball less - but it was hard to be concerned about an elite player still in the thick of his prime.
With that in mind, it isn't a surprise that, per rotoholic.com, Betts was a consensus top-five pick in the NFBC Main Event, while conversations started to linger regarding whether he had become the best player in baseball, even over Mike Trout. Unfortunately, however, Betts had a down year for his standards, posting a 3.5 fWAR and finishing just 30th among outfielders in 5x5 value, per Fangraphs. While this would be a standout season for several players, for someone seen as the potential frontrunner for the NL MVP award, it certainly was at the very low end of his potential range of outcomes.
The main issue with Betts? His raw abilities seemed to taper off. Not only did he simply not hit the ball as hard, evidenced by a 41% hard-hit rate and a 107.9 max exit velocity, low for his standards, but his barrel rate dropped to 7.8%. To compensate for this, he pulled the ball (45.2%) more than ever with a greater frequency of balls in the air (33% FB), which worked tremendously in a ballpark that, per Baseball Savant, has been the most favorable stadium for right-handed hitting home runs. That being said, this also took away from his ability to post a high batting average, so there certainly is a trade-off for fantasy purposes.
Meanwhile, as he dealt with multiple injuries, Betts was limited to 550 plate appearances, and it seemed to plague his performance. In a lot of ways, though, this seemed like a positive- a healthy Betts, still seemingly in the middle of his prime, would clearly get back to his old ways. That being said, there was enough skepticism for him to be a fringe first-round pick in 15-team leagues, while he fell to the #5 spot in MLB Network's right fielder rankings; there clearly was some pessimism that he'd get back to his old self. So, which side won the battle? So far, it's a mixed bag.
Mookie Betts' Peculiar Start To 2022
Betts' .246/.338/.407 slash line to start the 2022 season certainly isn't exciting, but do consider that in this current offensive environment, it still amounts to a 131 wRC+. Plus, there are plenty of simplistic reasons to expect his performance to improve further. After all, his current .260 batting average on balls in play (BABIP) would be the lowest of his career and well off expectation, which would stem from an increase in his line-drive rate (18.6%), which will eventually regress back to his mean expectation. In simplistic terms, his .254 batting average is certainly going to go up. The question is, how much?
For what it's worth, Betts is no longer exaggerating (39.2% pull rate) for power, which would ideally lead to a BABIP similar to his career norms. The problem? His speed has been on a rapid decline. Here are his home-to-first times by season:
2018: 4.18 seconds
2019: 4.26 seconds
2020: 4.32 seconds
2021: 4.46 seconds
2022: 4.59 seconds
It was easy to blame some of Betts' decline in athleticism last season on the injuries he dealt with. Now, though, it's looking like the 29-year-old is not near the same level of athlete he was during his peak performance. That may explain how his current infield-hit rate (5.4%) is the lowest of his career, and likely will continue to be around that range. At this point, a BABIP at .300 or higher shouldn't be expected, though at least .280 would be a logical floor.
Betts still makes an extraordinary amount of contact, giving him a high foundation, especially when the league-wide batting average is down. That being said, the days of him flirting with a .300 batting average are likely behind us.
Now, onto Betts' power, which may be more tricky to peg than his batting average. Surely, at this point, there should be some level of concern about his inability to barrel the ball up.
MOOKIE BETTS BARREL% BY SEASON
2019: 10.3%
2020: 7.7%
2021: 7.8%
2022: 6.2%
As alluded to, this mainly has to do with Betts simply not hitting the ball as hard- he's still hitting the ball at similar optimal trajectories for power production. Now, his line-drive rate reverting back to normal would help with this, but there has definitely been a decrease in raw power.
Meanwhile, although this may mean absolutely nothing, it is interesting to see his recent decrease in effectiveness versus fastballs:
Again, the real significance of this is likely minimal, though at least we can better understand the roots of Betts' issues. This may be in line with perhaps the bat speed not being what it once was, though this will downtick will likely change with a higher line-drive rate. It will be fascinating to see where this mark ends up at the end of the year, but when looking for reasons for a decline from Betts, this wouldn't be it, especially when looking at what he's accomplished recently.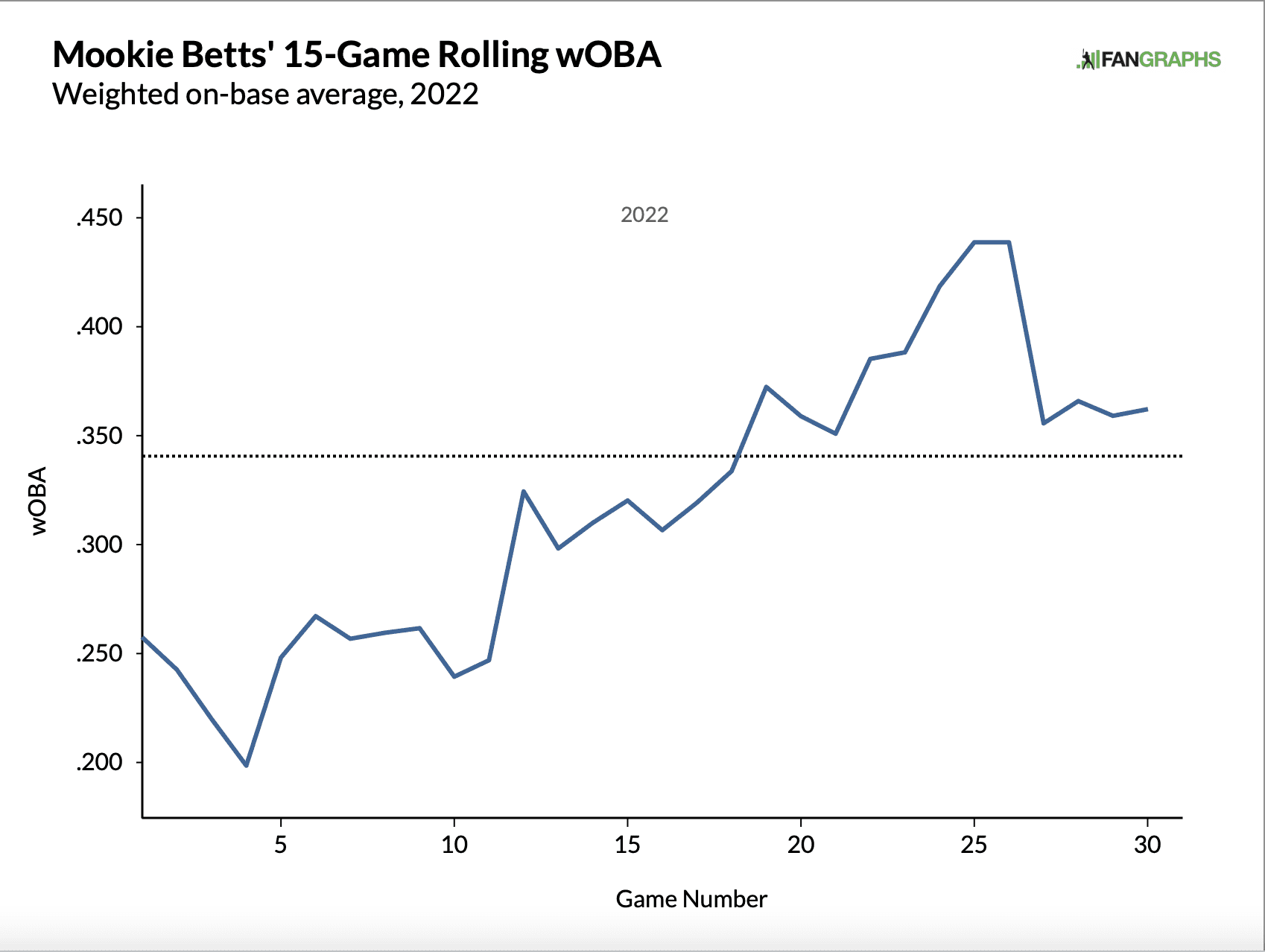 Is Mookie Betts Still a Superstar?
That's the million-dollar question we're here to answer. Of course, if this was a simple answer, we wouldn't be nearly 2,000 words in at this point.
This is a player that has consistently defied the odds, rising from unheralded prospect to MLB superstar. With that in mind, it's natural to have a hard time betting against them, and for this season, you won't have to. Even with Steamer giving him the most pessimistic projection with a .263/.360/.465 slash line with 25-30 home runs and 15+ stolen bases, he still ends up as the fifth-highest projected outfielder in terms of traditional fantasy 5x5 value.
Why? Well, Betts is hitting leadoff for the best lineup in all of baseball! He is already tied for the league lead with 29 runs scored, and he's projected by Steamer to finish with around 115 runs scored. Add that to the fact that he doesn't have any area of his game where he isn't at least above-average, and as long as he stays healthy, there's a strong chance he can finish as at least a fringe first-round value, with the upside for more.
In the future, there are more concerns to have with Betts. He simply doesn't appear to be the athlete he once was, and, eventually, we will likely see him stop stealing bases at a high rate, with his BABIP coming down as well. This athleticism has been a major part of his skillset, so as he comes close to entering his 30s, we're unfortunately likely ending the course of Betts at peak form. Thus, unless you're in a win-now mode, he might be the ideal player to trade away in dynasty leagues, particularly once he starts to heat up.
Should you write off Mookie Betts? Absolutely not. Even if he isn't challenging Mike Trout as the best player in baseball anymore, he has the plate skills to help him as his athleticism continues to decline, and for fantasy, those on-base abilities can allow him to stay at the top of the lineup and score a lot of runs. Remember, this is still a star, even if not a top-notch superstar, and he'll remain a very productive player for more years after that. At least, that's the hope!
Father Time is undefeated, and it can come back to bite you at any point. That being said, Betts is still only 29 and remains a tremendous all-around talent. Whether he's still a superstar depends on your definition of that word, but in the end, this is a player we should continue to appreciate for as long as he continues to play. Eventually, the next stop will be Cooperstown, but for now, sit back, and enjoy the show. Remember, not every question needs a binary answer.
Download Our Free News & Alerts Mobile App
Like what you see? Download our updated fantasy baseball app for iPhone and Android with 24x7 player news, injury alerts, sleepers, prospects & more. All free!


More Fantasy Baseball Advice