In the third installment of a 6-part series focused on pitchers who exhausted rookie eligibility during the 2022 MLB season, I review how the pitching fundamentals of select American League West pitchers have evolved and use that information to forecast their MLB futures.
Fundamentals will be quantified using my Fielding- and Ballpark-Independent Outcomes (FaBIO) pitcher evaluation model.
Let us begin with individual analyses of three key American League West 2022 pitcher prospect graduates: George Kirby, Matt Brash, and Reid Detmers.
Featured Promo: Get your 2023 MLB Premium Pass for 50% off. Exclusive access to our preseason Draft Kit, #1 accuracy rankings, #1 ATC projections, Team Sync platform, Live Draft Assistant, 15 in-season lineup tools, customized rankings and much more!
Sign Up Now!
Quick Overview of FaBIO
An earlier RotoBaller article more fully explains the FaBIO methodology. Every plate appearance is sorted into one of 12 event-type bins (BB+HBP, K, IFFB, Pull OFFB, Center OFFB, Oppo OFFB, Pull LD, Center LD, Oppo LD, Pull GB, Center GB, Oppo GB) and the pitcher is charged with league's average runs value for that event type.
We eventually wind up with loads of fundamentals-rooted percentile ratings expressed on a 100 to 0 scale where 97 is plus plus, 84 is plus, 50 is average, 16 is minus, and three is minus minus.
The all-in-one Overall Rating (based on expected run avoidance per batter faced over all of that pitcher's batters faced) will be used primarily as filtering criteria with relatively more attention paid to how the three core sub-Ratings of Control (or CTL, based on BB+HBP per batters faced), Strikeout (or K, based on K per batters faced), and Batted Ball Profile (based on expected run avoidance per batted ball) combine to produce Overall Rating.
George Kirby, Seattle Mariners
Ahead of the lost-to-pandemic 2020 MiLB season, the main concern with the hard-throwing George Kirby was that the pitching profile had long leaned too much toward control (which explains only 22% of the variation in expected run allowance that OVERALL aspires to quantify) and not enough toward pure out-generation fundamentals like strikeouts and batted ball profile. By then only once in MiLB and NCAA had he posted a fully plus rating at either K or BATTED BALL PROFILE. Also worrisome was that the MiLB debut and three NCAA seasons all featured forward batter handedness splits (OHB OVERALL<SHB OVERALL) that projected him vulnerable as a starter to managers stacking lineups with lefthanded batters. Kirby largely dispensed worries over how his stuff played versus opposite-handed batters in the 2021 return of MiLB play but the FaBIO profile continued to lean CTL-first.
Though Kirby posted stout enough fundamentals in MLB spring games to break camp with the squad he was reassigned to AA. There he posted near-perfect out-generation fundamentals over five sparsely-spaced starts (100 OVERALL, 89 CTL, 99 K, 100 BATTED BALL PROFILE) before punching a May ticket to the MLB rotation. Kirby leaned heavier on his trademark strike-throwing while cutting his big league SP teeth but the out-generation fundamentals gradually rose and so much so that his profile skewed CTL-last in the regular-season second half (99 Overall, 80 CTL/88 K/99 BATTED BALL PROFILE). Wire-to-wire Kirby finished an impressive rookie season with the 7th highest OVERALL Rating (94) among American League starting pitcher qualifiers (four of the six higher were from this division, three from Astros).
Kirby seems to have his batted ball profile on par with control owing to a unique ability to ride a fastball for IFFB (on full display during his ALDS start versus Astros when mid-afternoon shadows favored that plan) while still leaning toward sinking to running another one for groundballs. His hard movement is hardly limited to up-down either and if that holds he will be an MLB SP for a very long time. Certainly, there is potential for him in future seasons to finish FaBIO triple plus with all of CTL, K, and BATTED BALL PROFILE plus or better.
Perhaps the biggest concern for 2023 may be that Kirby just faced 680 batters between MiLB and the MLB regular season and playoffs after only experiencing 274 batters in 2021 MiLB. That he stands to face a couple more batters per start this time around could limit 2023 gains in K Rating versus the 2022 mark. Else he represents an all arrows up starting pitcher ahead and more so as a dynasty league core starting pitcher per a rare ability to star in multiple performance dimensions simultaneously.
Matt Brash, Seattle Mariners
Matt Brash rode a fabulous K, BATTED BALL PROFILE, and Oppo-Handed Batters outcomes 2021 A+ and AA SP season into the Mariners MLB bullpen for that season's final week but never took the mound. He tandem-started with Kirby in 2022 MLB spring games and ultimately won an opening day roster starting rotation spot via spot-on fundamentals. CTL went very south very quickly as MLB batters refused to chase his best offerings and that had Brash soon back in the minors being groomed for a 2022 MLB relief role. After early speedbumps the quality of AAA RP outcomes surged; the final AAA line had triple plus K sandwiched by average CTL and average batted ball profile (undermined by Pull OFFB).

Brash's MLB second half went much better as a short RP to the tune of an 84 OVERALL earned via 22 CTL/93 K/ 78 BATTED BALL PROFILE route; that strong finish earned him a high-leverage postseason RP spot and he rated well then, too (10 BF, 96 OVERALL, 100 CTL/99 K/10 BATTED BALL PROFILE).
The slighter, efforty Brash long contradictorily had the aesthetic look of a short reliever while sporting the fundamentals of a starter. Mariners have kicked around the idea of re-starter-ing Brash, who now has two option years at the ready for such an experiment. Yet for that to be advisable Brash ought first to demonstrate a combination of batted ball profile, control, and opposite-handed batter outcomes in an MLB relief role that is superior to what he has shown to date.
In 2023 fantasy baseball Brash stands to deliver K in volume as a high-leverage short RP weapon that should convey a mix of holds, saves, and stray wins. Dynasty owners should value Brash higher than redraft leaguers do owing to the range of future closer to starter possibilities and being better positioned to wait out any further minor league development that may be required.
Reid Detmers, Los Angeles Angels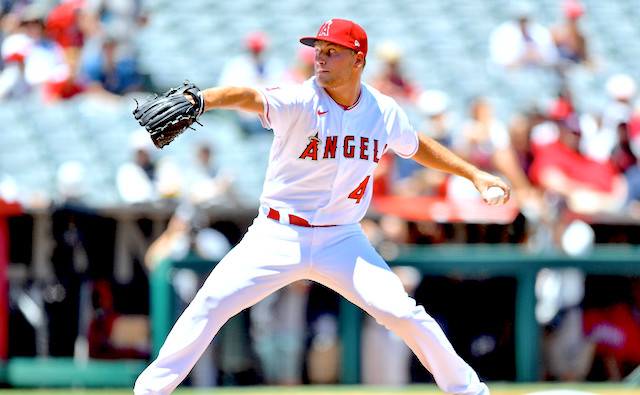 Reid Detmers, the 10th overall pick of the 2020 MLB Draft, was the focus of a preseason writeup I did on flyballer lefthanded starting pitcher prospects.
Detmers rode extreme K success in MLB spring training games to a 2023 Opening Day rotation spot with the Angels. Among my voiced concerns was that Detmers would be unable to maintain the K success he had in MiLB and NCAA owing to the extreme level of aerial batted ball risk that came with an always upstairs approach in MLB. As I speculated Detmers ultimately did make an approach adjustment that sacrificed K to rather heavily dilute volumes of OFFB and Pull OFFB (each rated above 50, shockingly). He might have paired his 64 K Rating with a league-average BATTED BALL PROFILE if not for that he was especially prone to line drives per a 9 LD Avoid (that also suggests he was very fortunate to have finished with a 67 AVG Avoid on Batted Balls).
Though stories were written to laud a strong finish to 2022 post-All-Star-Break FaBIO Ratings (45 Overall, 37 CTL/82 K/11 Batted Ball Profile) do not inspire the same level of enthusiasm. His strikeouts and batted ball profile stand to be rather seesaw phenomena in that as one improves the other declines. At best FaBIO K and BATTED BALL RATINGS might combine to something in the neighborhood of 120 percentile points of the maximum 200 possible. The MLB SP ceiling on CTL Rating is lower than forecast in that the more he fills the strike zone the K will decrease and the batted ball contact will get louder via some combination of outfield flyballs and line drives.
Angels should derive MLB SP3 to SP4 value from Detmers over the next several seasons. In the realm of fantasy baseball Detmers fits best on a pitching staff that needs strikeouts and is else better able to tolerate an elevated risk of inferior outcomes on batted balls.
Other AL West Pitcher Prospect Graduates
Tucker Davidson had miserable CTL and K Ratings in a dozen 2022 MLB starts with Braves and Angels, slots behind Detmers and 3 others on the Angels LHSP depth chart, and is out of options. Look for Astros to deploy Seth Martinez in an RHB-leaning weak contact specialist role before a host of other RHRPs who stand to collect most of the bullpen's holds, saves, and wins. Penn Murfee began his MLB debut hot but wound up sporting a CTL-first profile.
Rookie since '19 Brock Burke had a nice CTL+K season as a big-volume 6 BF/G LHRP but struggled to avoid LD + Pull OFFB just as he had in 2021 AAA. Glenn Otto logged 587 BF in 2022 MLB but K fell one standard deviation and CTL fell two more after promising marks at those fundamentals in a 111-batter late 2021 MLB debut. He and Cole Ragans each have 3 option years remaining and Rangers should make use of the first barring much-improved spring K Ratings from the duo.
Athletics successfully outrighted Daulton Jefferies to AAA after surgery for his latest malady, thoracic outlet syndrome. After a breakout 2021 AA and AAA campaign as a Blue Jays farmhand the 2022 fundamentals of Zach Logue were poor and eerily similar in AAA and MLB. Adrian Martinez is solid enough at everything to eat innings in volume as a back-of-rotation MLB SP but for that to transpire AVG and ISO on Batted Balls Ratings must better parallel LD Avoid, OFFB Avoid, and Pull OFFB Avoid Ratings.
March 2022 trade acquisition Adam Oller could not land K as an MLB SP despite adopting a very four-seams-up batted ball profile at the level. Lefty JP Sears had been extremely successful at K and CTL while working 15 to 17 BF/G as a Yankees farmhand but owed most of an MLB debut 61 OVERALL to what seems like an unsustainable combination of IFFB and LD Avoid.
Domingo Acevedo profiles as a league-average MLB RP who leans mostly on CTL, IFFB+LD Avoid (AVG Avoid), and Same-Handed Batter outcomes.  Zach Jackson shifted to a 4-seams-up philosophy in a 2022 MLB RP debut and successfully collected K+IFFB while disproportionately (unsustainably) biasing his OFFB away from the pull-third around lots of walks; some amalgam of his 2021 MiLB and 2022 MLB FaBIO profiles would cast him as a higher-leverage 2023 MLB short RHRP who provides good fantasy production at little cost.
Eleven saves again or more from Dany Jimenez seems unlikely barring substantial gains in K and Opposite-Handed Batter outcomes. FaBIO profile from the 2022 Rockies MLB debut of groundballer Chad Smith very resembles the 2021 AAA one save for reversals of OHB/SHB Overalls and AVG and ISO fortunes. Kirby Snead posted plus K Ratings in 2021 AAA and 2022 AAA but could only manage a 6 K Rating over 210 MLB batters faced in 2022.
Download Our Free News & Alerts Mobile App
Like what you see? Download our updated fantasy baseball app for
iPhone
and
Android
with 24x7 player news, injury alerts, sleepers, prospects & more. All free!
More Fantasy Baseball Advice