As the baseball season winds down it may be a little more difficult for starting pitchers to keep delivering the strikeouts.
Some of the most effective pitchers in the game this season have not necessarily been overpowering and, with some recent down ticks in strikeout numbers, the under might be the way to play.
Zack Greinke has been great for both Arizona and Houston but he's struggled to record strikeouts with the Astros. Hyun-Jin Ryu was a phenom for the first half of the season and has, naturally, regressed recently but, especially, one the road, he has not been a huge strikeout option either.
There are others, like Jacob deGrom, who have been so effective that the number is now a daunting challenge to cover. Maybe deGrom is good for double-digit strikeouts today but that's a lot to ask for just about any pitcher.
Here are some angles to consider for Thursday's baseball schedule on Monkey Knife Fight.
Editor's Note: Our friends at Monkey Knife Fight have released the best, most fun, fastest growing DFS props game! It's super simple to play and win real money. Just choose your MLB, NBA, NHL or PGA game, and make your picks! Get a 100% instant deposit bonus up to $50 using promo code: BALLER. That's $50 for free - don't miss out!
STAR SHOOTOUT - EARLY
OVER/UNDERS
Zack Greinke UNDER 5.5 STRIKEOUTS – As great as Greinke has been this season, he's not overpowering. In a dozen home starts, he is averaging 5.4 strikeouts per game, and has managed just 3.8 strikeouts per game in four starts since joining the Astros, including a total of three strikeouts in two home starts. Facing a Tampa Bay team that has an average road strikeout rate means taking the somewhat surprising under.
Chris Bassitt OVER 4.5 STRIKEOUTS – The biggest challenge for this prop is that the Kansas City Royals have a low home strikeout rate (20.2%) but it's difficult to ignore Bassitt's effectiveness this season and that includes averaging 5.5 strikeouts per road start and recording at least five strikeouts in five of his past six starts overall.
RAPID FIRE
Mike Clevinger -1.5 strikeouts vs. Jose Berrios – One fascinating aspect of this head-to-head challenge is that Clevinger and Berrios are on the road, against the Tigers and White Sox, respectively. Both teams are among the worst for home strikeout rates, tied at 25.7%, so the opposition doesn't make much of a difference. Clevinger is more dominant at home and is averaging 7.3 strikeouts per road start while Berrios is sitting at nearly 5.9 strikeouts per road start but consistency is the reason to side with Clevinger, because he has posted at least seven strikeouts in seven of his past eight starts.
STAR SHOOTOUT - MAIN
OVER/UNDERS
Jacob deGrom UNDER 9.5 STRIKEOUTS – DeGrom is obviously awesome and is coming off a 13-strikeout performance but he's averaging eight strikeouts per home start and while the Cubs strike out more than the average club, it's not enough to count on double digit strikeouts for deGrom.
Lance Lynn UNDER 7.5 STRIKEOUTS – While Lynn is an impressive 9-1 at home this season, he's much more effective in terms of strikeouts on the road. With 6.6 strikeouts per home start, facing an average Mariners squad tilts towards the under.
RAPID FIRE
Josh Bell +0.5 runs + RBI vs. Nolan Arenado – Although Arenado is dominant at Coors Field, he is producing runs plus RBI at a rate of .398 per home plate appearance, which is only a little better than what Bell is producing at a rate of .361 per road plate appearance. The Pirates probably offer a pitching advantage too, with Trevor Williams a more established option that Chi Chi Gonzalez for the Rockies.
STAR SHOOTOUT - LATE
OVER/UNDERS
Hyun-Jin Ryu UNDER 4.5 STRIKEOUTS at Arizona – While Dodgers starter has faded relative to his incredible first half of the season, the more significant issue may be that he has averaged just 4.4 strikeouts per road start all season.
RAPID FIRE
Merrill Kelly +0.5 strikeouts vs. Felix Hernandez – King Felix has returned to the Mariners rotation but he has been a low strikeout pitcher for most of this season, finishing with five or fewer strikeouts in seven of his nine starts.
Danny Santana +0.5 total bases vs. Willie Calhoun – Finally getting a chance to play regularly for the Rangers, Calhoun is slugging .561 against right-handed starters and .534 at home, both impressive numbers. Yet he faces his teammate, Santana, who is slugging .613 against right-handed starters and .661 at home. Those are pretty sweet percentages for an underdog!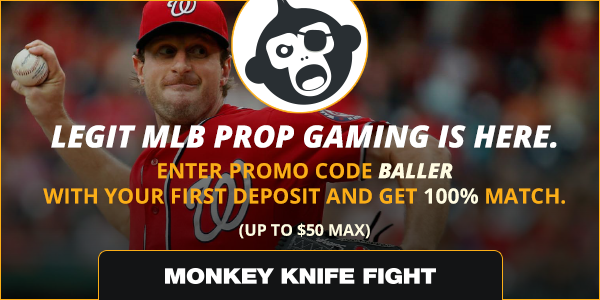 More 2019 Fantasy Baseball Advice