There are many factors to take into account when making your Monkey Knife Fight prop picks but a few of the basics are whether the game is at home or on the road. For pitchers, knowing the appropriate strikeout rates for the opposing lineup helps and, for hitters, knowing the relevant splits for the opposing starting pitcher can help set an appropriate value.
Taking these factors into account today, it does look favorable for some Dodgers against the Blue Jays at Chavez Ravine. Cody Bellinger and rookie catcher Will Smith are a couple with matchups that appear to be favorable.
Here are some more angles to keep in mind for Tuesday's Star Shootout MLB prop picks.
Editor's Note: Our friends at Monkey Knife Fight have released the best, most fun, fastest growing DFS props game! It's super simple to play and win real money. Just choose your MLB, NBA, NHL or PGA game, and make your picks! Get a 100% instant deposit bonus up to $50 using promo code: BALLER. That's $50 for free - don't miss out!
STAR SHOOTOUT - MAIN
OVER/UNDERS
Sonny Gray UNDER 7.5 STRIKEOUTS – The Padres do have a high road strikeout rate (26.2%) and Gray is coming off a 10-strikeout performance, but he had seven or fewer strikeouts in his previous four starts, is averaging 6.3 strikeouts per home start and has at least eight strikeouts in just four of 13 home starts.
Shane Bieber 6.5 STRIKEOUTS – Even though the Mets are riding high, Bieber has been excellent at home and on the road this season and that includes 10.8 K/9 away from home.
Freddie Freeman 1.5 TOTAL BASES – Marlins starting pitcher Elieser Hernandez has been okay but Freeman is slugging .550 at home and that makes the over the very clear side to go with.
Josh Donaldson 1.5 HITS + WALKS – For similar reasons, even though it's a more difficult category to hit, Donaldson has been awesome at home this year, posting a .437 on-base percentage. It's not as lopsided but still tilts towards the over.
RAPID FIRE
Christian Yelich +0.5 total bases vs. Ronald Acuna Jr. – This might warrant at least some consideration for Acuna because Yelich is notably better at home than on the road but it's not like a .614 road slugging percentage should be overlooked.
Jorge Soler +0.5 total bases vs. Hunter Dozier – Both Royals sluggers have been better on the road this season and Dozier's .613 road slugging percentage is better than Soler's .576 mark, but it's not enough to like Dozier to cover that extra half base.
Stephen Strasburg -0.5 strikeouts vs. Chris Archer – The Pirates have the lowest home strikeout rate in baseball (18.6%) but there is a significant difference between Strasburg averaging 7.2 strikeouts per road start and Archer putting up 5.6 strikeouts per home start.
STAR SHOOTOUT - LATE
OVER/UNDERS
Clayton Kershaw UNDER 7.5 STRIKEOUTS – As effective as Kershaw has been at Dodger Stadium this year, and a 2.26 ERA and 1.02 WHIP counts as effective, his strikeout rate isn't overpowering and 6.8 strikeouts per home start is not enough to like Kershaw to record eight or more against the Blue Jays.
Domingo German UNDER 5.5 STRIKEOUTS – While German keeps racking up wins, he's not nearly as good away from Yankee Stadium, averaging 5.0 strikeouts per road start and the A's have the second lowest home strikeout rate (18.5%) in the American League.
Max Muncy OVER 1.5 HITS + WALKS – This isn't the strongest play, as Muncy's numbers (.358 OBP at home, .372 OBP vs. right-handed starter) hover around that total through an expected four plate appearances. Consider the possibility, though, that the Blue Jays' shaky pitching could lead to bigger production for the Dodgers.
RAPID FIRE
Will Smith -0.5 total bases vs. Nolan Arenado – Obviously, Arenado has the longer track record than the Dodgers rookie catcher, and Smith has been better on the road thus far in his major league career, but he's slugging .698 at home, which is pretty formidable, especially for a when compared to a Rockies slugger who is on the road.
Cole Hamels +0.5 strikeouts vs. Michael Pineda – Pineda does have the advantage of going against a White Sox team with a high strikeout rate (25.4%) but Hamels is averaging 6.7 strikeouts per home start compared to Pineda's 4.8 strikeouts per home start.
Cody Bellinger +0.5 total bases vs. Trevor Story – Bellinger at home, where he's slugging .705, is an underdog against the Rockies shortstop on the road? Thank you very much.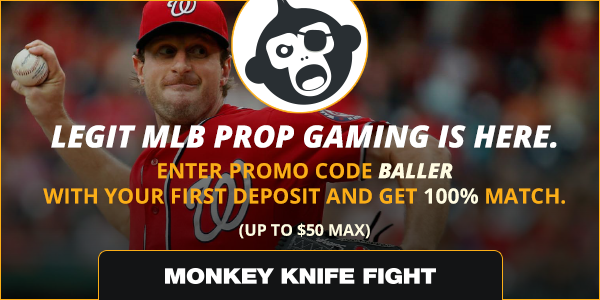 More 2019 Fantasy Baseball Advice