There are 26 starting pitchers today and it looks like, give or take a few, there could be about four – Jacob de Grom, Justin Verlander, Zack Greinke, and Clayton Kershaw – that look like good bets to suppress the offense from the other side.
Otherwise, it looks there should be opportunities for the hitters to get loose today.
A few bats that have been notably hot lately:
Colorado's Charlie Blackmon is slugging .808 over the past month. Remember, he's also slugging .964 at home.
Since returning to the Angels lineup, Shohei Ohtani is slugging .750, and Astros rookie Yordan Alvarez is slugging .733 since getting called up from AAA.
After a slow start in San Diego, Manny Machado is slugging .700 in the past month.
And how about some respect for Lourdes Gurriel Jr. who was demoted to AAA by the Blue Jays and is now one of the most dangerous hitters in the game, slugging .696 in the past month.
So, some suspect pitching and hot hitters could bring some overs into play today.
Here are some angles to consider for Friday's baseball action.
Editor's Note: Our friends at Monkey Knife Fight have released the best, most fun, fastest growing DFS props game! It's super simple to play and win real money. Just choose your MLB, NBA, NHL or PGA game, and make your picks! Get a 100% instant deposit bonus up to $50 using promo code: BALLER. That's $50 for free - don't miss out!
KANSAS CITY-WASHINGTON
RAPID FIRE
Juan Soto +0.5 runs + RBI vs. Anthony Rendon – As great and consistent as Rendon has been, the 20-year-old emerging star Soto can't be ignored. In home games, Rendon is putting up 1.89 runs plus RBI per game, while Soto has averaged 1.41, which is close to the spread. Against right-handed pitching (like Brad Keller, the Royals starter), Rendon accrues .40 runs plus RBI per plate appearance, compared to Soto's 0.32 runs plus RBI per plate appearance. But, consider that Soto has a .455 on-base percentage in his past 21 games and that starts moving the needle in his direction.
MILWAUKEE-PITTSBURGH
OVER/UNDERS
Christian Yelich OVER 1.5 TOTAL BASES – Although Yelich is dramatically better at home, he's still slugging .564 on the road and a matchup against Pirates starter Steven Brault, who has a 1.59 WHIP in 56 2/3 innings, is favorable enough to expect a couple of bags for the reigning National League MVP.
BALTIMORE-TORONTO
OVER/UNDERS
Dylan Bundy OVER 5.5 STRIKEOUTS – The Orioles starter has been better on the road, recording six strikeouts in five of seven games, and the Blue Jays have one of the higher strikeout rates at home (23.9%, which ranks ninth), so a fair opportunity for Bundy to keep a good thing going. He's averaging 10.3 K/9 in his past eight starts.
PHILADELPHIA-N.Y. METS
OVER/UNDERS
Jeff McNeil OVER 1.5 TOTAL BASES – The Mets utility player has been better on the road but is still slugging .460 at home and Phillies pitcher Vince Velasquez allows a .484 slugging percentage when he starts, but .537 on the road.
BOSTON-DETROIT
RAPID FIRE
Mookie Betts +0.5 runs + RBI vs. J.D. Martinez – On the road this season, Martinez is averaging 1.20 runs plus RBI per game while Betts is averaging 1.27. Getting an extra half run with Betts is the way to go.
N.Y. YANKEES-TAMPA BAY
OVER/UNDERS
Aaron Judge +0.5 total bases vs. Avisail Garcia – Judge has only played 11 road games this season but is slugging .605 in those road games. With Garcia slugging .514 at home, taking Judge as the underdog makes sense.
MIAMI-ATLANTA
RAPID FIRE
Ronald Acuna Jr. +0.5 runs + RBI vs. Freddie Freeman – This is as much about the category leveling the playing field as much as anything. Both are great hitters and Acuna Jr. is averaging 1.41 per home game, while Freeman has 1.68 per home game. Getting Acuna Jr. plus the half-run works.
L.A. ANGELS-HOUSTON
OVER/UNDERS
Justin Verlander UNDER 7.5 STRIKEOUTS – Verlander has recorded at least eight strikeouts in 11 of 18 starts but a modest four of seven at home and the bigger issue is that the Angels have the lowest road strikeout rate (16.3%) in baseball.
TEXAS-MINNESOTA
OVER/UNDERS
Jorge Polanco OVER 1.5 HITS + WALKS – In the midst of a breakout season, the Twins shortstop has a .388 on-base percentage against right-handed pitchers and a .366 OBP at home. Rangers starter Adrian Sampson has been crushed away from home, with a 6.47 ERA and 1.59 WHIP in 32 innings.
COLORADO-ARIZONA
OVER/UNDERS
Zack Greinke OVER 5.5 STRIKEOUTS – The Diamondbacks ace has a modest 7.5 K/9 at home this season and has recorded six or more strikeouts in 10 of 18 starts. However, the Rockies have the highest strikeout rate (27.7%) among teams in the National League.
SAN DIEGO-LOS ANGELES
OVER/UNDERS
Cody Bellinger OVER 1.5 TOTAL BASES – The Dodgers slugger is having a ridiculous season and that includes slugging .791 at home and .724 against left-handed pitching. The Padres are throwing southpaw Eric Lauer, who is fine, but has a 6.49 ERA and 1.50 WHIP in seven road starts.
OAKLAND-SEATTLE
OVER/UNDERS
Domingo Santana OVER 1.5 TOTAL BASES – Slugging .479 at home and .585 against left-handed pitching, Santana is a good play against A's starter Brett Anderson, though Anderson has been good (3.46 ERA, 1.15 WHIP) away from Oakland.
ST. LOUIS-SAN FRANCISCO
OVER/UNDERS
Kevin Pillar OVER 1.5 TOTAL BASES – An outfielder who is slugging .396 against right-handed pitching and .445 at home, Pillar is not an obvious candidate for the over but in his last 20 games, he's slugging .651 so ride that hot streak.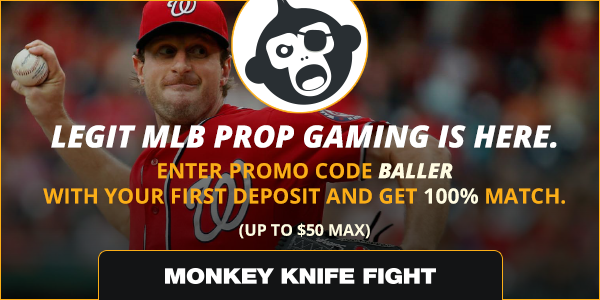 More 2019 Fantasy Baseball Advice