In the past two months, Lance Lynn has been the most effective pitcher in the American League. Pardon?
Since May 11, Lynn has gone 7-1 with a 2.81 ERA and 2.12 FIP, with a 1.02 WHIP while striking out 10.6 per nine innings. He's a dominant ace now. The same Lance Lynn who had a 4.77 ERA and 1.53 WHIP for the Twins and Yankees last season.
The 32-year-old is throwing harder than ever, with his average fastball sitting at 94.5 MPH, and he relies on a power repertoire, mixing in a change-up once every 30 pitches or so.
Lynn gets to start at home in the only game Thursday night, following the All-Star break, and gets a tough lineup, too, with the Houston Astros in town. It looks like a challenge from both sides, so opportunity is there to win your props.
Here are some angles to consider for Thursday's lone MLB game.
Editor's Note: Our friends at Monkey Knife Fight have released the best, most fun, fastest growing DFS props game! It's super simple to play and win real money. Just choose your MLB, NBA, NHL or PGA game, and make your picks! Get a 100% instant deposit bonus up to $50 using promo code: BALLER. That's $50 for free - don't miss out!
HOUSTON-TEXAS
OVER/UNDERS
Alex Bregman UNDER 1.5 HITS + WALKS – Bregman is a fantastic player and has a .408 on-base percentage against right-handed pitching, but his OBP on the road is .366, which isn't quite as formidable. Which brings us to the opposition and starting pitcher Lance Lynn, the veteran righty who had a couple of rough starts early in the season but has allowed on on-base percentage of .264 in his past 11 starts.
Elvis Andrus OVER 1.5 TOTAL BASES – This one is relatively close. Andrus is slugging .467 at home and .464 against right-handed pitching, which doesn't quite get to expecting two total bases in four plate appearances, but Astros starting pitcher Framber Valdez has been whacked around in his past two starts so that's enough to push Andrus to the over.
George Springer UNDER 1.5 RUNS + RBI – This is a tough category, even for a productive hitter like Springer, who is averaging 1.72 runs plus RBI per game. Matched up against Lynn, who has a 2.91 ERA in his past 11 starts, it seems like the under is the safer play.
RAPID FIRE
Lance Lynn -1.5 strikeouts vs. Framber Valdez – After a couple of strong starts when he moved into the rotation, Valdez has not been able to get through four innings in each of his past two starts. On the other hand, Lynn is consistent and pounds that strike zone. The challenge here is that the Astros strike out 17.2% of the time on the road, the second-best mark in baseball, while the Rangers' home strikeout rate of 23.7% is below average. Still, if Lynn can push eight-plus strikeouts he should pull away from Valdez in this category.
Alex Bregman +0.5 total bases vs. Yuli Gurriel – Bregman has a better slugging percentage against right-handed pitching and it gets especially lopsided when comparing road slugging percentage, with Bregman's .575 clearly ahead of Gurriel's .460 mark. Getting an extra half base with Bregman is the way to play.
HOME RUN DERBY
Joey Gallo, Yordan Alvarez and Danny Santana – Gallo is pure power and has 11 home runs with a .747 slugging percentage in 29 home games. Santana has seven home runs, while slugging .627 in 31 home games. Alvarez hasn't been in the big leagues for very long but has seven homers in his first 19 games.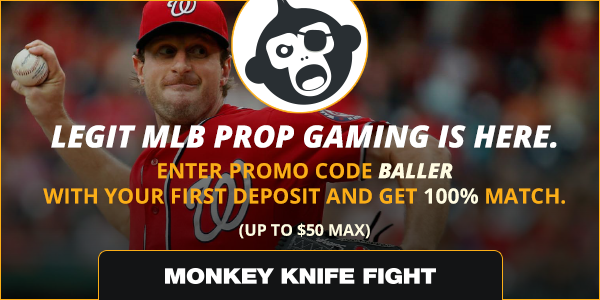 More 2019 Fantasy Baseball Advice