Saturday brings a full slate of Major League Baseball games, which means plenty of opportunities to find an edge on the props.
It's worth noting, too, that Saturday's schedule features a lot of pitchers from the back end of their respective rotations. Patrick Corbin and Jake Arrieta make up one premier pitching match-up in the Washington-Philadelphia game, but the rest are chock full of fourth, fifth and fill-in starters.
Generally, that should make the overs a little more appealing, but it will depend on the match-ups.
Here are some plays to take into account before making your picks for Saturday's baseball action.
Editor's Note: Our friends at Monkey Knife Fight have released the best, most fun, fastest growing DFS props game! It's super simple to play and win real money. Just choose your MLB, NBA, NHL or PGA game, and make your picks! Get a 100% instant deposit bonus up to $50 using promo code: BALLER. That's $50 for free - don't miss out!
MINNESOTA-N.Y. YANKEES
RAPID FIRE
Luke Voit +0.5 total bases vs. Nelson Cruz – This match-up is a little interesting because, overall, Voit is averaging more total bases per game. The difference is that Voit has struggled quite a bit at home. We're still dealing in small samples, though, so getting Voit plus the half base is the play here.
ST. LOUIS-CHICAGO CUBS
RAPID FIRE
Marcell Ozuna +0.5 total bases vs. Javier Baez – Both are productive hitters so getting the half base for Ozuna as the underdog is preferable.
KANSAS CITY-DETROIT
OVER/UNDERS
Miguel Cabrera OVER 1.5 HITS + WALKS – Miggy is averaging exactly 1.5 hits plus walks per game this season, but a home game against the Royals and starting pitcher Homer Bailey is enough reason to think that the legendary right-handed slugger can hit the over.
SEATTLE-CLEVELAND
OVER/UNDERS
Francisco Lindor OVER 1.5 TOTAL BASES – Although he's off to a relatively slow start, coming off injury, the Indians shortstop is still averaging 1.8 total bases per game. With Mike Leake on the mound for the Mariners, that ought to help push Lindor over.
ATLANTA-MIAMI
RAPID FIRE
Freddie Freeman -0.5 total bases vs. Starlin Castro – Giving Castro the extra half base makes it a closer call, but Freeman is putting up about 1.9 total bases per game while Castro sits at a little under 1.3 per game this season.
OAKLAND-PITTSBURGH
OVER/UNDERS
Starling Marte OVER 1.5 TOTAL BASES – The Pirates outfielder is averaging nearly 1.9 total bases per game and while he's struggled at home, that's only in seven games. A match-up against A's starter Chris Bassitt seems favorable, too, even if Bassitt has had a couple of very good starts.
TAMPA BAY-BALTIMORE
OVER/UNDERS
Dylan Bundy UNDER 5.5 STRIKEOUTS – The Orioles right-hander is very hit or miss, recording at least seven strikeouts in three of his six starts, but Tampa Bay seems like strong enough opposition that the under is the more sensible side to take.
WASHINGTON-PHILADELPHIA
OVER/UNDERS
Bryce Harper UNDER 1.5 HITS + WALKS – The former Nationals star has been fine for the Phillies but is averaging 1.6 combined hits plus walks per game and the Nationals have Patrick Corbin on the hill, which is a challenging match-up.
SAN FRANCISCO-CINCINNATI
OVER/UNDERS
Yasiel Puig UNDER 1.5 TOTAL BASES – Puig is averaging a hair over 1.2 total bases per game, so it's a bit of a stretch to play the over.
N.Y. METS-MILWAUKEE
OVER/UNDERS
Gio Gonzalez UNDER 5.5 STRIKEOUTS – Making just his second start of the season, Gonzalez had two strikeouts in his first start and his strikeout rate has already dropped in recent seasons.
BOSTON-CHICAGO WHITE SOX
RAPID FIRE
Tim Anderson +0.5 total bases vs. Jose Abreu – Although Anderson is slowing down after a ridiculously hot start, he's averaging 2.3 total bases per game this season while Abreu sits at 2.0 per game. Add another half base to Anderson as the underdog and you're good to go.
HOUSTON-L.A. ANGELS
RAPID FIRE
Alex Bregman +0.5 runs + RBI vs. Mike Trout – This is a difficult category to bank on the favorite, and Trout is averaging 1.4 combined runs plus RBI per game, while Bregman is at an even one per game. Given the nature of the category and that Houston offers better pitching than the Angels, the 'dog is the play.
TORONTO-TEXAS
OVER/UNDERS
Randal Grichuk OVER 1.5 TOTAL BASES – The offense didn't come easily in Texas on Friday night but Grichuk is averaging 1.7 total bases per game this season.
ARIZONA-COLORADO
OVER/UNDERS
Trevor Story UNDER 2.5 TOTAL BASES – The automatic play is to think over with the Rockies at home against Diamondbacks starter Luke Weaver, but banking on three total bases is a big ask when Story averages just under two per game.
L.A. DODGERS-SAN DIEGO
RAPID FIRE
Cody Bellinger +0.5 runs + RBI vs. Justin Turner – This one's a gift for you Monkey Knife Fight players. Bellinger leads the National League in runs and RBI and is generally destroying any pitching that gets in his way. He shouldn't be an underdog to anyone, let alone Turner, who is off to a mediocre start.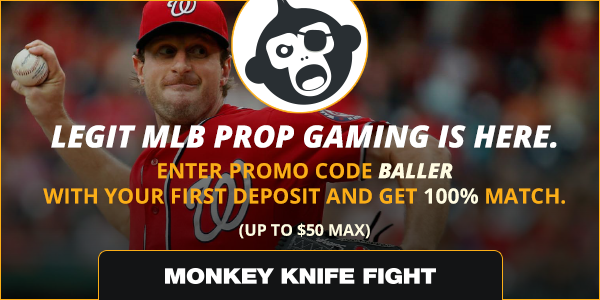 More 2019 Fantasy Baseball Advice