It's one thing to like an ace on the mound because you tend to know what you're getting from the best starting pitchers. Friday night, that includes the likes of Max Scherzer, Jacob de Grom and Gerrit Cole on the bump.
However, the value play when picking props can be finding the pitchers that don't have the same longstanding reputation but are trending in the right direction.
Their inconsistency is what makes their "price" affordable – so strikeout numbers, for example, might be more achievable.
Starting pitchers that might qualify here that are on the mound Friday include Dylan Bundy, Daniel Norris, Aaron Sanchez, and Martin Perez. That's effectively a post-hype group of pitchers that were once highly-ranked prospects.
Just a little something to keep in mind, both in terms of what those players can provide, or how they might affect the opposition.
Here are some angles to consider before making your Friday picks.
Editor's Note: Our friends at Monkey Knife Fight have released the best, most fun, fastest growing DFS props game! It's super simple to play and win real money. Just choose your MLB, NBA, NHL or PGA game, and make your picks! Get a 100% instant deposit bonus up to $50 using promo code: BALLER. That's $50 for free - don't miss out!
COLORADO-PHILADELPHIA
OVER/UNDERS
Charlie Blackmon OVER 1.5 TOTAL BASES – One of the most productive hitters in the game, Blackmon has a .566 slugging percentage and is averaging 2.45 total bases per game. He goes up against Phillies rookie starting pitcher Cole Irvin, who was great in his MLB debut and has been very successful in the minor leagues, but who isn't overpowering either, averaging 7.0 K/9 in 197 1/3 IP at Triple-A.
CHICAGO CUBS-WASHINGTON
OVER/UNDERS
Cole Hamels OVER 5.5 STRIKEOUTS – The veteran Cubs lefty recorded five strikeouts in his last start against Milwaukee, snapping a streak of five straight games with at least six strikeouts. It's a relatively tight one, but with the Nationals recording the fourth-most strikeouts offensively.
TAMPA BAY-N.Y. YANKEES
OVER/UNDERS
Aaron Hicks UNDER 1.5 HITS + WALKS – This would only be Hicks' second game of the season and he was oh-fer in his first appearance. Facing the Rays, who are going with opener Ryne Stanek on the mound, it's reasonable enough to surmise that Hicks might need some time to get up to speed.
HOUSTON-BOSTON
OVER/UNDERS
Gerrit Cole OVER 7.5 STRIKEOUTS – The Astros ace has a league-leading 13.9 strikeouts per nine innings, recording at least eight strikeouts in eight of his nine starts.
BALTIMORE-CLEVELAND
RAPID FIRE
Dylan Bundy -0.5 strikeouts vs. Jefry Rodriguez – As effective as Rodriguez has been in four starts (2.92 ERA, 1.18 WHIP) he doesn't strike out a lot of hitters (5.5 K/9) and while Bundy has struggled at times for the Orioles (5.31 ERA, 1.30 WHIP) he does miss bats (8.9 K/9).
OAKLAND-DETROIT
OVER/UNDERS
Daniel Norris OVER 4.5 STRIKEOUTS – There isn't a huge margin to be had here, as Norris hasn't recorded more than six strikeouts in any of his five starts, but he has five strikeouts in three of his five starts and the Oakland lineup that he's facing isn't particularly daunting.
L.A. DODGERS-CINCINNATI
RAPID FIRE
Cody Bellinger +0.5 runs + RBI vs. Joc Pederson – This is a sweetheart offer from your friends at MKF, as Pederson is averaging 1.23 runs plus RBI per game, which doesn't compare favorably with Bellinger, who leads the league in most hitting categories and is averaging 1.84 runs plus RBI per contest. So getting an extra half on Bellinger's side of the equation is the way to play this one.
N.Y. METS-MIAMI
OVER/UNDERS
Neil Walker UNDER 1.5 HITS + WALKS – The Marlins first baseman is averaging 1.18 hits plus walks per game and has recorded at least two combined hits plus walks in 14 of 39 games (35.9%) this season. Although this game is at home, Walker is going up against Mets ace Jacob de Grom so there is even less reason to believe that Walker is going to get on base at least twice.
MILWAUKEE-ATLANTA
RAPID FIRE
Christian Yelich -0.5 runs + RBI vs. Yasmani Grandal – It's hard to go against Yelich, who is one of the best hitters in baseball and averaging 1.93 runs plus RBI per game, compared to Grandal, who is fine – a solid professional hitter – but averaging 1.13 runs plus RBI per game.
ST. LOUIS-TEXAS
RAPID FIRE
Marcell Ozuna -0.5 total bases vs. Nomar Mazara – Although the averages (2.00 for Ozuna and 1.73 for Mazara) suggest that the underdog is the better play, the Cardinals are going with starting pitcher Miles Mikolas and the Rangers are running opener Jose Leclerc out there, so that pitching advantage for the Cardinals pushes this pick towards Ozuna.
TORONTO-CHICAGO WHITE SOX
OVER/UNDERS
Aaron Sanchez OVER 4.5 STRIKEOUTS – The Blue Jays starter struck out a season-high 11 White Sox last week and has recorded at least five strikeouts in six of his eight starts this season.
SAN FRANCISCO-ARIZONA
RAPID FIRE
Adam Jones +0.5 runs + RBI vs. Jarrod Dyson – Although Jones isn't a world-beater, this is a low-counting category and he's averaging 1.13 runs plus RBI per game in games that he starts, yet that still compares favorably as an underdog to Dyson, the speedster who has averaged 1.33 runs + RBI per game in the games that he starts.
KANSAS CITY-L.A. ANGELS
OVER/UNDERS
Mike Trout OVER 1.5 HITS + WALKS – The best baseball player on the planet gets matched up against Royals starting pitcher Brad Keller, who has a 7.06 ERA and 1.80 WHIP in his past four starts.
MINNESOTA-SEATTLE
OVER/UNDERS
Martin Perez OVER 5.5 STRIKEOUTS – He's coming off a foot injury and doesn't have a big track record as a strikeout pitcher, but the K rate has taken off this season as Perez has 46 strikeouts in 46 1/3 innings, including 23 strikeouts in 20 innings over his past three starts.
PITTSBURGH-SAN DIEGO
RAPID FIRE
Starling Marte +0.5 total bases vs. Manny Machado – Marte is averaging 1.90 total bases per game, which compares well to Machado's 1.77 per game, and the pitching match-up (Jordan Lyles vs. Joey Lucchesi) is close enough to like the underdog plus a half base.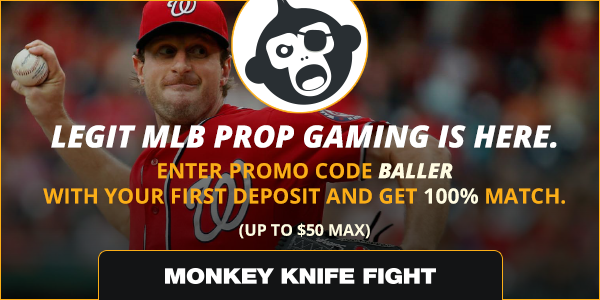 More 2019 Fantasy Baseball Advice