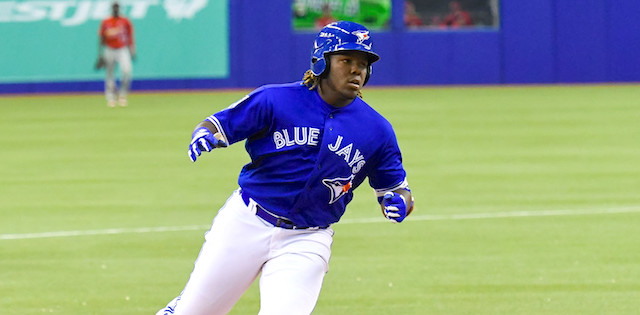 It's Vladdy Jr. Day, Monkey Knife Fight friends. The Toronto Blue Jays have called up top prospect Vladimir Guerrero Jr. and he is expected to make his debut against the Oakland Athletics.
We don't have a track record in the big leagues for Guerrero, but his minor-league numbers are staggering. He has a .940 OPS at all levels, including 1.009 OPS in 38 games at AAA, where he hit nine home runs in 140 at-bats. He also walked 18 times while striking out 12 times at the highest level of the minor leagues. That bodes well for big numbers in Toronto.
Vladdy isn't on the Monkey Knife Fight roster today, so be patient, but that game could present a pitching mismatch, as Marcus Stroman has been strong early in the season for the Blue Jays and Mike Fiers has struggled for the A's.
Here are some more angles to consider before making your picks for Friday's baseball action.
Editor's Note: Our friends at Monkey Knife Fight have released the best, most fun, fastest growing DFS props game! It's super simple to play and win real money. Just choose your MLB, NBA, NHL or PGA game, and make your picks! Get a 100% instant deposit bonus up to $50 using promo code: BALLER. That's $50 for free - don't miss out!
MIAMI-PHILADELPHIA
OVER/UNDERS
Bryce Harper OVER 1.5 HITS + WALKS – Even though he's 1-for18 in the past five games and has combined for multiple hits plus walks 11 times in 25 games, this is a matchup that should work for Harper, as Jose Urena has struggled, allowing 13.2 hits per nine innings on his way to a 5.74 ERA and 1.69 WHIP in five starts.
SAN DIEGO-WASHINGTON
RAPID FIRE
Matt Strahm +5.5 strikeouts vs. Max Scherzer – This is a gamble, because Scherzer has the stuff to go for double digit strikeouts, but he's a little bit banged up and Strahm has been relatively effective, even if not big on strikeout numbers.
OAKLAND-TORONTO
OVER/UNDERS
Randal Grichuk OVER 1.5 TOTAL BASES – That's a fair number for Grichuk, who has 38 total bases in 25 games, but he's better at home and A's starter Mike Fiers has struggled with an 8.28 ERA and 1.72 WHIP in six starts.
TAMPA BAY-BOSTON
RAPID FIRE
Mookie Betts +0.5 total bases vs. J.D. Martinez – Betts is heating up, with five multi-hit games in the past seven and, after hitting four double in the first 24 games, he has three doubles in the past two.
MILWAUKEE-N.Y. METS
OVER/UNDERS
Jacob de Grom OVER 8.5 STRIKEOUTS – This might be playing with fire since de Grom is coming back from a tender elbow, but he's struck out 36 in 22 innings. At that rate, as long as he can last 5 2/3, he'll be good for the over.
Robinson Cano OVER 1.5 HITS + WALKS – After a slow start, Cano is starting to heat up, taking his batting average from .185 to .272 while accumulating five multi-hit games in the past eight.
COLORADO-ATLANTA
OVER/UNDERS
Max Fried UNDER 5.5 STRIKEOUTS – As well as Fried has pitched, and that includes a 1.38 ERA and 1.04 WHIP, he only went over 5.5 strikeouts in his latest start, meaning the three previous starts were at five Ks or fewer.
BALTIMORE-MINNESOTA
OVER/UNDERS
Nelson Cruz OVER 1.5 TOTAL BASES – While Cruz has 1.6 total bases per game, a matchup at home against Baltimore's struggling starter, Alex Cobb, should work in his favor. Cobb has a 11.88 ERA in two starts this season, allowing five home runs in 8 1/3 innings.
DETROIT-WHITE SOX
RAPID FIRE
Carlos Rodon -2.5 strikeouts vs. Daniel Norris – This is one of the more intriguing pitching matchups of the day, as Norris was excellent against the White Sox Sunday, striking out six in five shutout innings in his first start of the year. At the same time, Rodon is having a breakout season and has 35 strikeouts in 28 innings.
CLEVELAND-HOUSTON
OVER/UNDERS
Jose Ramirez UNDER 1.5 HITS + WALKS – It's been a tough start to the season for Ramirez, and he's managed multiple hits plus walks seven times in 24 games. He has a .265 on-base percentage, so getting on base twice in a game is not a common occurrence for him right now.
CINCINNATI-ST. LOUIS
OVER/UNDERS
Marcell Ozuna OVER 1.5 TOTAL BASES – Ozuna is averaging 2.4 total bases per game and has a home matchup against Reds starting pitcher Anthony DeSclafani, who has a 5.59 ERA and 5.60 FIP, in part because he has given up five home runs in 19 1/3 innings.
L.A. ANGELS-KANSAS CITY
OVER/UNDERS
Tyler Skaggs OVER 4.5 STRIKEOUTS – Coming off the injured list for this start at Kansas City, Skaggs has 14 strikeouts in 15 innings this season. So long as he gets to five innings against the Royals, he should be able to rack up five Ks.
CUBS-ARIZONA
RAPID FIRE
Javier Baez -0.5 total bases vs. Kris Bryant – Baez has simply been the better, more productive player this season, averaging 2.74 total bases per game, while Bryant has less than half that, with 1.36 total bases per game.
PITTSBURGH-L.A. DODGERS
RAPID FIRE
Joc Pederson -0.5 total bases vs. Justin Turner – Turner is off to a mediocre start, averaging just one total base per game, hitting .250 with a .649 OPS, and Pederson has been raking, putting up 2.1 total bases per game with a 1.078 OPS.
TEXAS-SEATTLE
RAPID FIRE
Mitch Haniger +0.5 total bases vs. Ryon Healy – Haniger is averaging 2.33 total bases per game and Healy is sitting at 1.82 per game, so it would make more sense for Healy to be the underdog here. Take the value that is being gift-wrapped to you.
N.Y. YANKEES-SAN FRANCISCO
OVER/UNDERS
James Paxton OVER 7.5 STRIKEOUTS – This seems like a large number to cover, but the Yankees southpaw is coming off back-to-back 12-strikeout performances. He should still be able to drop eight on the Giants in their pitcher-friendly ballpark.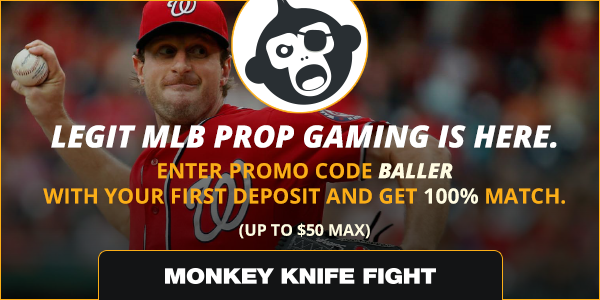 More 2019 Fantasy Baseball Advice