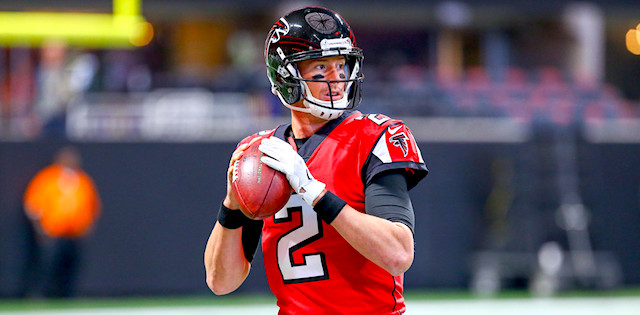 Not long ago Matt Ryan was posting top-tier numbers. By "not long ago" I mean no further than six weeks ago, which is to say, half of the games already played this season.
Back then we were discussing Ryan as a great fantasy quarterback, one of the best in fantasy football in fact. Then, bad luck struck and Ryan fell to an ankle injury, causing him to exit early in Week 7 against the Rams and sit out Week 8 ahead of the team's bye. Ryan has not been the same since that crucial moment.
What has happened to Matt Ryan? Is it health alone or are their other contextual concerns with his offense? Can he recover and have a strong finish to help his owners win their leagues? Sadly, that doesn't seem to be the case. If you don't believe or still have hopes of having the right quarterback on your roster, I'm sorry to be the bad-news bearer. But this is the world we live in now and Matt Ryan is not part of the elite anymore.
Editor's Note: Get any rest-of-season NFL Premium Pass for 50% off. Our exclusive DFS Tools, Lineup Optimizer and Premium DFS Research through the Super Bowl.
Sign Up Now!
First-Half Matt Ryan: The Tale of an Elite Quarterback
I already told you in the introduction above and I'm going to keep it short: First half of the season Ryan was as good as any other quarterback in 2019. Through six weeks (Week 6 results included) Matt Ryan ranked as the QB5 in total fantasy points, only trailing Russell Wilson, Deshaun Watson, Lamar Jackson, and Patrick Mahomes. Read those names again. All of them were leading the NFL MVP award race at that point, full stop.
Ranking fifth among his peers was good and all, but it was even better considering Ryan's player profile. Ryan is not a scrambler at all. Looking at those other four quarterbacks' numbers through all of their games this season, none of them has rushed the ball fewer than 22 times. Ryan has 19 logged attempts in one more game than Mahomes. And those are only rushing attempts. In terms of rushing yardage, Ryan's 85 yards on the ground are by far the lowest among the five quarterbacks. Ryan did everything with his arm.
Your eyes aren't lying to you. Those are five green bars and one black. That means, five of Ryan's first six games of the season saw him finish the day as a top-12 quarterback in those weeks (and his season opener was just short of finishing in the QB1 tier). With such production, Ryan was clearly on pace to have a career year and become a true league-winner for those who bet on him back on draft day. And this was only getting better with a couple of 34-point plus games in Weeks 5 and 6.
On top of that, Atlanta's pass-catchers started the season with a bang too. Austin Hooper ranked as the TE1 through six weeks in total points, Julio Jones was the WR7, Calvin Ridley the WR21, and Mohamed Sanu the WR34. No other team had more than two players with at least 69.3 fantasy points accrued through Week 6, let alone Atlanta's four.
Nothing was wrong until of course, it was.
Second-Half Matt Ryan: The Tale of a Mediocre Passer
Enter Week 7 game. Atlanta versus Los Angeles Rams, or the day Matt Ryan went down injured. With a bye in Week 9, Atlanta played it safe and kept Ryan out of the Week 8 game against Seattle. Ryan made his return in Week 10 against New Orleans and has played three games since, including that one. Here is how Ryan's season has looked from Week 7 to his last game last Sunday against Tampa Bay:
You would have never thought those two charts belonged to the same player if you had been presented them out of context. Matt Ryan hasn't been terrible, and his 13.7 fantasy points per game include the 6.2 he finished with in Week 7, a game he couldn't even finish. His average excluding that week adds up to a much closer to reality 16.1 points. Again, good but not great.
Those hoping for a set-and-forget play at the quarterback position after seeing Ryan coast through the first third of the season are now, well, disappointed at the very least. Ryan has gone from a sure-fire QB1 to a low-end QB2. His 16.1 fantasy points average in the last three weeks rank 20th among quarterbacks behind the likes of Kyle Allen, Jeff Driskel, Ryan Fitzpatrick, and even Mitch Trubisky. I'm not saying Ryan is worse than those quarterbacks, or that his true talent is under that of them, but that has been the case lately.
Ryan's splits this season are very telling of his two completely different halves:
From an average of a QB1-level 29 fantasy points, Ryan has dropped to 14 if we break the season in two halves at the Week 6 mark. He's attempting fewer passes, his completion rate has dropped from 72% to 59%, and while he's thrown a lower number of interceptions lately, his touchdown numbers have fallen off a cliff from 2.5 per game to not even one per contest. Perhaps the most concerning thing is the passing yards, which on average are more than 100 lower than they were from Weeks 1 to 6. Ryan is a volume passer who makes up the most of his fantasy numbers thanks to the sky-high numbers he often reaches (think of players like Matthew Stafford or Jameis Winston) so this is impacting his production incredibly.
Getting back to the receivers, Atlanta's top players at both the WR and TE positions have either lowered their production or fallen to injury. The most noticeable loss was that of TE Austin Hooper. After breaking fantasy football for eight consecutive weeks (he finished seven of those games as a TE1 in fantasy points), he was ready to take on the Saints in Week 10 but had to leave the field injured and it's not clear when he'll be back.
Another player lost for good is Mohamed Sanu. He was traded to the New England Patriots after Week 7. His production had been a little bit underwhelming in Weeks 6 and 7, but even with those bad games, he was still averaging 10.1 points per game for the Falcons. Atlanta's No. 1 and No. 2 receivers (Julio Jones and Calvin Ridley) have averaged 12.5 and 19.3 points over the last three weeks. While Ridley's mark is good (sixth-best among WRs), it is probably bound to regress, and Julio Jones should be much better than the WR24 over that span.
If Ryan keeps underperforming and the receiving corps doesn't maintain or improve their production, the Falcons are toast.
Matt Ryan Fantasy Expectations ROS
So far this season, with all games taken into consideration, Matt Ryan is the QB11 overall and has had five games in which he's finished inside the top-12 quarterbacks for the week. The problem with those season-long numbers is that they don't tell the complete story, as we have seen. Ryan's season has been a true tale of two halves, and the current one isn't developing in Ryan's favor.
Matt Ryan must keep his volume up no matter what. That is the only way he will be able to compete with the rest of quarterbacks out there who bring rushing upside to the table. Since he doesn't do much on the ground, he only has the passing game left. So far, so good in that department. Ryan ranks third in completions, and sixth in attempts, good for seventh place in passing yardage.
The problem and concern for Ryan's fantasy owners, though, is that all of his numbers and production have dramatically gone down since he suffered his injury a few weeks back.
On top of it all, Atlanta has the second-toughest schedule for a quarterback ROS (Weeks 13 to 16):
That doesn't bode well for Ryan's expectations. With only one favorable matchup against Jacksonville in Week 16, Ryan's fantasy owners will need to trust the rest of their players during the regular-season finale in Week 13 and the first two rounds of the fantasy playoffs. Reaching the championship game and facing your rival with Ryan going against Jacksonville doesn't sound that bad, but you have to get there first. Matchups against Carolina's and San Francisco's defenses will not make it easy.
Ryan is far from a go-to quarterback these days. It is hard to bench someone with his pedigree and track record, but his numbers from the last few weeks are not very encouraging. At this point in the season, trades are not happening and the waiver wire is probably depleted of talent so you will need to trust Ryan going forward. He's not the worst player around, but definitely one to keep you at the edge of the couch weekly while watching games develop and keeping track of fantasy points.
Good luck for the home stretch, Ryan owners. You'll need it!
More Fantasy Football Analysis