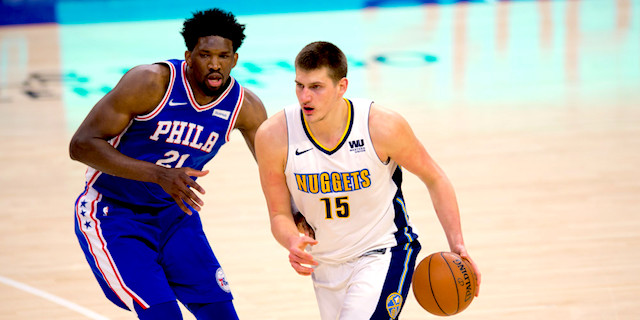 The NBA MVP race is heating up right now. Just like last season, the top three candidates are Giannis Antetokounmpo, Nikola Jokic, and Joel Embiid. Jokic and Antetokounmpo have combined to win all four of the past four previous MVPs, while Embiid has finished second in the past two seasons.
For a while, it looked like Jokic was well on his way to winning his third consecutive NBA MVP, but recently, Embiid has overtaken him and is now the frontrunner in the MVP race, with Giannis coming in at third place.
With that in mind, this article will make a case for all three candidates, and why they deserve to walk away with the newly-created Michael Jordan trophy.
Featured Promo: Get any full-season NBA Premium Pass for 50% off. Win big with our exclusive DFS lineup tools, matchup rating projections, powerful Research Station, Lineup Optimizer, daily DFS lineup picks/cheat sheets and more!
Sign Up Now!
#3. Giannis Antetokounmpo - Milwaukee Bucks
Giannis has finished in the top seven of NBA MVP voting in each of the past six seasons, and he has been in the top five in each of the past four seasons. That streak is set to continue this season, with the "Greek Freak" leading his team to another dominant season. The Bucks have the best record in the entire league and are the only team remaining that can mathematically finish with 60 wins or more. This is despite the team missing Khris Middleton for most of the season. The Bucks have historically struggled without the reliable Middleton, as the team has had a winning percentage of just 49% between the 2015-16 and 2021-22 seasons without him. This season, Giannis put the team on his back. During Middleton's absence, Giannis led the Bucks to a record of 24-9, which is a winning percentage of 73%.
And while many point out that the team has had a record of 9-6 without the 2021 Finals MVP this season, those nine wins aren't very impressive. They beat the Hornets without LaMelo Ball, the Pacers without Tyrese Haliburton, beat the Magic, and barely escaped the Thunder, Raptors, Suns, and Nets (all of those wins were by less than ten points). Their only impressive wins without Giannis were a 123-97 blowout over Utah and their first meeting with OKC which ended in a 14-point victory. Anyone who claims that the Bucks can win without Giannis just glances at the 9-6 stat without taking a deep dive at what actually went down in those games.
Giannis is still the leader of the team in pretty much every advanced stat, (VORP, BPM, Win Shares, PER, you name it), and has put up the most amount of shots in his career (presumably to fill the void of Middleton), which has led to many career-highs. His 31.2 PPG is a career-high, and so is his 55 points in a game, and the same goes for shots made and attempted (in a game and a season). People in the media have discredited Antetokounmpo's MVP bid due to his lower efficiency than in the previous seasons (while still excellent, his 54.7 FG% is lower than his two MVP seasons), but they have probably looked past the fact that there were games not too long ago in the season where Giannis had to shoot 7 or 8 three-pointers and thirty plus shots a game.
An increase in volume is naturally followed by a decrease in efficiency, and the fact that Giannis still has comparable efficiency to his MVP seasons is nothing short of amazing. Since coming out of the All-Star break, Giannis is taking 19.2 shots a night, similar to his MVP years. He has been averaging 31.2 points, 6.2 assists, and 11.3 rebounds while shooting 59.5% from the field and a surprising 42.1% from three. This is a man who has put the team on his back for months and still won more games than anyone else. Isn't that the definition of the "Most Valuable Player"?
#2. Nikola Jokic - Denver Nuggets
"The Joker" is finally feeling the effects of "voter fatigue", just like Magic, MJ, Duncan, Nash, LeBron, Steph, and the aforementioned Giannis. For pretty much most of the season, Jokic was the clear leader of the NBA MVP race, before dropping to second after the Nuggets suffered a slump, losing four straight games. Since the All-Star break, Denver has gone 8-6, and many felt that this was a good excuse to finally bump Jokic down in the MVP ladder. Ever since Larry Bird won his third consecutive MVP in 1986, no one has won three MVPs consecutively. The closest that anyone has ever gotten to finally breaking this "curse" was Steve Nash in 2007, losing out to Dirk Nowitzki by just 13 first-place votes.
After a solid, but unspectacular 17-11 start to the season, Jokic led his team to a 29-8 run before succumbing to the slump. During that run, Jokic averaged 24.2/10.8/13 and was the most effective and efficient player in the league, just like the past two seasons. While some might complain about Jokic's drop in points, that's mainly due to the returns of Jamal Murray and Michael Porter Jr., and naturally, Jokic has bumped up his passing numbers this season (an increase of 2 per game over last season).
Jokic's advanced stats are so mind-boggling that his detractors often use them against him, most notably his +24.1 Plus/Minus Net Per 100 Possessions. They say that this stat is mainly due to the fact that the Nuggets sub out their starters (including Jokic) at once, and while this is true, as 3/4 of the rest of the Nuggets' starters all have an On-Off Plus/Minus of +15 or higher (the other starter, Jamal Murray, has an On-Off of +5.8), the reason why these guys are so effective is because of Nikola Jokic, not the other way round. Aaron Gordon and Kentavious Caldwell-Pope have had multiple seasons with a negative On-Off average before joining Denver, and Jamal Murray and MPJ have a combined 12-15 record without the Joker.
Historically, Denver has only won 39% of their games without their star Serbian, and this trend has continued this season, as they have gone 3-5 without the reigning NBA MVP this year. Eventually, someone has to break the Larry Bird MVP "curse", because curses, just like records, are meant to be broken. Just look at Patrick Mahomes breaking the infamous NFL MVP curse this season. Before Super Bowl LVII, the last NFL MVP to win the big game was Kurt Warner in 1999. Many thought that the curse was unbreakable, but Mahomes broke the curse with a dominant season. Do you know who else is having a dominant season that can break a longstanding curse? Nikola Jokic. So, why not break the curse now and open up the possibility of more back-to-back-to-back MVPs down the road?
#1. Joel Embiid - Philadelphia 76ers
Embiid is finally leading the MVP race after three years. After coming short in 2020-21 and 2021-22, the superstar big is now the leader of this hotly contested MVP debate. Although he finished in second place in 2021, it wasn't nearly as heartbreaking as his loss in 2022. In 2021, Embiid was tied for fourth in first-place votes, and finished in second place due to getting many second and third-place votes. That led to him losing out on the award by 385 votes. But in 2022, he received 26 first-place votes and lost by just 17 first-place votes to Jokic. Just 17 extra first-place votes. So naturally, that has motivated Embiid to have a monster season.
For the second straight season, the Cameroonian star is leading the league in PPG, but this year, he has bumped up his PPG average by 2.8 with just one more minute played a night compared to last year. His shooting percentage has increased by 4.6%, which is incredibly impressive due to his increase in volume. And despite the increased scoring load, Embiid is putting up the most assists per game of his career (4.2). His advanced stats have naturally gotten better, and so has his team's record. The Sixers' winning percentage has improved from 62.2% to 67.1%.
Speaking of Embiid's advanced metrics, they are mostly career-highs and are still excellent. He is leading his squad in PER (31.7), True Shooting percentage (65.5%), Offensive, Defensive, and overall Win Shares (7.8/3.8/11.6), Win Shares per 48 (0.266), Offensive and Overall BPM (6.9/9.4), Value Over Replacement (6), and last but not least, Plus/Minus Net Per 100 Possessions (+10.4). In almost all of these stats, he ranks second in the league behind, you guessed it, Nikola Jokic. The main argument against Embiid is that Jokic has better advanced stats, but Jokic always produces incredible advanced stats. If you want to award the MVP to the guy with the best advanced stats, then LeBron and Jordan would have both had nine MVPs by now.
Another argument against Embiid taking home his first MVP award is Philly's 9-4 record without him, but six of those wins came against teams with a losing record (Raptors, Wizards, Magic twice, Pacers, and Pistons). Three of these mentioned wins were also by eight points or less. Since 2020-21, Joel Embiid has been averaging 31 points and 11 rebounds a night while shooting 52% from the floor and 36% from deep. That reminds me of another three-year stretch where a superstar scorer was snubbed of two straight MVPs before finally winning the award in the third year. From 2005-06 to 2007-08, Kobe Bryant averaged 31.7 points per game but lost out on two MVPs to Steve Nash and Dirk Nowitzki before finally winning the prestigious award in 2008. It'll be a great shame if Embiid ends this dominant three-year stretch empty-handed.
More Fantasy Basketball Analysis