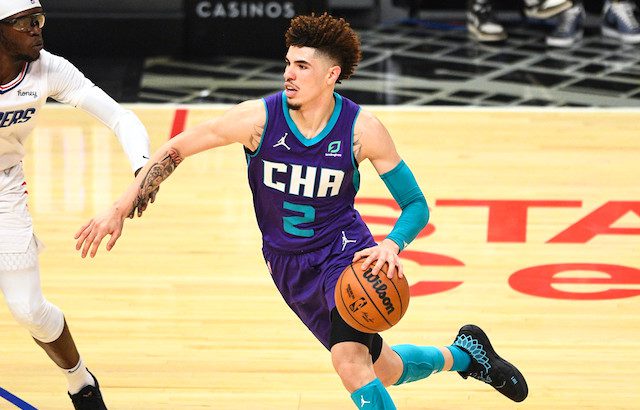 On Tuesday, the Charlotte Hornets made it official when they shut down their star guard LaMelo Ball for the remainder of the 2022-2023 NBA season.
Many fantasy managers' worst fears were realized when Ball's non-contact injury in Monday night's game against Detroit turned out to be a fractured ankle. Charlotte's season was already lost, but fantasy managers were hoping to get a few more weeks from Ball who, when healthy, was putting up huge numbers this season.
To keep close tabs on all of the news across the NBA, make sure to favorite or bookmark the RotoBaller Fantasy Basketball News page, or download the free RotoBaller fantasy basketball mobile app with push notification alerts on all the latest news.
Editor's Note: Our incredible team of writers received five total writing awards and 13 award nominations by the Fantasy Sports Writers Association, tops in the industry! Congrats to all the award winners and nominees including NBA Writer of the Year, Best NFL Series, MLB Series, PGA Writer and Player Notes writer of the year. Be sure to follow their analysis, rankings and advice all year long, and win big with RotoBaller!
Read More!
2022-2023 Season Recap
LaMelo Ball will finish his third NBA season with the following numbers.
23.3 points, 6.4 rebounds, 8.4 assists, 4.0 3PM, 1.3 STL, 0.3 BLK, 3.6 TO, 41.1% FG%, 83.6% FT%
He played in only 36 games this year and is currently 32nd overall in per-game value for 9-cat in Basketball Monster's player ratings.
When he was on the floor, he was a triple-double threat on a nightly basis. His talent is undeniable. Just look at what he did to the Spurs only a few weeks before getting hurt.
Highlights LaMelo Ball 🆚 Spurs #LetsFly | #NBA pic.twitter.com/BsOwjNF53P https://t.co/KqpCoxGw8i

— Back2Back (@B2BFR) February 16, 2023
He was obviously a disappointment for managers who took him in the first round, but also flashed some huge upside in setting career highs in points, assists, and threes. At only 21 years old, he remains an elite player in dynasty formats and will likely be a first-round pick again next season in redraft leagues, too.
His FG% dipped quite a bit again and that along with his high turnover rate is going to prevent him from being a true 9-cat player. He clearly needs some help in Charlotte and the rebuilding Hornets need to find some players who will complement him well in the offseason either through the draft or free agency.
Life After LaMelo
Here's where I want to sort through the rest of the Charlotte roster and set some expectations for these players for the rest of the season. The easy answer would be that all the remaining Hornets get a boost with Ball out since he was an extremely high-usage player who also grabbed a lot of boards and racked up assists in bunches. But some players are clearly going to benefit more than others whether it be from the minutes opened up with him out of the lineup or the shots, boards, and assists that are being vacated.
Let's remember that Ball's injury is only one (the biggest one, obviously) of several roster/lineup changes that Charlotte has made in the last few weeks. The Hornets traded their sixth-man Jalen McDaniels to the Sixers at the deadline and their starting center, Mason Plumlee, to the Clippers as well.
P.J. Washington is currently on the shelf with an injury, but could return soon and should slide back into the lineup at power forward. In the meantime, the Hornets rolled out this lineup last night against Phoenix in the first game since Ball went down.
PG - Terry Rozier
SG - Kelly Oubre Jr.
SF - Gordon Hayward
PF- JT Thor
C - Mark Williams
Washington's return to the lineup will likely boot Thor to the bench where he will have to compete for minutes with Kai Jones. Dennis Smith Jr. came off the bench and played 26 minutes to lead all reserves and had a pretty typical DSJ line of 8-5-6 with one steal and two blocks.
Terry Rozier and Kelly Oubre Jr. are the two guys who are likely going to be leaned on the most to help carry this offense. They lead the team in usage when Ball is off the floor this season with 29% and 27% usage rates, respectively, and will also have to play bigger minutes than they had been when Ball was healthy.
Rozier's numbers in 19 games without Ball this season are 23-5-5.5 on 40% shooting from the field. That's three points and a full assist more than what he averages when Ball is playing alongside him, though his FG% dips 2.5% as a result of having to be more of a volume scorer.
Oubre himself has been injured off and on throughout the year, too, but actually appeared in more games without Ball (25) than Rozier did. His scoring jumps from 17.7 points per game without Ball to 21.4 points.
But the biggest increases in usage actually belong to P.J. Washington (3.9%), Mark Williams (3.3%), and Dennis Smith Jr. (2.7%).
Williams and Washington shouldn't be available in your leagues, but if they are - grab them immediately and if you're lucky enough to have them rostered already, start them with confidence down the stretch.
Gordon Hayward's numbers aren't much different with or without Ball and his assist rate is the only thing that jumps up a little, but he's very clearly the third option behind Rozier and Oubre. He can still give you a perfectly boring 14-4-4 and is worth rostering, but keep your expectations in check.
It's DSJ Time
Now, let's talk about the clear biggest beneficiary - Dennis Smith Jr. Let's take a quick look at his splits with and without Ball this season.
With Ball (23 games): 7.7 points, 2.4 rebounds, 3.3 assists, 1.3 steals in 23.3 minutes/game.
Without Ball (19 games): 9.4 points, 3.2 rebounds, 5.8 assists, 1.6 steals in 27.8 minutes/game.
So not only do we see him get an extra 4.5 minutes of playing time when LaMelo is out, we see a healthy boost in scoring and assists as he has a significant bump in his usage and assist rates. Smith's 1.6 steals per game in 27 minutes is impressive and adds even more to his value as steals are awfully hard to come by on the waiver wire.
DSJ is still only rostered in 39% of Yahoo leagues and it's blowing my mind. A lot of savvy owners in deeper leagues have already scooped him up and were waiting on a LaMelo shutdown, but the masses who play in shallower formats still haven't pounced on him yet. You should absolutely be adding him if he's available in your league.
Charlotte's playoff schedule is 4-2-4 so you're going to be leaning on your Hornets heavily in the first round and possibly in the finals. Smith Jr. could be a real difference-maker for your fantasy team down the stretch and if Charlotte does end up shutting down veterans like Rozier or Hayward, his value is only going to increase even more.
If that does happen, you'll want to consider rookie Bryce McGowens or possibly James Bouknight or Theo Maledon (both of whom are playing in the G-league right now).
Download Our Free News & Alerts Mobile App
Like what you see? Download our updated fantasy basketball mobile app for
iPhone
and
Android
with 24x7 player news, injury alerts, lineup notifications & DFS articles. All free!
More Fantasy Basketball Analysis