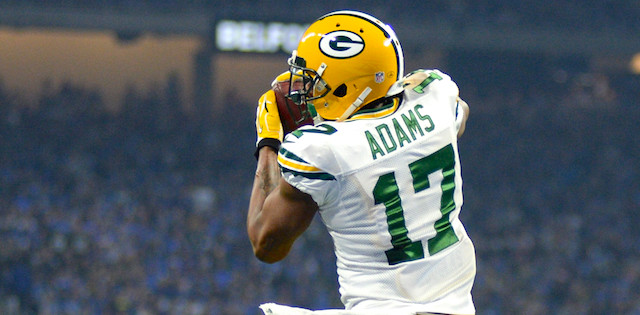 I've already delved into my QB and RB hits and misses from last year, so now it's time to talk about the pass-catchers. As a fantasy analyst, the most important thing I can do each season is to sit back and review my work. As much as I would like to be perfect with my predictions, I must admit I am not. I am going to miss a lot of calls, but I will also get a lot of calls right. So, the question that presents itself right now is: how I did during the 2018 season?
This year, I decided to put this review in writing as sort of a yearly performance review conducted by myself. Complete transparency with several players I had strong opinions on during the off-season, the process I used to get my opinion and how it ended up.
Now, let's jump into my hit and misses for the 2018 season at wide receiver and tight end.
Editor's Note: Get any rest-of-season NFL Premium Pass for 50% off. Our exclusive DFS Tools, Lineup Optimizer and Premium DFS Research through the Super Bowl.
Sign Up Now!
Wide Receiver Predictions
Davante Adams, Green Bay Packers
I don't want to take too much credit for this one because a lot of people were high on Davante Adams coming into the season. Adams was a lock as a top-10 fantasy receiver, but the doubters always pointed to his lack of 1,000 yards or 100 receptions in a season. With Jordy Nelson out of Green Bay this year, the opportunity for Adams to have his career season was inevitable.
In my pre-season rankings, I was really close to hitting Adams on the head as I ranked him as the WR5 and he ended the season as WR3 (WR1 if you don't count Week 17). I had some doubt about Adams heading into 2017 and when he put together a second straight season with double-digit touchdowns, I told myself there would be no doubt heading into 2018. In 2018, Adams had only one game that he did not have either 100 receiving yards or a touchdown. He was as consistent as you could get.
Verdict: Hit
Stefon Diggs, Minnesota Vikings
Stefon Diggs had an ADP that was much too high for me heading into the season. A new quarterback in Kirk Cousins who never really supported a high-end fantasy wide receiver worried me for several reasons, so I pivoted to Dalvin Cook and Kyle Rudolph in the Vikings offense (double miss) and ranked teammate Adam Thielen higher. An injury to Cook and a complete disappearing act from Rudolph meant more targets for Diggs and he took advantage.
Even though Cousins was only able to finish as the QB13 in 2018 he still supported two top-10 wide receivers with Thielen finishing as the WR7 and Diggs the WR10 in PPR leagues. Even though Diggs had a great season, it took six touchdowns over the Vikings last eight games to reach that level and Diggs didn't have 100 receiving yards in a game since Week 11. I took the miss on this one, but if the Vikings can't solve their inconsistencies in 2019 or decide to lean on Cook more if he if healthy, is it possible Diggs could take a step back?
Verdict: Miss
Mike Evans, Tampa Bay Buccaneers
Mike Evans had one of the best seasons of any wide receiver in 2018 and nobody was talking about it, until everyone said no one was talking about it which then meant everyone was talking about it. Let's just say that Evans was underrated in 2018. Evans has at least 1,000 yards in every season so far during his career and even though many owners say he needs volume to hold up his fantasy value, I would say differently.
Evans hauled in a career-high 1,524 yards (third among receivers) this season but only needed 86 receptions to do it (12th among receivers). Evans also saw 138 targets which was 10th in the league and the third most he has seen in a season. Evans had an ADP that put him inside the top-10 at wide receiver but he should be considered as one of the top options in 2019 and he won't be taken there. Evans is a guy who could be snatched at the end of the second or start of the third round in 2019 drafts.
Verdict: Hit
Larry Fitzgerald, Arizona Cardinals
Oh boy, this one probably hurt a lot of owners who invested a pick on Larry Fitzgerald during their draft and if you are an owner who drafted him at his WR15 ADP, it hurts even more. Fitzgerald had one of his worst statistical seasons ever in 2018, which could be his last go around in the NFL. Fitzgerald has not confirmed if he is retiring yet, but this would be a disappointing end to his career if he decided to call it quits.
Fitzgerald had a career-low 734 receiving yards in 2018 and saw lows in targets and receptions for a season in which he played 16 games. Since the Cardinals were looking like a last place team, Fitzgerald seemed like a lock to see a ton of targets while they played from behind. The offense was just never able to get rolling with a rookie QB and two new offensive coordinators; it took down Fitzgerald and even David Johnson with it. I feel I speak for many football fans when I say I hope we see Fitzgerald in 2019.
Verdict: Miss
Michael Crabtree, Baltimore Ravens
I warned you. I warned everyone. Please do not draft Michael Crabtree this season. Crabtree was able to put two very good seasons together while in Oakland, frustrating Amari Cooper owners along the way. Was a bounce-back performance on the way for Crabtree? As I always say, #NeverCrabtree.
Even prior to the Joe Flacco injury, Crabtree was being outshined by John Brown who was the wide receiver to own in Baltimore. Crabtree checked in as the WR30 prior to Week 10, but after that he plummeted all the way to WR 90. Prior to the season, Crabtree signed a three-year deal with the Ravens, so he's tied to Lamar Jackson for the next two years unless the Ravens get rid of him. I expect Jackson to grow as a quarterback and get better, but I don't plan on Crabtree getting much better.
Verdict: Hit
Kenny Stills, Miami Dolphins
Let's hit this one quick. I thought Kenny Stills was in for a career year. Ryan Tannehill was back, Devante Parker has yet to do anything and Jarvis Landry moving on to bigger and better things only meant more targets to go around. Yeah…….not even close. Stills had WR2 upside in this perfect scenario I dreamt about. I want to leave the door open for 2019 though. We may see a new quarterback and the Dolphins are already searching for a new head coach and may move on from Tannehill at QB. If the right combination can be found, I still think Stills is a guy who can offer solid value to a fantasy team. For now, it's a miss.
Verdict: Miss
Tight End Predictions
Trey Burton, Chicago Bears
Oh boy, this one drove me crazy in the off-season. So many people who had the argument of Matt Nagy making Trey Burton the next Travis Kelce was jaw-dropping. I understood why owners were saying it but it was just too much. It can be difficult to sift through the coach speak early in a season and Nagy telling reporters that he thought Burton could play the same role as Kelce was that speak you have to recognize as BS really quick. I'm sure Nagy would have loved Burton to play that role, but it was a long shot at best. Burton still finished as the TE7, but that is very easy to do these days in such a depleted position.
Verdict: Hit
Eric Ebron, Indianapolis Colts
I had many Twitter debates regarding Eric Ebron prior to the season. As a Lions fan, how could I buy into Ebron? He is talented, but he had been so widely inconsistent during his Lions days that I didn't think that could change. I did acknowledge the TD upside, but I never saw the number of touchdowns he would haul in. I was wrong on Ebron, for sure. However, keep an eye out on a future article that will include reasoning behind selling Ebron this off-season for your dynasty owners.
Verdict: Miss
More NFL Analysis