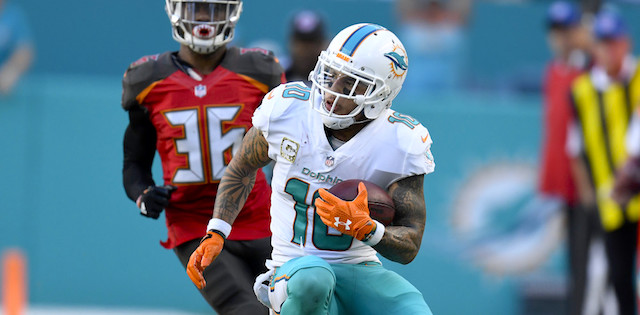 BALLER MOVE: Add in 14+ Team Leagues
OWNED IN: 19% of Leagues
ANALYSIS: Tough luck for Kenny Stills in his Week 4 game. Stills had to leave the game in the first quarter after pulling a hamstring running after catching a pass with a non-contact injury. We don't know more about the injury, or the time Stills could potentially miss, but things are looking good for him as part of Houston's attack since he was traded from Miami. Everybody expected Keke Coutee to take on the WR3 role, but Still's arrival threw that through the window. The injury and a virtually non-existent performance in Week 4 by Stills could make for the perfect time to get him for free without anybody noticing.
Kenny Stills is nothing short of a veteran. This marks his seventh season in the league, and he has never missed more than one game in any of the years he's played. That begs well for the injury concerns and we should see him back soon enough. Playing for the Dolphins last year he had one of his worst career seasons. He could only catch 37 passes for 553 yards and six touchdowns, way below his performance from 2017. This year though, moving to Houston has improved his outcomes.
Even though the volume he's seeing is close to that of last year, Stills is on pace to best his receiving yards. Through Week 4 he has 188 yards catching 11 of 14 targets. That would make for 44 receptions year-long, and 752 total yards by season's end (keeping in mind he almost lost a game this past weekend, seeing only two targets in the first quarter and then leaving). For someone playing behind DeAndre Hopkins and Will Fuller in the pecking order, those numbers are more than respectable.
Going forward, and assuming Stills doesn't miss games to injury, he should keep being the number-three option on offense in Houston. Jordan Akins and Darren Fells are splitting time at tight end and neither of him looks like a sure thing, but rather boom-or-bust players. Duke Johnson has been targeted often but he hasn't produced as expected. Stills, on the other hand, has only 14 targets (way fewer than Hopkins' 36 and Fuller's 23) yet his 188 yards rank second among his teammates.
With Keke Coutee almost erased from the picture, Stills has a clear path ahead to keep taking advantage of the opportunities he's given, and they are more than a few. So far, Stills worst performance in fantasy points came in Week 2 at 5.8 (not counting the 4.4 points he got in Week 4 as he didn't even play a full quarter), with the other two sitting at a good 12.7 and 12.9 points. Houston has two good matchups ahead in Atlanta and Kansas City, as both struggles at stopping wide receivers. Consider Stills a good addition if you're short of receivers and have a hole at the Flex spot, though only do it if we know for sure the injury ended up being nothing and Stills won't be left out of the team.
Check out RotoBaller's famous fantasy football draft sleepers and waiver wire pickups list, updated regularly!