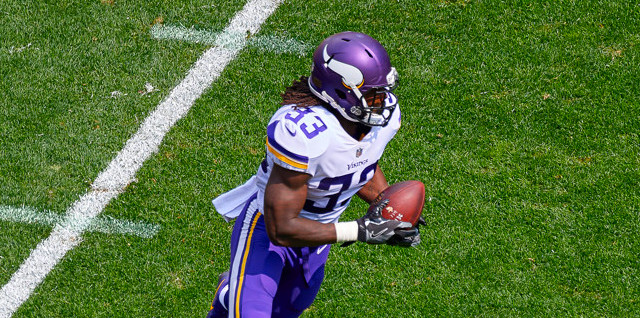 At RotoBaller, we can't stress enough the importance of keeping up with injuries and playing your best lineup week after week. Players are going to get injured, that's an unavoidable fact. What's avoidable though is making the wrong roster decisions based on the injuries surrounding your fantasy squad. If you want to dominate your leagues and win some dough in daily contests, you have to be proactive with injury research.
That's where I come in to serve you, the readers! I'm Aaron Burger, a Doctor of Physical Therapy in Pittsburgh, PA. About two years ago, I decided to combine my love, fantasy football, with what I've been learning for years now, injuries and the human body. Each week, I'll be checking in on fantasy's biggest injuries to keep you informed.
Be sure you also have RotoBaller bookmarked and follow us on social media to catch all the latest NFL news and updates.
Editor's Note: Get any rest-of-season NFL Premium Pass for 50% off. Our exclusive DFS Tools, Lineup Optimizer and Premium DFS Research through the Super Bowl.
Sign Up Now!
Inside the Tent Updates
James Conner, RB - Pittsburgh Steelers
Conner is dealing with an AC, or acromioclavicular, joint sprain. This is the joint where the clavicle, or collarbone, meets the shoulder blade via a bony protrusion known as the acromion. There are 3 types of sprains: Grade I, Grade II, and Grade III. Considering he did not have surgery, which would be required for Grade III, he is likely dealing with a Grade II sprain. Conner re-aggravated his AC joint sprain in Week 11 against the Browns on Thursday night. As we often talk about, soft tissue injuries can easily be re-aggravated if they are not given the full time to heal. James Conner is once again OUT for Week 14 against the Cardinals. He should be back in Week 15. Look for the Steelers to continue to ride Benny Snell Jr. on early downs and Jaylen Samuels for change of pace duties.
Marlon Mack, RB - Indianapolis Colts
Mack will be active in Week 14 against the Bucaneers as he has apparently recovered from a fractured metacarpal in his hand. Look for the Colts to use a mixture of all their running backs in an attempt to crack this tough Tampa Bay run defense.
Julio Jones, WR - Atlanta Falcons
Jones will be back in Week 14 after being a game time decision in Week 13 with an AC joint sprain. He was able to practice in a limited fashion this week and as long as he doesn't land awkwardly on his shoulder, he should be good to go for the fantasy playoffs.
Adam Thielen, WR - Minnesota Vikings
Thielen has been out with a hamstring strain since Week 9 when he re-aggravated his original hamstring strain from Week 7. The Vikings are coming off their bye and face the Seahawks who own the other NFC Wild Card spot. Unfortunately, Thielen was not able to play against the Seahawks and it looks like he may be sidelined once again considering he was not able to practice Friday. Coach Mike Zimmer said, "there's really no sense to push it," so there's certainly a chance they'll continue to let him heal.
JuJu Smith-Schuster, WR - Pittsburgh Steelers
JuJu Smith-Schuster has been ruled OUT for Week 14 with a knee injury. The exact structure involved is unknown but he's been seen with a brace indicating that a ligament is likely involved. The original injury occurred on the same play in which he sustained his concussion against the Browns. At this point, it's safe to say he suffered either a ligament sprain or a bone bruise in his knee considering his long absence.
Austin Hooper, TE - Atlanta Falcons
Hooper was able to practice all week and is projected to be active for Week 14 after recovering from an MCL sprain in his left knee that he sustained in Week 10. He has been able to practice all week which is always a good sign but as with all soft tissue injuries, there's a chance for re-injury.
Week 14 Injury Updates
Baker Mayfield, QB - Cleveland Browns
Injury: In Week 13, Mayfield stepped into a throw and hit his throwing hand against the helmet of a Steelers defensive lineman. Anytime this happens, we're concerned of an UCL sprain or hand contusion, or bruise. The UCL is a ligament in the thumb which helps to provide stability to the joint. It is the same ligament Drew Brees had surgery on earlier this year.
News: Mayfield was able to practice all week and is projected to play in Week 14 against the Bengals. He finished the second half against the Steelers with a glove on his throwing hand.
Outlook: The Bengals have had a pretty soft defense all year but AFC North games in December are hard to project as high scoring. In the first week of fantasy playoffs though, you'll definitely be starting Mayfield, Odell Beckham Jr., Jarvis Landry, Nick Chubb, and Kareem Hunt (depending on your options).
Dalvin Cook, RB - Minnesota Vikings
Injury: Cook sustained a sprained SC, or sternoclavicular, joint in Week 13 against the Seahawks. He was listed as questionable to return but was not able to come back to the game. The ligaments at the SC joint can sprain just like any other joint and are extremely painful when injured.
News: Cook was able to practice in a limited fashion on Wednesday and Thursday before turning in a full practice on Friday. He will likely be active in Week 14 but the chance for re-injury is concerning.
Outlook: It's tough to sit Dalvin Cook in the first round of the fantasy playoffs so I believe you have to play him. Alexander Mattison will certainly get more run this game but I'm not buying him as a starter in Week 14.
Greg Olsen, TE - Carolina Panthers
Injury: Olsen suffered a concussion in Week 13 as a result of a helmet to helmet hit. Concussions are obviously the result of blunt force trauma to the head and the symptoms come from the chemical cascade within the brain as a result.
News: Olsen was not able to practice all week and is OUT for Week 14.
Outlook: With Olsen sidelined, look for Ian Thomas and Chris Manhertz to fill in. On the outside, more targets should fly towards D.J. Moore and Curtis Samuel.
More Fantasy Football Analysis