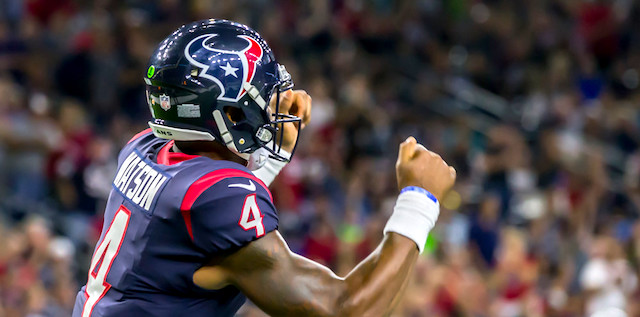 No team was busier on Saturday than the Houston Texans, who swung four trades on the day that rosters had to be cut down to 53.
Houston opened the day with the long-awaited Jadeveon Clowney trade, shipping the skilled pass rusher to Seattle for a pick and some less impactful linebackers. Then, they traded for Chiefs running back Carlos Hyde, shoring up a position where they lacked a veteran presence. And then came a real blockbuster, as the team got left tackle Laremy Tunsil and wide receiver Kenny Stills from the Dolphins for a couple of firsts, a second, and some end-of-roster players.
So, what does this all mean for fantasy purposes? A lot. Let's break everything down.
Editor's Note: Get any rest-of-season NFL Premium Pass for 50% off. Our exclusive DFS Tools, Lineup Optimizer and Premium DFS Research through the Super Bowl.
Sign Up Now!
Carlos Hyde and the Texans Run Game
With the Laremy Tunsil acquisition, the Texans can shift some things around on the line and potentially have a unit that approaches league average this year.
Last year, per Football Outsiders, the Texans ranked 27th in the NFL in adjusted line yards, a stat that attempts to show what amount of yards the offensive line helped created for their running back. The better your line is at creating yardage, the easier it is for your running back, who doesn't have to create those initial yards on his own.
That's good for Houston, because the running back they traded for isn't that great at creating his own yards.
Carlos Hyde's 2018 season numbers were marred by his increasingly inconsistent usage as the season went along, but if we look back at 2017, we can see the gap between Hyde's opportunities and his actual efficiency. That year, Hyde led all running backs in goal line carries and was fifth among backs in targets. He was 11th at the position in fantasy points per game, but that was all about opportunity, not talent.
Because on a per play basis...meh. Hyde was sixth in receptions for backs, but just 17th in receiving yards. He was 64th in production premium at -15.1. There's a lot that goes into calculating that stat, but the easy thing to say is that a score of zero is league average, so...
Hyde was only 78th in fantasy points per opportunity and 41st in yards created per play. He's going to need a good offensive line to be productive, which Houston only maybe has.
This is all a long way of saying that if Hyde gets the usage we expect in Houston, he'll be okay. He doesn't have nearly the upside that Lamar Miller did, and Duke Johnson probably sees more usage than he would have with a healthy Miller, but Bill O'Brien's other decisions with the running back position (keep reading) suggest that Hyde's going to get enough early-down work and goal-line work to be productive enough. I thought a healthy Miller had RB2 upside in this offense. I think a healthy Hyde is looking more like an RB3, because while the opportunity exists, the talent isn't quite there.
Oh, yeah:
Speaking of the other decisions at running back, O'Brien made some questionable moves, keeping Taiwan Jones and Gregory Howell Jr. on the team due to their special teams contributions and cutting undrafted rookie free agents Damarea Crockett and Karan Higdon. That is, in my opinion, a very bad move. Hyde's an inefficient lead back who is now on his fourth team in two years. Johnson has never been asked to shoulder a full load. Crockett and Higdon have more value as actual NFL running back options than Jones or Howell do, but Bill O'Brien really, really loves his special teams, I guess! Not keeping at least one of them as insurance was bad. There's a decent chance that one of those guys would have actually been better as the starting running back than Hyde will be.
How's Kenny Stills Fit In?
Last year, the Texans ran 10 personnel (four receivers, one running back) on exactly zero plays, but I really hope O'Brien schemes up some plays to take advantage of the fact that the team just A) added a skilled receiver and B) have some major issues at tight end.
Houston now has DeAndre Hopkins, Will Fuller, Keke Coutee, and Kenny Stills as their top-four receivers. Hopkins may be the NFL's best possession receiver, while the other three guys are all incredibly quick and can stretch the field and enable Houston to take advantage of the vertical passing game.
To start the year, Coutee is dealing with an ankle injury, so the first week or two of the year will be pretty easy to figure out: Hopkins and Fuller will be on the outside and Stills will be asked to be the slot receiver as he has experience there, running 10.5 slot routes per game last year. His speed should allow him to take advantage of slower defenders over the middle, and I can see Stills giving Houston an almost identical version of the production that a healthy Coutee could give. Stills with Coutee out is a PPR WR3/4.
Stills when Coutee is back? Yeah...this is gonna be tough to figure out.
If we look at the games where all of Houston's three receivers were healthy and given a full workload last year, we see the following information in terms of snap percentages for the team's fourth receiver: zero percent against Dallas, two percent against Buffalo, and two percent against Washington, though it was Demaryius Thomas and not Will Fuller manning the other outside spot in that one.
I expect O'Brien to adjust some, but a healthy Hopkins won't be coming off the field. That leaves Fuller, Coutee, and Stills competing for two spots, with one of them likely to trail the other two significantly in snap count. Stills is likely to be that guy, though the injury risk of Fuller and Coutee does make Stills one of the best receiver handcuffs in the league.
So, Kenny Stills when everyone is healthy? A guy I'm very scared to put into a fantasy lineup because he could wind up playing like 10 snaps. Kenny Stills when someone is hurt and he's pressed into a major role? A PPR WR3/4. That's a good luxury for the Texans to have, though I really wish they'd experiment with 10 personnel. Get the ball out quickly to one of these four receivers. Don't have Darren Fells playing too much. It's a win-win idea, and also one that I'm just going to assume will remain an idea.
DESHAUN WATSON HAS BLIND SIDE PROTECTION.
The Texans started Julie'n Davenport 15 times last season. That they get to upgrade to Tunsil now is huge, even if Tunsil isn't quite in the discussion for the league's top-five left tackles yet.
Deshaun Watson likes to hold the ball and let plays develop. It's hard to do that when your offensive line struggles and you end up leading the league in sacks.
Watson was the QB4 last year behind that porous offensive line. If we assume Tunsil makes it better, we can assume Watson has a better year, but will the line improve enough to put Watson in the discussion for the QB1 spot?
Short answer: yeah, sure, maybe.
Long answer: I think upgrading the fourth receiver spot from Vyncint Smith to Kenny Stills and adding a pass-catching back in Duke Johnson will have a lot more to do with Watson's potential success than Tunsil will. Watson will take fewer sacks this year, but one sack does not equal one touchdown or something. Houston's offense under O'Brien has been super risk-averse and conservative when they have the lead, so if that doesn't change then Watson likely tops out at QB3 or QB4. If the team gets more aggressive, the increased weapons around him and the extra time to throw can propel him to QB2, though he'd need Patrick Mahomes to regress if he wants to challenge for the top spot. This offense isn't built for Watson to throw 50 touchdowns.
Oh Yeah, the Defense!
Let's not forget that the Texans Defense was fundamentally changed on Saturday. Gone is Jadeveon Clowney, who heads to Seattle. In are linebackers Barkevious Mingo and Jacob Martin plus Patriots corner Keion Crossen.
Houston was our D/ST11 in our rankings. Losing Clowney and his pass-rushing hurts that, and while I've heard good things about Martin, I don't see the Texans front seven being able to play at the same level as last year.
Crossen helps a secondary that's got some definite holes, but I don't really know if he moves the needle for me.
Let's move this defense from D/ST11 down to something like...D/ST14? That seems about right. They'll be streamable, but not a team you want to use week-to-week.
More Fantasy Football Analysis