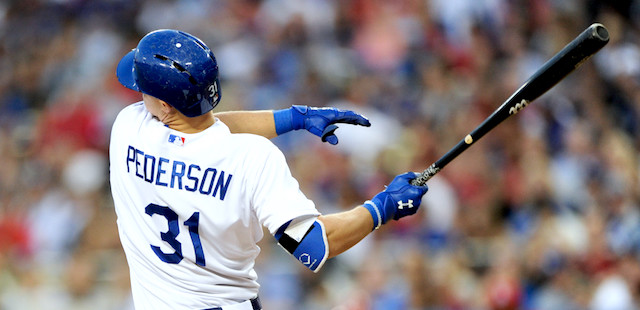 Welcome back to my hitting streamers column for Week 18, taking a look at hitters to add or stream off the waiver wire for this week's scheduled games.
To keep things simple, I pick from players who are 50% owned or less and who play at least seven games in the week.  If someone jumps off the page at me as a less than seven game player, I may make an exception, but otherwise the advantage in number of games dictates my choices.
Streaming can be a valuable tool, by allowing you to feast on favorable pitching matchups and simply have your hitters play more games than your opponents' hitters. If you have the roster space, streaming a hitter can be useful not only to fill a vacant lineup spot, but also to fill in for someone who has five games that week or faces tough matchups. In 5x5 leagues, four of the five hitting categories are counting stats, making the value of extra games significant. Streaming also can allow you to target a specific category of need. This week there are limited seven game options, so I have made the rare exception of adding a couple streamers who play only six games. With that said, let's dive right in.
Editor's Note: Get any full-season MLB Premium Pass for 50% off, with exclusive access to our season-long articles, 15 in-season lineup tools and over 200 days of expert DFS research/tools.
Sign Up Now!
Bats to Stream and Start in Week 18
Justin Bour (1B, MIA) - 42% owned
Bour faces seven righties this week, and against them he has compiled a home run every 16.1 at bats to go with a .249 average. I would bet on at least one homer this week. Even though Miami ranks 27th in runs per game, they have fared better as a team against RHP (89 wRC+) than LHP (wRC+). They also face decent pitching matchups, and thus I would expect some run production to go along with Bour's home run potential and a serviceable average. Bour is this week's top option.
Marcus Semien (SS, OAK) - 42% owned
Due to the dearth of options this week, I have added Marcus Semien and his teammate Matt Chapman as options despite only playing six games. This week is one of those rare exceptions, and it also happens to feature two players on last week's list. So, if you streamed them, you can simply hold onto them for another week. As I noted last week, Semien is a dual threat (homers and steals) and also provides decent run production. Facing favorable pitching matchups, he will make up for the lack of seven games through quality production. On the year, he has a .253/7/57/39/10 line. This week, he has the possibility of producing in all five categories.
Matt Chapman (3B, OAK) - 38% owned
Like his teammate, Chapman returns to the list this week after providing big early returns last week. Oakland should face three righties and three lefties this week, but that should not matter to Chapman who has fared nearly equally against them this year. What should matter is that in his last 31 games, Chapman has posted a line of .336/3/24/12/1. Against favorable matchups this week, he should continue producing.
Joc Pederson (OF, LAD) - 21% owned
Joc is batting .292 against righties this year with a homer every 16.1 at bats. In June, he mashed 10 homers with a .283 average, and he has followed that up by batting .313 with three homers in June. This week, he faces six righties. He also is in an offense that ranks ninth in MLB in runs per game. Even though Joc doesn't steal bases as many once thought he would at the major league level, he has turned into a valuable fantasy producer against RHP. He would occupy this week's top spot if he faced an easier slate of RHP.
Johan Camargo (2B/3B/SS, ATL) - 15% owned
Camargo has shown an impressive combination of plate discipline (11.8 BB%, 18.5 K%) and power (10 homers in 249 at bats). In just 77 games, he has a line of .261/10/35/43/0. He has been a consistent producer the last couple months. Facing good pitching matchups this week, and eligible at multiple positions, he is a good streaming option this week.
Kendrys Morales (1B, TOR) - 17% owned
Morales has heated up lately. In his last 42 games, he has a line of .306/7/20/16/0. In 2017, he hit 28 homers after smashing 30 in 2016. He is a good option for some power. While I typically would not recommend him, he is an option this week due to the pitching matchups and his recent production.
Dansby Swanson (SS, ATL) - 17% owned
Swanson has a .250/8/34/38/5 line on the year, which on first impression, does not stand out as very impressive. However, after a sluggish May in which he played only 15 games, he has posted a respectable .239/5/17/20/3 line in 42 games. This week he faces decent pitching matchups and should face four or five righties, against whom he has fared better. I expect Swanson to overperform his season averages this week and be a worthwhile streamer.
Teoscar Hernandez (OF, TOR) - 24% owned
Hernandez has mashed lefties this year with a homer every 14.6 at bats. He should face three of them this week. However, he has also batted .250 against righties with eight homers. On the year, he has a line of .248/15/44/40/3. While he has cooled of late, the power appears real. I would not expect a great batting average, but he is a decent bet for power and run production with a gambler's chance at a stolen base.
Others to Consider
Dexter Fowler (OF, STL) - 22% owned - Fowler has been unrosterable this year, but he has historically been a fantasy asset and it is possible that the change in managers will get him going. He is a gamble but is worth a shot at power and speed if the others are taken.
Brandon Drury (2B/3B, TOR) - 2% owned - The newly acquired Blue Jay has struggled on the year, but in 1,013 career at bats has a .267/32/105/131/2 line. He is a worthwhile gamble if the others are all taken.
More Waiver Wire Pickups and Streamers