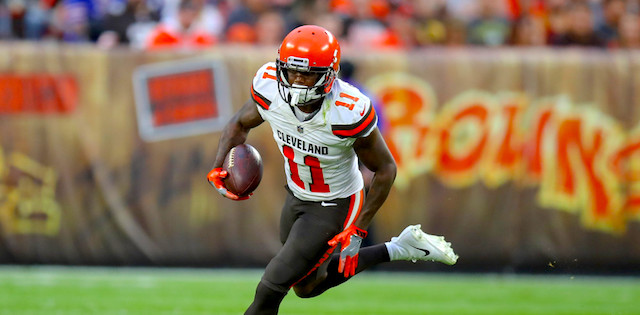 I like to draw inspiration from classic hip-hop lyrics when doing pretty much anything and writing is no different. When it came to summing up this week's Hero picks, I dug a little deeper than usual down my rankings list. How deep? Deep as the abyss, deeper than Atlantis, deeper than a prostitu... never mind, we'll skip that one.
When ranking and analyzing players each week, I've found that being safe gets you nowhere. Big name players fail us and no-names are always prone to big games. If you find yourself stuck between a productive veteran player with a better resume or a lesser-known commodity with a far better matchup and near-equal opportunity, sometimes you have to take a chance. Playing it safe never won anybody a championship. Just ask the Eagles.
Now, here are my fantasy flex-spot and streamer "heroes" and "zeroes" at each position for Week 7 of the NFL season. These players are borderline start considerations for your flex spot that I believe will perform unexpectedly well or that might fare poorly relative to expectations in this week's matchups. To see how our staff feels about all the players you might possibly care about, look no further than our very own RotoBaller consensus weekly rankings. And yes, I realize QBs aren't traditionally considered a "flex" position but there are "superflex" leagues.
Editor's Note: Get any full-season NFL Premium Pass for 50% off. Our exclusive In-Season Lineup Tools, Lineup Optimizer and over 150 days of Premium DFS Research.
Sign Up Now!
Week 7 Lineup Heroes
QUARTERBACK
Mitch Trubisky, Chicago Bears
I briefly considered Baker Mayfield for this week but his minor ankle injury and the fact that Damion Ratley is currently his WR3 made me reconsider. Trubisky's Week 4 explosion for six touchdowns doesn't look like an outlier after he threw for 316 yards and three TD last week. Yes, it was the Dolphins, but that's no minor feat considering the Phins came entered that game allowing a 6/10 TD/INT ratio to all quarterbacks. If not for a bad throw in the end zone turned interception, Trubisky might have had four scores. This week, he faces the New England Patriots who have allowed the third-highest passing TD total (15) and 12th-most passing yards per game (266) while tied for fewest sacks in the league (seven). When betting between a Bears D that was exposed in the secondary last week and the Pats offense that has scored 38+ points in three straight weeks, I'll lean toward a higher-scoring game. This means Trubisky should get plenty of work and should see his highest pass attempt total of the year. Aside from being an obvious start in TwoQB and superflex leagues, he can creep into the single-QB format if you need a bye week replacement for Aaron Rodgers or Russell Wilson. If you are a Derek Carr owner who is just now looking for a new QB, you are beyond my help.
RUNNING BACKS
Marlon Mack, Indianapolis Colts
The Mack is back! I've waited weeks to use that horribly outdated phrase. Moreover, I'm glad to see that one of my favorite preseason sleepers is ready to reclaim the RB1 role. The Colts didn't waste much time giving him the opportunity, as he saw a 35% offensive snap share while Jordan Wilkins went straight down to zero. Nyheim Hines remains the main pass-catching back, which limits Mack's appeal somewhat in PPR leagues. Still, it's rare you can pluck a starting RB off waivers in Week 6 and roll with him the rest of the way. He tallied 89 yards on 12 carries against the Jets and this week could serve as his true coming-out party as he faces the Bills. There is little doubt the Colts should be ahead in this game and should give Andrew Luck's poor, tired arm a rest by letting him hand the ball off. Four straight games with 40+ pass attempts in the first half of the season can't be what they had in mind before 2018 began. Some may be turned off by Mack's 3.8 yards per carry average last year but keep in mind this was in a limited role behind Frank Gore, without Andrew Luck at QB, and battling injuries all season as we later found out. Now that he's good to go, Mack could see his workload jump up substantially in a game sure to feature positive game script. If only Nathan Peterman was starting though.
WIDE RECEIVERS
Antonio Callaway, Cleveland Browns
A popular pickup after Week 1 and now quickly fading, Callaway has gone through many ups and downs less than midway through his rookie season. The numbers don't lie - he is catching 37.5% of his targets and is tied for sixth in the league with three official Drops. He is averaging three receptions for 26.3 yards with no touchdowns in the last four weeks. He's really only had one good game, come to think of it. By all accounts, he should be benched or dropped in fantasy leagues everywhere. Yet, he's still the WR2 on a team that is 10th in total pass attempts and he's seen 35 targets over that four-week stretch. With absolutely no depth at receiver, Callaway will get a ton of looks yet again and guess who his opponent is in Week 7? Only the worst pass defense ever! OK, at least over a six-week stretch in the 2018 season, but definitely a bad one. The Bucs allow 355.8 passing yards per game. Someone besides Jarvis Landry has got to be the beneficiary. Callaway is a risky pick but his 4.41 speed can create a big play in a hurry. Trust Hue Jackson to not do what he said and keep Callaway heavily involved in the offense.
TIGHT END
C.J. Uzomah, Cincinnati Bengals
Digging deep? Not if you've followed tight end rankings this season. Tyler Eifert is gone, Tyler Kroft has been injured as well, so Uzomah has become the TE1. It might be surprising to find out that in spite of Eifert starting the first four games this year, Uzomah is already fifth on the Bengals in target share and two players just ahead of him are not active (Eifert and Giovani Bernard). Uzomah saw seven targets last week alone. While much of that can be attributed to Pittsburgh's lack of defense against the tight end, this week it could get even better. The Chiefs are the worst in the league defending tight ends, allowing 550 total yards or 92 yards per game. You won't want to start him over an established player in your weekly lineup like Geroge Kittle, David Njoku or Eric Ebron, but those looking for a bye-week replacement for Jimmy Graham or Jared Cook should look here first.
Week 7 Lineup Zeroes
QUARTERBACKS
Deshaun Watson, Houston Texans
As I outlined a couple weeks ago, I refuse to invoke the name of Andrew Luck even though I firmly believe he'll be a dud this week. I also won't pile onto Eli Manning's woes - you should know better to avoid him anyway. Instead, let's shift gears to a player that remains in the starting QB conversation for many owners despite a tough matchup. Watson has posted a one or two in the TD column every single week. He's done the same in the INT column too. A 9/7 TD/INT ratio is nothing to write home about but at least he's posted four 300-yard games as a passer and averages 33.8 yards on the ground. Could he take advantage of a reeling Jaguars defense that just gave up 40 points to the Cowboys? This rhetorical question has already been answered by the heading above, so let's dig into why Watson should be benched in most leagues. The Jags' main problem in Week 6 was run defense, not pass defense. They allowed just 172 passing yards net while the combo of Ezekiel Elliott and Dak Prescott accounted for 206 rushing yards. Watson can move with his feet but the Texans do not want him going with designed runs too often; it's unlikely they will try to use the same game plan as the Cowboys, especially since their WR corps is actually their biggest strength, not something they need to mask. Watson fared poorly against the Jags last year, throwing for 102 yards with one TD and one INT, although that was one half of play in relief of Tom Savage in the season opener. We can throw that out of the window but not the fact that his opponent is still the best pass defense around. Don't let recency bias fool you.
RUNNING BACKS
Alex Collins, Baltimore Ravens
The touchdowns are starting to pour in for Collins, with two last week and four total in the last four games. But where's the yardage? Collins hasn't broken the 70-yard mark in a game this season. We know he's not involved much in the passing game, as the team prefers to pass to Buck. Collins averages 1.5 receptions and 12.8 receiving yards per game, almost identical to last year. So we're left with a very low floor that suddenly depends on those touchdowns for RB2 value. He can be flexed still, right? Depends on your options, as always, but consider the matchup this week. The Saints are still the #1 run defense in the NFL, allowing 71.4 rushing yards per game and 3.1 yards per carry. Also, consider that all of Collins' touchdowns have come in winning efforts. There's no guarantee the Ravens will be ahead of the Saints, even at home. The majority of football players are matchup-dependent to some extent. Collins just seems particularly prone to game flow, which could be worrisome if the Ravens defense doesn't hold tight against Drew Brees and co.
WIDE RECEIVERS
Marvin Jones, Detroit Lions
Jones can take one play to the house to make this pick go wrong real quick, so it's hard to bet against a guy with his kind of speed who also has a top-tier quarterback at his disposal. Jones is posting a 15.1 aDOT, which is one of the highest in the league. We know he'll get the chance to make plays, the question is how many? With the emergence of Kenny Golladay, Jones has seen his targets and receptions drop each week, from a high of nine targets in Week 2 down to four targets last week. Visual proof below:

It's not as if he'll be completely phased out of the offense, don't get me wrong. Still, it's concerning that Golladay is posting a higher target share (22%-20%) already. Jones does lead the team with eight red zone targets although only two have gone for touchdowns. It appears he is becoming somewhat touchdown-dependent, which isn't what you want from a flex player in PPR leagues. The return of Bobby McCain for Miami makes this matchup tougher than it appears.
TIGHT END
Cameron Brate, Tampa Bay Buccaneers
Say it with me - "TOUCHDOWN DEPENDENT!" Of course, if you are streaming at tight end or just need a bye week filler, you are happy to bet on a possible touchdown and be done with it. Brate has a nose for the end zone, scoring 17 touchdowns in his last 16 starts. He's only started 16 of the last 36 games, however, so his TD rate is lower when O.J. Howard is in the game. We saw Brate score last week with Jameis Winston in at quarterback but it was his only catch and target. Brate's snap count was down to 33% compared to 52% for Howard. Hell, even Antony Auclair out-snapped Brate last week on offense with 35%. Sure, there's a chance he scores again. With Howard a full go, it's far less likely to happen again.
More Start/Sit Advice