The beauty of the Ryder Cup is that it only takes place every two years, with those selected getting the opportunity to take part in one of the most emotionally charged golf events on the planet. They get to share in tears, beers and cheers that repeatedly send shivers down any golf fans spine. Have you heard that USA has not won on Euro soil since 1993? They will look to achieve something that only five of the 12 Americans were alive to see the last time it happened, with Brian Harman being the oldest at six years old. A truly historic test awaits Zach Johnson and his dozen warriors.
I have committed roughly 80+ hours of time to research the course and build 3 individual models to identify the best skillsets for singles, foursomes and fourball formats (I am a sicko!). In this free article you will find a course break down, how captains should deploy their teams in optimal combinations off specific tees for foursomes, and who the optimal pairings for fourballs are. There is a hole by hole break down of all 24 players to determine which holes their specific skills will benefit most. Each golfer's Ryder Cup match-by-match record, including their partner, the format and the score of the match is also included. I projected each golfers expected total matches, broken down by format and playing partner. I also shared my thoughts on each golfer's best bet in the prop market if you plan on throwing some $ on your favorite golfer.
If you are interested in getting your hands on all three of these models and statistics to manipulate how you see fit, you can show your support by purchasing a weekly premium subscription for $8.99 with code "MANIAC". This will be available in our PGA discord and also includes my betting matchup tool, that you can plug any combination of golfers into to identify edges as the matchups are released each day/session. I poured my soul into this bad boy and really hope that if you find the information useful you would consider joining our RotoBaller PGA premium community and/or retweeting my pinned tweet to help blow this sucker up.
Featured Promo: Get any full-season Props Premium Pass for 50% off. Win big with our two new Props Optimizer tools -- one for PrizePicks Props, and one for Sportsbook Betting Props. Find optimal prop bets and get our recommended picks daily!
Go Premium, Win More!
The Course
It will take a hot minute to read this entire article in one sitting, but it is designed in such a way that it is more so a tool than an article. Each golfer will have a hyper link at the beginning of this article in the "What appears in this article?" box that you can click on to take you to their profile if you are looking for info on a specific guy. USA first and EURO in the second half of the piece. Please enjoy this awesome platter of nerdy information and speculation.
*I have also added a "Summary of Total Projected Matches and Pairings" that includes power rankings for each format. It is a massive article and I know some you don't have the time to read through it all. I gotchu!
Scorecard
Marco Simone Golf Club will volunteer itself as the battle ground where Europe looks to continue to dominate on home soil. A par 71 with three Par 5s, two driveable Par 4s and four Par 3s, of which three are 185 yards or longer. The three par 5s play the easiest alongside the driveable 11th and 16th, the scoring average on all the other holes is -0.1 or tougher, making for a really fun assortment of challenges and hopefully some ecstasy-infused entertainment.
The course is set up in such a way that the really exciting holes are back loaded towards the end of the round. Historically, only 66% of matches make it to the 18th hole, with all matches making it to at least hole 14 where about 10% of them end. You will notice that in the player profile screenshots hole 15 is only 90% of their projected output, with hole 18 watered down to represent only 60% of their potential as that is roughly how many matches make it to the final hole. We don't want to over emphasize those holes given their statistical insignificance.

History & Trends
Matchplay is extremely volatile and using win % can be slightly misleading, as you could shoot the second-best round of the singles session and lose, while the 2nd worst round could land up with a point. However, stalwarts like Sergio Garcia and Ian Poulter just seem to shine under the pressure of match play. Rory McIlroy leads this year's Ryder Cup in total matches played, yet Justin Rose has as many points in 5 less matches. Rose and Stenson won 6 points over the course of their 8 matches they played together! A truly dominant duo!
When it comes to the Ryder Cup, how captains choose to pair his players and how often he sends his studs out is at his discretion, but we can try guess the ratios players to play X amount of matches using past Cups. Over the last six Ryder Cups, an average of 1 golfer played 2 matches, while 4 dudes typically get to play all 5 sessions. This will be important when degerming who we want to bet to score the most total points, as the more matches you play, the more points you can earn. Number of golfers to play all 5 matches:
2010: 0
2012: 2 (2 euros)
2014: 4 (2 euros)
2016: 7 (5 euros)
2018: 6 (3 euros)
2021: 3 (2 euros)
For those who have already played in Ryder Cups, here are their matches played by year. Rory and Rosie getting ample usage, never playing less than 4 times a Cup.

The Stats
The below cheat sheet uses all the metrics I found relevant to deep dive each golfer, assess their profile heading into the week and generate a power ranking that you can manipulate in the premium model. Strokes gained numbers are 1/3 last 12 months and 2/3 last 36 rounds. We are using a slightly longer than normal "recent form" of 36 rounds to avoid outliers skewing results drastically with so much having elapsed since the end of season. Underneath it I have a glossary of each header and what it means (for those of you who might be new to golf stats). We will break down each golfers' strengths and weakness using these later in the article.
Because most of you amazing readers are American, we are going to use red as the identifier for an elite metric, while blue shading will represent relatively bad metrics. I have spent over a week putting together these models and rankings, as I had to build them all from scratch, so don't freak out if you see a red box that represents a bad metric (there is so much data and screenshots involved in this article, I will be shocked if I never colored something the opposite way. Reach out to me if you spot something sketchy.)
SG OTT strokes gained off the tee.
ACC % how often a golfer hits the fairway off the tee.
APP YDG based off that each individuals average driving distance, how far out from the green will the approach take place from.
SG APP strokes gained on approach but weighted to mimic the proximity ranges we could expect based off APP YDG. We have buckets of fairway SG from 50-100, 100-150, 150-200 and 200+. We also used SG from the rough either side of 150 yards and depending on how accurate a golfer is, the metric was weighted more for inaccurate drivers and less for guys who hit more fairways than normal. Quite a complex calculation to get one number, but I am the Model Maniac after all.
PROX the total amount of feet each approach should land to hole on average.
GIR % the rate at which a golfer is likely to hit a green from a specific distance.
GOOD SHOT % the rate at which a single approach shot gains half a stroke. A good shot is 5 feet from 100 yards, while 15 feet gains half a stroke from 200+
ACC % + GS% adding driving accuracy percentage to good shot percentage to see who will give themselves the best opportunities 1) to hit a good shot 2) to leave themselves with a putt under 15 feet.
BALL STRK the total of strokes gained off the tee and on approach for each hole.
SG ARG strokes gained around the greens.
SG PUTT strokes gained putting.
PROJ MAKE % this is a golfer's likelihood of sinking a putt based off a combination of his average proximity and good shot % from each respective distance on approach.
3 PUTT % the likelihood of putting 3 times on a green.
SG TOT the combination of SG OTT + APP + ARG + PUTT
PROJ SCR is the projected score on each hole based off historical scores on each hole in the last three tournaments and how players typically play Par 3s, 4s and 5s.
BIRDIE % similar to projected score, we use a golfer's birdie percentage on Par 3s, 4s and 5s in combination with the historical birdie average on these holes from the last three tournaments.
FOURBALLS the average ranking of a golfer and his 11 other possible pairings for fourballs, where each golfer plays their own ball using the best score. *There are >FOUR BALLS< in play on each hole.
FOURSOMES is the average ranking of a golfer and his 11 other pairings in foursomes where golfers alternate shots. Each golfer teeing off on either even or odd holes. *A golfer plays >SOME< of the shots. 
SINGLES the third day of golf, session 5, where all 12 golfers tee it up 1v1!!!
Foursomes (Alternate Shot) Strategy
When it comes to determining who to pair with who, outside of chemistry, there are some statistical advantages that can play into a golfer's favor depending on which holes he tees off on in alternate shot. Because less shots are being hit, only playing one ball every other shot, one would imagine that pars are going to win a few more holes than in the fourball format where a bad hole may not matter if your partner makes birdie, potentially winning the hole. Expect golfers with lack luster birdie % to feature more in this format. For example, Matt Fitzpatrick ranks 22nd of 24 in Birdie %, but 14th in total strokes gained.
The golfer teeing off on the odd holes only hits six drives, as three of the Par 3s are on odd holes. If you drive on odd holes, you will hit the approach shots on the even holes, with six of those eight approach yardages expected to play 185+ yards for an average of 215 yards on those six shots. Why only eight approaches and not nine? Remember we have two driveable par 4s, which will leave a chip for most "approach shots". So, from a ball striking standpoint, you want a relatively poor driver of the ball who is an exceptional long iron player to tee off on odd holes.
Those who tee off on even holes will hit driver 8 times, with three of those coming on two Par 5s and the driveable 16th. In a stark contrast to the approach play on the even holes, those who tee off on even will hit approaches on odd holes, with five of those eight approaches coming from inside 170 yards for an average of 150 yards. If you can find an incredible driver off the ball who is a wizard with a wedge in his hand, he needs to go off on the even holes.
With so many wedges on those odd holes, you want your best putters from 5-15 feet to ideally be putting on those holes too, with good lag putters and solid scramblers playing those shots on the longer, more difficult even holes. From a modeling perspective, I used strokes gained to derive rankings of pairings, vs birdie % and good shot %s for fourball combinations where upside is embraced and volatility slightly ignored.
Odd Tee Shots Key Metrics
Can hide bad drivers
Good long irons
Good putters
Even Tee Shots Key Metrics
Driver Driver Driver!
Wedge Wizards
Scramblers
Fourball (Best Score) Strategy
There are two schools of thought for this format. Do you want your pairing to be comprised of two golfers who can make up for the other's inefficiencies on a specific set of holes with one of them being a par 3 specialist, while the other is a par 5 beast? Or do you want to roll out a well-rounded pair that compliments each other on every hole, not necessarily relying on one golfer to do the scoring on holes their partner struggles on, but lacking hole by hole upside?
For this format, I built my model around three key metrics: 1) Par 3/4/5 Birdie % 2) Good Shot % 3) Putting Make %. We want birdie makers, who are capable of hitting approaches stiff and capitalizing on them by making putts. We modeled each of these three metrics hole-by-hole to determine a total percentage of success on that hole. For the MAX column, we just took the best percentage of the two partners each hole. For AVG we took ... wait for it ... the average of the two dudes vibing together in the Ryder Cup.
If we want to maximize upside, hoping that the par 3 specialist dominates his holes, while his buddy takes care of the par 5s or whatever his job is, here are the top combinations. (Viktor is an absolute FREAK when it comes to hitting good shots, with his total average expected good shot rate at 210%. Next best is Tyrrell Hatton at 168%, 42% less total good shots. The difference between Vik and 2nd, is the same % between 2nd and 14th.... LAUGH OUT LOUD!!!)
If we want to avoid Viktor breaking the model, this is what the top 20 combinations look like if we averaged out each hole's BIRD % + GS% + MAKE %:
Pairings & Power Ranks Summary
In case you are not invested enough to read through all 24 profiles, I have included a screenshot summarizing the below deep dives, along with the best odds available for each golfer in their respective betting markets.
Total Expected Matches
Pairings and Power Rankings for Each Format
Best Odds Available
Scottie Scheffler
I just want to put out there that the total matches and partners mentioned below are purely speculative based off a variety of data points and gut feels. There is a really good chance a bunch of these combinations don't ever come to fruition.
Ryder Cup Track Record
Welcome to the golf world, Scottie!!! His coming out party which catapulted the Texan into severe stardom and multiple exchanges of the World No. 1 ranking with Rahm and Rory since, currently residing as the World No. 1. His signature win came over Rahm in Singles, beating him 4&3 and never looking back, currently unbeaten in Ryder Cups.
Singles Outlook
His game is designed to win match play matches. He is projected to be the leading birdie maker on this course and nobody has rivaled him from tee-to-green this year, 1st OTT, 1st APP, 1st ARG. He is the worst putter in the event from a strokes gained standpoint, but his average proximity of 4th has him slated at 10th for total putts made, as they will just be that much shorter than everybody else's. His tidy touch around the greens is going to come in handy on the par 5s and driveable par 4s.
Fourballs Outlook
Scottie is just so steady, he doesn't pop as much as you would like from a fourball standpoint which we are using a mix of volatility and steady birdie making. I assume Sam Burns will be his fourball partner both times around, as Burns' inconsistency and hot putter will be a solid compliment to his best friend's unreal reliability.
Foursomes Outlook
Scottie and Brooks in foursomes would be a dominant pairing which we may see on Day 2, but I think that Scottie will team up with Max Homa on Day 1 in the alternate shot format. It is kind of hilarious that Scottie ranks as the 9 best combinations for USA, with his strength being the EVEN holes as he is the best driver in the field, also avoiding as many short range putts after he dials in wedge after wedge inside 15 feet.
Best Bet
I like him in the TOP USA market as I fear Rory, Rahm and Viktor may also play all 5 matches too, polluting that market more than we would like. FanDuel has a +470 out there to rack up the most points for the USA. I would say this is a 9.5/10 conviction bet, as he could be the only American to play all 5 matches.
Xander Schauffele
Ryder Cup Track Record
His only loss of 4 matches came at the hands of a very emotional Rory McIlroy who was in tears after the match, despite Europe getting walloped by the yanks in the last Ryder Cup. He played both sessions of foursomes with his best buddy Patrick Cantlay, which we will dissect here shortly.
Singles Outlook
Xander is an ELITE long iron player. Remember we mentioned bad drivers and good long iron players need to go off the odd holes? Check those dark red boxes that show up for X on approach on the even holes. His game is just really solid, making him tough to leave out of any pairing. His driver has been a little rebellious lately and his short game has been bad, but the rest of his game should be good enough to handle the pressure.
Fourballs Outlook
Brooks is going to be the number one fourballs option for just about every American, and contrary to popular belief, Xander and Cantlay don't really match up that well in this best ball format, doing the majority of their Zurich Classic scoring in the alternate shot format. I have Xander paired with Wyndham Clark, welcoming him to the squad in the first fourballs session and sitting out the 2nd session.
Foursomes Outlook
The reason Patty and Xander are such a great duo in this format, is because of Xander's incredible long iron play off the back of Cantlay's driving dominance. Long par 4s are their bread and butter, with holes 2, 8, 12 and 14 the highest strokes gained metrics of Xanders possible combinations. If Xander tees off on the odd holes, they gain close to +0.2 strokes on 5 holes, which can really help win some holes. If they switch the tees, their hole by hole upside is a little governed, but their consistency each hole increases. I would expect Xander to go off the odd holes.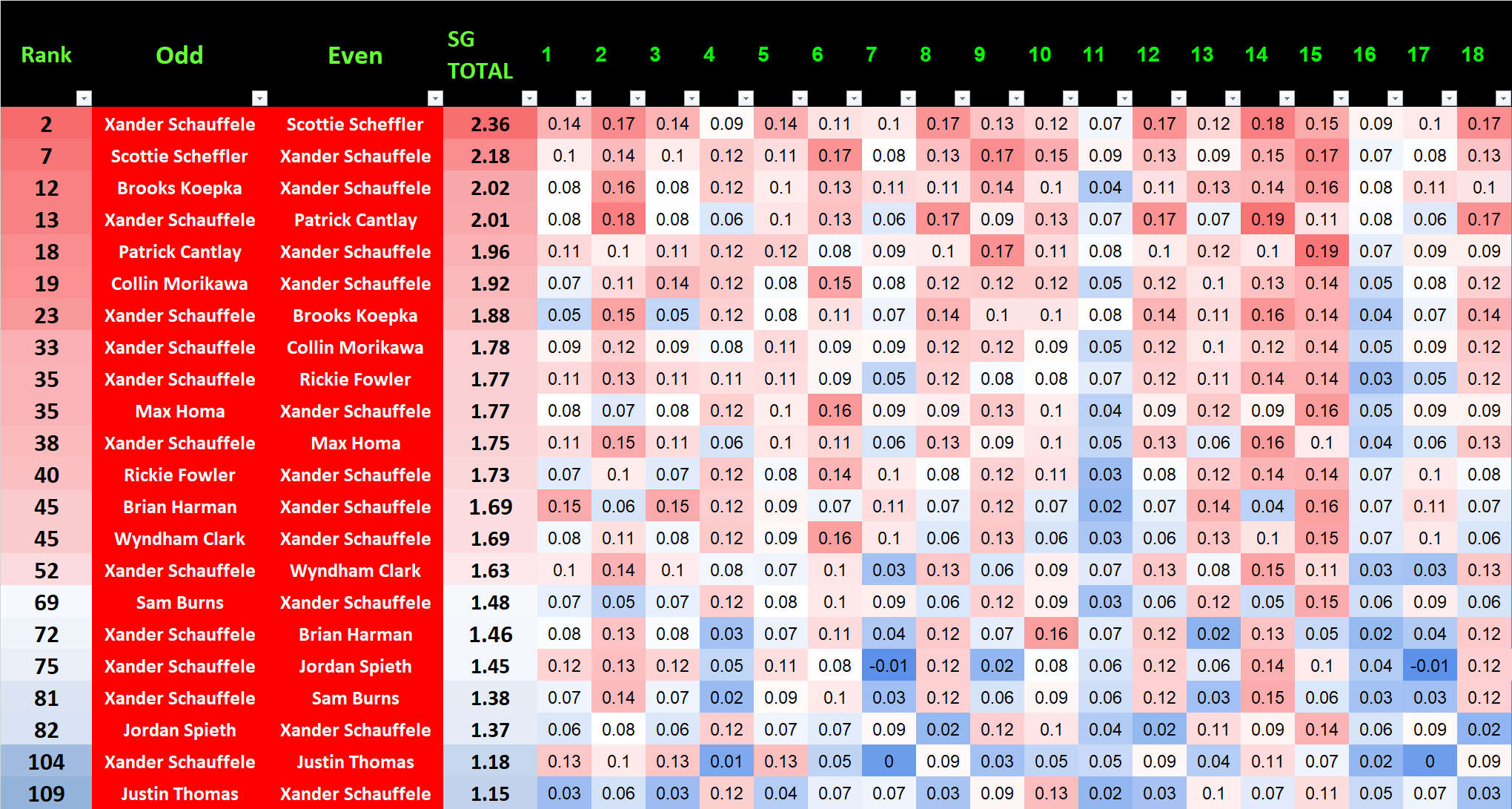 Best Bet
At +650 to be the top USA points scorer, I would steer clear of that total points overall for most Americans, even though the +1200 is tempting. You can chalk up two points in the foursomes and hope he wins his other two matches without Cantlay. I would say this bet is about 5/10 conviction, as I don't trust his singles outlook.
Patrick Cantlay
Ryder Cup Track Record
Unbeaten in his debut two years ago, Cantlay dominated the foursomes with his best buddy, tied Tommy and Vik in Fourballs and kicked Shane Lowry's ass in singles.
Singles Outlook
I prefer Cantlay's singles outlook a little more than Xander's as his overall game is way more well-rounded. His driver has been an absolute weapon lately and his approach play on this course sits inside the top 10. He makes tons of birdies and does as good a job at avoiding bogeys courtesy of his 3rd ranked ARG. The putter has been a bit of a liability relative to the rest of his game, but as his tee-to-green has been super solid, it has barely held him back this season.
Fourballs Outlook
His game is so well rounded he is going to grade out well as a partner for just about anybody, although his Max rank drops off pretty quickly compared to his average. I have Cantlay playing with Rickie Fowler in the first session of Fourballs and Collin in the second session.
Foursomes Outlook
Go read Xander's writeup above. Lock in two points in this format.
Best Bet
Although the power ranking is a spot worse than Xander, I trust Cantlay to be a great partner to Rickie, who is an elite birdie maker, and expect Cantlay to bore his singles partner to death with that well rounded tee-to-green game. My conviction for Cantlay to be the top USA point scorer @ +600 is 9/10. (I really, really like Scottie at +470).
Collin Morikawa
Ryder Cup Track Record
The fourth American writeup so far and it's their fourth rookie from 2021, who is the third undefeated golfer we have written about. Now, Collin played his three team format matches with Dustin Johnson, who went on to win 5 points for America, becoming the first American to do so since Larry Nelson in 1979. Hovland tied it up with Collin through 18 holes in the singles match.
Singles Outlook
THE most accurate driver of the ball in the field and a green in regulation beast makes him an ideal partner in foursomes as he has a debilitating putter that often ruins some incredibly good rounds of golf. For somebody who ranks 4th in SG APP, his good shot % is not quite where you would expect at 15th. I don't know how much I trust Morikawa's short game if his ball striking were to go missing for a few holes.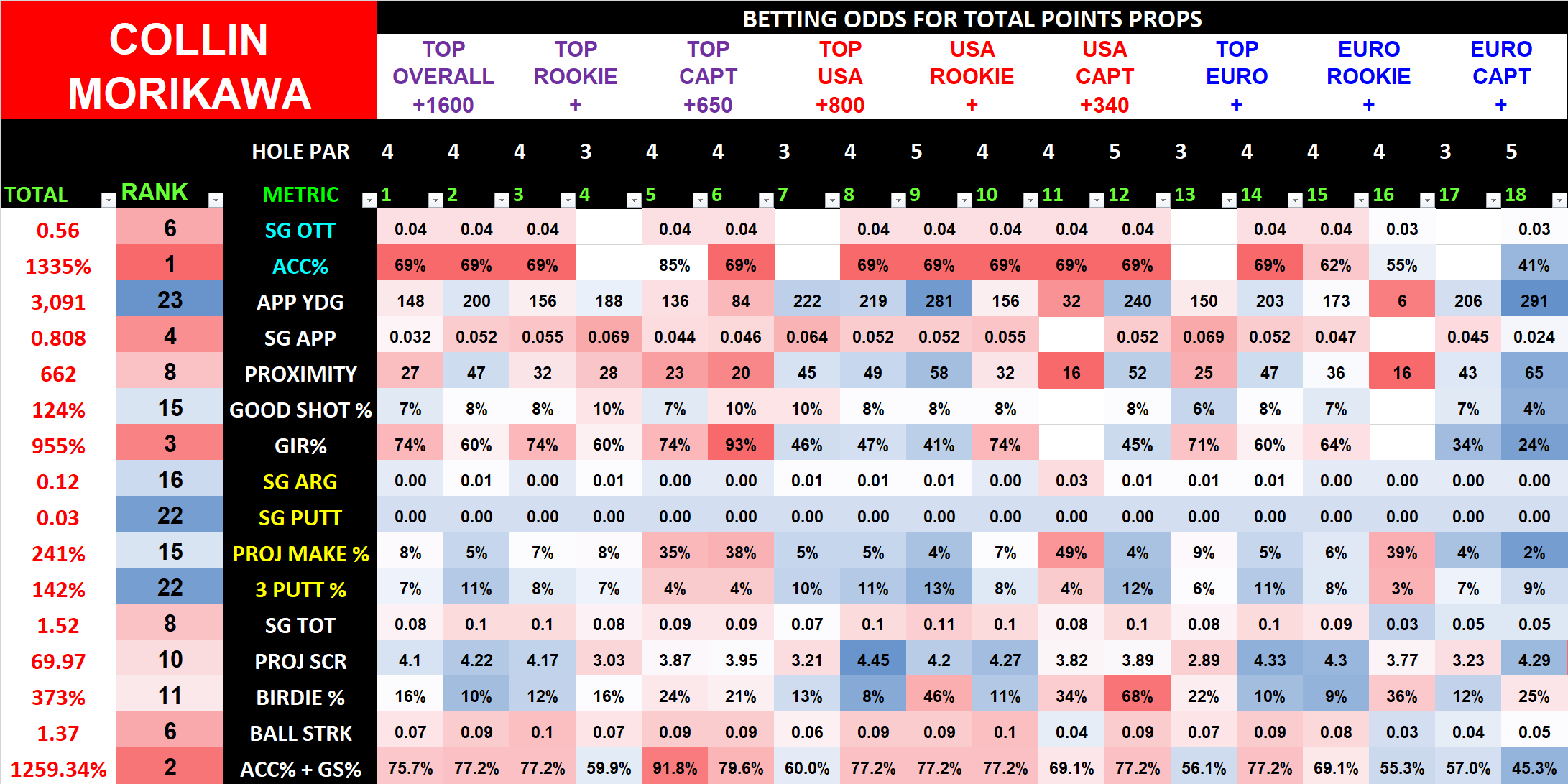 Fourballs Outlook
His lack of birdie power will likely see him only play 1 session of Fourballs, as his talents are better suited to foursomes. I have him partnered with Patrick Cantlay in the Day 2 session of Fourballs as Cantlay can roll them putts in at any moment, while Collin relies on his ability to repeatedly hit fairways and greens to get his scoring done.
Foursomes Outlook
I have Collin paired up with Harman in both foursomes sessions. I know there are rumors that Harman and Brooks are slated to play together, but my numbers don't show much of difference between Collin + Harman vs Collin + Max. This way Max can lend his putter to the likes of Scottie Scheffler in alternate shot format, while Harman can lend Collin the best putter in the Ryder Cup, which, by the way, helped Brian become the Champion Golfer of the Year!!!
Best Bet
Eh, conviction levels on Collin to get it done in fourballs and singles has me at 5/10 for top American points scorer @ +800. He was a captains pick which he is the favorite to win alongside Brooks at +340. I don't like that number either, but I have more conviction on this bet at 6/10 as it includes four golfers that I have projected to only tee it up 3 times (JT, Spieth, Burns, Rickie), leaving only Brooks at four projected matches in this market. My favorite bet for Collin at 7/10 conviction would be +650 for Top Captain's Pick, as the only two EUROs that give me pause in this market are Rose and Fleetwood.
Max Homa
Ryder Cup Track Record
Rookie!
Singles Outlook
Max played incredibly well in the Presidents Cup, winning all four of his matches despite not necessarily having his best stuff. He is a fierce competitor and I am very excited to see that he found some form to round out the season after winning 3 events to start the season last year. His approach play has been a little precarious lately, but the last little while he has managed to get it to a level where the rest of his game can take control of the match. I like his chances to win against about anybody he goes up against with a top 5 birdie % and putting which will determine his success at this event.
Fourballs Outlook
We have Max paired with Brooks in fourballs as Max leads the tour in Par 3 scoring and they grade out as the top USA duo in this format when looking at birdie rate, good shot % and ability to make putts.  Brooks makes for great partners in this format for Max and they should be teeing it up together in both fourballs sessions.
Foursomes Outlook
In foursomes, we are keeping Max away from Collin so that he could be Scottie's Scotty. Scheffler putts with a Scotty Cameron putter, if you are scratching your head at that last sentence. Max and Scottie kick out one of the most consistent 18 holes, gaining +0.1 or more on 16 of the 18 holes. I really like this pairing for Max.
Best Bet
Max is +340 to win Top Rookie and +175 to win USA Rookie, with conviction levels of 9/10 and 8/10 respectively. I don't mind doubling up the odds to add the EURO rookies to the market. We also like Harman at his number for USA Rookie, so going to Max in the Top Rookie allows us to like that bet a little more.
Wyndham Clark
Ryder Cup Track Record
Rookie!
Singles Outlook
This is the first screenshot that we see a lot more blue than red, which means we are starting to get to guys on the team who could be a liability if they play more than 3 matches. Clark won the US Open on the back of some incredible ball striking and a putter that refused to miss putts. The putter will be really helpful in his Ryder Cup debut, but the width of these Marco Simone fairways are not nearly as wide as LACC and his driving accuracy is a concern, despite having the second shortest average yardage into greens. He may be a fun DFS play, as he will be making bogeys and birdies like crazy with a driver that can be a weapon and wet noodle in the same round.
Fourballs Outlook
These are the only two sessions I have Clark projected to play in before singles. I think his erratic driver can function in this format. Session 1 of the fourballs he matches up REALLY well with Xander, sneaking inside the top 15 if they dovetail (their strength may be their partners weakness on a hole) well enough, not having to burn Scottie, Brooks or Cantlay on Clark, allowing them to be of service in other matches. In the 2nd session of fourballs I have Clark making birdies with Rickie Fowler, who somehow rank 31st in the average column.

Foursomes Outlook
Clark finds himself towards the bottom of most of the top American combinations. The driver being the main issue.
Best Bet
Not necessarily finding himself alongside Scottie or Brooks in either of my two foursomes projections, makes for some tough sledding. Him also likely only playing 3 matches limits his point earning potential, which leaves me with a 4/10 conviction rate on his USA Rookie bet at +300 and 5/10 on his Top Rookie market.
Rickie Fowler
Ryder Cup Track Record
Despite not having played last year, Rickie Fowler has the 2nd most American matches to his name. Unfortunately, he has only won 37% of those matches, with only 5.5 points since 2010. DJ scored 5 points in one Ryder Cup last go round. Rickie seems to find his guy for the Ryder Cup and play every match with him, not winning a single match with Jimmy Walker in 2014, but only losing 1 of the 4 team matches that year. It has not been a good time for Rickie and he is the first guy we are writing about who knows what it is like to be on the losing side of a RC.
Singles Outlook
Considering he has only won 1.5 points in singles, his outlook is rather glum. He played some really impressive golf to start the year, but really hasn't done much since his win at the Rocket Mortgage. However, he is third in good shot % and 8th in birdie percentage, which are not terrible metrics heading into the week.
Fourballs Outlook
I have Rickie with Cantlay in the first session of Fourballs which is a comfortable pairing, allowing Rickie to make a few bogeys in pursuit of the birdies he makes at a top-10 rate. Kick safety out the window for his second and final team match of the Ryder Cup, playing with a combustible Wyndham Clark as his partner for the 2nd crack at some more much needed Ryder Cup points.
Foursomes Outlook
Fowler just does not bring the consistency you want to a foursomes match. 18th in SG OTT is an issue for this format that warrants more safety and ball strefficiency. Rest up for singles during these matches, Ricksta!
Best Bet
Tough to bite on anything when evaluating his past record and my projections of only 3 matches. However, conviction of 4/10 for +1000 a Top Captains pick is the first double digit odds we have written about. I like the Americans in the Top Rookie / Captain Picks market as those exclude Rahm, Rory, Viktor and Scottie and are mostly saturated with Euros who I don't have much faith in rounding out the bottom of the EURO team. +600 at 4.5/10 for USA Captains pick also isn't the worst bet, but with a 3-match ceiling, tough to get convicted more than 5 on any bet.

Brian Harman
Ryder Cup Track Record
Rookie! Champion Golfer of the Year!
Singles Outlook
Woof. Those irons are no Beuno, at surface level, but he is rather tidy the closer he gets to the green, with his wedges being the best area of his game, particularly out of the rough, but that may have to do with the fact the he is missing in all the right spots off the fairway with that top 5 accuracy, which at Marco Simone is absolutely something you can hang your hat on. When you are the 7th best around the greens and THE BEST putter in the field, you make yourself useable in a few ways.
Fourballs Outlook
A birdie % in the bottom third of the 24 golfers playing is not ideal for fourballs, which makes me really wonder why I have Harman playing with Brooks in fourballs on Saturday. There is a good chance he gets limited to alternate shot only.
*Record Scratch -- I was writing up Brooks' and because of the rumors of them playing together, I had Brooks playing with three different dudes, which is very unlikely. So, we axed Harman from fourballs, replaced him with Max, and plugged Cantlay into the fourball with Morikawa, who Max was originally with.
Foursomes Outlook
This is where his putter and wedges can really spark something in his partner's game. Harman teeing off the even holes, with Morikawa on the odd holes seems to give this pair a much better chance than if you switch the tees. Their accuracy over distance off the tee may help them feel comfortable together, but Collin isn't super short like Harman is. Having the best putter on the same team as a golfer who can, on any given day, be the best iron player in the field, is a combination I really hope we get to see. I have Collin and Harman playing both foursomes matches.
Best Bet
This is so weird, as Harman made the team on points, yet has the worst odds to finish top overall points scorer at 70-1 at a conviction rate of 3/10. It's a sprinkle and at this number, if Harman gets off to a good start with Collin in foursomes, who knows where the winds blow that tiny man. A market that I really like him in is Top USA Rookie +500 6/10 conviction. With Wyndham and Burns potentially restricted to just two fourball matches as well, give me Harman at +500! Grab Homa for Top Rookie at +340 and if he stumbles, Harman at +900 is a decent hedge too, 6.5/10 conviction.
Sam Burns
Ryder Cup Track Record
Rookie! Match Play Champion and responsible for breaking Cameron Young.
Singles Outlook
One of the two reasons he made this team, was because he won the match play earlier in the year, in a week where his putter went scorched earth. The second reason is that photo of him and Scottie with snorkels and dad bods while they were vacationing together as best buds. If his putter does not show up this week, the rest of his game is a major concern that, unlike the life jackets on the boat they took that photo on, will not keep his game from sinking to the bottom of an Italian canal. He can also win every match he plays. Who the heck knows.
Fourballs Outlook
This format was designed for him and Scottie to go bananas together. If Burns gets off to a slow start, Scottie is basically the human equivalent of a life jacket, giving Sam some time to get his head above water and get the putter cooking - a crutch not available in foursomes.
Foursomes Outlook
As solid as Sam and Scottie look at the top of this list, scroll back up to pretty much every other screen shot for foursomes and Scottie will have his partner looking amazing. This is not the format for Sam and it's the reason we have him projected to only play a trio of matches.
Best Bet
If he wins all three of his matches will it be enough to secure the most points as a top Captain's Pick @ +750? Very possible there are only 3 matches in his future. However, he only has to get lucky with Brooks and Collin stumbling through their four matches to sneak through with 3 points in this format as JT, Rickie and Spieth projected to also only play 3 matches. He also gets the luxury of playing with the #1 golfer in the world. 5.5/10 conviction because his partner is the most reliable golfer on the planet, in a format that Burns' score could theoretically never matter and still win the matches.
Brooks Koepka
Ryder Cup Track Record
With Brooks Keopka's entire statistical profile hinging on 16 rounds of major golf, there is a lot of uncertainty about the status of his game. What is not uncertain is that he very likely slated to play 1 match of foursomes/fourball on Friday, another 2 Foursomes/Fourball matches on Saturday and then add to his unbeaten singles record in Ryder Cups on Sunday for a total of 4 matches, just like he did in his prior three Ryder Cups.
Singles Outlook
16 rounds of strokes gained and proximity metrics left me manually manipulating a lot of his stats down as winning a US PGA Championship and finishing 2nd at the Masters in half your starts will skew your stats a tad... we do know that he is super clutch when he feels up to it and now that he appears to be healthy again, we can expect him to add to his 2.5 singles points he has collected in 3 Ryder Cups.
Fourballs Outlook
I have Brooks playing with Max Homa in both the fourballs matches which makes a lot more sense than the trio of golfers I originally had him playing with. This pairing with max ranks as the number one USA combo for fourballs, so hopefully I am right and the captains pair them together. A lot of ifs involved, but it sure would be cool if they did get paired up, debunking the Morikawa / Homa Cal Bears partnership that missed the cut at the Zurich ... do we really wanna roll that out again?
Foursomes Outlook
Brooks + Scottie could potentially be a power couple that even Travis Kelce and Taylor Swift would get jelly about. The number one ranked combo in my model with Brooks going off the odds and Scottie off the Evens. Sixteen holes gaining over +0.1 strokes on average could put their opponents in a hole early.
Best Bet
Brooks as USA Captains pick at +335 is something that appeals to me. Spieth, Fowler and Burns projected to have 3 starts leaves just Collin with 4 starts too, and now Brooks is part of the two best combos in both team formats, this is a 10/10 conviction pick. Leave Harman out of Brooks pairings and see what Brooks Cooks with Max and Scottie.
Jordan Spieth
Ryder Cup Track Record
It is weird to think of Jordan as one of the veterans of this bunch, but, he will be playing in his 19th Ryder Cup match the next time he puts a tee in the ground in Rome, which leads the team by 3 matches and also 3 more career points than anybody else. Spieth is like a penguin, monogamous in nature, only ever partnering with JT (6 times) or Patrick Reed (7 times) ... we won't mention that hall pass he got with Brooks in Fourballs of the 2021 Ryder Cup.
Singles Outlook
A byproduct of monogamy is offspring, which Spieth has two of now. Congrats to the Spieth's on their baby girl who just came into the world a few days ago. Spieth tends to thrive in chaos, but he may be overserved on the crisis infused martinis that have him and his fellow fans buzzing with anticipation for the next death-defying stunt to show up. His game has been in complete shambles the last few months, and despite his stellar Ryder Cup record, I fear that he will have a rather disappointing Ryder Cup again after going 1-2-1 his has last one. He is Jordan Spieth, after all, so anything is possible, but the numbers do not look good.
Fourballs Outlook
If Zach Johnson rolls Spieth and JT out for a fourballs match, he should be investigated for malpractice. Only a combo of Brian Harman and Spieth has a worse upside projection than the illustrious JT Spieth duo.

Foursomes Outlook
The numbers look disgusting, but if ever there were some team chemistry that could miraculously win a match or two, it's when Spieth and JT play with each other's balls. Playing with the same golf ball just adds camaraderie to the mix and I think with the current state of both their games, scrambling for pars in epic fashion to halve holes that should have been unequivocally lost, is more their brand than rolling in birdie putt after birdie putt. I have them projected to play both alternate shot sessions and cheer the boys on from the sidelines during the fourball formats.
Best Bet
I really don't want to suggest betting on either of these guys right now, convicted at 1.5/10 for top Captains Pick at +900. Neither Spieth or JT deserve to be on this team based off their recent play.
Justin Thomas
Ryder Cup Track Record
A stellar track record in his two appearances, notching up 6.5 points in his 9 matches. A Patrick Cantlay fling was the only time he has not played with Spieth in team formats, and the way the two of them are playing entering the week, those 6.5 points JT has earned may remain unchanged by the end of the week unless some miraculous, momentous, monstrosity of a turnaround occurs in BOTH their games.
Singles Outlook
When your best stat is strokes gained around the green, which is a stat that you can add more strokes to the more you miss greens in regulation, things are not good. Justin Thomas won all those points as a top 5 golfer in the world at the time. He is currently not even a top-70 FedEx Cupper in a LIV-depleted PGA Tour. I know it sounds like I am taking an absolute dump on JT being on this team, and it sounds like that, because I am... he has not sniffed a win in over 12 months, while Keegan Bradley will be defending the ZOZO Championship AND The Travelers Championship this season. Yet, Keegan sits at home with his Ryder Cup bag, still not unpacked from the last time he was on the team.
Fourballs Outlook
Don't. Do. It. Zach. Do not send these two out in this format...
Foursomes Outlook
This foursomes screenshot has more blue colored numbers than a Smurfs math class. Maybe his top 5 at the Fortinet gets him going but he also had his third best putting performance of the year, on a Poa surface that he has found success on in the past. The Italian Paspalum greens may turn his putter back into the icicle he has been lugging around for the last while.
Best Bet
1/10 conviction, Top USA Captains Pick.
Rory McIlroy
*Even though we are now to the European players, remember that red = good, blue = bad
Ryder Cup Track Record
The most experienced golfer of the 24 with 28 matches, never playing less than 4 per Cup. Despite being Rory fricken McIlroy, he is only winning points 50% of the time, which is not terrible, but is 47th on the all-time win% list for golfers with 10+ matches. Luke Donald sits at a ridiculous 70% (10th) in his 15 career matches with Justin Rose at 61% (25th), to put Rory's 50 50 track record into perspective.
G Mac grandfathered Rory into the squad his first two appearances, partnering with Sergio with mixed results in 2014. I wonder what Thomas Pieters is doing right now? As Rory swept the Americans in 2016 with the Belgian on his team. Doses of Ian Poulter for his final two Ryder Cups ended with three losses of the four matches, with Rory losing 7 matches in his last two Ryder Cups (9 total matches).
Singles Outlook
An absolute monster off the tee, it's no surprise his APP YDG is the shortest in the field. The only question is will he and his partners be using a wedge from the fairway or from the knee-high fescue that lurks alongside the bottle-necked fairways, with Rory's distance leaving him the least amount fairway to work with. His birdie % on the year ranks 7th while his strokes gained is second only to Scottie.
One to thing to note about Rory, is his putting that ranks better than 6th in rounds 1 and 2, but as the weekend rolls by, so does his golf ball past the hole, so much so that he averages negative strokes putting on Sunday. You would imagine that a Ryder Cup is made up of three straight Sundays, which may explain why Rory hasn't quite reached his potential in this format.
Fourballs Outlook
You can put anybody with Rory McIlroy in fourballs, while Rory and Viktor would be one formidable pairing, you would put two of your three best players in the same match, which likely won't happen given Europe's lack of depth. I have Rory projected to team up with Tommy in the first fourball session and Robert MacIntyre in the second of this birdie infused format. MacIntyre doesn't really bring much to the party, but you gotta pair him with somebody, so why not grandpa Rors?
Foursomes Outlook
I would imagine Rory and Lowry give it another crack in foursomes this year, with Rory taking the reins off the tee on the odd holes. Even though the best combination of Rory and Lowry ranks 18th, when we get to Shane's profile you will notice Rory gives him the best chance of success. Rory is paired with two golfers who he will have to uplift in three of his four matches, making his overall outlook a little murky despite playing all 5 matches.
Best Bet
My conviction level on Rory to be the top Euro is 4/10 despite owning the shortest odds in that market of +450. Since he is potentially playing all five matches, if you want to bet Rory, I would head over to the Top Overall points scorer at +900, as your investment does not have to be as large as the Euro market, doubling his odds and really only adding Scottie and Cantlay to the pool of guys potentially playing all 5 sessions.
Viktor Hovland
Ryder Cup Track Record
His first Ryder Cup was a rough one, not winning a match, drawing against JT and Cantlay in fourballs and Collin singles. However, his matches went all the way to 17 four times. A played 5 matches as a rookie, and if we take a loot at his statistical profile, it is likely we see him trot out with that infectious smile five more times in Rome.
Singles Outlook
From a pure ball striking perspective, Hovland ranks 3rd, but when looking at upside, he leads the Ryder Cup in good shot %. Hovland is 62nd on tour in birdie or better % on Par 3s, yet leads the tour in the same metric for Par 4s, which, upon further investigation, makes a ton of sense. His ultimate strength comes from the rough 150+ yards, with nobody bettering his 13.5% of good shots. There is no rough on a Par 3 tee box, levelling the playing field on the Par 3s a little.
The gap between his Good Shot % and 2nd (Tyrrell), is the same size as the gap between 2nd and 14th. In fact, his 13.5% out the rough from +150 is almost DOUBLE Xander at 7%, the NEXT BEST player in this Ryder Cup. With the fairways narrowing the further you hit it, his accuracy will keep him away from the super long stuff, while dominating on approach if he finds himself just off the fairway.
Fourballs Outlook
There are five teammates of his 11 possible combinations that simply don't provide any additional upside to the fourball pairing, on average. This is golf, though, and we can expect his partners to make birdies on holes he doesn't, but on average, Viktor will carry most of this European team. Hovland and Aberg will be my prediction to play together in Fourballs, both incredible drivers of the ball and a duo of fireworks that could be unstoppable if they max out their potential.
Foursomes Outlook
Pairing Hovland with Matt Fitzpatrick in foursomes with Vik going off the even holes should emphasize his driving dominance and wedge play, while allowing Fitz to more long iron approach shots which Fitz does much better than wedges. If we flipped the tees of this pairing, it would be THE biggest drop of expected total strokes gained of USA and EURO pairings, losing -0.28 expected strokes. This way we are maximizing Hovland's strengths and hiding Fitz's weaknesses.
Best Bet
Top Overall Points scorer, 9/10 conviction, not a 10/10 because of who he is partnered with in my projections. But, if his partners bring the heat, he could easily add his first Ryder Cup win to the resume, potentially 5 of them at +1200. Top Euro at +600 is also appealing, but we want to hammer another golfer in that market at +1200 so stick with Vik in the Overall props.
Jon Rahm
Ryder Cup Track Record
No Sergio, no problem? Rahm's only team wins came with Sergio Garcia, beating down on anybody that got in their way while adding three Spanish points to the EURO total last Cup. He will have to take on the role as the next Spanish stalwart on this team, and with no budding Spaniard available to put under his wing, his partners this week could be just about anybody.
Singles Outlook
Rahm has lost a bit of his edge with the driver lately, fighting off a two way miss since adopting more draws into his game off the tee. He may lean on that trusty fade entirely this week, which should see him in the mix to beat just about anybody in singles not named Scotty Scheffler, who is the reason Rahm isn't the top birdie maker in this Cup.
Fourballs Outlook
As somebody with a similar body type to Rahm, albeit faaar less athletic, we both enjoy a danish or two, which makes Nicolai Hojgaard an ideal candidate for Rahm to bring under his wing in a format that will allow the rookie to ease into the event and escape with a few bad holes early on. I have Rahm caged with Nicolaai both sessions.
Foursomes Outlook
In Rahm's first session of alternate shot, lets project one of the spiciest pairings getting rolled out there in a tribute to Garcia, with Tyrrell Hatton taking the odd hole tee shots and more makeable putts, while Rahm pounds driver 8 times around a course that will be demanding off the tee. With Tyrrell recharging his emotions on Day 2, enter Justin Rose, who will take the odd holes off the tee while Rahm dials in his long irons in this combination of Ryder Cuppers who have a total of 18.5 points to their name.
Best Bet
The overall top points scorer market is hanging a +1200 on Rahm, which is +300 longer than Rory. Since we are fading Rory, Rahm will be our 9/10 conviction bet in this market alongside Hovland, with hopes that one of them walks away from the week having added 4.5 points to the Euro total at an average of +600 between the two of them.
Tommy Fleetwood
Ryder Cup Track Record
Moliwood was truly the best four rounds of golf Tommy has probably played in his career, not quite finding his groove since Frankie left Tommywood in 2018. What can he get up to this year? The decision to only play Tommy in fourballs last year is interesting, as his style of play definitely suits alternate shot a lot more.
Singles Outlook
The reason he should be a better foursomes partner lies within the birdie % of 15th and SG ARG of 4th. Fleetwood has an incredible touch around the greens, which should come in handy avoiding bogeys in his singles matches too. His accuracy off the tee will give him a lot of stress-free approach shots which will hopefully help him make a few more birdies. If you take a look at Tommy's round by round stats, his ability to play great golf on Sunday has been a major issue for him on the PGA Tour, which will be interesting to see translate to pressure packed Ryder Cup Sunday singles.
Fourballs Outlook
Even though his game is better suited for foursomes, he is still a much better player than the bottom half of the Euro team. Pairing him with Rory should free up Rory's game, knowing that he most likely has a par sealed up on the majority of holes.
Foursomes Outlook
Pairing him with Sepp Straka in both sessions of foursomes should be a combination of sugar and spice, with Tommy playing steady stress-free golf to allow Sepp to do what he does and channel his inner John Deere Classic, capable of shattering a course record on any given day. Both are very accurate off the tee, which should see them in the short stuff a lot, knocking over the dominoes of momentum early on every hole.
Best Bet
My expectations of Tommy are Luke warm, as his birdie making ability in match play keeps him from getting upgraded to Luke Donald. The market is overly bullish on Fleetwood, which leaves our general conviction levels around 6/10 for any bet out there. His best chances at cashing in any market may come as top Euro Captain's Pick, dealing with Rose, Lowry, Aberg, Straka and Hojgaard as rivals to his rather short +250 tag.

Tyrrell Hatton
Ryder Cup Track Record
A bit of a mixed bag in terms of results and partners for the Mad Hatton in his two showings so far. It should come as no surprise that his spicy personality had him paired with 3 different partners in his 3 team matches in 2021.
Singles Outlook
Hatton's issue on approach, are his REALLY bad shots that cost him multiple shots on a single hole. He is 12th on tour in birdies gained, but 42nd in doubles avoided, which is combination that should see him trading birdies and doubles with his opponents routinely. He is a really solid putter, which can be lethal in this format if he were to get hot on the greens.
Fourballs Outlook
He makes a reasonable amount of birdies which should suit this kind of format especially with his ability to try rival Hovland on the good shot % front. Hatton played with veteran Englishman, Paul Casey, back in 2018 and who better to fill Casey's shoes than another English veteran, by the name of Justin Rose. Lock these two in together for both fourball sessions and watch the birdies flow like a warm cup of Earl Grey tea.
Foursomes Outlook
This format may not suit Hatton's erratic style of play as we are looking for consistency and steady tendencies. However, he is still a remarkably better option than Straka and MacIntyre in this format. As we mentioned in Rahm's profile, pair these two up for an all-time spicy pairing in the first session of foursomes, with Hatton getting some emotional rest in the second session.
Best Bet
The issue with Hatton is that he made the team on points, so his only two markets are top overall and top Euro, which, even at +750 is not all that appealing, knowing that Rory, Rahm and Hovland will likely get 5 matches a piece. Conviction of 4/10 for top Euro and 3/10 for top overall at +2000 simply as a result of not getting 5 full matches.
Matt Fitzpatrick
Ryder Cup Track Record
Impossible to find a worse two Ryder Cups than what Matt Fitzpatrick got off to, losing on the final hole twice, and getting dished ice-cold L's in all five of his matches so far. It is good to see that they played him in foursomes for his three team starts, as that definitely is how his stat profile aligns.
Singles Outlook
In pursuit of the distance that won him the US Open in 2022 on a tough Brookline course, Fitz has lost control of his game the last while. His accuracy and SG OTT are really substandard and his birdie % is the 2nd worst of the two dozen players. Furthermore, he tends to thrive on courses where greens are smaller and tougher to hit, but Marco Simone has some massive greens that will test his 3-putt avoidance and SG Putting, which are both fantastic. If you can't make birdies, you can't win holes, which gives me immense pause over his ability to contribute to the team once again, especially with the way he is playing right now.
Fourballs Outlook
LoL, moving on to foursomes, swiftly.
Foursomes Outlook
I really like Hovland for Fitz in foursomes. As we discussed in Vik's profile, this combination has the biggest edge going off with Fitz on the even holes and Hovland on the odds. With neither of these two having won a match in 10 attempts, hopefully Hovland's aggressiveness on approach out the rough forces Fitz to hole a few more birdie putts than he is used to.
Best Bet
I know that we want to suggest bets for each golfer, but holy cow, I am not going to waste my time suggesting to bet a guy who will not see a 4th match at all. 0/10 conviction, despite partnering with a guy who puts the Vik in conviction. +2200 Top Points and +900 Top Euro if you want to waste money.
Justin Rose
Ryder Cup Track Record
The only golfer playing who also played in the 2008 Ryder Cup, striking fear into the American hearts anytime he and Henrik Stenson played together. He has as many total points as Rory in 5 less matches, which is funny because he has been around for longer too. He has not played less than 4 matches any time he has made the team, often being a key contributor. He is my favorite player to keep an eye on this Ryder Cup.
Singles Outlook
Having won 2 of his five singles matches, with a half in another, Rose is batting 50% on individual points contributed to team Europe. Rose is exceptional at holing putts from 15-25 feet, leading the PGA tour in make % with about 1 of 4 putts in this range finding the bottom of the cup. His length off the tee is a major inhibitor on Par 4s and 5s, leaving him further from the hole for his bridie putts because of his relatively lengthy approach distance (21st). He is never out a hole and will be looking to bat above 500 after Sunday singles.
Fourballs Outlook
He man not be the ice-cold Swede that is Henrik Stenson, but Tyrrell Hatton seems like a fantastic replacement for Rose, as we discussed in Hatton's profile. Full send on both sessions for team tea and crumpets!
Foursomes Outlook
I have Rose playing with Rahm in the 2nd foursomes session, as Rahm's length will make up for Justin's lack thereof.
Best Bet
I love Rose's experience, course fit with narrow fairways, and if he gets partnered with who we have him projected, I love his playing partners too! If you are looking for one more reason to love Rose, he is +1100 to for Top Captain's Pick points total. The only people who can really rival Rosie in this market are Brooks and Collin, two of which are roughly half the odds you can get on Rose. A safer more likely scenario to get action on the elderly Englishman, would be in the Top Euro Captains pick point scorer, where he is +400 to score more points than Fleetwood, Lowry, Aberg, Hojgaard and Straka, four of which will be capped to 3 matches if my projected starts are accurate, while Fleetwood will do well to get over 2.5 points. TEN/TEN CONVICTION ON BOTH BETS!!!
Shane Lowry
Ryder Cup Track Record
I am not sure what the game plan was rolling out Lowry in fourballs with a birdie average that was 144th on tour in 2018. Three years later he ranks 146th in bridie average entering this week. Expect him to get shifted to foursomes this go round.

Singles Outlook
Lowry is 24th in birdie %, which is dead last. His strokes gained total is not much better either at 18th. The only metric to slip into the top 10 is Lowry's accuracy OTT which gets nullified the moment he lands up on the green, ranking 19th in putting. Lowry is another golfer I will be looking to fade in matchups on Sunday.
Fourballs Outlook
Nope...
Foursomes Outlook
Rory going off odd tees and Lowry on the evens gives him the best chance at success in foursomes, with either tee combo involving Rory grading out as Lowry's optimal partner. Still not ideal that you have to burn Rory to help Lowry out.
Best Bet
Fade him in singles against almost any American and if they send him out in fourballs again, depending on his partner, fade them too.
Ludvig Aberg
Ryder Cup Track Record
Rookie!
Singles Outlook
Ludvig Aberg may land up being one of the more popular EURO rookie bets as his potential is limitless with the way he drives the ball. Accuracy and length has him ranked only behind Rory and Scottie in SG OTT, which are two of our generation's best drivers of the ball. However, the approach play for Ludvig can be a little problematic at times. His short game can run hot and cold and kind of like Rory's putter, Aberg tends eject himself from the top of the leaderboard either on Saturday or Sunday when the pressure of winning a tournament builds up.
He won the Omega masters by birdying a bunch of holes on the back 9 when expectations to win the tournament were not as immense as holding the lead at the BMW Championship at Wentworth two weeks ago. He shot the sixth worst score of the day, losing -4 strokes to the field. A Ryder Cup Friday is easily as much pressure as a weekend round in contention. The only difference is he has to beat only one or two Americans regardless of how poor he plays when nervous.
Fourballs Outlook
Love this pairing for Aberg, who will lean on Hovland as a mentor in his Ryder Cup debut. If Aberg shows some form in his early matches, he could get bumped into a foursomes spot if a stud who was slated for 5 matches needs some rest or to reset after a poor first few matches. How he deals with the pressure will be fascinating and no better format to ease him in than fourballs, where Hovland can put him on his back the entire match if necessary.

Foursomes Outlook
I don't see him partnering with anyone other than Viktor if he lands up playing a fourth match.
Best Bet
Three other euro Rookies will be looking to score more points than Aberg, with Aberg the most likely to get a 4th start out of Sepp, Hojgaard and Bobby Mac. 9/10 conviction for Top Euro Rookie +185.
Nicolai Hojgaard
Ryder Cup Track Record
Rookie!
Singles Outlook
As a rookie with the 6th most distance off the tee, that seems to be a skill set that can be best utilized in fourballs. With as far as he hits it, if he can keep his ball out the long grass, he should afford himself enough greens in regulation to keep his card clean of bogeys. However, if the driver starts miss behaving, he could land up losing holes before hitting his second shot. A true wild card profile.
Fourballs Outlook
Having Jon Rahm as your fourball partner in your debut is a great way to start your Ryder Cup career. I have him projected to play both sessions with Rambo.
Foursomes Outlook
His game seems a little too erratic to run him out in foursomes, as the nerves of having to rely solely on his shot 50% of the time could be a little too much for the DPWT rookie who struggled to find his feet on US soil after clinching special temporary membership. He has multiple top 5s on Euro soil, which may help calm him down a little as well, playing in Rome.
Best Bet
If you didn't like Aberg's number at +185 for Top Euro rookie, +300 for Hojgaard who could sneak in two freebie wins in fourballs depending on how Rahm plays. He is +750 for Top Rookie, but I really like Max's chances to win that.
Sepp Straka
Ryder Cup Track Record
Rookie!
Singles Outlook
Sepp is absolutely capable of winning a bunch of points for his team. He is also capable of being the worst player on the team depending on what Straka shows up. His accuracy off the tee will serve him well in singles as he should keep his ball in play allowing him to keep hitting greens in regulation to tune of 4th most of the 24. Although his strokes gained putting is middle of the pack, he is capable of dominating with the flat stick at any given moment.
Fourballs Outlook
With the high-octane rookies of Aberg and Hojgaard taking up the fourball spots that Sepp would thrive in too, his to other matches need to take place in foursomes.
Foursomes Outlook
He is probably the better of the three options to play in foursomes as his Accuracy with the driver and GIR% are ideal metrics to compliment any partner in this kind of match. Tommy Fleetwood's consistent ball striking and solid around the green play seems like a solid pairing that could compliment each other.
Best Bet
If Straka and Fleetwood land up playing together in foursomes, their points total will be correlated for those two matches. Fleetwood is +250 while Straka is +800 for Top Euro Captains pick, potentially accumulating the same amount of points in 2 of the 5 matches. If Fleetwood loses his fourball match, Straka is a singles win away from totaling 3 points for Europe. The value at +800 seems like a reasonable bet considering everybody else in that market is likely to play 3 games. 7.5/10 conviction purely off the price point alone.
Robert MacIntyre
Ryder Cup Track Record
Rookie!
Singles Outlook
Pretty sure if Luke Donald could have traded away an automatic qualifier for another captain's pick, Robert MacIntyre would be watching the Ryder Cup with us on his couch. He has only four tournaments in 2023 where he averaged over a total stroke per round. His solo second at the Genesis Scottish Open pretty much secured his spot on the team. Not ideal. I would fade him against all 12 Americans in singles matchups if the odds allow. Nothing about his game inspires confidence.
Fourballs Outlook
On average, one player plays only two matches in a Ryder Cup. Bob is going to be that guy in our projections! He is essentially going provide some breathing room for somebody who needs rest, while he plays with Rory in a format that doesn't need Bob to bring his best to still win it.

Foursomes Outlook
Very unlikely he plays in foursomes.
Best Bet
0/0 conviction on any Bob related bet, with his most likely outcome being most points by a Euro Rookie, which he has the worst odds of the four at +400.
Thank you so much for using RotoBaller for all your Ryder Cup needs! Please don't forget to show your support by signing up for our premium package to get your hands on my 3 models and other data in spreadsheet form that you can manipulate to your heart's desire. If you want to keep your hard-earned money in your pocket, that is totally cool too. It is free to retweet my pinned tweet if this helped you prepare for the exciting week ahead and will help tremendously to get this awesome tool in as many people's hands as possible!
Win Big With RotoBaller
Golf is back, and it's time for you to win big with RotoBaller!
Our PGA DFS Premium Package
 features several savvy analysts and proven DFS winners.
Our very own Joe Nicely recently took down a big DraftKings DFS tournament for the Travelers Championship. And as an encore, RotoBaller subscriber @tenndolly2 won $100K on FanDuel with the help of Joe and the rest of our Premium PGA team:
If you read my articles @RotoBaller or listen to @TheTurnGolfPod I've been telling y'all it was #WinningSeason when golf came back! Shoutout to the entire @RotoBallerPGA squad and all you guys that support my work for all the ❤️ pic.twitter.com/07a4ynvbSU

— Joe Nicely (@JoeNicely) June 28, 2020
Congrats @tenndolly2 ???

Thanks for being a @RotoBaller PGA DFS Premium subscriber & checking out all the amazing golf content that @JoeNicely produces every week! https://t.co/tHKZVsPbbt

— RotoBaller PGA (@RotoBallerPGA) August 10, 2020
Between all the incredible
Premium PGA DFS
content and tools we put out each week, and our Premium Slack Community where we chat with our subscribers before lineups lock, RotoBaller PGA subscribers are armed with the tools, analysis, and advice to win big.
Golf DFS News and Player Outlooks
More PGA Analysis and DFS Lineup Picks