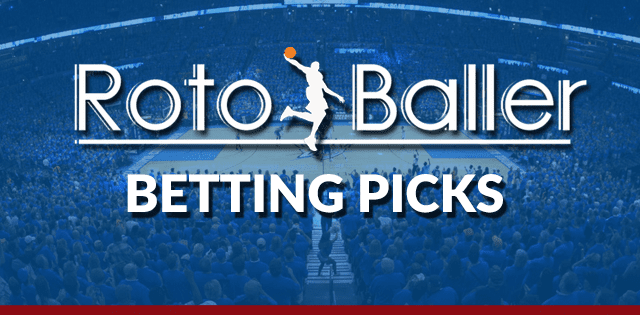 We have trimmed the field from 68 down to 24 with 16 of those teams in action today to see who will make it to the next weekend. We've had some monster upsets this year. Furman? Yeah. Princeton says to hold my beer? Princeton? Fairleigh Dickinson says hold my keg of green beer. There promises to be more wackiness today, so let's enjoy it!
Yesterday, Tennessee mugged Duke into submission, Princeton got the largest margin of victory win in history for a 15-seed, Kansas lost outright, and UCLA won but blew the cover. Oh well...I guess we have to get back on the horse that bucks us off, and I got thrown pretty good yesterday.
In this article, you can find some of my favorite picks for day two of the NCAA Tournament on Sunday, March 19, 2023.

Featured Promo: Our brand NEW exclusive Props Optimizers for Prop Bets and Prizepicks DFS Props are available for 50% off for a very limited time. Use discount code PROPS and win big with RotoBaller's prop picks today.
SIGN UP NOW
(4) Connecticut vs. (5) St. Mary's
UConn is one of the more dangerous teams left in the tournament. Just take a look at their run through November and December. They can score at will and have a huge post presence in Adama Sanogo.
St Mary's plays tough defense, but I'm not sure it's enough to slow down this Connecticut squad. Can Alex Ducas have another huge game like he did against VCU? It seems unlikely since UConn is a better defensive squad than VCU and they aren't quite as sloppy.
Pick: Connecticut -4
(3) Kansas State vs. (6) Kentucky
Kansas State's guard play is a big advantage in this game behind Markquis Nowell. Kentucky finally has all of their guards healthy, but that isn't where the (blue) Wildcats have the advantage. The big question here is who from the Purple People Eaters can stop Oscar Tshiebwe?
Much has been made of K-State's less-than-stellar record in true road games this year, but neither team really has an advantage in Greensboro. Kentucky fans will be out in flocks, but K-State travels pretty well.
I do like the Kansas State defense and the fact that they are tested. If Kentucky turns this into bully-ball, I think it actually favors the (purple) Wildcats. Not enough that I would take them outright, but enough to keep this game within one shot.
Pick: Kansas State +3
(3) Baylor vs. (6) Creighton
Baylor is huge in the middle, which will likely be a problem for Creighton. NC State couldn't really handle Ryan Kalkbrenner, but Baylor might be able to. Maybe. Not if Kalkbrenner is going to nail threes like the rest of the team though.
Creighton has a big guard advantage, and they turned Ball Arena into Birdcage West on Friday. Lot's of people who made the 7-hour drive out to Denver to watch the Jays are still there. This may feel like a road game for Baylor and I think they are going to need someone to step up along with Adam Flagler. Who will that be?
Creighton lives and dies by the three, but less so than in recent years. The outside shooting is still going to be an issue for Baylor defensively. I'm not going to lay a lot on this game either way, but I'm definitely using the Creighton moneyline. They are more likely to get hot than the Bears.
Pick: Creighton ML -105
(9) Florida Atlantic vs. (16) Fairleigh Dickinson
The shortest team in the tournament...the team seeded dead last overall...took out the tallest player in the tournament in a colossal upset. Was it better than UMBC taking out Virginia in 2018? That's hard to say since the Retrievers beat Virginia handily and FDU needed the whole game to beat Purdue.
Or did Purdue beat themselves? Zach Edey, taller than most of FDU's team by a good eight inches, didn't take a shot in the last eight minutes of the game. There is really no excuse for that. I mentioned that Purdue's big flaw was guard play and they proved me right. They shot so poorly from the outside in that game that no one wanted to take a shot for the Boilermakers down the stretch.
Today is a new day for the Knights, and FAU brings a whole new set of problems. This team isn't afraid to shoot and their guards are plenty good enough to win this game. On paper, this is a better matchup for FDU simply because FAU isn't a lot bigger than them. That doesn't tell the whole story. Purdue was scared and soft. You can't say the same for the Owls.
That said, 15.5 is a LOT of points. FAU only scored 66 in the first round and FDU scored 63. Assuming FAU stays around that 66 mark, they would need to hold FDU to 50. For context, Richmond was the only team to hold FDU to 50 points this season. Not even Purdue with all of their size could do that.
Pick: Fairleigh Dickinson +15.5, u149
Favorite Parlay
Creighton ML, FDU +15.5, Kansas State +3, Connecticut -4, TCU +5 (+4319)
I'm a little less crazy with the parlay today. There aren't a lot of bets that I like. Maybe I'm just a little shy...and a little salty...from losing a buck on yesterday's parlay.
My three-legger is going to be Crieghton ML, FDU +15.5, and KSU +3
Thanks for reading, and remember to gamble responsibly.
More March Madness Analysis