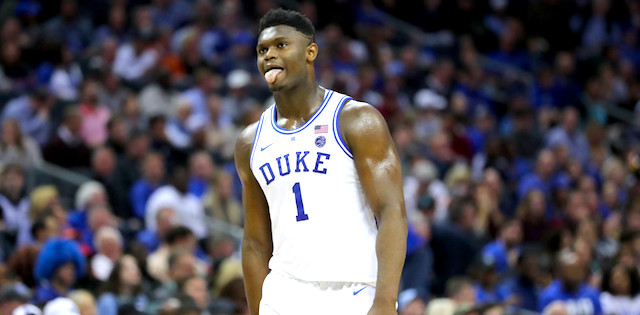 Welcome to the final part of RotoBaller's 2019 NBA mock draft, where I'll be looking at the non-lottery part of the first round.
Things get murkier here and paths to immediate NBA fantasy basketball impact get tough to judge, but there should still be some solid players in the mix who can help you in re-draft leagues and their NBA teams right off the bat.
Don't forget to check out the first and second parts if you haven't yet.
Editor's Note: Get any full-season NBA and DFS Premium Pass for 50% off. Our exclusive DFS tools, Lineup Optimizer and daily Premium DFS Research.
Sign Up Now!
GUYS TO CONSIDER: Bruno Fernando, KZ Okpala, Mflondu Kabengele, Luguentz Dort, Nicolas Claxton, Dylan Windler, Chuma Okeke, Jontay Porter
2019 NBA Mock Draft: Round 1 - Picks 15 through 30
15. Detroit Pistons: Nassir Little (F, North Carolina)
I've seen Little all over the place in mocks this year. A highly-touted prospect out of high school, he failed to crack double digits in scoring average at North Carolina and shot 26.9 percent from three.
Little's reportedly been showing improvement at workouts ahead of the draft and could be a late riser up draft boards, but I'm just not sure I see it. He doesn't have the size to be a guy who gets to the NBA and doesn't have an outside shot, because then he's basically stuck being an undersized four who isn't particularly helpful on defense aside from when he's crashing the boards. Detroit's a team that could fall in love with his upside, because they need an upside player, but I don't see his rookie year going very well.
16. Orlando Magic: Tyler Herro (G, Kentucky)
I was tempted to go with Bol Bol here because we know the Orlando Magic love size, but they might need to prioritize the ability to hit shots over the ability to be very tall.
In Herro, Orlando adds a strong shooter who can help a team that finished in the middle of the pack in long range shooting last year. With Terrence Ross a candidate to leave the Magic in free agency, Herro can step in and fill up some of the shot volume left behind by his departure. Herro's numbers from three weren't perfect last year with the Wildcats -- 35.5 percent on 4.6 attempts per game -- but his 93.5 percent shooting from the foul line is a reminder of just how good a shooter he is. Expect him to be a viable source of three pointers in fantasy leagues fairly quickly.
17. Atlanta Hawks: Keldon Johnson (F, Kentucky)
The Hawks got this pick from the Nets in the deal that also landed them Allen Crabbe, and while for the purposes of this mock, I'm ignoring the potential for picks to be traded...the Hawks have three first rounders and could definitely be looking to trade.'
But if they keep 17, Keldon Johnson makes sense for them. Johnson's NBA outlook is basically "three-and-D wing or bust," but his 38.1 percent mark from deep at Kentucky suggests he should be able to shoot at the next level. He'll be fine for the Hawks, who were third in the NBA in three-point attempts but just 16th in three-point field goal percentage.
18. Indiana Pacers: Nickeil Alexander-Walker (G, Virginia Tech)
The Pacers could use some guard depth, especially with Tyreke Evans currently banned from the league. They get that in Alexander-Walker.
He can shoot and defend, plus he's good enough as a passer to spend some time leading Indiana's bench units. Last year, he scored in the 88th percentile in transition and 82nd percentile on spot ups, and both of these are good signs for his ability to be Indiana's third guard. And with Victor Oladipo injury concerns, Alexander-Walker would find himself with some pretty immediate minutes and a sizable workload.
19. San Antonio Spurs: Kevin Porter Jr. (G, USC)
Porter didn't really show us enough in his one season at USC for us to get a great read on his ability to compete in the NBA, which is part of why I see him falling to 19. He can create his own shot, but I wouldn't trust him to create shots for others. He can put the ball on the floor and get to the hoop, but he also flashed some high-level efficiency from deep as a Trojan.
But he's also shown signs of being a little too careless as a shooter, of being the guy who just wants to take whatever shot he can get. That can hurt him in the NBA, as can his lack of consistency on the other end. He's going to have to work on shot selection, but Porter has the chance to be a very good third guard.
20. Boston Celtics: Bol Bol (C, Oregon)
Bol Bol has been one of those prospects whose outlook over the last year has swung around wildly, but what it comes down to is that he's very tall and can shoot from anywhere and those are two very important things in a prospect.
Bol Bol played just nine games last year, so we're working off a small sample, but across those nine games he shot 52 percent from three on 2.8 attempts per game. He also grabbed 9.6 rebounds per contest. It's not hard to see Bol as someone who grabs a lot of rebounds, shoots the ball well, and gives you more assists than you're used to from a center.
But defensively...yikes. I've seen a decent amount of talk on Twitter comparing Bol to last year's number-one overall pick, Deandre Ayton, on that end, as both guys have offensive skill sets that fit what the NBA is looking for in a center who can stretch out the floor, but both also struggled in college to be playable defensively. Bol's physical build might make it harder for him to end up being useful defensively, as he may just be too slow to properly defend at this level. His offensive game will get him on the floor, but he's still such a project on the other end that I'd expect G-League minutes in his first season.
21. Oklahoma City Thunder: Cameron Johnson (F, North Carolina)
The Thunder add a senior to the team with this pick, and grabbing NBA ready guys makes sense for a team with Russell Westbrook and Paul George.
Johnson's role in Oklahoma City, which would really be his role everywhere, will be to stay out past the arc and hit shots. The Thunder were the ninth-worst team by three-point field goal percentage last year and they could use a guy like Johnson in their wing rotation immediately.
22. Boston Celtics: Ty Jerome (G, Virginia)
So, the Celtics are obviously a bit in flux right now with Kyrie Irving likely heading out of Boston this Summer. Jerome would give them someone who can run the point, shoot, and generally avoids turning the ball over, and while his addition obviously doesn't make this team feel good about losing Irving, he can help bring some stability to the backcourt. Jerome would be a strong addition here and would likely be one of my fantasy sleepers come draft time.
23. Utah Jazz: Carsen Edwards (G, Purdue)
Is Edwards too short to be an off-ball guard? Maybe! Is he too much of a shooter to be a starting-caliber point guard? Maybe! Does he makes sense for the Jazz here? Maybe!
What Edwards would do in Utah is give the team a guard who can turn on the jets and fire the ball up to play off of Donovan Mitchell and whoever the starting point guard in Utah ends up being. He fits the profile of a Lou Williams type player, and Utah could use that. Might take some time to work him into the rotation, but keep an eye on him over the course of the season.
24. Philadelphia 76ers: Matisse Thybulle (F, Washington)
Sixers fans really want Thybulle. He's so good on the defensive end that you can kind of look past the fact that hie shooting numbers are a little meh, as he's improved inside the arc while seeing his three-point percentage steadily drop over the last couple of seasons.
But at pick 24, Philly's willing to pick him for that defensive upside -- his combination of rebounding, blocking, and stealing suggests he could end up as one of the NBA's top wing defenders -- and hope that he can knock down shots on a team where he won't be asked to handle much offensively. This seems like a thing that can work for the Sixers, but it might not be the best thing for fantasy teams that are looking for immediate impact.
25. Portland Trail Blazers: Goga Bitadze (C, Mega Bemax)
A lot of people who I really trust are very high on Bitadze. I haven't spent much time watching his tape, so I'm going to defer to them a little here, but I keep hearing that he's an inside-out scorer who can block a ton of shots, a guy who has a lot of ability to work in the post but can also pop out to the perimeter. He's got a lot of athleticism, which will help him fit into any team's defensive schemes, and he makes a lot of sense on a Trail Blazers team that has some need at center with Jusuf Nurkic injured and depth at the position being virtually non-existent. Not sure I'd be ready to call him a guy to target in re-draft leagues just yet, but I like what I've heard and the tape I've seen.
26. Cleveland Cavaliers: Bruno Fernando (C, Maryland)
Another center whose projections have been all over the place. He's a dunker on the offensive end, and having him as a lob threat can be a good way of helping make things easier on point guard Collin Sexton. He's also got some touch on his shot, which can help him reach his upside, but he's another guy whose defense is questionable enough that it's best to assume it takes some time for him to reach his potential.
27. Brooklyn Nets: Talen Horton-Tucker (G, Iowa State)
Another favorite of Draft Twitter, Horton-Tucker fits the "get guys with upside" model that the Nets have undertaken. Since they won't know for sure on the night of the draft if they're adding stars and rocketing into contention, I think they should go with the guy left on the board with the most star potential.
THT can finish at the basket and has great size, which will make him a big threat in transition. His shooting is a question mark, which is a big part of why he fell this far, but the Nets have done a good job getting a guy like Caris Levert transformed into a capable shooter, so it can happen with Horton-Tucker too. Will take some time, though.
28. Golden State Warriors: Grant Williams (F, Tennessee)
One of my Twitter buddies, Max Carlin, has Williams fourth on his board, in large part because of how much of an impact he can have defensively:
KING pic.twitter.com/v33SKIdhgN

— Max Carlin (@maxacarlin) March 24, 2019
Offensively, Williams is an efficient post scorer, and he averaged 3.2 assists per game last year. He can also score in the midrange, and his touch suggests that he could even be a stretch four one day. Williams has a chance to be the full package for whatever team gets him, a better version of someone like P.J. Tucker.
29. San Antonio Spurs: KZ Okpala (F, Stanford)
Okpala is another prospect who NBA Twitter has all kinds of varying opinions on, but I'm of the opinion that his frame is too small for the kind of game he wants to play. Okpala wants to drive, but he's got to become more of a shooter, something that his college career suggests could happen. I wouldn't be betting on him being an impact player right away.
30. Milwaukee Bucks: Chuma Okeke (F, Auburn)
Defense. Passing. A 38.9 percent shooter from three in his two college seasons. The biggest knock on Okeke is that he's a bit of a tweener, but I'm pretty confident he'll be able to defend the four and play there on a full-time basis.
Okeke torn his ACL during the NCAA Tournament, though, and will miss a good chunk of his rookie year, making him not someone to consider for fantasy purposes.
More Fantasy Basketball Analysis