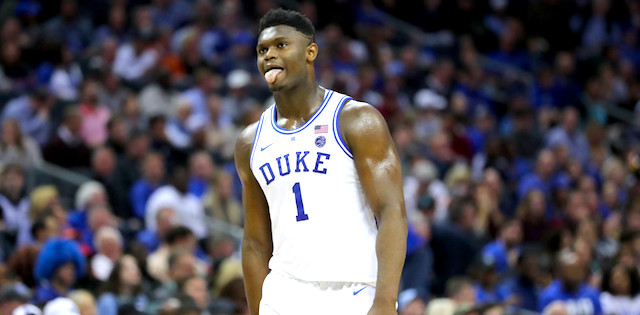 In the first part of this mock draft, I looked in depth at the (possible) top five picks in this year's NBA Draft. In this one, we'll look at the rest of this year's lottery, picks six through 14. These players don't have the same star power and high expectations that the top five picks had, but they're still being counted on to be major pieces that help out rebuilding and non-playoff teams.
There's fantasy value to be found in this range, but there are also some potential traps in play here, guys you'll draft for your fantasy team and then end up dropping after their production never arrives.
And don't forget to stick around for part three, coming soon with a look at the rest of the first round.
Editor's Note: Get any full-season NBA and DFS Premium Pass for 50% off. Our exclusive DFS tools, Lineup Optimizer and daily Premium DFS Research.
Sign Up Now!
2019 NBA Mock Draft: Round 1 - Picks 6 through 14
6. Phoenix Suns: Darius Garland (G, Vanderbilt)
The great saga of wow, the Phoenix Suns really need a point guard might finally be ending!
The Suns have a couple of young players -- Devin Booker and Deandre Ayton -- who they should, in theory, be able to build a competitive core around, but not having a guy who can share ball-handling duties with Booker and run the offense at times has been a real downfall for this team.
Garland played just seven games for Vanderbilt before a knee injury cost him the rest of his only college season. But what we did see of Garland suggests that he can be a high-level shooter, and while there are question marks surrounding Garland's passing ability, the Suns have to ignore that worry because they need a point guard.
I'd expect Garland to get off to a fairly slow start next year, as he hasn't played basketball in a while and will likely need some time to adjust to the speed of the NBA game, but his shooting ability still gives him a higher fantasy floor than someone like Collin Sexton had as a rookie last year.
7. Chicago Bulls: Coby White (G, North Carolina)
Speaking of a team that needs a point guard, it's probably about time for the Bulls to give up on the idea that Kris Dunn can be their answer, so this is a perfect spot to grab the best point guard left on the board.
I have some of the same worries about White that I have about Garland in terms of his ability as a passer and his ability to lead an NBA offense. He's also not quite as good a shooter as Garland, though he's a better finisher at the rim. If the Bulls stick with Zach LaVine at the two, this backcourt is a potential sieve that will let opponents pour in the buckets, but they're also a backcourt that can score a lot of points on their own.
Like with Garland, I'm not big on White's immediate fantasy value, but the Bulls could be a good spot for him to get easy buckets and assists.
8. Atlanta Hawks: Cameron Reddish (F, Duke)
To be 100 percent honest with y'all, I don't know if I'd take Reddish with a lottery pick if I was a GM and had one, but he makes sense for the Hawks, who have two lottery picks and can gamble on Reddish's upside while taking on the risk that he ends up being a bust.
Among college players last year, Reddish was in just the 39th percentile in points per possession, shooting just 36 percent from the floor and 33.6 percent on non-transition plays. Anyone who drafts Reddish should be worried about whether or not be can be a competent shooter.
Reddish took 7.4 threes per game last year, converting on just 33.3 percent of them. That's another meh mark, but you can still see why teams are intrigued by him. Reddish has the potential to be a very good defensive player. He has the potential to be a point forward who would pair well as a secondary ball handler with Trae Young. Potential. Potential. Potential.
But that Freshman year at Duke showed his downside. He was the third option on a team where defenders spent a lot of time focusing on Williamson and Barrett, but even with less pressure from the defense, he shot poorly. If the shot doesn't come around, what's his value? Would he basically need to reach his ceiling defensively to be worth this pick?
Anyway, I don't want any part of Reddish in re-draft leagues at this point.
9. Washington Wizards: Sekou Doumbouya (F, Limoges CSP)
Predicting what the Wizards do is the hardest part of this top-10, because this is a team that's trending down and needs a lot of help if they want to right the ship.
I went with potential here, because this is a team that needs a high upside player to get them out of the purgatory that they currently find themselves in. Doumbouya is strong, can run the floor, and has the potential to be a plus defender, but seeing as the purpose of this mock draft is address which players will matter in fantasy next year, it's best to just move on, because Doumbouya's got some growing to do before he can produce consistently in the NBA.
10. Atlanta Hawks: Jaxson Hayes (C, Texas)
It's not the best draft for centers, but Hayes is the most hyped one and there's been a lot of whispers connecting him to the Hawks. While I think it's possible the Wizards take him at nine, I don't see him dropping past the Hawks.
Hayes will make his impact as a lob guy and a roller to the basket. Can Hayes be more than that offensively, though? We don't know, which is part of why he's falling this far. Defensively, he'll be dangerous in the paint and should be able to switch out onto the perimeter at times. There's a lot of Clint Capela in Hayes, and while Capela's skill set is potentially not what a team ideally wants if they want to win a title, he fits in well with the rest of this team and should be able to get really involved with Trae Young in the pick and roll. I like Hayes as a late round fantasy pick next season, because the things he's good at should translate pretty quickly to the NBA game.
11. Minnesota Timberwolves: P.J. Washington (F, Kentucky)
Washington would give Minnesota a very solid option to add to their current team. He's an NBA ready prospect, a guy who can score both inside and outside. That versatility on offense coupled with his ability to be a switchable NBA defender would give Minnesota a three-and-D guy at power forward.
Pairing Karl-Anthony Towns and Washington in the front court gives the Timberwolves a solid foundation moving forward. Add in Robert Covington at the three, and the defensive deficiencies of Towns become a lot less of an issue. I can see Washington being a solid fantasy basketball option right off the bat.
12. Charlotte Hornets: Rui Hachimura (F, Gonzaga)
Hachimura is a polarizing prospect on NBA Twitter, but he seems like a guy the Hornets would pick here.
Offensively, Hachimura can translate to the NBA just fine, at least when it comes to scoring near the basket and hitting mid-range shots. But there are questions about if he can stretch out to the perimeter, as well as questions about his ability to defend. Hachimura reminds me of one of those players who teams like the Rockets would take in the early parts of the decade, who need to be able to shoot the ball well to justify their lack of traditional size and big-man skills. I don't really know if that player type can succeed in the current NBA, and that's one reason I'm steering clear of Hachimura until we see if he can alter his game.
13. Miami Heat: Romeo Langford (G, Indiana)
I see Langford being a step below the other guards in this lottery, but I don't think the Heat are in a position to be too choosy here when it comes to drafting a guard who play with the ball in his hand. The Goran Dragic era is ending. The Point Justise thing was fun, but is it workable on a full-time basis? Without a true point guard in this range, why not grab the best combo guard left on the board?
Langford's may be a bit of a reach at 13, though. He played through injury last season, so it's hard to get a great read on his ability to translate to the NBA. He struggled with his long-range shooting, but he can get to the basket and is a good rebounder for his position. The Heat could basically run Langford and Winslow as two pseudo-point guards, as neither guy necessarily looks like a full-time point guards.
Anyway, I wouldn't trust Langford off the bat for fantasy purposes. That shot worries me too much.
14. Boston Celtics: Brandon Clarke (F, Gonzaga)
Clarke is a safe pick for a Celtics team that's either going to A) lose Kyrie Irving and need a solid, efficient scorer to add to their young core or B) make moves for a star and have Clarke as a solid depth piece. (Or, I guess, option C, which is that this pick is dealt in an Anthony Davis deal, but let's ignore that option for now.)
Clarke should go earlier than 14, but his numbers don't jump off the page. He's a very good defender, though exactly where he'll play in the NBA is a bit of question. He's athletic and can block shots while scoring efficiently inside.
But can Clarke score away from the basket? Will he be able to play the five at times, or will his size keep him at the four? And if he's at the four, what will the spacing look like for whatever team he's on?
I think Clarke's impact is going to be a lot more intangible. He won't put up flashy numbers, but he'll be an incredibly solid part of whatever team he winds up with. That's...maybe not the best thing in terms of fantasy value, but it's a good sign for his ability to stick around the league for a long time.
More Fantasy Basketball Analysis