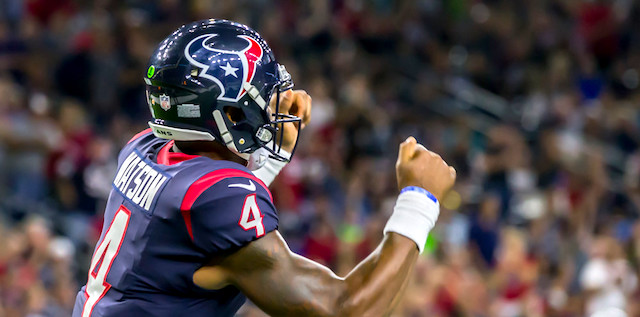 Welcome to our Week 6 matchup analysis and start/sit column for fantasy football. We'll be covering every single contest from the Sunday slate in one convenient location, helping you make the best decisions for your fantasy lineups. Be sure to check back regularly because this article will be updated as news comes in regarding injuries and other important information.
Spencer Aguiar will start off by covering the first set of games that begin at 1:00 PM ET on Sunday, and Chris O'Reilly will take you home with his analysis of the late afternoon and evening games.
If you have any additional lineup questions, follow us on Twitter @Teeoffsports and @cjoreillyCLE and feel free to ask away! Without further ado, let's get started.
Editor's Note: Get any rest-of-season NFL Premium Pass for 50% off. Our exclusive DFS Tools, Lineup Optimizer and Premium DFS Research through the Super Bowl.
Sign Up Now!
Matchups Analysis - 1:00 PM ET Games
Carolina Panthers at Tampa Bay Buccaneers
Matchups We Love:
D.J. Moore (WR, CAR)
I don't understand the level of disappointment that DJ Moore owners have expressed these past few weeks.  Moore is on pace for 83 receptions and over 1,100 yards, featuring a 22.4% target share on the year. This should have been precisely what every Moore advocate was hoping to see in 2019. Touchdowns were never going to be his thing, as I projected him for just five total scores on the year. Sure, a slight improvement to his current pace would help, but I don't believe we are in store for a massive increase down the stretch. The Buccaneers have been in the bottom half of the league by allowing 47% of passing plays to grade out successfully, and this is a matchup that Moore was able to exploit in Week 2, catching nine passes on 14 targets for 89 yards. If you can acquire the 22-year-old for cheap, I would recommend doing so ASAP.
Greg Olsen (TE, CAR)
Greg Olsen has provided two straight duds with Kyle Allen under center, but a second showing against the Tampa Bay Buccaneers might be just what the doctor ordered for the 34-year-old. Olsen dominated the Bucs secondary in Week 2, hauling in six receptions for 110 yards, and I believe there is a similar window of opportunity available with Tampa Bay focusing their attention on stopping Christian McCaffrey. The Buccaneers have given up 37 receptions, 445 yards and three touchdowns to the position on the year, and Olsen will look to add to that total for the second time this year.
Matchups We Hate:
Jameis Winston (QB, TB)
Jameis Winston was bailed out in Week 5 with a late TD pass to Chris Godwin that managed to salvage his fantasy day. This week, Winston will head to London to take on the Carolina Panthers for the second time this year. Look, part of the reason you drafted the former No. 1 pick in the 2015 NFL Draft was because of the volatility that surrounds him. He is able to carry your fantasy squad when he is good, but when he turns into "Bad Jameis," well... things get ugly rather quickly. Winston being on the hate list over Kyle Allen doesn't mean I'd rather play Allen above him, but what it does mean is that Winston's performance perception is less likely to meet his actual reality. Consider the 25-year-old a high-end QB2 against a Panthers squad that has been solid against the pass all season, but you might want to look elsewhere if you are in a one-QB setting.
Other Matchups:
Kyle Allen (QB, CAR)
Kyle Allen, who is 3-0 as a starter for the Carolina Panthers, will head to London for the team's second meeting this season against the Tampa Bay Buccaneers. Cam Newton was still playing the first time these two teams faced off, so there are reasons to believe that the 23-year-old can find a little success facing a team that didn't get to view him up close and personal the first time around. Still, though, Allen is a tough sell as anything more than a second QB for those that play in two-QB leagues.
Christian McCaffrey (RB, CAR)
WOW! That is about the only way to describe Christian McCaffrey so far in 2019. The NFL record for most games with 175+ yards from scrimmage in a season is six, and McCaffrey has four such showings in his first five contests of the year. Unfortunately, his one dud performance this season did come in Week 2 against the Tampa Bay Buccaneers, making it possible that we all might need to temper expectations slightly against the current number defense against the run. With that being said, you obviously are not benching him, and McCaffrey is more than capable of taking over the game through his pass-catching workload. He is going to be a top option weekly if he remains healthy.
Peyton Barber / Ronald Jones II (RB, TB)
I like this matchup for the Tampa Bay running game. The unfortunate part of the whole situation is that I am not sure who head coach Bruce Arians will favor in Week 6 between Peyton Barber and Ronald Jones II. There is room for development against a Carolina Panthers defensive unit that ranks 28th in success rate against the run and is allowing the second-most explosive plays on the ground, but the game script will dictate which of the two provides the more ample workload come Sunday. I lean towards Jones being the right side, but Barber was the one who had 23 rushes the first time these two teams met up. Jones is in the flex equation for me, while Barber is closer to a desperation RB3/flex start.
Mike Evans (WR, TB)
Mike Evans 2019 has been more up and down than a roller coaster at this point. Coming off a two-game stretch that saw him put up 12 catches, 279 yards and four touchdowns, Evans provided the rare empty stat line in Week 5. Not only did he end the game without a reception, but he wasn't even targeted during the 31-24 loss at the hands of the New Orleans Saints. The 26-year-old will look to bounce back in another difficult assignment versus James Bradberry, but it won't be an easy task with the cornerback allowing just a 59.9% passer rating when targeted this year.
Chris Godwin (WR, TB)
Chris Godwin hasn't just been the top fantasy wideout for the Tampa Bay Buccaneers; he has been the best PPR wideout in the whole NFL through five weeks. It is hard to imagine his current level of consistency will be sustained because of Jameis Winston's volatile nature, but Godwin is the real deal that needs to be treated as such going forward. With an average of 8.4 targets per game and a current catch rate of 77%, Godwin is flying past his lofty preseason expectations. The 23-year-old had eight of the 12 WR receptions against Carolina in Week 2 and will look to continue where he left off against a stingy defense in Week 6. Fire him up once again.
Curtis Samuel (WR, CAR)
Curtis Samuel's current involvement in the passing game is a concern with Kyle Allen under center, as Samuel's longest reception from Allen in three contests is just 15 yards. There is breakout potential possible against a Buccaneers team that is currently ranked last in the league in PPR fantasy points given up to the position, but Allen will need to start finding Samuel more downfield before he can return to a weekly starting option. Consider Samuel a high upside flex in London.
O.J. Howard (TE, TB)
I wasn't necessarily the biggest advocate of O.J. Howard entering this season, but not even I could say I saw this production coming. Eleven receptions, 141 yards and no TDs through five games has turned Howard into a TE2, which is horrific considering there are only about eight or so players at the position that you can start weekly with any confidence. I'm not necessarily at the point where I am dropping him if I didn't have better options available, but I'd be taking a wait and see approach with him on my bench. It will suck if he breaks out overseas, but you can't allow him to plummet your scoring at the position any longer.
Washington Redskins at Miami Dolphins
Matchups We Love:
None
Matchups We Hate:
Josh Rosen (QB, MIA)
Josh Rosen hasn't shown an ability to produce fantasy points through his multiple outings in 2019, but the 22-year-old has a unique spot to break that mold against the also winless Washington Redskins at home. The bye week should help Miami regain a little confidence as a unit, but after failing to score over 10 fantasy points in a game during most settings this season, it is impossible to start him in any situation that doesn't require you to do so.
Kalen Ballage (RB, MIA)
A poor game script hasn't helped Kalen Ballage to find success this year, but don't be suckered into what appears to be a good matchup against the Washington Redskins. Ballage has 19 carries on the season for 29 yards and adds little to his upside with his questionable pass-catching ability. The 23-year-old should remain far from your lineups.
Every Washington WR/TE Not Named Terry McLaurin
This is a broad statement that is going to be wrong because it is nearly impossible for the whole team to not produce against the Miami Dolphins, but I really don't feel like falling into the trap of having to start players just because they are facing Miami. New head coach Bill Callahan has been responsible for the running game this year, which is something he may try to emphasize in the coming weeks. It is a complete shot in the dark if you are hoping to find the right option outside of McLaurin. If you are desperate and out of options, take the chance. But I'd prefer to hold my bullets for someone more reliable.
Other Matchups:
Colt McCoy / Case Keenum / Dwayne Haskins (QB, WSH)
For as much as I want to list everyone as a "hate" in this game, these two teams might be so bad that some under-the-radar plays might present themselves. The Washington QB situation isn't necessarily ideal with the team even currently unaware of who they will be playing, but Miami is ranked dead last against the pass in almost all statistical measurables. We need to find out who is playing first, but there will be some streaming potential available.
Kenyan Drake (RB, MIA)
I haven't recommended a single Miami player as a start through five games, but the upside is there for Kenyan Drake to produce on Sunday. Drake has been nothing but a bench stash for the first few weeks but should see a significant role both through the air and on the ground against a porous Redskins squad. The 25-year-old has RB2 caliber in Week 6 and should be viewed as a reasonable flex play. That far exceeds expectation levels and makes him a viable streaming option.
Adrian Peterson / Chris Thompson (RB, WSH)
Adrian Peterson's best chance to find fantasy value is to rack up volume in a game where the Redskins find themselves ahead. On the other hand, Chris Thompson owners will be looking for Washington to be trailing so he can stay on the field for an extended amount of passing plays. I have a difficult time breaking this contest down from a betting perspective, but I do lean towards the Redskins being able to control the clock on the ground, making Peterson slightly more valuable than usual. A change from head coach Jay Gruden to Bill Callahan will most likely emphasize that play style, as the team seems more inclined to use their ground game on Sunday. Thompson has a safe floor given his usage through the air, but there is a good possibility that he might receive less work than previous weeks.
Terry McLaurin (WR, WSH)
A lack of QB consistency hasn't killed Terry McLaurin's value. Whether it is Colt McCoy, Case Keenum or his college QB Dwayne Haskins, McLaurin has enough big-play ability to mask some of the issues that surround him. Enhanced play of his quarterback would help, but the rookie is still on the table as a flex play in Week 6.
Devante Parker / Preston Williams / Albert Wilson (WR, MIA)
I've been adamant that Albert Wilson is the best WR of the group if he could ever get healthy, but after suffering a hip/calf injury in Week 1, Wilson has been unable to give it a go during the past four weeks. He appeared to be close last Sunday, so I'd keep an eye if his dynamic play-making ability will be able to provide Miami a boost in Week 6. Williams has been solid but has failed to render any ceiling whatsoever, and I'm not a believer when it comes to DeVante Parker. Last weekend's four-catch, 70-yard and one-touchdown performance is most likely setting you up to experience heartbreak on Sunday. Wilson, Williams and Parker are my preferred order of the three.
Philadelphia Eagles at Minnesota Vikings
Matchups We Love:
None
Matchups We Hate:
Alshon Jeffery (WR, PHI)
Targets haven't been a problem for Alshon Jeffery when he has been on the field this season, hauling in at least seven looks in every non-injury shortened game he has played. Unfortunately, Jeffery has failed to find much success with his workload during the early stages of the year. The Eagles wideout has failed to surpass 52 yards in any contest and could be in line for a heavy dose of CB Xavier Rhodes on Sunday, as it seems possible the corner will shadow Jeffery throughout the game. I wouldn't feel comfortable starting him as anything better than a WR3, so you might want to look elsewhere
DeSean Jackson / Mack Hollins (WR, PHI)
It appears as if we are at least another week away from DeSean Jackson's return. Mack Hollins has been filling in for the speedster during his absence, but he hasn't provided much of a reason to give him a shot in your starting lineups. One catch for 13 yards in his past two games has not gotten it down.
Kyle Rudolph (TE, MIN)
If you are still holding onto Kyle Rudolph, I believe you can safely drop him to your waiver wire. Rudolph only has a minor role in Minnesota's run-heavy offense.
Other Matchups:
Kirk Cousins (QB, MIN)

We finally got a little life from Kirk Cousins! The Vikings quarterback completed 22 of 27 passes last Sunday, throwing for 306 yards, two touchdowns and no interceptions. While the progress is promising to see, this week will not be an easy task against a somewhat underrated Philadelphia Eagles Defense. The Eagles rank ninth in success rate against opposing aerial attacks - allowing just 43% of throws to grade out successfully. With that being said, Cousins does have some low-end streaming potential for desperate fantasy squads, but he is nothing better than a QB2 on Sunday.
Carson Wentz (QB, PHI)
Carson Wentz has failed to surpass 200 yards in the air during the past two games, but I wouldn't put too much stock into last week's performance. The Eagles were handily ahead of the New York Jets, and Wentz was able to go into cruise control throughout most of the contest. A Week 6 battle against the Minnesota Vikings should provide a much busier task for all members of the Eagles, but it must be noted that Minnesota's defense has not allowed more than 18.6 fantasy points to be scored this season to the position under standard scoring settings. Wentz is still a high-end QB2, but he isn't a must-start if you have alternate options.
Dalvin Cook (RB, MIN)
Dalvin Cook has reached the point where he is matchup-proof. That doesn't mean that he isn't capable of struggling by his own standards, but you aren't benching the 24-year-old in any situation at this point. Cook is having an MVP level season and will remain the focal point for Minnesota against a tough Philadelphia Eagles run defense. Fire him up again on Sunday.
Jordan Howard / Miles Sanders (RB, PHI)
Jordan Howard has taken a leg up in his battle with Miles Sanders after a few successful outings in a row. Howard has provided double-digit carries in each of the past three weeks, scoring five total touchdowns in the process. However, a matchup against Minnesota will not be easy, as the Vikings have allowed just 17.5 RB fantasy points per game on the year - the fourth-lowest average in the league. His increased usage places him as a flex option to consider, especially given the fact that multiple teams with startable RBs are on bye in Week 6. Miles Sanders, on the other hand, could slot into a little more playing time himself with Darren Sproles already ruled out of the game because of a quadricep injury. Sanders' pass-catching ability puts him in the flex equation also, although it is difficult to buy him over Howard as a start this week.
Stefon Diggs (WR, MIN)
I'd be cautious and observant when it comes to Stefon Diggs in the next few weeks. The trade rumors swirling around him seem to be very real, so that means a last-minute inactive label is always possible if the Vikings are able to pull off a deal at the end of the week. I'd prefer to treat Diggs more as a WR3 for my lineup until we get everything sorted out, but I wouldn't sell him off at that price. There is a massive upside available if he lands in the right position.
Adam Thielen (WR, MIN)
I don't believe Adam Thielen's matchup against the Philadelphia Eagles is as good as some are presenting it to be. Yes, we have seen wideouts exploit this secondary on the year, making it possible that the 29-year-old does the same, but Minnesota's run-first mentality mixed with Philadelphia being slightly underrated defensively does draw some concerns. Thielen is in the WR2 mix on Sunday, but you might want to temper expectations somewhat after his explosion in Week 5.
Nelson Agholor (WR, PHI)
If you are desperately searching for a boom-or-bust option to fill in at WR, Nelson Agholor isn't the worst choice in the world. With CB Xavier Rhodes presumably on Alshon Jeffery and Minnesota focusing the rest of their attention n Zach Ertz, Agholor does have a chance to find a little open running room. The Vikings do feature the sixth-ranked pass defense, so it is not as if the matchup is desirable, but there is some upside to be found if Wentz and Agholor can get on the same page.
Zach Ertz (TE, PHI)
Despite only bringing in one touchdown so far in 2019, Zach Ertz has seen at least seven targets and caught at least four passes in every game. Minnesota is a respectable opponent that hasn't allowed a passing TD to a TE this season, but their 35 receptions conceded is the fourth-highest total to the position in the league. You aren't benching Ertz if you own him, so let's hope he can find paydirt for the second time in Week 6.
Houston Texans at Kansas City Chiefs
Matchups We Love:
Patrick Mahomes (QB, KC)
There has been a lot of discussion about touchdown regression coming for Patrick Mahomes for months now, and while I generally agreed that he wasn't going to reach the same level of statistical production this season as he did in 2018, I don't think regression is the right word choice for what is happening. Losing Tyreek Hill in Week 1 was a massive blow for the explosive nature of this offense, and it didn't help that KCs run game was bound to take a step in the other direction with Kareem Hunt officially off the team. Mahomes is currently ranked 12th in touchdown rate per attempt, but that is likely to swing closer to his norm production level. The Houston Texans have struggled against the pass all season, and the reigning MVP should have a chance to explode in Week 6.
Deshaun Watson (QB, HOU)
Deshaun Watson versus Patrick Mahomes feels equivalent to the modern-day version of Muhammad Ali versus Joe Frazier. The Houston Texans are fresh off of a 53-point onslaught of the Atlanta Falcons Defense, and Watson and company will look to keep things going this weekend in Kansas City. The Chiefs have been slightly better against the pass than they get credit for, but they have struggled to maintain running backs and running QBs this year. Watson is a top-three QB option on the board.
Damien Williams (RB, KC)
Houston ranks fourth in the league when it comes to success against the run, yielding 40% of plays to grade out positively, but they have been susceptible to explosive rushing plays once backs are able to get past their front four - giving up the sixth-highest big-play percentage on the ground at 14%. LeSean McCoy is currently struggling with pass protection, while Darrell Williams is clearly the third man in line for snaps. If you have a chance to buy Damien Williams for cheap, the time might be right now.
DeAndre Hopkins (WR, HOU)
The Kansas City Chiefs secondary has been quietly impressive in 2019, but the one glaring hole to their unit is that they have given up 15.1 yards per catch to wideouts on the year. DeAndre Hopkins hasn't really gotten his feet out of the sand since his Week 1 show against the New Orleans Saints, and I'd expect the All-Pro to turn it on for the shootout that is bound to take place in Kansas City. Last week it was Will Fuller's turn, this week I'd imagine we see it become the Hopkins show.
Travis Kelce (TE, KC)
Travis Kelce looked out of rhythm last Sunday night against the Indianapolis Colts. He only brought in four of 10 targets, dropped multiple passes and failed to find the end zone for the fifth straight game this season. With Tyreek Hill and Sammy Watkins reeling and highly questionable to participate, Kelce might be asked to take on an even bigger workload against the Texans. Don't be surprised if the 30-year-old finally finds the endzone and produces as the top player at the position in Week 6.
Matchups We Hate:
Darrel Williams (RB, KC)
It probably goes without saying after Darel Williams' empty stat line last Sunday night, but the 24-year-old is unstartable for the time being. Williams did see 15 snaps in Week 5 and could see extra time with LeSean McCoy struggling in pass protection, but Williams is currently nothing more than the third man in the backfield. I am fine holding onto him for another week or two if you don't have any other waiver options available that feel like must-adds, but starting him is out of the question.
Other Matchups:
LeSean McCoy (RB, KC)
I wouldn't necessarily jump off the LeSean McCoy train going forward, but I find it extremely challenging to start him if you can avoid doing so in Week 6. McCoy logged just 14 snaps during Sunday nights game against the Indianapolis Colts and didn't receive a carry. To be fair, nobody did much in the backfield in general, but head coach Andy Reid revealed on Monday that the lack of usage that McCoy saw stemmed from his issues with pass protection. I wouldn't imagine we see this problem last for too long since McCoy is a seasoned veteran at this point in his career, but it does add a few question marks around his level of productivity against Houston.
Carlos Hyde (RB, HOU)
Revenge game factor for Carlos Hyde against the Kansas City Chiefs? I am not sure I would go that far, but Hyde does have a chance to find running room against a Chiefs run defense that has been the worst in the NFL through five games. Kansas City has allowed 61% of runs to grade out successfully and 14% of them to rate as explosive - 29th best in the league. Touchdowns will be scored on Sunday, and Hyde has a good shot to find the endzone at least once.
Duke Johnson (RB, HOU)
I blame the lack of Duke Johnson's usage on head coach Bill O'Brien. Johnson ranks first in yards after contact, first in elusive rating, second in yards per touch and third in cards per carry, yet the team hasn't found a reason to give him more than 10 touches in a game since Week 1. The issue is that Hyde hasn't done anything wrong in the eyes of O'Brien, so we might continue this frustrating role for some time longer.
Tyreek Hill (WR, KC)
If Tyreek Hill plays, upgrade him to the love category, but I don't believe we see the 25-year-old for one more week. It isn't a matter of if he can dominate at this moment, it has more to do with if he can take contact and bodies falling on him after he completes a catch. Kansas City would be best served to give Hill another game to heal, but we will see what head coach Andy Reid decides is best with the team struggling to find bodies to play on Sunday.
Sammy Watkins (WR, KC)
Another injury to a Kansas City wideout, this time a hamstring injury that is going to put Sammy Watkins' availability in jeopardy. Watkins ran only two routes during the teams' Week 5 loss to the Colts and is a risky option to bank on in Week 6. All signs are pointing towards him being on the wrong side of questionable at this moment, but crazier things have happened.
Demarcus Robinson / Mecole Hardman / Byron Pringle (WR, KC)
There is a decent chance that this might be your three-man setup come Sunday. None of these players have a high floor, but all are potential boom candidates against a Texans secondary that has been beatable on the year. Demarcus Robinson would be in the WR2 equation if both Hill and Watkins sit, while Hardman and Pringle are extremely high upside flex choices.
Will Fuller (WR, HOU)
What does Will Fuller's encore performance look like after his 14-catch, 217-yard and three-touchdown explosion against the Atlanta Falcons? I guess we will have to wait and see. In my opinion, I'd worry about a partial letdown, especially considering the fact that Kansas City defense ranks inside the NFL's 10 best teams in terms of catch rate allowed to opposing wideouts at 59.2 percent. He is in play as a WR2/WR3, but I don't have faith complete faith that he doesn't go right back to a two-to-three catch disappointment.
Kenny Stills / Keke Coutee (WR, HOU)
Multiple injuries kept Kenny Stills off the field for Houston in Week 5, but a return seems possible for the speedster against the Kansas City Chiefs. Stills is a viable boom-or-bust flex play because of the potential shootout nature of the contest but isn't someone you should be relying on if you have other options available. As for Keke Coutee, he is out of the picture if Stills does decide to give it a go but is probably nothing more than a bench stash regardless at this point. The Texans ran multiple tight end sets in Week 5, making Coutee a limited participant even when Stills was sidelined.
New Orleans Saints at Jacksonville Jaguars
Matchups We Love:
Gardner Minshew II (QB, JAX)
If you are need of a streaming option in Week 6, look no further than Gardner Minshew II. The rookie has enough mobility with his legs to increase his floor on a weekly basis and has started to show some explosion with his arm, passing for a career-high 374 yards against the Carolina Panthers last week. Minshew is a fringe QB1 in a matchup against the Saints secondary that has been hit-and-miss on the season.
Alvin Kamara (RB, NO)
I want to be careful when giving out these defensive statistics for the Jacksonville Jaguars because we saw their numbers shift across the board after allowing the Carolina Panthers to rush for 256 yards and three scores last Sunday. For those that would like the full math breakdown with receptions included, the Jaguars surrendered 63.1 PPR points. If we exclude that output, the defense is yielding nearly five fantasy points below league average, but I do believe we have to include it with the current state of the team. Jalen Ramsey is questionable to return to the team after he and owner Shahid Khan had a "heart-to-heart" discussion about his future, which would help the defense altogether if he were to retort his trade demands and stay put, but Kamara is a matchup nightmare that will get his points either by ground or by air.
Dede Westbrook (WR, JAX)
Dede Westbrook draws PJ Williams on Sunday, who has a PFF coverage grade of 52 - good for 112th amongst CBs on the year. Four of five slots wideouts that the Saints have faced have gone for 100+ yards and three of five have scored at least one TD. With a bit of the focus placed on DJ Chark and Leonard Fournette, Westbrook has a chance to explode as an under-the-radar option.
Michael Thomas (WR, NO)
If there were any concerns about what would happen to Michael Thomas' value without Drew Brees, there shouldn't be anymore. Thomas has been brilliant this year, providing his best performance of the season in Week 5 with 11 catches, 182 yards and two scores. It doesn't seem to matter who is throwing the Saints wideout the ball, mark him down as a WR1 in Week 6.
Matchups We Hate:
None
Other Matchups:
Teddy Bridgewater (QB, NO)
I'd be careful in assessing Teddy Bridgewater's 314-yard and four-touchdown performance as much more than a blip on the radar as of right now. Yes, it was an encouraging sign for future progress to be had, but although a road test against Jacksonville isn't as daunting as it once was, Bridgewater should still have his hands full against a stingy unit. The Jaguars are probably the right side of the game from a betting perspective, which always scares me when being asked to start a QB on the road. Consider Bridgewater a QB2.
Leonard Fournette (RB, JAX)
Leonard Fournette has enough volume at his disposal to salvage his fantasy output on most days, but a contest against the New Orleans Saints will test that theory. The Saints Defense hasn't allowed a single 100-yard rusher in 27 games and has only given up over 100 yards to a team once this season. Sheer volume should save Fournette from fantasy disaster, but he is more of an RB2 this Sunday.
D.J. Chark (WR, JAX)
Cornerback Marshon Lattimore has been known to raise his level against standout wideouts in the past, and I think we might see a bit of a down game from DJ Chark on Sunday. Chark has propelled himself into WR1 consideration this season with a quick start to the year, but I do worry we see him plateau to around 10 points or less against Lattimore on Sunday. Touchdowns have really propelled his scoring output, and we might be looking at a lower ceiling and floor than some people want to admit.
Jared Cook (TE, NO)
Jared Cook finally showed some life as a member of the New Orleans Saints, bringing in his first TD of the year to go along with four catches and 41 yards. The tight end position is a wasteland that is hard to find serviceable talent, so we don't hate trotting Cook out as your starting TE if you don't have other options available. There is some risk involved with doing such a thing, but that could be said about any player outside the top six or seven options at the position.
Seattle Seahawks at Cleveland Browns
Matchups We Love:
Chris Carson (RB, SEA)
It is no secret that Seattle wants to feature their run game early and often, and a contest against the Cleveland Browns has to feel like a mouth-watering assignment for offensive coordinator Brian Schottenheimer. Despite trailing for a portion of the game last Thursday, Seattle still featured nearly a 65% run rate. I always find it shocking that the team decides to employ that strategy when you have one of the best quarterbacks in the league, but it has worked out so far in 2019. Cleveland enters the week ranked 23rd in defensive efficiency against the run, making Carson an RB1 caliber prospect in Week 6.
Nick Chubb (RB, CLE)
Seattle has been solid against the run this season, but Cleveland will need to establish their running game if they want to get their offense back on track Sunday. I believe we see the Browns move the football better than we have in weeks past, making Chubb an RB1 in a difficult showdown.
Odell Beckham / Jarvis Landry (WR, CLE)
There are no excuses for how poor Cleveland has looked offensively to begin the year, but the narrative needs to be told correctly to get the full picture of what is going on with the team. The Browns have faced the fifth-most difficult schedule of defenses and the second-toughest schedule of defenses against the pass. The offense as a whole needs to find their identity, but this will perhaps be the easiest unit the team has faced all season. Seattle has faced the third easiest schedule of pass offenses but hasn't done their part by ranking 21st in success against the throw. Their adjusted sack rate of 25th in the league leads me to believe that if Baker Mayfield can get extra time in the pocket, Odell Beckham and company will have a chance to scorch an overrated Seahawks Defense. Don't give up on your stud wideout just yet.
Will Dissly (TE, SEA)
There aren't many tight ends with that sort of consistent production level Will Dissly has displayed, and that doesn't appear likely to change in Week 6. Dissly is Russell Wilson's favorite red-zone threat, and the Browns have allowed the fifth-most TE points per game this season. Lock Dissly in as a TE1.
Matchups We Hate:
None
Other Matchups:
Russell Wilson (QB, SEA)
Despite being on one of the run-heaviest teams in the league, Russell Wilson is currently ranked first in standard scoring systems at the QB position. The Seahawks will get 10 days of rest compared to just six for the Cleveland Browns, but there are some reasons for slight trepidation involving the Seattle gunslinger. Cornerbacks Denzel Ward and Greedy Williams look like they will be making their returns in Week 6, which should be a big boost to a secondary that held strong in the absence of their two stars. Cleveland enters the week ranked fourth in the NFL in defensive success rate against the pass and could see even more success with those two additions. It seems likely Seattle will try to establish the run on Sunday, making Wilson's upside slightly less than it may appear on paper.
Baker Mayfield (QB, CLE)
Penalties and turnovers have killed the Cleveland Browns early in the year. Second-worst in the league in penalties and bottom-10 in turnover differential will never help, and that fact has been enhanced by Baker Mayfield's mishaps when faced with stress. The Cleveland QBs passer rating has dipped nearly 67 points when defenses have gotten pressure on him, but a matchup against Seattle might be an easier task than meets the eye. The Seahawks are ranked just 30th in QB hits and 22nd in defensive efficiency - this despite facing the eighth easiest schedule on the year. If the weather in Cleveland and their offensive line can hold up, we could see a better showing from an offense that has looked anemic at times.
Tyler Lockett (WR, SEA)
Sometimes you have to admit when you are wrong, and it seems I was incorrect regarding Tyler Lockett this year. I didn't trust his targets on a per-game basis, but Russell Wilson is magic with the football in his hands. Not only has Lockett kept his astonishing TD and success rate up, but he is also exceeding expectations. Despite only eclipsing four targets in two of five games this season, Lockett enters the week as the ninth-ranked WR in PPR leagues. I still question if this is sustainable long term, but consider the 27-year-old a WR2 on the road Sunday.
Ricky Seals-Jones / Demetrius Harris (TE, CLE)
Tight ends have exploited Seattle's defense in 2019, catching 18 of 23 targets, good for 10.5 yards per target. If you are desperate for a weekly streaming option, Ricky Seals-Jones would probably be my choice of the two choices.
Cincinnati Bengals at Baltimore Ravens
Matchups We Love:
Lamar Jackson (QB, BAL)
Game script has a chance to turn quickly for Lamar Jackson on Sunday if he isn't able to get his points early against a double-digit underdog, but the Bengals enter the week having allowed over 3.7 fantasy points above league average to the QB position. Jackson's running nature bumps his floor up even more, so you should be viewing the 22-year-old as a top option at the position.
Mark Ingram (RB, BAL)
Mark Ingram has turned into a touchdown machine in Baltimore. His six rushing scores through five games are the most in Ravens history, and he's already matched his 2018 total. The Bengals have given up the most fantasy points to RBs this season, and game script should dictate a heavy dosage of Ingram. Don't overthink this decision, Ingram is in the RB1 conversation.
Tyler Boyd (WR, CIN)
The Baltimore Ravens have allowed the 10th-most fantasy points per game to wide receivers in 2019. Add that to the fact that the Bengals should be playing from behind on Sunday, and you have a recipe for success with Tyler Boyd. Boyd is a WR1/WR2 candidate that should continue to see a large amount of the teams' passing volume.
Matchups We Hate:
None
Other Matchups:
Andy Dalton (QB, CIN)
The Baltimore defense isn't as daunting as it once used to be, but their powerful pass rush and ball-hawking cornerbacks will present Andy Dalton with a challenge on Sunday. It seems likely that the Bengals will be playing from behind in this game, making garbage points for Dalton something to keep an eye on. However, view him as nothing more than a QB2.
Joe Mixon (RB, CIN)
Looking at the full picture is important when trying to view who to start/sit. The Baltimore Ravens have relinquished 1.5 PPR points above league average to the running back position in 2019, but most of the damage came against Nick Chubb in Week 4. If we remove that game, the Ravens have actually been nearly 5.5 points better than average. Mixon is starting to show some life with three straight qualify performances, but his matchup is far from ideal. With all that being said, I'm fine with viewing him as an RB2 in Week 6.
Auden Tate (WR, CIN)
There is flex potential for Auden Tate in Week 6, but I would be careful with considering him outside of deeper leagues. Tate ran the second-most routes and had the second-most targets for Cincinnati in Week 5, but Andy Dalton is still the quarterback at the helm. That has to limit some of his upside until A.J. Green returns, but there does appear to be a safer floor present than it might seem.

Marquise Brown (WR, BAL)
Marquise Brown (remained sidelined at Thursday's practice with an ankle injury, making it back-to-back missed sessions for the rookie. We have seen the Ravens limit Mark Andrews throughout the week, so this might be nothing more than precautionary, but his availability on Sunday might somewhat hinge on if he is able to participate in practice on Friday. 
Mark Andrews (TE, BAL)
The weekly Mark Andrews injury report watch is in full effect. His limited involvement in practice on Thursday bodes well for having him available on Sunday, which would help Lamar Jackson. The Bengals have been stout against TEs this season but have given up a league-high 15.3 yards per catch when beaten.
Matchups Analysis - 4:00 PM ET Games
Dallas Cowboys at New York Jets
Matchups We Love:
Le'Veon Bell (RB, NYJ)
I hesitate to buy into what Aaron Jones did to the Cowboys on the ground last Sunday as an indication of what we can expect going forward. Without Jones' 107 yards and four rushing touchdowns, Dallas is permitting 81 yards per game, 4.3 yards per carry, and has allowed just two rushing touchdowns to opposing backs. I don't think we see Le'Veon Bell and a much worse Jets offense slice-and-dice their way through a sleepwalking Cowboys run defense this week. What keeps Bell in the high-end RB1 conversation for Week 6 is that only the Texans have allowed more receptions to running backs than the Cowboys (37). Bell has caught at least six passes in three of four games, and with Sam Darnold back in action, his floor in that department only gets higher.
Matchups We Hate:
Jason Witten (TE, DAL)
Yes, the Jets just let Zach Ertz get to them for 57 yards and a touchdown on five catches, so their overall numbers against tight ends (six catches, 92 yards to all TEs other than Ertz) are probably fraudulent when the right matchup comes to town. But it's worth bringing up that Ertz is a focal point of his team's passing attack, while the Jets' other three opponents hardly feature the position. Tight ends have been targeted just 18 times through four games against New York, and Jason Witten's usage rate indicates the Cowboys fill follow that trend. He's been targeted an average of four times per game, and has yet to catch more than four passes. He's a touchdown-dependent fantasy option, and not one I feel especially safe with.
Sam Darnold (QB, NYJ)
I strongly believe that Sam Darnold is primed for a potentially league-winning second half of the season based on his upcoming opponents. Unfortunately, the Jets still have two pretty tough matchups to get by in Dallas and New England before the schedule opens up. The Cowboys have looked exploitable in their last two games for a variety of reasons, but their pass defense hasn't been one of them. Eli Manning is the only quarterback to throw for 300-plus yards against Dallas this season; in fact, he's the only QB to throw for more than 238. The Cowboys haven't given up a touchdown through the air since Week 2, and Week 2 is the only time they've given up multiple passing touchdowns. Darnold hasn't played since Week 1, so while I think he automatically improves the Jets offense just by being active, I don't see him doing enough to return start-worthy fantasy value.
Other Matchups:
Ezekiel Elliot (RB, DAL)
The Jets are allowing 3.6 yards per carry to opposing backs, and have given up just under 75 yards per game. Their weakness is in containing running backs in the passing game, as the Jets are permitting 6.5 receptions and 51.75 yards per game. Ezekiel Elliott isn't heavily involved on pass plays, but the Cowboys have demonstrated a willingness to utilize him that way when warranted. Despite a defense that has played better than you might expect from an 0-4 team, the Jets offense hasn't done its teammates on the other side of the ball any favors. They're averaging a league-low 4.6 plays and an impressively bad 14.3 yards per offensive possession. That in turn results in a worn-out defense that is constantly on the field. Perhaps the return of Sam Darnold gets them moving in the right direction, but I like Elliott to be able to produce start-worthy numbers in Week 6 on volume alone.
Dak Prescott (QB, DAL)
Dak Prescott is naturally a popular target for Cowboys detractors after failing to find the endzone in a winnable 12-10 loss at New Orleans, a game he followed up with a three-interception performance at home against Green Bay. The Jets present Prescott with the chance to get back on track. They rank eighth-worst in the league in pressure rate at 20.8%. For comparison's sake, the Packers and Saints both rank in the top eight. You give Prescott time to make a play, and he's going to hurt you more often than not.
Amari Cooper / Michael Gallup (WR, DAL)
Because of how prone the Jets are to shooting themselves in their own feet, their numbers against the pass are somewhat misleading. They've lost their last three games by an average of 20.3 points, and were trailing by multiple scores at halftime in each one. As a result, teams haven't been forced to air it out a ton against them. So it's worth taking their middle-of-the-pack fantasy production allowed to opposing receivers with a grain of salt. A team giving up 13.25 catches and 183 yards per game to WRs isn't reason enough to avoid this matchup if you're looking at the bigger picture. Amari Cooper is a WR1 with five touchdowns in five games, and Michael Gallup has hauled in at least six catches for at least 68 yards in each of his three starts. Gallup profiles more as a WR2 or high-end flex, but both can be started with confidence.
Randall Cobb (WR, DAL)
Randall Cobb didn't produce while Gallup was out, so there's no reason to believe he'll thrive now that the second-year receiver is back in action. He'll probably have a few big games out of nowhere as long as the Cowboys' receiving corps remains collectively healthy, but you're never going to see them coming with how frequently Cooper and Gallup are utilized.
Robby Anderson / Jamison Crowder / Demaryius Thomas (WR, NYJ)
Dallas is giving up just 11 catches for 119.8 yards on average to opposing wide receivers. Michael Thomas nearly put up that stat line on his own in Week 4 (nine receptions, 95 yards), but no other individual receiver has caught more than six passes or totaled more than 74 yards in a game. It's unlikely that Robby Anderson or Jamison Crowder have many games like last week's in which they combined for three catches on six targets now that Darnold is back, but this isn't the matchup to gamble on if you have better options. Demaryius Thomas was tied with Bell at nine targets in Week 5, but he's once again on the injury report heading into this Sunday. Monitor his status before considering him in lineups. If you have to start any of the three, I'm most confident in Crowder as a PPR threat based on overall target share.
San Francisco 49ers at Los Angeles Rams
Matchups We Love:
Cooper Kupp (WR, LAR)
The rest of the Rams' pass-catchers' opportunities and production fluctuate from week to week, but not Cooper Kupp's. He's been targeted an average of 12.6 times a game, and has seen double digits in four of five. The Rams threw the ball his way 32 (!) times in their last two games. He's gone over the 100-yard mark in each of the last four weeks, and has found the end zone in each of the last three. He'll have to work for his production against a 49ers team allowing fewer than 10 receptions per game to receivers, but Kupp is an undeniable WR1 in PPR formats.
Matchups We Hate:
Todd Gurley (RB, LAR)
Todd Gurley is on the Rams' injury report for Week 6. He's been pretty touchdown-dependent for fantasy production, though he's as good a candidate as anyone in the league to score one more often than not. Except for this week against a 49ers Defense that hasn't allowed any running back to cross the goal line, that is. San Francisco has held opposing rushing attacks to 3.8 yards per carry and fewer than 70 yards per game, and they haven't been exploited through the air by the position either (4.25 receptions, 28 yards per game). Gurley has caught three or fewer passes for six or fewer yards in four of five games. None of this matters a great deal if Gurley finds the endzone on Sunday; it just doesn't look good considering the matchup and the questionable tag.
Other Matchups: 
Malcolm Brown / Darrell Henderson (RB, LAR)
If Gurley is inactive for this tilt, Malcolm Brown is the most obvious beneficiary as the only other Rams running back that has seen a shred of involvement in the offense. That said, his season-high in touches came all the way back in Week 1 when he attempted 11 rushes. Since then, he's touched the ball a combined 16 times and only one of those was a reception. He's a fantasy play if and only if Gurley doesn't suit up. Darrell Henderson would presumably be in line for backup duties in the instance Gurley sits, but Brown's workload in such a role doesn't give much hope for what Henderson might actually get in terms of volume. Gurley is the only Rams RB I trust to give you a fighting fantasy chance against this solid 49ers defense, so tread with caution if you're forced to consider his understudies.
Jared Goff (QB, LAR)
In addition to being stout against the run, the 49ers also come into Week 6 as one of the league's best pass defenses. San Francisco has picked off opposing quarterbacks more times than they've given up touchdown passes. Quarterbacks are averaging 194.75 yards per game and have completed a ridiculous 53.1% of attempted passes. The 49ers have the fourth-highest pressure rate in the NFL at 33.6% despite the second-lowest blitz percentage at 13.4%. I'd list Jared Goff among the hates if Sean McVay didn't have a week and a half to prepare for this game.
Gerald Everett (TE, LAR)
Gerald Everett will be a popular hot-hand play in fantasy this week, but I worry that his owners might be setting expectations too high for their own good. You like that he's been targeted 19 total times in the Rams' last two games, hauling in 12 of them for 180 yards and a touchdown. That's an encouraging trend, and lends itself to the possibility that he can coexist as a fantasy option alongside L.A.'s three-pronged receiving corps. Before you set and forget Everett in your lineup, though, consider that the 49ers are allowing an average of 3.5 catches and 21.75 yards per game to tight ends.
Robert Woods / Brandin Cooks (WR, LAR)
For the reasons outlined above in the Kupp segment, I just can't fully trust any other Rams pass-catcher on a weekly basis. Yes, on their best day, the Rams are an explosive offense with the ability to sustain multiple fantasy-relevant players. The problem lies in trying to identify which one(s) will go off on a given day. I prefer the target share of Robert Woods to that of Brandin Cooks, but Woods has posted just two double-digit PPR outings in five games and has yet to score a touchdown. Cooks has caught three or fewer passes in three games. Factor in the matchup against a 49ers team allowing a 49.3% catch rate to opposing receivers, and you can understand why I'm hesitant here. I'd rank Woods over Cooks this week; I wouldn't value either higher than a flex option. Cooks is also working his way back from a concussion, so keep an eye on his status heading into Sunday.
Jimmy Garoppolo (QB, SF)
After two straight weeks of being torched through the air, I'm betting the Rams' defensive personnel have taken full advantage of the extra few days to prepare for this matchup and figure out a way to keep their woes from lasting into a third week. The 49ers have passed on 41.9% of their plays, which ranks among the league's lowest. They've attempted the third-most rushes (154) in the NFL--not per game, but total, which is impressive considering they've played one fewer game than all of the other teams in the top 10. I don't envision a 4-0 team abandoning what has worked against a Rams Defense with the highest pressure rate (34.4%) in football. As a result, Jimmy Garoppolo comes into Week 6 with a low ceiling.
Tevin Coleman / Matt Breida / Raheem Mostert (RB, SF)
If I thought we could count on Tevin Coleman and Matt Breida to consistently provide yards-per-carry averages of 6.1 and 10.4, respectively, while both touching the ball at least 14 times each and scoring a touchdown, I'd list them among the loves. I don't envision things routinely playing out the way they did on Monday night against a sleepwalking Browns team, however. Thus, the relatively even timeshare when both Breida and Coleman are active dictates that we treat them both as flex plays against a Rams team giving up 4.1 yards per carry to opposing backs. Neither have seen much passing-game work, which makes it difficult to lean one way or the other in PPR formats. We're simply looking at a game-to-game split in which both players can be effective with enough touches. Raheem Mostert fades into the background with Coleman back in the fold. He will resume a viable fantasy role if either or both of Coleman and Breida were to miss time.
George Kittle (TE, SF)
George Kittle has returned double-digit PPR value in three of four games, and he finally found the endzone for the first time on Monday night. He's surprisingly on pace for more receptions than he racked up in 2018, but that's only if his 79.3% catch rate were to last all season. If his usage rate continues, he's on pace for 20 fewer targets and 437 fewer yards, which certainly isn't what you signed up for when you drafted him. As great as San Francisco's run-heavy approach has been for winning real-life football games, it has limited Kittle's upside as a fantasy tight end. Hang your hat on the fact that he's the only player on the team with more than 20 targets after four games, so when the 49ers do throw it, he's their preferred option. L.A. has allowed 3.8 catches and 47.5 yards per game to opposing tight ends, so the hope here is that Kittle imposes his will.
49ers Wide Receivers (WR, SF)
Deebo Samuel is the only 49ers wideout who has caught at least five passes or been targeted at least seven times in a single game this season. The 49ers' formula for victory is a relentless rushing attack backed by a stingy defense, and there isn't much left over in the passing game after Kittle. If there's any cause for optimism here, it's that the Rams have been straight-up embarrassed through the air the last two weeks. But I've already alluded to the expectation of a more structured defensive game plan from L.A. I'm not anticipating a particularly high-scoring game here, and thus I don't believe we're looking at a ton of opportunities for San Francisco's receivers to produce in fantasy. If I'm forced to roll the dice on one, I'd lean toward Samuel for no other reason than his target share.
Atlanta Falcons at Arizona Cardinals
Matchups We Love:
Matt Ryan (QB, ATL)
I'll be surprised if the final score of this game isn't something in the vicinity of 38-34 or higher. We've got two of the worst pass defenses in the league squaring up in a contest that also happens to feature two of the pass-heaviest offenses. Both Arizona and Atlanta have given up 12 touchdowns each through the air. Arizona has yet to pick off an opposing quarterback. Matt Ryan is a solid fantasy starter based on his liability of a defense alone. Factor in the weapons around him, a 70.3% completion rate, 331 yards per game and 11 touchdowns, and he could be in line to produce the best fantasy day at the position for Week 6.
Julio Jones (WR, ATL)
For all of the reasons listed above, Julio Jones is a safe bet to bounce back from two consecutive fantasy duds. The Cardinals have been middle-of-the-road in terms of production allowed to wideouts, but Jones is in a class of his own at the position. We've already established that Arizona is terrible overall against the pass. Lock Jones in as a WR1
Austin Hooper (TE, ATL)
Last week I insisted that Tyler Eifert was going to go off against a Cardinals Defense that has been hosed down by tight ends. Naturally, he caught two passes for a whopping 14 yards. But as the great Michael Scott once said, I am ready to get hurt again. Austin Hooper leads the Falcons in receptions, and has only two fewer targets than Jones. He is tied with Jones in red zone targets with five. The Cardinals have given up the second-most receptions, the most yards, and the most touchdowns to opposing TEs. Hooper is a high-end starter for Week 6.
Kyler Murray (QB, ARI)
At this point I'm just trying to find different ways to convey the phrase, "both of these defenses are terrible and this game is going to be a shootout." Only Ryan, Jared Goff, and Andy Dalton have attempted more passes this season than Kyler Murray. That may seem like an unfair burden to put on a rookie, but it's not like his defense has helped him out. The Big 12 atmosphere this game is likely to possess is right up Kliff Kingsbury's alley, and Murray should once again be called upon to air it out (especially if David Johnson is inactive). In their last three games, the Falcons have given up an average of 321 yards per game and a total of 10 passing touchdowns to opposing QBs. If I'm worried about anything regarding Murray's potential in this game, it's his efficiency, along with the fact that the Cardinals have scored a laughable six touchdowns in 20 red zone opportunities. Efficiency is just going to have to come with experience, but Atlanta is poised to help him in the red zone, as they've permitted 13 touchdowns on 20 chances to their adversaries.
Larry Fitzgerald (WR, ARI)
Larry Fitzgerald hasn't caught fewer than five passes in a game this season. He's seen at least seven targets in four of five. If Christian Kirk and David Johnson don't suit up on Sunday, look for another Fitzgerald-heavy offensive approach from the Cards. And even if one or both are active, Fitzgerald is the go-to pass-catcher anyway. Again, this is likely to be a high-scoring affair with plenty of opportunity for fantasy production through the air.
Matchups We Hate:
David Johnson / Chase Edmonds (RB, ARI)
If Atlanta's defense has been effective in any facet of its collective job, it's been against the run. The Falcons have held opposing backs just under four yards per carry, and they're the only team that hasn't allowed 100 total receiving yards to the position after five weeks. Factor in David Johnson's injury designation late in the week, and he's looking at a capped ceiling in Week 6. You're obviously starting him if he's active, just do so with tempered expectations. Chase Edmonds would be the guy to step up in Johnson's absence if necessary, but I have even lower expectations for the backup.
Other Matchups:
Devonta Freeman / Ito Smith (RB, ATL)
Devonta Freeman has averaged fewer than three yards per carry in four of five games, and has yet to score a rushing touchdown. His role in the passing game has increased in the last two weeks, as he's been targeted 14 times, catching 13 of them for 112 yards and a touchdown. That has to be what you're hanging your hat on in fantasy at this point, though it's worth noting the Cardinals have permitted the fourth-fewest receptions to opposing RBs. Lock him in as a PPR flex with RB2 upside if he can convert his overwhelming volume into a big play or touchdown. Ito Smith doesn't have a fantasy-relevant role in Atlanta's offense, but keep an eye on him to see if his six-catch, six-target outing in Week 5 was an outlier or a signal of things to come. If you can afford the roster space, Smith is an excellent bench stash.
Calvin Ridley / Mohamed Sanu (WR, ATL)
Calvin Ridley rose from the ashes in Week 5, catching five passes on nine targets for 88 yards and a touchdown. This is the Ridley we wanted on draft day, but is it the Ridley we can rely on week in and week out? At least for this Sunday, I'm confident that it can be. He has the highest yards-per-catch average on the team at an even 14, and even after disappearing from the offense for two weeks, is rocking a 14.1% target share that isn't ghastly for a number-two receiver. Mohamed Sanu turned in his lowest target total of the season in Week 5, but capitalized with a 100% catch rate and a touchdown. I'd lean on both Sanu and Ridley as PPR flex options if I had to this week, with Ridley possessing more touchdown upside.
Christian Kirk / Keesean Johnson (WR, ARI)
KeeSean Johnson failed to capitalize on Christian Kirk's absence from the field in Week 5 despite seeing a reasonably fantasy-friendly seven targets. If Kirk misses Week 6, Johnson may be gifted with another chance. Did you see what Will Fuller did to this Falcons secondary last week? There aren't a ton of fantasy-relevant WRs on bye this week, but if you've been roughed up by injuries or are otherwise thin at the position, Johnson is a sneaky flex play. Kirk is a must-start if he's 100% heading into Sunday.
Tennesee Titans at Denver Broncos 
Matchups We Love:
Derrick Henry (RB, TEN)
Derrick Henry has seen at least 15 carries in every game this season, and has rushed 20 or more times in each of his last two. He's also scored a rushing touchdown in four of five games. The Broncos are giving up just south of 4.5 yards per carry, and I don't envision Marcus Mariota being asked to chuck it frequently unless this game gets away from Tennessee early. That doesn't seem likely considering Denver is averaging 18 points per game on offense. I like Henry to see another huge rushing workload as the Titans try to wear down a Broncos Defense that is much better against the pass.
Matchups We Hate:
Marcus Mariota (QB, TEN)
Only Luke Falk has been sacked on a higher percentage of his drop-backs than Marcus Mariota. The Broncos are tied for the sixth-highest QB hurry rate in the league at 16%. That's strike one against Mariota in this matchup. Strike two comes in the form of Denver's 202.2 passing yards allowed per game, along with the fact that the Broncos have given up just four passing touchdowns. Tennessee is a run-heavy team with a defense competent enough to keep this game close. Mariota is a low-end QB2 with a capped ceiling, but his floor is palatable based on his lack of turnovers and the fact that Denver has forced just three.
A.J. Brown / Corey Davis (WR, TEN)
A.J. Brown and Corey Davis predictably returned to reality last week against a Bills Defense infinitely more effective against the pass than Atlanta, combining for four catches and 55 yards. A matchup with Denver is closer in similarity to Buffalo. The Broncos have given up the fourth-fewest receptions to opposing receivers, and are tied for the third-fewest touchdowns allowed at two. There's too much volatility in the fantasy profiles of Davis and Brown to trust them in this game.
Other Matchups:
Delanie Walker (TE, TEN)
Delanie Walker has been absent from the Titans offense for two straight weeks, catching just two passes on four targets for 14 yards. I like him better than any other Titans pass-catcher, but the Broncos haven't been among the more exploitable matchups for tight ends. Denver has surrendered 4.6 catches and 41.2 yards per game to the position. The Broncos are also one of the league's stingier red zone defenses, as just 47.1% of opportunities against them have resulted in touchdowns. That's the area of the field where tight ends can return one-play fantasy value, and the Titans prefer to run when they get deep into enemy territory. Walker is a volume-dependent fantasy option who has seen a huge drop-off in opportunities.
Phillip Lindsay / Royce Freeman (RB, DEN)
Phillip Lindsay is averaging 13.8 carries per game to Royce Freeman's 11, and both have put up respectable numbers in the split. They're also favored equally in the passing game, with Lindsay having hauled in 17 of 23 targets and Freeman boasting 16 catches on 21. Unfortunately for Freeman, the touchdowns have all gone to Lindsay. He has six carries inside the five while Freeman has none. If you could combine these guys into one player, you'd have a great fantasy asset on your hands. The timeshare regrettably puts a massive dent in the individual ceiling of each. Freeman is a volume-based flex option at RB, and an unsafe one at that. Lindsay's goal line work keeps him in the low-end RB2, high-end flex equation against a Tennessee run defense giving up 4.5 yards per carry to opposing backs.
Joe Flacco (QB, DEN)
I can't think of any reason why I'd have to talk you out of starting Joe Flacco in fantasy this week, but here you go: he's thrown six touchdown passes, which is somehow one fewer than Mason Rudolph. His average depth of target is 6.2 yards, which is the fourth-lowest in the league. Tennessee's average depth of target against is 7.8 yards, tied for the fourth-lowest. The Titans also rank fourth in sacks with 17. I'm envisioning a low-scoring, run-heavy game here, and Flacco simply won't be in line for enough opportunity to be counted on in fantasy.
Courtland Sutton / Emmanuel Sanders (WR, DEN)
Emmanuel Sanders has a tendency to evaporate from Denver's offensive game plan from time to time, and I feel like this could be one of those weeks. The Titans are among the NFL's tougher matchups for opposing WRs, and we've already touched on the possibility that this game features significantly more running than passing on both sides. I'd consider Sanders a volume-based flex, as he's returned double-digit PPR value in all three games this season in which he's been targeted at least seven times. Courtland Sutton is a different story. He's been targeted at least seven times in every game this season, and has produced double-digit PPR value in four of five. Coming off back-to-back games with at least one touchdown, I like him as a WR2 despite the matchup.
Noah Fant (TE, DEN)
The Titans are in elite company with the Browns and Cardinals as the only teams to have allowed at least four touchdowns to opposing tight ends. Under some circumstances, that'd be enough for me to stream a tight end against them. But Noah Fant's opportunities in Denver's passing game are scarce. He hasn't been targeted more than four times in any game this season, and has seen just one ball thrown his way in the red zone. He can't be trusted with such a low usage rate.

Matchups Analysis - Sunday Night Football - 8:20 PM ET
Pittsburgh Steelers at Los Angeles Chargers
Matchups We Love:
None
Matchups We Hate:
Devlin Hodges (QB, PIT)
I'll tell you what. You play third-string emergency starter Devlin Hodges on the road against a Chargers team that has held three of five opposing QBs under 200 yards passing, and if it works out, buy yourself a lottery ticket. You're the luckiest fantasy owner in the world.
JuJu Smith-Schuster (WR, PIT)
As someone who drafted JuJu Smith-Schuster in my most cherished home league, seeing him break a tackle en route to the endzone early in Week 5's game against the Ravens was probably the biggest relief of this fantasy season. Unfortunately for Smith-Schuster, me, and tens of thousands of you, he probably just became even more touchdown-dependent with Mason Rudolph going down. We're happy that he's racked up at least 75 yards in four of five games, but this Steelers offense has operated just slightly more effectively than a car with no tires before turning the keys over to a third-string QB. The Chargers are allowing 11.6 catches and 150.8 yards per game to wideouts, so you're hoping Smith-Schuster sees enough volume to overcome a tough matchup as a low-end WR2 or flex.
Melvin Gordon (RB, LAC)
The Steelers are permitting 3.95 yards per carry to opposing backs, and Melvin Gordon was sluggish in his first game back after a summer-long holdout (12 carries, 31 yards). I can envision the Chargers being up early and leaning heavily on Gordon in the second half, but I'd prefer to see a return to form before I value him higher than a flex.
Other Matchups:
James Conner (RB, PIT)
James Conner's lone exceptional outing of the season came in the game when he just happened to catch eight passes for 83 yards and a touchdown. On the ground, he's been pedestrian at best, averaging fewer than four yards per carry in four of five games. Bolstering his value is that Jaylen Samuels has been ruled out, so Conner has the backfield all to himself. You would also figure that the Steelers will feed him early and often against a Chargers team giving up 4.9 yards per carry to opposing backs. If Conner had done a little more to earn the benefit of the doubt leading up to this contest, I'd have him among the loves as an RB2.
Diontae Johnson (WR, PIT)
Diontae Johnson saw a season-high eight targets in Week 5, but came up with his worst fantasy outing since Week 2 with five catches for 27 yards. It's easy to imagine Pittsburgh trailing early in this game, in which case Devlin Hodges won't have any choice but to throw. That said, we've already touched on the fact that the Chargers don't present the most exploitable matchup for WRs. If I'm starting Johnson this week, I'm doing so based only on his ever-growing target share in an otherwise low-octane offense.
Vance McDonald / Nick Vannett (TE, PIT)
Vance McDonald is back on the injury report for the Steelers, but it probably doesn't matter much at this point. He produced one solid fantasy line in Week 2, and has been mostly left out of Pittsburgh's offensive game plan in the other three games he's played. The Chargers aren't a particularly favorable matchup for tight ends, so ignore Nick Vannett as well.
Austin Ekeler (RB, LAC)
Austin Ekeler probably isn't going to be targeted 16 times in very many games, nor is he likely to catch 15 passes for 86 yards. But if last week was any indication, he's still the go-to RB in passing situations for the Chargers. He ceded the bulk of the rushing workload back to Melvin Gordon, though it's worth noting Gordon wasn't at all effective with his opportunities. We'll regrettably have to adjust our weekly expectations for Ekeler, but he's a strong flex option in PPR leagues against a Steelers Defense giving up 6.6 catches and 47.8 yards per game to opposing RBs.
Philip Rivers (QB, LAC)
I'm in the middle on Philip Rivers this week, which is probably the consensus on him in this matchup anyway. The Steelers have held two straight opponents under 200 yards passing and have given up just one passing touchdown in the same span. They've also recorded four interceptions the last two weeks. The safest way to forecast this game is to believe the Steelers won't get much going on offense with a third-string quarterback at the helm, and thus Rivers won't need to chuck it around the yard. If I'm starting him in fantasy, I'm hoping he does his damage before halftime.
Keenan Allen / Mike Williams (WR, LAC)
Pittsburgh is closer to the bottom of the league than the top in terms of production allowed to opposing wideouts (11.2 catches, 153 yards per game). I'm not panicking if I own Keenan Allen, but the sudden drop-off in usage the last two games is concerning after his brilliant start. He didn't see fewer than 10 targets in a game through Week 3, and he's seen just 11 combined since. No wide receiver has posted more than 51 receiving yards against Pittsburgh since Week 2. I'm in on Allen as a low-end WR1 as opposed to the top-three option we saw early. Mike Williams has seen his target share increase in each of the four games he's played, topping out at 13 in Week 5. This trend is another reason I'm exercising cautious optimism with Allen; the Chargers weren't spreading the ball around as much when Allen was going off. I don't think we see another exponential climb in targets for Williams this week, rendering him a mid-level flex at best on Sunday night.
More Start/Sit Advice