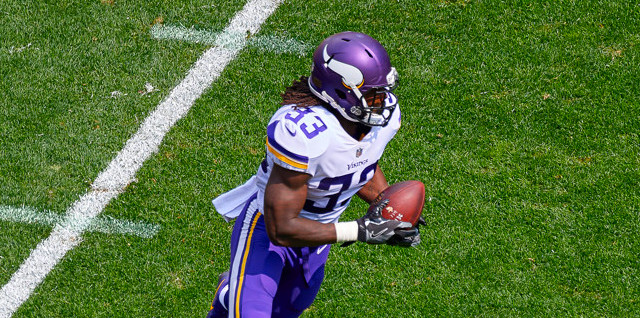 Week 4 of the 2018 NFL Season is in the books, and here is a quick fantasy recap to keep you up to date. Mitchell Trubisky! Six touchdown passes, 43.5 fantasy points, who saw that coming? Meanwhile, Drew Brees, Matthew Stafford, Philip Rivers, Tom Brady, Carson Wentz, Aaron Rodgers, and Ben Roethlisberger all finished outside the top 12. Things remained a little more consistent at running back, with Alvin Kamara leading the way and Ezekiel Elliott coming in at number two with 41.1 and 34 points, respectively.
Cooper Kupp's incredible Thursday night performance held up to make him the top receiver of Week 4, while Corey Davis and Taylor Gabriel had breakout games, scoring over 30 fantasy points each. Lastly, Jared Cook continued his dominance, as he compiled over 100 yards receiving and two touchdowns to put him at the top of the Week 4 and year-to-date tight end scoring leaders.
With Week 5 quickly approaching, it's time to dig into the RotoBaller Mailbag. I will be answering several of the best questions from Twitter each and every week. Thanks to everyone who sent theirs in for this edition! Before we get to the questions, here is a quick look at all of the upcoming games, as well as the current Vegas spreads and point totals:
Indianapolis at New England (-10.0) - Total 51.0

Tennessee (-3.5) at Buffalo - Total: 39.0

NY Giants at Carolina (-7.0) - Total: 44.5
Miami at Cincinnati (-6.5) - Total: 49.5
Baltimore (-3.0) at Cleveland - Total: 47.0
Green Bay (-1.0) at Detroit(-1.5) - Total: 51.0

Jacksonville at Kansas City (-3.0) - Total: 49.0

Denver at NY Jets (-1.0) - Total: 42.5
Atlanta at Pittsburgh (-3.0) - Total: 57.5

Oakland at LA Chargers (-5.0) - Total: 53.5

Minnesota at Philadelphia (-3.0) - Total: 45.0
LA Rams (-7.0) at Seattle - Total: 50.0
Arizona at San Francisco (-4.5) - Total 41.0
Dallas at Houston (-3.0) - Total: 45.5

Washington at New Orleans (-6.5) - Total: 52.5
Week 5 Reader Q&A
Thoughts on the likes of these struggling/injury-prone players - Kenyan Drake, Dalvin Cook, and Leonard Fournette

— Ham ? (@GoinHAM9HD) October 3, 2018
Mike's Take:
Kenyan Drake: Drake is averaging 8.1 FPPG (fantasy points per game), which is 43rd among all running backs. Perhaps more concerning is the fact that he had just four touches this past weekend. I remain hopeful that he can get back to the level that he played at last year, but Adam Gase is holding him back more than anything. A 35-year-old Frank Gore has taken 46 percent of Miami's backfield touches, and there are no signs of that changing any time soon. If I'm a Drake owner, I would hold him for now since his value is extremely low. However, with Drake clearly in the doghouse and Gore holding limited upside, one player who I would keep an eye on in deeper leagues is Kalen Ballage
Dalvin Cook: Out of the three backs you mentioned, Cook is the one I trust the most for the rest of the season. Even though Cook said his hamstring "isn't there yet" as of yesterday, he is the clear-cut starter for the Vikings when healthy and he can do it all, including catching passes out of the backfield. It's important to remain patient with Cook by keeping him on your bench until he's fully recovered and ready to resume a full workload. He's got RB1 potential for the second half of the season.
Leonard Fournette: Fournette has to be one of the most frustrating players to own in fantasy this year. He's got the ability and situation to be a top-five fantasy back, but he could be out several weeks after aggravating his hamstring injury on Sunday. T.J. Yeldon has proven to be more than capable when filling in as the starter, as he currently ranks 14th in FPPG despite not being a full-time starter this year. Even when and if Fournette is fully healthy this year, it appears likely Yeldon will still see about 30-35 percent of the team's backfield touches, including most of the receptions. If you can trade Fournette to a top team that can afford to wait out his injury, I would definitely entertain that idea for the right price.
Would now be the time to stash Foreman from Houston?

— Adrian Martinez (@game6741) October 3, 2018
Mike's Take:
It depends on a few factors. In typical 12-person leagues, I think you could consider adding Foreman as a bench stash, providing you have a deep enough bench and aren't dropping a fantasy-relevant player for him. Foreman is eligible to return to the lineup in Week 7 and he's someone who could fall into a starting role for the second half of the 2018 season.
Lamar Miller is yet to rush for a touchdown or manage 100 yards on the ground in a single game. He's averaging a mediocre 3.9 YPC, and just 0.60 fantasy points per touch. Sitting at 1-3, the Texans need a spark somewhere and the 22-year-old running back could be it. Will he be the savior to fantasy teams? I doubt it, but he could produce flex-worthy numbers down the stretch.
Why isn't anybody rushing to add @_flight17_ he played 73 snaps last week (93%) in one of the best offenses in the NFL ??

— that one guy (@BigGreene66) October 3, 2018
Mike's Take:
For those wondering, he is referring to Chris Conley here. Don't forget that Sammy Watkins got injured early and did not return to the game on Monday night, which could explain the inflated snap count.
Conley is tied for 85th in FPPG, and has just a nine percent target share for the Kansas City offense this year. He's also averaging just over two receptions per game. With Tyreek Hill, Watkins, and Travis Kelce all ahead of him in targets, I don't see a reason to add Conley in many formats, especially with Watkins practicing this week.
Sony for Landry. Have Barkley and White already. Full PPR

— K.P. (@Lock_Down_23) October 3, 2018
Mike's Take:
In terms of pure value, I prefer Landry over Michel in PPR formats. Michel should see a lot of touches moving forward, but his upside could be capped with a minimal role in the passing game. Michel has just two receptions in the three games he's played this season, while James White is averaging nearly six per game.
I would like to see more production from Landry, but the one thing that really stands out is his 32 percent target share, which is tied with Julio Jones for the league-lead. He could produce top 10 numbers the rest of the way, but even so, his worst case scenario is WR2 territory. Not too shabby.
That's all I have for this week, ladies and gents! To have your questions featured next week on our mailbag, please send them to @1ststopfantasy and/or @RotoBallerNFL with #RotoBallerMailbag. Good luck in your Week 5 matchups!
More Fantasy Football Analysis