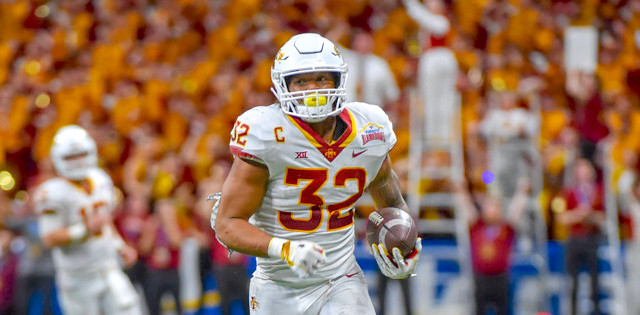 Many fantasy players seem to be thankful that Jordan Howard has left Chicago. He was widely regarded as a plodding disappointment and he's not getting a lot of love with his new team in Philadelphia. 
Meanwhile, owners appear to be very excited about the guy who was drafted to potentially replace him, David Montgomery. Chicago did not have a 2019 pick until the third round and used their first selection on Montgomery. He is versatile, has excellent vision, and runs with power. So far, he is being selected the highest of all RBs in FFPC high stakes drafts, at 21st at the position. 
The reasoning seems simple: Howard is gone, and Montgomery was drafted to produce more effectively in his place. Tarik Cohen should continue to have a significant role and will be the top pass-catcher at the position. He is going 28th off the board at RB in the FFPC. To many, those should work out to be the Bears' two primary backs. But isn't there something we're forgetting?
Editor's Note: Get any rest-of-season NFL Premium Pass for 50% off. Our exclusive DFS Tools, Lineup Optimizer and Premium DFS Research through the Super Bowl.
Sign Up Now!
Third of the Trio
Too many fantasy players are overlooking or forgetting about free-agent acquisition Mike Davis. He is going to be more than just a backup to Montogmery, as some are assuming. Davis performed well when pressed into action at times in Seattle last year and left the team in free agency to pursue a larger role. He is also versatile and can run with power. Davis is elusive and runs with a lot of determination. 
Bears RB Coach Charles London has praised both Montgomery and Davis so far as the team readies for the upcoming season. He or the team has given no clear indication that they clearly prefer Montgomery over Davis and there have been no true insider reports to support such a theory. Fantasy players are viewing Montgomery as the upside play and don't see Davis as a major threat to the rookie's status. That may be a mistake. 
Davis is not even being drafted in the Top 60 RBs in the FFPC. But we should not forget he ran for 169 yards and three TDs in Weeks 4 and 5 last year. In the first of those two games, he rushed for 101 yards and two scores while being pressed into starting duty. That week, most observers expected Seattle to start Rashaad Penny in place of an injured Chris Carson, but they turned to Davis. There is a lesson to be learned there about not pushing him aside in your mind in 2019. He also had 107 yards from scrimmage with seven receptions in Week 9. The following game, he totaled 80 yards from scrimmage and caught four passes. 
Those numbers may not be enough to consider Davis a favorite to emerge as a featured ball carrier, but they are certainly good enough for him to be considered a legitimate threat to the playing time of Montgomery and even Cohen. The latter finished as a fantasy RB1 in PPR last year, but he appears set to carry the ball less with both Montgomery and Davis being added. There are now two other RBs to compete with Cohen for carries for instead of one. The Bears can focus more on him operating more frequently as a pure receiver. 
Fantasy Outlook
There appears to be a very good possibility that Montgomery will have to battle Davis for playing time this preseason, and the two could very well share carries and reps, making this a pure committee situation. By the way, I consider two or more RBs involved to be a true RB by committee situation. I don't think there is such a thing as two-person committees. If only two RBs are splitting work, that is a time share. 
Montgomery could eventually end up being the lead RB, but that is what Fantasy players want, not necessarily what the Bears want to employ. If they can attack defenses with different running backs and keep them off balance and better ensure all of them stay fresh, such a situation could be considered a luxury. The cliche 'three-headed monster" will apply. But that sort of situation could be a headache. 
Such a scenario would likely put all three RBs in flex territory and make Cohen the best option of the three to start out in PPR, as he should have a pretty consistent role in the passing game. He seems much less likely to carry the ball 99 times this year and his rushing attempts will be reduced. 
The preseason will obviously go a long way to determining how the situation could shake out when play begins for real, but right now it looks better for real NFL purposes than in fantasy. Optimally, the Bears would seemingly prefer to use all three RBs effectively. And if either Montgomery or Davis gets injured, the Bears can then hand the main running duties to the healthy guy. It could take that sort of situation to gain more clarity. 
I am not saying that Montgomery cannot sparkle in the preseason and early in the regular season to become the clear top fantasy option here. The potential is certainly there. But he is going to have to earn the lead ball-carrier role, and Davis must heavily be considered a threat to his possible playing time. 
So initially we have to view this as a scenario that strongly suggests we'll be looking at a committee. That makes Montgomery more of an RB3 type in my eyes. I would not take him over guys like Mark Ingram, who is ticketed for a more certain workload, or James White, who is underrated and will play a very important role in the New England offense again. He could end up being the Patriots' No. 2 pass-catcher in 2019. 
This situation is not as simple as a more promising Montgomery replacing the departed Howard. The Bears brought in another RB they like in addition to the rookie. So while you can still view Montgomery as the one with the most ultimate promise, temper your initial enthusiasm on his immediate impact and also expect Cohen's overall numbers to take a bit of hit this year. 
More Fantasy Football Analysis